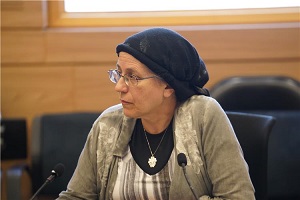 Orit Strock (źródło zdjęcia: knesset.gov.il)
---
Andrzej Koraszewski
---
Pisze mi przyjaciel z Izraela, że Netanjahu nie będzie miał lekko z tymi religijnymi koalicjantami, więc odpowiadam, że nikt mu nie obiecywał łatwego życia, mógł zostać w Ameryce i nie pchać się do izraelskiej polityki. Zresztą, co tu dużo mówić, premierka Mołdawii też nie ma lekko, na każde słowo musi uważać, bo inaczej przyjadą czołgami walczyć z jej faszyzmem, jak z tym ukraińskim. Ja wiem, Izrael to nie Mołdawia, supermocarstwo z licznymi koloniami, w których Żydzi uciskają kolorowych gejów, a do tego wszystkiego teokracja gorsza jak w Iranie.
Dowiaduję się z polskiego medium, że "nowa ministerka Orit Strock z Religijnej Partii Syjonistycznej uznała ostatnio, że lekarz może odmówić opieki pacjentowi, jeśli narusza to jego przekonania religijne." Ciekawe, pewnie ta izraelska polityczka dowiedziała się, o polskiej "klauzuli sumienia" i postanowiła, że ona też chce takiej w swoim supermocarstwie. Kto u diabła mógł jej podsunąć te informacje o polskich przepisach? 
Informująca nas o izraelskim dramacie Kamila Cieślik, z wiadomości.gazeta.pl, dodaje pospiesznie, że ludzie coś mówią, iż to przeciwko pacjentom LGBTQ+, ale uczciwie i rzetelnie dodaje, iż sama polityczka temu zaprzecza.  Tak czy inaczej czytelnik sobczak_jan&123 (i nie on jeden), przeraził się tym, co w Izraelu dzieje się i natychmiast napisał:
Nie ma na świecie bardziej nazistowskiego państwa jak Izraela i bardziej rasistowskiej nacji jak żydzi. Pluć na nich to nie tylko obowiązek ale i przyjemność. Nawet ruskie robactwo atakujące Ukrainę jest bardziej cywilizowane od żydków.

                                                                            (Ze strony wiadomości.gazeta.pl)
Jak twierdzi brytyjski badacz nad antysemityzmem, David Collier, to nieustające zapotrzebowanie na "wiadomości" o Izraelu jak również jakość tych "informacji" ma głębokie psychologiczne podłoże. Antysemici nieustannie żądają świeżej strawy, redaktorzy szacownych pism jej dostarczają. Pani Kamila twierdzi, że opiera to, co pisze, na jakimś wywiadzie radiowym,  nie pisze, na którym, a jej tekst i błąd w nazwisku izraelskiej polityczki wygląda raczej na powtórkę "wiadomości" z londyńskiego "Guardiana".
Jak wynika z izraelskich źródeł "klauzula sumienia" jest częścią koalicyjnego porozumienia między partią Religijnych Syjonistów a Likudem.        
W proponowanym projekcie nie ma niczego o LGBTQ+, chociaż możemy zasadnie podejrzewać, że nowa izraelska pani minister może mieć wiele wspólnego z naszą Kają Godek. Są tu jak się wydaje pewne różnice. Podczas gdy Kaja Godek i polski religijny establishment domagają się ze względu na swoje religijne przekonania prawnego zakazu świadczenia pewnych usług, Orit Strock i jej partyjni koledzy domagają się prawa do odmowy świadczenia pewnych usług ze względu na przekonania religijne osoby, która ma daną usługę świadczyć. 
Przedstawiciele tej religijnej partii podkreślają, że taka możliwość odmowy świadczenia usługi "nie miałby zastosowania, gdyby produkt lub usługa były niezbędne i nie istniałaby żadna rozsądna alternatywa, i nie miałby zastosowania do państwowych dostawców produktów i usług".
Polska klauzula sumienia jest uregulowana art. 39  Ustawy o zawodzie lekarza i lekarza dentysty z 5 grudnia 1996 roku, w którym stwierdza się, że:
Lekarz może powstrzymać się od wykonania świadczeń zdrowotnych niezgodnych z jego sumieniem, z zastrzeżeniem art. 30, tym, że ma obowiązek wskazać realne możliwości uzyskania tego świadczenia u innego lekarza lub w innym zakładzie opieki zdrowotnej oraz uzasadnić i odnotować ten fakt w dokumentacji medycznej(….)
Jak widzimy nie ma tu rozbicia na placówki państwowe i prywatne, a z doświadczenia wiemy, że udało się takie praktyki zmienić w terror psychologiczny i w naciski na całą grupę zawodową, żeby podporządkowała się zakazom narzuconym przez grupę religijną.
Wygląda na to, że uda się w Izraelu przepchnąć ustawę o klauzuli sumienia podobną do istniejącej w Polsce (i w kilkudziesięciu innych krajach), ale mamy tu pewne istotne różnice, w Izraelu urzędujący prezydent, jak i (jeszcze przed objęciem urzędu) premier, natychmiast bardzo ostro zapowiedzieli, że nie dopuszczą do dyskryminacji żadnej mniejszości.
"W kraju, któremu będę przewodzić, nie będzie sytuacji, w której ktoś – czy to LGBT, Arab, ultraortodoks czy ktokolwiek inny – wejdzie do hotelu i nie zostanie obsłużony, albo pójdzie do lekarza i nie dostanie usługi" – powiedział Netanjahu.
Skąd się wzięły domysły, że może chodzić o społeczność LGBT? Projekt ustawy nie wspomina ani leczenia, ani lekarzy, mówi o "usługach", co oczywiście skojarzyło się z przypadkami odmowy wydrukowania ulotek, które wierzący drukarz uznał za godzące w jego wiarę i kilkoma innymi podobnymi incydentami.
Prezydent Izraela natychmiast zareagował zaniepokojeniem mówiąc:
"Sytuacja, w której obywatele Izraela czują się zagrożeni z powodu swojej tożsamości lub przekonań, podważa podstawowe wartości demokratyczne państwa Izrael. Te [bigoteryjne] komentarze, które słyszano w ostatnich dniach przeciwko społeczności LGBT i wszelkim różnym grupom i sektorom, bardzo mnie martwią i niepokoją" – napisał w niedzielę, obiecując "działać z całą mocą" jako prezydent, aby "zapobiegać szkodom w różnych segmentach populacji".
Zareagowało również kilku posłów Likudu (partii Netanjahu), więc nawet jeśli próba wprowadzenia "klauzuli sumienia" uda się również w Izraelu, to pani Kamila niepotrzebnie napuszczała pana Sobczaka i innych, bo tam (w odróżnieniu od Polski, gdzie prezydent i premier na takie klauzule sumienia wyłącznie klaszczą), prawdopodobnie sprawy tak daleko jak u nas nigdy nie zajdą. Fakt, że nowym przewodniczącym izraelskiego parlamentu został znany gej, jeszcze o niczym nie świadczy, ale u nas gejowi łatwiej zostać  biskupem niż marszałkiem Sejmu, chociaż i u nas trochę się zmienia, bo mieliśmy już sytuację, w której znany gej kandydował na urząd prezydenta państwa i kto wie czym by się to skończyło, gdyby nie to, że strasznie bredził podczas kampanii wyborczej. Nikt nie robił mu jednak przykrości z powodu tego, że jest gejem (co było niesłychanie interesującym i pozytywnym zjawiskiem), chociaż wielu marudziło na niezborność.
Nawiasem mówiąc, próbując  ustalić, skąd się wzięły brednie pani Kamili Cieślik, dowiedziałem się, że Netanjahu podpisał ostatnią umowę z koalicjantami i że dotyczyła ona "koszernych telefonów komórkowych". Tego było za dużo nawet jak dla mnie i postanowiłem, że spróbuję zrozumieć, o co w tym obłędzie może chodzić, dopiero jak polskie media napiszą coś, co będzie przekraczać nawet izraelskie granice absurdu.
Fakt, przyjaciel ma rację, łatwo to temu nowemu premierowi izraelskiego rządu z tymi pobożnymi koalicjantami nie będzie, ale z nim też nikt nie ma łatwo, nawet izraelska pani prokurator, która musi teraz zapewniać sąd, że ona tych oskarżeń na premiera Netanjahu nie pisała.                        
A między  nami mówiąc, gdyby do mnie przyszła klientka z prośbą o wytatuowanie siedmiu motylków na pośladkach, też bym odmówił, bo damski tyłek to rzecz  święta, ale czy powoływałbym się na klauzulę sumienia? Mam wrażenie, że czasem sumienie powinno umieć sobie radzić bez pomocy państwa. Sumienie pod specjalnym nadzorem jest zawsze bardzo narażone.
---
---