---
Andrzej Koraszewski
---
Kilka lat temu młoda poetka postanowiła zrobić ze mną wywiad o seksie. Zaczęła od pytania, jaki był stosunek do tej sprawy mojego pokolenia. Odpowiedziałem zgodnie z prawdą, że pozytywny, seks przeszkadzał nam w nauce i w pracy, był przyczyną wielu frustracji i konfliktów, krótko mówiąc, nasz stosunek do seksu nie różnił się specjalnie od stosunku do tego zjawiska tysięcy wcześniejszych generacji.

..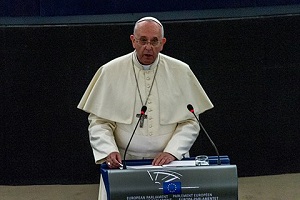 P. Nie pajacuj – powiedziała poetka (a właściwie napisała, bo wywiad był elektroniczny), twoja młodość przypadała na okres rewolucji seksualnej, więc wasz stosunek do tych spraw musiał być zupełnie inny od stosunku pokolenia waszych rodziców.
"Papiez Franciszek (Wikipedia)
O. Tak i nie. Tak, ponieważ pojawiły się nowe środki antykoncepcyjne, więc zmalało ryzyko jakim wcześniej obarczony był każdy stosunek seksualny. Nie, ponieważ było to tylko przyspieszenie pewnego procesu, który zaczął się kilka pokoleń wcześniej. Małżeństwo doskonale Theodoora Hendrika van de Velde'a ukazało się w tym samym czasie, co Mein Kampf Adolfa Hitlera, Watykan nie miał nic przeciwko książce Hitlera, ale zakazał czytania książki holenderskiego lekarza, który propagował wspólną radość z seksu. (Dziś Kościół nie przypomina swojej cichej aprobaty dla dzieła Hitlera, a wiernym zaleca stosowanie kalendarzyka małżeńskiego doktora van de Velde'a i unikania późniejszych wynalazków na tym polu.) Emancypacja kobiet zaczęła się znacznie wcześniej, różne techniki unikania niepożądanej ciąży też były stosowane. W pokoleniu moich rodziców, obok kalendarzyka małżeńskiego, najważniejsze były prezerwatywy. Na rewolucję seksualną mojego pokolenia warto spojrzeć przez pryzmat zmieniającej się rodziny. Ja miałem dwoje rodzeństwa, matka miała dwóch braci, ojciec jedną siostrę. To oznacza, że zupełnie nieźle dawano sobie radę z planowaniem rodziny. Mój dziadek ze strony ojca był jednym z siedmiu braci, a babka ze strony matki miała piętnaścioro rodzeństwa, (z którego do pełnoletności dożyło jedenaścioro).
Zainteresowanie seksem nie jest kwestią ani mody, ani ideologii. Seks to potężny instynkt z wbudowanym elementem rozkoszy, co pozwala na trwanie gatunków i komplikuje życie społeczne. Seks jest powodem wojen, gdzie kobiety są bardzo często łupem. Nie różnimy się pod tym względem od szympansów, które napadają na sąsiednie grupy, zabijają bezlitośnie samców, a samice "mają wybór". Szympansy nie stworzyły jeszcze Iliady i Odysei, ale wiele naszych zachowań uważałyby za naturalne. Prawdą jest, że podczas naszej młodości był ruch hippisów z ich hasłem "make love not war", jednak twierdzenie, że to właśnie pokolenie odkryło radość seksu i wolnej miłości byłoby grubą przesadą.
P. Czy jednak nie jest tak, że to właśnie twoje pokolenie odrzuciło patriarchat i świętość rodziny?
O. No cóż, jeśli spojrzysz na przykład na historię teatru, malarstwo, muzykę, to zobaczysz, że wolna miłość nie jest wynalazkiem naszych czasów. Caravaggio, jak głosi historyczna plotka, zmarł z wyczerpania seksualnymi podbojami. To całkiem prawdopodobne i z pewnością nie musiał dziewczyn przymuszać. Musiałaś widzieć, co się dzieje wokół popularnych muzyków, aktorów, ale również posiadaczy przedmiotów statusu. To wasze pokolenie używa określenia "blachara", na dziewczyny, które lecą na posiadaczy pięknych aut.
P. Ale te artystyczne środowiska, gdzie kwitła wolna miłość, to były marginesy. Normalni ludzie byli uwięzieni w patriarchalnej rodzinie…
O. No tak, kultura narzucająca monogamię, której strażnikami byli ci, którzy korzystali z przywileju władzy. Czytałaś o niezliczonych konkubinach królów, o prawie pierwszej nocy szlachty, o draństwach właścicieli niewolników, o łajdactwach kapłanów. Ale najpierw pytanie. Czy widzisz jakieś pozytywy patriarchalnej rodziny? Najpierw biologia. Młody lew, który zdobywa władzę przeganiając lub zabijając starego lwa, bardzo często zabija lwiątka spłodzone przez swojego poprzednika. Bywa, że pomagają mu w tej makabrycznej rzezi lwice. W społeczeństwach ludzkich ojczym i macocha mają złą sławę. Znamy również opowieści o wspaniałych ojczymach i wspaniałych macochach. Statystyki potwierdzają jednak stereotyp, albo jak wolisz biologię, czyli skłonność do przekładania własnych dzieci nad cudzymi. Tradycyjna rodzina wzmacnia rolę ojca, a kiedy się rozpada, lawinowo rośnie liczba ojczymów i macoch jak również samotnych matek. Masz rację, w moim pokoleniu wolna miłość przestała być przywilejem bogatych i sławnych, można powiedzieć, że stała się dobrem powszechnym. Mam wrażenie, że powinniśmy zatrzymać się przy trzech pojęciach – urbanizacja, emancypacja kobiet i środki antykoncepcyjne. Wiejski świat był światem nieustannego nadzoru, wszyscy znają wszystkich, trudno się schować przed sąsiadami. Wielkomiejskie środowisko tworzy nowy świat, w którym ta kontrola społeczna gwałtownie się kurczy. Koedukacja w szkole i na studiach. Wolne związki tracą stygmat grzechu i nie są już takim zagrożeniem niepożądanej ciąży jak w przeszłości. Hippisi, czyli dzieci kwiaty, to byli głównie studenci, głoszący pochwałę nieustającej wolnej miłości. Hippisi wyrastali z młodzieńczego zachwytu i zakładali rodziny, ale patriarchalna rodzina jako taka jest na przegranej pozycji. Małżeństwo nie jest już dożywotnim wyrokiem, coraz więcej dzieci wychowuje się w rozbitych rodzinach. To co było, było koszmarne, to co jest, nie jest tak wspaniałe jak się dzieciom kwiatom wydawało.
P. Czy chcesz powiedzieć, że jesteś zwolennikiem tradycyjnej rodziny?
O. To zależy jak definiujesz tradycyjną rodzinę. Udany i trwały związek, to wspaniała rzecz, ale rzadka i trudna. Rewolucja seksualna trwa, jej efekty są, jak zawsze, zupełnie inne niż wyobrażali sobie jej ideolodzy.
P. Nie daje się z tobą o seksie rozmawiać.
O. Temat jak rzeka, możemy to dalej ciągnąć.
P. Nie wiem, chyba nie mam dalszych pytań.
Przypomniałem sobie tamten przerwany wywiad w związku z lamentem papieża Franciszka, że tylko bogaci mogą sobie pozwolić na dzieci. Na Facebooku internauci dyskutowali wyłącznie nad tytułem doniesienia i znajomy oburzył się na mnie, kiedy napisałem, że każdego stać na dzieci, chociaż nie każdego stać na wysyłanie swoich dzieci na religię.
Nie była to ciekawa dyskusja i nie warto do niej wracać, a z papieżem trudno dyskutować, bo on w ogóle nie odpowiada. Franciszka zaniepokoił kryzys demograficzny we Włoszech, który jego zdaniem sygnalizuje brak nadziei na przyszłość. Wygląda na to, że im bogatsze społeczeństwo, tym mniej tej nadziei. Ujemny przyrost naturalny jest zmienną charakteryzującą społeczeństwa rozwinięte. Biblijny nakaz rozmnażania się wykonywaliśmy jak dotąd bez protestów, aż dotarliśmy do punktu, w którym zaczęliśmy "boskie" nakazy kwestionować i zastanawiać się, czy chcemy sprowadzić na świat kolejne istnienie.
Nawiasem mówiąc, Donald Tusk podjął ten sam temat w Kartuzach, mówiąc o dzietności, że kaszubska część Pomorza, to najbardziej optymistyczne miejsce na mapie. Dzietność jest u nas tematem numer trzy, zaraz po mitycznej rakiecie pod Bydgoszczą, i Matce Boskiej nadrzewnej. Nic dziwnego, bo 500 plus nie przyniosło oczekiwanej zmiany stosunku do bezproduktywnego seksu, a próba podniesienia stawki za poczęcie do 800 plus nie ma bardziej optymistycznych prognoz sukcesu.
Włosi walczą z naporem fal uciekinierów z przeludnionego afrykańskiego kontynentu, ich politycy martwią się z powodu niemrawej dzietności elektoratu, papież kłopocze się niedoborem katolickich poczęć, a w Afryce nadal walczy z prezerwatywami, żeby chorych na HIV nie zabrakło, (ignorując równocześnie ludobójstwo afrykańskich chrześcijan przez muzułmanów, bo najmniejsza wzmianka mogłaby zaszkodzić dialogowi międzyreligijnemu).
Twierdzenie, że sukces reprodukcyjny naszego gatunku jest wystarczający i kurczenie się ludzkiej populacji to problem, ale nie dramat, wywołuje często oburzenie. Japończycy są odosobnieni w swoich wysiłkach przygotowania się do sytuacji, w której ich populacja będzie się kurczyć i trzeba się nauczyć jak działać w starzejącym się społeczeństwie, jak przestawić cały mechanizm funduszy emerytalnych, jak wydłużyć wiek produkcyjny i jak zorganizować opiekę nad rosnącą populacją niedołężnych staruszków.
Powiada Franciszek, że ludzie wolą mieć zwierzęta niż dzieci, bo na dzieci ich nie stać. Czy jest to tylko kwestia pesymizmu i ubóstwa zamożnych, czy zmieniającego się systemu wartości? Nie na wszystkie pytania da się tu odpowiedzieć. Z pewnością jest dziś znacznie więcej ludzi rezygnujących z posiadania dzieci niż w przeszłości i na to zjawisko nie pomoże ani walka z aborcją, ani utrudnianie dostępu do środków antykoncepcyjnych, ani jakieś 800 plus.
Czy w niektórych domach zwierzęta zastępują dzieci? Tak, i nie ma w tym nic złego. Jedno jest pewne, ludzi na świecie nie jest za mało. Stosunek do seksu, rodziny i pracy radykalnie się zmienił. Są tego plusy i minusy, ale ja wolę rozmawiać na ten temat z poetką niż z papieżem, o Kaczyńskim nie wspominając.
A co z uciekinierami z zacofanego i koszmarnego świata? To osobna opowieść i prawdopodobnie znacznie poważniejszy problem.
---
– Andrzej Koraszewski Publicysta i pisarz ekonomiczno-społeczny. Ur. 26 marca 1940 w Szymbarku, były dziennikarz BBC, wiceszef polskiej sekcji BBC, i publicysta paryskiej "Kultury". Więcej w Wikipedii. Facebook
---
---