Becca Wertman
Tłumaczenie: Małgorzata Koraszewska
---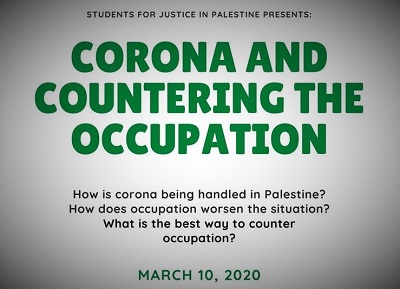 Studenci z Uniwersity of Maryland (USA) postanowili przedyskutować jak Żydzi utrudniają Palestyńczykom obronę przed koronawirusem.
Cyniczne wykorzystywanie globalnego kryzysu zdrowotnego przez tak zwane organizacje praw człowieka daje jasny komunikat: tym grupom zupełnie nie chodzi o sprawiedliwość i moralność.
Dla antyizraelskiej działalności organizacji pozarządowych (NGO), które nieustannie dążą do demonizowania i delegitymizacji państwa żydowskiego, zdominowanie światowych mediów przez pandemię COVID-19 stanowi sporą trudność – świat ma obecnie rzeczywisty problem, którym musi się zajmować.
Niemniej niektóre NGO znalazły rozwiązanie. Postanowiły mianowicie połączyć swoją agendę z COVID-19. Jest to zgodne z wcześniejszymi próbami NGO zbijania kapitału na panującym publicznym dyskursie przez manipulowanie narracją o zmianie klimatycznej i prawach ludzi LGBT, by zrobić z tego część swoich antyizraelskich kampanii.
Weźmy, na przykład, obelżywą i antysemicką wypowiedź w tweecie Sarah Leah Whitson, byłej szefowej wydziału Bliskiego Wschodu w Human Rights Watch, która obecnie pracuje w Quincy Institute. Nie po raz pierwszy Whitson użyła klasycznych antysemickich chwytów w tym wypadku oszczerstwa o rytuale krwi. W odpowiedzi na cyniczny tweet, że "6 milionów żydowskich Izraelczyków" zrozumie teraz, czym jest życie pod "okupacją" z powodu związanych z wirusem restrykcji, Whitson lamentowała, że to jest "taki maleńki przedsmak. Brakuje łyżki krwi".
Z pewnością nie wszystkie NGO posunęły się tak daleko. Niektóre trzymały się swojego standardowego, antyizraelskiego nonsensu. Wspólnym wątkiem jest "okupacja". Po prostu dołączono wirus COVID-19 do standardowej, antyokupacyjnej retoryki i kampanii, bowiem dla pewnych NGO i aktywistów z obsesją na punkcie Izraela, jest to nadal najpilniejszy, globalny problem. Oczywiście, ich narzekania na działania Izraela na Zachodnim Brzegu nie zajmują się na poważnie tym, czy skutecznie powstrzymają one szerzenie się choroby, ale zakładają, że Izrael musi działać w złej wierze, bo "okupacja".
Na przykład, 10 marca Students for Justice in Palestine z University of Maryland zorganizowali spotkanie pod hasłem: "Korona i przeciwdziałanie okupacji". Jak głosił plakat anonsujący to spotkanie, miano dyskutować następujące kwestie: "Jak w Palestynie radzą sobie z koroną?", "Jak okupacja pogarsza sytuację?" i "Jaki jest najlepszy sposób walki z okupacją".
Innym przykładem jest tweet amerykańskiej, marginalnej grupy IfNotNow z twierdzeniem, że "Burzenie palestyńskich domów pogorszy szerzenie się koronawirusa. Wysiedlanie ludzi już jest nieludzkie, teraz jest to także pilna sprawa zdrowia publicznego. Izraelska armia musi zaprzestać burzenia domów i skupić się na zdrowiu i dobrostanie wszystkich Izraelczyków i Palestyńczyków".
Drugim hasłem jest "Obwiniaj Izrael za Gazę". Przez 15 lat od wycofania się Izraela z Gazy NGO kontynuowały przypisywanie winy za "humanitarny kryzys" Izraelowi w oparciu unikatowe interpretacje międzynarodowego prawa stosowane wyłącznie wobec Izraela. NGO odmawiają Hamasowi i innym organizacjom sprawczości w przesuwaniu zasobów z publicznej infrastruktury i usług na broń, tunele i terroryzm. W obecnym kontekście, NGO używają COVID-19 jako wymówki, by potępić uprawnione działania antyterrorystyczne i z góry obwiniać Izrael za wybuch epidemii w Gazie.
Na przykład, 15 maja Ken Roth, dręczony obsesją na punkcie Izraela dyrektor Human Rights Watch, tweetował: "Koronawirus sprawdzi mądrość polityki Izraela wyniszczenia gospodarki i systemu opieki zdrowotnej Gazy i Zachodniego Brzegu. Jako mocarstwo okupacyjne (także dla Gazy, biorąc pod uwagę surowe ograniczenia poruszania się), Izrael jest odpowiedzialny za opiekę zdrowotną". Także izraelska NGO, Gisha, opublikowała artykuł: "Aktualności o przejściach granicznych: Izrael narzucił rozległe restrykcje podróżowania przez przejście graniczne Erez z powodu strachu przed koronawirusem", pomijając informację o ogólnym ograniczeniu przez Izrael dostępu do swoich granic, w tym z Gazy, by powstrzymać szerzenie się wirusa.
Także palestyńskie organizacje związane z terrorem wykorzystują kryzys dotyczący zdrowia publicznego dla swojej antyizraelskiej propagandy. Na przykład, Samidoun, grupa związana z terrorystycznym Ludowym Frontem Wyzwolenia Palestyny (LFWP), zamieściła artykuł na swojej stronie internetowej: "Izraelski apartheid, COVID-19 i palestyńscy więźniowie: Wolność teraz!" NGO twierdzi: "Palestyńscy więźniowie kontynuują walkę przeciwko przypominającej apartheid reakcji Izraela na COVID-19, która stanowi zagrożenie dla palestyńskich więźniów i w rzeczywistości dla wszystkich Palestyńczyków. U żadnego palestyńskiego więźnia jeszcze nie stwierdzono koronawirusa, ale warunki ich przetrzymywania budzą poważny niepokój".
Addameer, inna związana z LFWP grupa, także dzieliła się artykułami o podobnej treści: "obecnie, kiedy świat cierpi z powodu pandemii COVID-19, palestyńscy więźniowie nadal cierpią z powodu zaniedbania medycznego".
To cyniczne wykorzystywanie globalnego kryzysu zdrowotnego przez tak zwane organizacje praw człowieka powinno więc przekazać jasny komunikat: w sytuacjach kryzysowych oczekuj regularnego bicia w bębny antyizraelskiej propagandy od organizacji, które twierdzą, że chodzi im o sprawiedliwość i moralność.
---
Becca Wertman
Kanadyjska dziennikarka współpracująca z izraelską organizacją NGO Monitor.
---
---