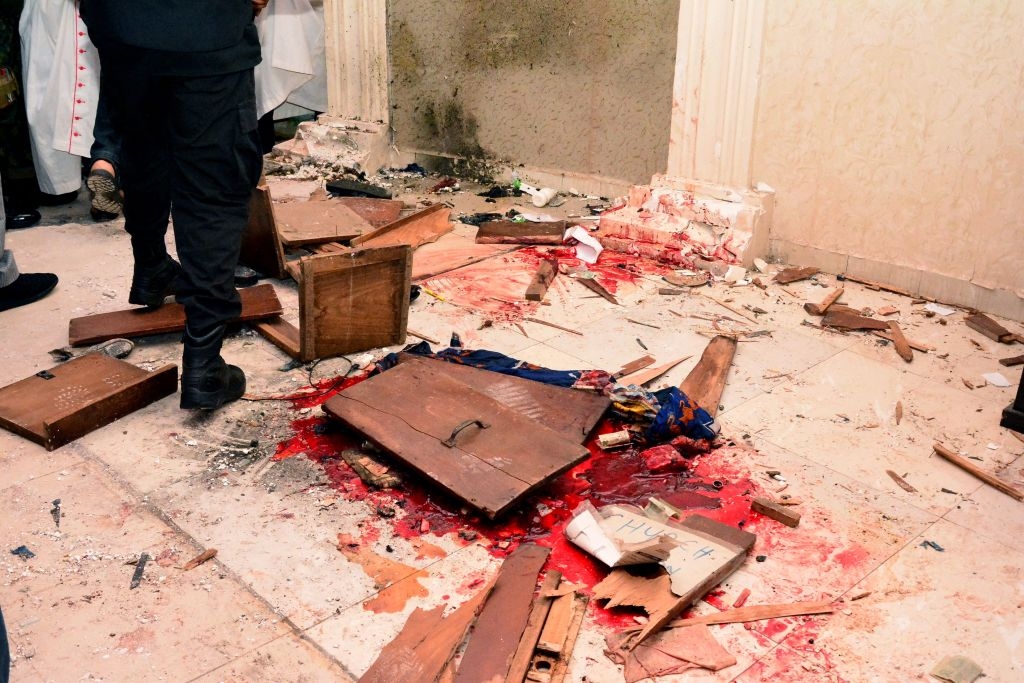 Na zdjęciu: Zakrwawiona podłoga katolickiego kościoła św. Franciszka w stanie Ondo w Nigerii po zamordowaniu tam 50 chrześcijan, 5 czerwca 2022 r. (Zdjęcie: AFP via Getty Images)
---
Raymond Ibrahim Tłumaczenie: Małgorzata Koraszewska
---
5 czerwca 2022 r. muzułmanie zmasakrowali 50 chrześcijan w nigeryjskim kościele Zesłania Ducha Świętego (to jeden z wielu przykładów nigeryjskich chrześcijan masakrowanych podczas nabożeństw w swoich kościołach).
Dwa dni później prezydent Irlandii Michael Higgins wydał oświadczenie łączące masakrę w nigeryjskim kościele ze zmianami klimatycznymi. "Zaniedbanie kwestii bezpieczeństwa żywnościowego w Afryce przez tak długi czas doprowadziło nas do punktu kryzysu, który ma obecnie skutki wewnętrzne i regionalne w postaci walk, które stały się sposobem życia" – napisał, sugerując, że niedobory żywności spowodowane klimatem są przyczyną morderstw.
Politycy znaleźli nową wymówkę: zmiany klimatyczne. Z pewnością jest wiele rzeczy, które możemy stopniowo zrobić, aby nie niszczyć naszej planety, ale twierdzenie, że zmiany klimatyczne są przyczyną ludobójczej rzezi chrześcijan przez muzułmanów w północnej Afryce nie jest mądre. Wydaje się, że to, co napędza prześladowania chrześcijan tam i gdzie indziej, to religijna doktryna, a nie zmiany klimatyczne.
Jeśli spojrzysz na wszystkie cztery akapity oświadczenia Higginsa na temat ataku na nigeryjski kościół, zobaczysz, że on (i jemu podobni) nie mają wyjaśnienia, w jaki właściwie sposób zmiany klimatyczne powodują prześladowania religijne. Najwyraźniej "niedobory żywności" powodują, że muzułmanie krzycząc "Allahu Akbar" ("Allah jest większy") wysadzają w powietrze kościoły i mordują chrześcijan. Wydaje się, że jest to sposób na przesunięcie uwagi od tego, o czym mogą nie chcieć, aby ludzie myśleli – od muzułmanów zabijających chrześcijan – na to, o czym mogą chcieć, aby myśleli, na zmiany klimatyczne; i prawdopodobnie liczą na fakt, że większość ludzi nie czyta uważnie, ani nie myśli zbyt krytycznie i idzie za tym, co wydaje się wygodne.
Oświadczenie Higginsa nigdzie nie stwierdza, a tym bardziej nie potępia, islamskiej radykalizacji i terroryzmu w regionie. Czyli tego, co doprowadziło do masakry w kościele Zesłania Ducha Świętego.
Chociaż nie mówią o tym tak zwane "media głównego nurtu", chrześcijanie z Nigerii są według kilku organizacji pozarządowych (takich jak tutaj i tutaj) w rzeczywistości poddawani ludobójczym czystkom. Według raportu z sierpnia 2021 roku, odkąd islamska rebelia rozpoczęła się na dobre w lipcu 2009 roku, ponad 60 000 chrześcijan zostało zamordowanych podczas napadów lub porwanych i nigdy więcej ich nie widziano. W tym samym czasie ekstremistyczni muzułmanie z okrzykami "Allahu Akbar" podpalili i zniszczyli około 20 000 kościołów i chrześcijańskich szkół. W 2021 roku muzułmanie zamordowali co najmniej 4650 nigeryjskich chrześcijan z powodu ich wiary i prawie 900 w ciągu zaledwie trzech pierwszych miesięcy tego roku.
Zamiast choćby wspomnieć którąkolwiek z tych niepokojących statystyk, prezydent Irlandii "potępił" tych, którzy "próbują zrobić kozła ofiarnego z [muzułmańskiego] pasterskiego ludu, który jest jedną z głównych ofiar skutków zmian klimatycznych". Chodzi o Fulanich, muzułmańskich pasterzy najwyraźniej motywowanych ideologią dżihadystyczną, by codziennie napadać i mordować chrześcijan. Jak wskazuje ten raport, w Nigerii co dwie godziny ginie jeden chrześcijanin – większość z nich z rąk Fulanich.
10 czerwca biskup Jude Ayodeji Arogundade z chrześcijańskiej diecezji, w której zamordowano nigeryjskich chrześcijan, zareagował na twierdzenia Higginsa, że zmiany klimatyczne są odpowiedzialne – jak również na nieprzyzwoite przedstawianie Fulanich jako ofiar w tym samym stopniu co chrześcijanie, których zabijają:
"Choć dziękuję szanownemu panu Higginsowi za przyłączenie się do innych w celu potępienia ataku i okazania współczucia ofiarom, powody tej makabrycznej masakry, jakie podał, są błędne i naciągane… Sugerowanie lub tworzenie związku między ofiarami terroru a ofiarami zmian klimatycznych są nie tylko mylące, ale także dosypują soli do ran wszystkich, którzy doświadczyli terroryzmu w Nigerii. Ofiary terroryzmu należą do innej kategorii, do której niczego nie można porównać! Jest to bardzo jasne dla każdego, kto był blisko i śledził wydarzenia w Nigerii w ciągu ostatnich lat, że podstawowe kwestie ataków terrorystycznych, bandytyzmu i niesłabnących ataków w Nigerii i regionie Sahelu oraz zmiany klimatu nie mają ze sobą nic wspólnego….Nawiązywanie do polityki dotyczącej zmian klimatycznych w naszej obecnej sytuacji jest całkowicie niestosowne…. Terroryści od ponad 8 lat swobodnie mordują, masakrują, ranią i wprowadzają terror w różnych częściach Nigerii, nie z powodu jakiegoś racjonalnego powodu, ale dlatego, że są złymi ludźmi — koniec".
Orędownik praw człowieka Lord David Alton z Liverpoolu równie głośno potępił tych, którzy próbują skierować uwagę z islamskiego terroryzmu na zmiany klimatyczne. 12 czerwca napisał:
"[P]olitycy muszą być bardziej uczciwi w sprawie tego, co napędza rzeź… Każde życie stracone [podczas ataku na kościół Zesłania Ducha Świętego] oznaczało tragiczne złamanie serca dla poszczególnych rodzin. … Uderzające jest, jak małe jest zainteresowanie mediów głównego nurtu szczegółami tych wydarzeń. Poszczególne życie utracone w Nigerii nie powinno być mniej warte wspomnienia niż życie utracone w jakiejkolwiek innej części świata. I jest uderzające, jak szybko politycy i komentatorzy wymyślają tę samą zdyskredytowaną banalną narrację, że motorem takiej rzezi są zmiany klimatyczne i brak zasobów. Mówią, że przyczyny są 'skomplikowane', prawie nie wspominając o ideologii dżihadu, która stoi za niekończącymi się okrucieństwami ISIS i Boko Haram. A potem mówią, że wszyscy [chrześcijanie i muzułmanie] cierpią i istnieje rodzaj równoważności ofiar pochodzących z różnych środowisk religijnych. Powinni to powiedzieć rodzinom, których bliscy są celem ataków, dzień w dzień, i zobaczyć, jaki rodzaj odpowiedzi otrzymają".
Bez wymieniania nazwy jakiejkolwiek religii, Alton trafnie, choć dyplomatycznie zakończył:
"Najwyższy czas, aby świat obudził się i zobaczył nieprzyjemną prawdę, że ta sama złośliwa siła, która torowała sobie drogę mordami i pożogami przez społeczność za społecznością, nadal brutalnie morduje Nigeryjczyków i jest w stanie robić to bezkarnie".
Alton napisał na Twitterze 6 czerwca:
"Powiedziałem @UKParliament, że szokujące morderstwa w kościele w #Nigerii można przypisać ideologii, brakowi bezpieczeńtwa i bezkarności – wraz z obojętnością rządu Buhariego. Nie można winić zmian klimatycznych za egzekucje, porwania i morderstwa".
Wiele mówi również fakt, że potępiając niemal identyczny pod względem liczby ofiar atak terrorystyczny, a mianowicie masakrę w Christchurch w 2019 roku, w której Australijczyk zabił 51 muzułmanów w Nowej Zelandii – prezydent Irlandii nie powiedział nic o zmianach klimatycznych. Podkreślił raczej prawdziwą przyczynę obu ataków – religię. Po powiedzeniu, że ataki na meczety "oburzyły ludzi na całym świecie", Higgins kontynuował:
"Nie ma usprawiedliwienia dla aktów przemocy i dyskryminacji ze względu na religię lub przekonania… Wolność wypowiedzi religijnej jest kamieniem węgielnym każdej funkcjonującej demokracji i prawa te muszą być zagwarantowane wszystkim obywatelom".
Sekretarz generalny ONZ António Guterres w grudniu 2021 roku również próbował odwrócić uwagę od terroryzmu motywowanego religijnie i zwrócić ją na zmiany klimatyczne. "Zmiana klimatu… jest czynnikiem pogarszającym niestabilność, konflikt i terroryzm" – powiedział. Gdyby nie było huraganów, byłoby mniej terroryzmu?
Jak daleko gotowi się posunąć niektórzy ludzie? Albo ignorancko, albo kłamliwie wykorzystują ludzkie cierpienie chrześcijan i innych, próbując odwrócić uwagę od radykalizacji (takiej jak tu, tu i tu), przemocy (tutaj, tu, tu i tu) i terroryzmu (tutaj, tu i tu) ekstremistycznych muzułmanów i zwracając ją w stronę ich szczególnie ulubionych projektów, w tym przypadku zmiany klimatu.
---
---