Matt Ridley
Tłumaczenie: Małgorzata Koraszewska
---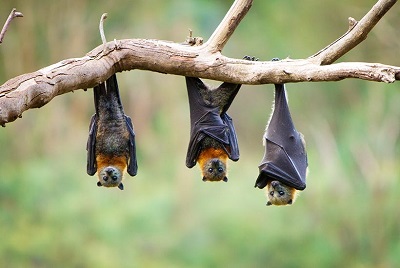 Żaden ze mnie Nostradamus, ale 20 lat temu, kiedy poproszono mnie o napisanie krótkiej książki o chorobach w nowym tysiącleciu, prognozowałem, że jeśli zdarzy się nowa pandemia, będzie to wirus, nie bakteria ani zwierzęcy pasożyt i złapiemy go od dzikiego zwierzęcia. "Stawiam na nietoperza" – napisałem. Wiemy teraz, że naturalnym gospodarzem i rezerwuarem tego nowego koronawirusa, Covid-19, jest nietoperz i że wirus prawdopodobnie dostał się do ludzi poprzez targ żywymi zwierzętami w Wuhan.
Nie jest to pierwsza choroba, jaką dały nam nietoperze. Wścieklizna prawdopodobnie pochodzi od nietoperzy. Podobnie Ebola, której pojawienie się na ogół można prześledzić do ludzi, którzy zetknęli się z nietoperzami gnieżdżącymi się w jaskiniach, na drzewach i w budynkach. Wirus Marburg, podobny do Eboli, najpierw zabił wielu ludzi w Niemczech w 1967 roku, a teraz wiadomo, że jest to wirus nietoperzy. Od 1994 roku wirus Hendra czasami przeskakuje z australijskich nietoperzy na konie i (rzadko) na ludzi – z śmiertelnym wynikiem. Od 1998 roku inny wirus nietoperza, Nipah, infekował i zabijał ludzi głównie w Indiach i Bangladeszu. Sars, który rozpoczął się w Chinach w 2003 roku także pochodzi od nietoperzy, prawdopodobnie za pośrednictwem cywet. Także Mers, podobny, przenoszony przez nietoperze koronawirus, od 2012 roku zabija setki ludzi i wielbłądów na Bliskim Wschodzie.
Wszystkie one powodują wysoką śmiertelność, ale nie przenoszą się łatwo z jednego człowieka na drugiego. Z Covid-19 jest inaczej: wysoce zaraźliwy, ale stosunkowo rzadko śmiertelny. Istnieje dobry powód tej wymiany między zakaźnością a zjadliwością, ale pomaga myślenie z punktu widzenia wirusa, żeby to zrozumieć. Ogólnie rzecz biorąc, nowe choroby, jeśli nie są przekazywane przez owady, brudną wodę lub seks, ewoluują ku niższej zjadliwości, jeśli szeroko się rozprzestrzeniają.
Około 200 różnych rinowirusów, adenowirusów i koronawirusów, które powodują to, co nazywamy "przeziębieniem", mają własny interes w tym, by nie doskwierać nam zanadto, nie mówiąc już o zabijaniu: "chcą", żebyśmy poszli do pracy, kaszleli tam i kichali, lub chodzili na przyjęcia, całowali innych ludzi i ściskali im ręce. W ten sposób łagodniejsze szczepy szerzą się bardziej niż ostrzejsze i stopniowo je wypierają. Tak więc nietoperze mogą mieć Covid-19 ale nie umierają z tego powodu.
W odróżnieniu od tego malaria "chce", byśmy leżeli w ciemnym pokoju, na pół przytomni, żeby przyciągnąć komary i nie zauważyć ich. Herpes, syfilis i HIV — ta najgorsza nowo nabyta od zwierząt infekcja w ostatnich dziesięcioleciach – lubi przycupnąć na miesiące lub lata w nadziei, że będziemy mieli nowego partnera seksualnego. Ewolucja jest podstępnym wrogiem.
Dlaczego nietoperze są odpowiedzialne za tak wiele niedawnych zoonozów (wykwintna grecka nazwa na infekcje nabyte od innych gatunków zwierząt)? Po pierwsze, nietoperze są ssakami, co znaczy, że są wystarczająco blisko spokrewnione z nami, by część ich wirusów dobrze czuła się w naszych ciałach. Jest mniejsze prawdopodobieństwo, że wirus, który żyje w rybie lub ptaku, będzie w stanie zarazić człowieka. Grypa jest rzadkim wyjątkiem, złapanym od kaczek via świnie. Po drugie, nietoperze nigdy nie były udomowione. Już złapaliśmy choroby od krów, świń i psów. Odra, ospa wietrzna, wąglik i gruźlica są darami od naszych zwierząt hodowlanych.
Po trzecie, w odróżnieniu od innych ssaków, nietoperze żyją w stadach – tak samo jak my. Dlatego ich wirusy szerzą się przez kontakt. Tygrysy spotykają tak mało innych tygrysów, że są beznadziejnymi gospodarzami dla ambitnych wirusów. Bracken Cave w Teksasie jest z grubsza domem dla 20 milionów molosków brazylijskich, podobnie jak (ludzka) populacja miejskich obszarów Mexico City. Miejscami jest 500 młodych nietoperza na niecałym metrze kwadratowym. Dla wirusa jest to wspaniały bufet. Ale dlaczego teraz? Na to też łatwo jest odpowiedzieć. Nie jest to z powodu zmiany klimatu ani niszczenia lasów. Nietoperze żyły w dzwonnicach i na drzewach przez stulecia. Jest tak dlatego, że my żyjemy w tak gęstych skupiskach i podróżujemy tak dużo. Z 7,7 miliarda ludzi na planecie, z których wielu podróżuje na wielkie odległości, jesteśmy kuszącym celem. Jak pisałem 20 lat temu: "Nagrody dla zarazka, który nas skolonizuje, będą olbrzymie. Szybko może stać się jednym z mikrobów, które odniosły największy sukces w historii". Jest możliwe, że wielu ludzi umarło także w przeszłości z powodu przenoszonych przez nietoperze infekcji, ale te epidemie zazwyczaj wygasały, ponieważ wsie były małe a długodystansowe podróże rzadkie.
Wydaje się jednak, że nietoperze nie dały nam Covid-19 bezpośrednio. Sekwencja RNA (kuzyna DNA) wirusa u ludzi jest w 96 procentach taka sama jak znaleziona u nietoperza w Yunnan w 2013 roku podczas poszukiwań pochodzenia Sars. To sugeruje, że miały wspólnego przodka co najmniej 25 lat temu. W odróżnieniu od tego, wersja tego wirusa u łuskowca jest w 99 procentach podobna do naszej. Prawdopodobnie schwytany łuskowiec, na sprzedaż na targu żywych zwierząt w Wuhan i głównie importowany z Malezji, w jakiś sposób złapał wirusa od nietoperzy. Łuskowce są globalnie zagrożone z powodu popytu na nie w Chinach.
Na szczęście nowoczesny świat nie tylko stanowi kuszący cel dla nowych chorób, daje nam także narzędzia do ich zwalczania. Zsekwencjonowanie genomu HIV zabrało lata, genomu Sars tygodnie, a Covid-19 tylko dni. Nasza zdolność diagnozowania szybko więc goni chorobę i są szanse, że wkrótce będzie dostępna szczepionka, podczas gdy kwarantanna i autoizolacja mogą powstrzymać wirusa przed globalnym rozprzestrzenieniem. Jeśli to zrobi, zjadliwość prawdopodobnie zmniejszy się; niewielka to pociecha dla tych, którzy umrą, ale znaczy to, że śmierć miliardów jest mało prawdopodobna.
Tymczasem, czy moglibyśmy wyciągnąć z tego dwie lekcje? Pierwsza, przestańmy przynosić dzikie zwierzęta żywe na targi (a może w ogóle): wirusy nie przeżywają długo w martwym ciele, nawet jeśli nie jest schłodzone. I druga, trzymajmy się na odległość od nietoperzy. A już na pewno ich nie jedzmy.
---

Matt Ridley – Brytyjski pisarz popularnonaukowy, sympatyk filozofii libertariańskiej. Współzałożyciel i b. prezes International Centre for Life, "parku naukowego" w Newcastle. Zrobił doktorat z zoologii (Uniwersytet Oksfordzki). Przez wiele lat był korespondentem naukowym w "The Economist". Autor książek: The Red Queen: Sex and the Evolution of Human Nature (1994; pol. wyd. Czerwona królowa, 2001, tłum. J.J. Bujarski, A. Milos), The Origins Of Virtue (1997, wyd. pol. O pochodzeniu cnoty, 2000, tłum. M. Koraszewska), Genome (1999; wyd. pol. Genom, 2001, tłum. M. Koraszewska), Nature Via Nurture: Genes, Experience, and What Makes us Human (także jako: The Agile Gene: How Nature Turns on Nurture, 2003), Rational Optimist 2010.
---
---