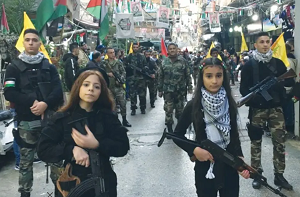 Dziewczynki z karabinami automatycznymi idą na czele parady w rocznicę Fatahu. Zdjęcie z oficjalnej strony Facebooka Fatahu (za Palestinian Media Watch). / (zdjęcie: PALESTINIAN MEDIA WATCH)
---
Itamar Marcus
Tłumaczenie: Małgorzata Koraszewska
---
Jeśli chcecie wiedzieć, co naprawdę leży u sedna palestyńskiego konfliktu z Izraelem, nie pytajcie polityków ani dyplomatów. Zwróćcie się do rzeczywistych ekspertów: palestyńskich dzieci. W odróżnieniu od reszty świata pilnie słuchają tego, czego uczą ich przywódcy i nauczyciele – i już podpisują swoją naukę krwią.
Dzieci, z którymi telewizja AP od lat przeprowadza wywiady, powtarzają to, czego nauczyły się od AP i Fatahu: że Izrael nie ma prawa istnieć i że ich celem – za który są gotowe oddać życie – jest zniszczenie Izraela.
Dwunastoletni Abd, który mieszka w obozie uchodźców na obrzeżach stolicy AP, Ramallah, wyjaśnił w telewizji AP swoje cele w życiu: "Żydzi ukradli nam ziemię i już czekam od 12 lat… a mój dziadek czeka 70 lat… Mam nadzieję, że powrócę do Lod, mojego miasta… Czuję, że jutro powrócę i wyzwolę Palestynę… Codziennie, w każdej minucie i w każdym roku wyobrażam sobie, że jestem w Lod…" (AP TV, 3 listopada 2020 i 23 maja 2021)
Lod jest izraelskim miastem niedaleko od Tel Awiwu. To dziecko żyje w pobliżu Ramallah, ale mówi, że Lod jest "moim miastem".
Zaskakujące? Nie, jeśli śledziliście edukację otrzymywaną przez dzieci w Autonomii Palestyńskiej. Palestyńskie dzieci są od urodzenia indoktrynowane wiarą, że są ofiarami istnienia Izraela ("już czekam od 12 lat"). Ministerstwo Edukacji AP niedawno podczas imprezy w szkole AP włączyło do niej olbrzymią mapę "Palestyny", która wymazuje cały Izrael. Słowa na plakacie są wyraźne: "Palestyna – cały kraj jest nasz od Morza [Śródziemnego] do Rzeki [Jordan]". (Facebook, Ministerstwo Edukacji, 16 listopada 2021)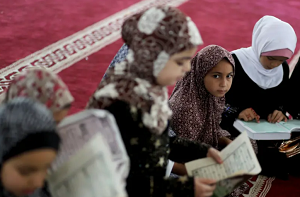 .
A co z prawem Izraela do istnienia? Coś takiego nie istnieje w świecie palestyńskiego dziecka. Palestyńskie dzieci uczą się, że Izraelczycy są "cudzoziemcami, którzy przybyli z wszystkich krańców świata, cudzoziemcami, którzy nie znają Palestyny i nie żyli w niej – ani oni, ani ich ojcowie i przodkowie". (pismo dla dzieci "Waed" wydawane przez Fatah, numer 36)
Palestinian Media Watch udokumentowała, że każde z następujących określeń występuje w kształceniu palestyńskich dzieci w odniesieniu do Izraela: "złodziejski twór syjonistyczny", "złodziejska okupacja", "wasz wróg", "syjonistyczni zbrodniarze", "syjonistyczne gangi", "syjonistyczni złodzieje" i "żydowscy najeźdźcy". Przy takim praniu mózgów przez AP/Fatah nienawiść palestyńskich dzieci do Izraela jest wpojona, usprawiedliwiona i pozostaje stałym elementem ich świadomości – nie z powodu granic Izraela i nie z powodu tego, co Izrael robi, ale dlatego, że Izrael istnieje.
Dlaczego chłopiec jest taki pewny, że "wyzwoli Palestynę"? Ponieważ palestyńskim etapem końcowym przedstawianym dzieciom jest właśnie zniszczenie Izraela: "Przez tysiące lat … [Palestyńczycy mieli] tysiące zwycięstw nad każdym, kogo kusiło najechanie… Nie ma najeźdźcy, który najechał tę ziemię i nie został w końcu pokonany, i to jest to, co zdarzy się syjonistycznym najeźdźcom". ("Waed", Nr 27)
A co z Żydami, którzy obecnie są w Izraelu? Także znikną: "Po 132 latach kolonializmu… liczba francuskich osadników wynosiła około miliona i wszyscy oni uciekli do Francji… Przykład Algierii zapewnia nas, że żydowscy osadnicy w Palestynie w końcu znikną". ("Waed", Nr 28)
Z wpojeniem motywacji do nienawiści, walki i zapewnienia o zwycięstwie, wszystko, co pozostaje, by zamienić palestyńskie dziecko w żołnierza, jest wyjaśnienie, że oczekuje się od niego walki i śmierci jako męczennik.
Palestinian Media Watch ujawniła to znęcanie się AP nad dziećmi w listopadzie 2000 roku i propagowanie dzieci-żołnierzy w AP nigdy nie ustało. Dwie małe dziewczynki śpiewały niedawno w AP TV: "W imię wolności poświęcimy nasze życie". (Oficjalna AP TV, 22 października 2021)
Inna mała dziewczynka recytowała niedawno: "Żyd zbezcześcił Jerozolimę… Zebrał psy świata [tj. Żydów] wewnątrz ciebie… Opór jest bronią i kamieniem, Allahu Akbar." (Officjalna AP TV, 4 listopada 2021)
Jedno z najbardziej złowieszczych przesłań recytowała mała dziewczynka, co Fatah zamieścił na swojej stronie Facebooka. W wierszu matka mówi synowi: "Naszą bronią jest nasz islam, a naszą amunicją są nasze dzieci. I ty, mój synu, jesteś przeznaczony na Męczennika". Czy jest większe znęcanie się nad dzieckiem niż powiedzeniu pokoleniu palestyńskich dzieci, że nie mają żadnej wartości jako jednostki; ich przeznaczeniem jest tylko bycie amunicją dla islamu?
Przy karmieniu dzieci palestyńskich przez AP nieustanną karmą promocji dzieci-żołnierzy, kiedy AP rozpoczyna fale terroru ma kadrę dzieci gotowych do akcji. Na przykład, podczas ostatniej długiej fali terroru od września 2015 do czerwca 2016 roku, podczas której Palestyńczycy zamordowali 40 ludzi, magazyn "Waed" dla dzieci w wieku 6 do 15 lat, wydawany przez Fatah, aktywnie zachęcał dzieci do wzięcia udziału w terrorze:
"Ważne jest zauważenie roli dzieci w palestyńskiej działalności w okresie walki zbrojnej… dzieci RPG … dzieci kamieni… i do dnia dzisiejszego dzieci stanowią awangardę w walce… jak wyraźnie wiadomo w [obecnym] powstaniu Al-Aksa".
Po poinstruowaniu dzieci, by były "awangardą" w "walce zbrojnej" Fatah następnie gloryfikował dziecięce poświęcenie: "Palestyna jest całym moim życiem… Życie i dzieci są poświęceniem dla ciebie". ("Waed", Nr 27)
Rekrutacja dzieci przez AP była wielkim sukcesem. Uczestniczyło wielu palestyńskich nastolatków i 16 uczniów klasy 12 zginęło w tej fali terroru. Reakcja AP na ich śmierć była przerażająca, jako że oficjalna palestyńska agencja informacyjna przedstawiała ich śmierć jako "wielkie zwycięstwo:
"Szesnastu [uczniom 12. klasy] udało się [osiągnąć] Męczeństwo w ojczyźnie… bowiem śmierć jako Męczennik jest drogą do doskonałości i wielkości, i drogą tych, którzy wiedzą, jak osiągnąć wielkie zwycięstwo".
Na koniec, po wysłaniu dzieci na śmierć, AP używa ich do politycznej propagandy. Wewnętrznie te śmierci są używane do podsycania nienawiści do Izraela, jako że AP rutynowo prezentuje dziecięcych terrorystów jako niewinne ofiary zamordowane przez Izrael.
Na arenie międzynarodowej AP nagłaśnia liczbę zabitych nastolatków i wzywa świat do ukarania Izraela. Od kiedy zaczęła narastać częstotliwość potępiania Izraela przez członków parlamentów i antyizraelskie NGO za śmierć palestyńskich dzieci, podnoszenie liczby martwych palestyńskich dzieci stało się fundamentalnym składnikiem strategii propagandy AP.
Lata temu, kiedy po raz pierwszy autor niniejszego przedstawił dowody podczas przesłuchania w Senacie USA, wywołało to oburzenie. Ówczesna senatorka Hillary Clinton zaatakowała AP za "koszmarne znęcanie się nad dziećmi", a były senator, Arlen Specter potępił to jako "gwałcenie cywilizacji". Jednak amerykańskie i międzynarodowe potępienia pozostały pustymi słowami, ponieważ politycy przychodzą i odchodzą, podczas gdy używanie dzieci-żołnierzy przez AP pozostaje filarem jej strategii.
Lata indoktrynacji AP były alarmująco skuteczne. Palestyńskie dzieci wiedzą, że oczekuje się od nich, że będą dziećmi-żołnierzami i regularnie kolejne dziecko szuka możliwości spełnienia i sławy, mając nadzieję na zabicie i zostanie zabitym. Palestyńskie dzieci już opanowały to, czego je uczono. Może to my powinniśmy się zacząć uczyć.
---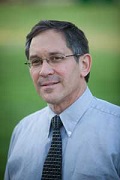 Itamar Marcus – Izraelski badacz, założyciel Palestinian Media Watch. Były doradca premiera Netanjahu, zeznawał przed Komitetem d/s Edukacji amerykańskiego Senatu, przedstawiając materiały dowodowe na temat indoktrynacji dzieci palestyńskich, brał udział w rozmowach z członkami parlamentów UE, Wielkiej Brytanii, Francji, Kanady i Australii. Często wykłada na uniwersytetach zachodnich i bierze udział w konferencjach dotyczących konfliktu arabsko-izraelskiego.
---
---