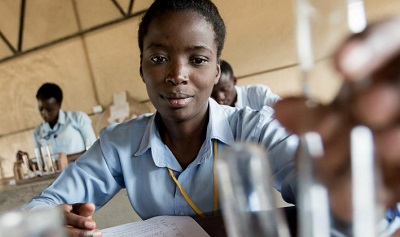 Uczennica liceum w Lusace (Zambia) przeprowadza eksperyment na lekcji chemii. Zdjęcie: UNICEF Photo/UN0145554/Karin Schermbrucker. (Źródło: ONZ, International Day of Women and Girls in Science.)
---
Andrzej Koraszewski
---
Przez tysiąclecia trzymano kobiety z dala od ośrodków edukacyjnych i tylko te najbardziej przebiegłe umiały jakoś ominąć boskie zakazy.
.
W Europie Reformacja kazała wszystkim czytać Słowo Boże, więc tam gdzie miłość bliźniego przegrała z chęcią zysku, dziewczynki, nawet te z chłopskich rodzin, dostały się do ławek szkolnych, chociaż kościoły i rodzice dokładali starań, żeby nie siedziały w nich zbyt długo. W XIX wieku zaczęły stukać do bram uniwersytetów, na co większość panów patrzyła z oburzeniem i obrzydzeniem.
Kiedy w XX wieku dziewuchy zaczęły się masowo pchać do szkół średnich i na uniwersytety uznano, że może ich umiejętności przydadzą się do różnych prac pomocniczych, bo ich słabe główki do myślenia się przecież nie nadają.
Jeff Jacoby z "Boston Globe" przypomina, że właśnie mija 50 lat od uchwalenia w USA poprawki do ustawy edukacyjnej zakazującej dyskryminacji ze względu na płeć w jakichkolwiek ośrodkach edukacyjnych. Jacoby przypomina słowa senatoraBircha Bayha z Indiany, który był jednym z inicjatorów tej poprawki:
Wszyscy znamy stereotyp, że kobiety są ładnymi istotami, które idą do szkoły średniej, aby znaleźć męża, niektóre idą do szkoły wyższej, ponieważ chcą bardziej interesującego męża, a w końcu wychodzą za mąż, mają dzieci i nigdy nie idą do pracy zawodowej. Z takich stereotypowych wyobrażeń wynika pragnienie wielu szkół, by nie marnować "męskich miejsc" dla kobiet. Ale fakty przeczą tym mitom o "słabszej płci" i nadszedł czas, aby zmienić nasze założenia operacyjne. . . . [Ta poprawka] jest ważnym pierwszym krokiem w wysiłkach, aby zapewnić kobietom w Ameryce coś, co słusznie należy do nich — równe szanse uczęszczania do wybranych przez nie szkół [i] rozwijania umiejętności, których pragną.
Wielu badaczy dowodzi, że prawdziwym motorem przemian były zmiany rynku pracy, które gwałtownie przyspieszały podczas obydwu wojen światowych, kiedy sytuacja wymuszała masowe zatrudnianie kobiet (chociaż gotowość pracodawców do rezygnacji z zasiedziałych mitów była nadal sprzeczna z ich przyzwyczajeniami i interesami).
Trudno powiedzieć jaką siłę oddziaływania miał prawny zakaz dyskryminowania kobiet amerykańskich w ośrodkach edukacyjnych, jako że generalna zmiana proporcji kobiet wśród absolwentów szkół wyższych obserwowana jest w całym rozwiniętym (i nie tylko rozwiniętym) świecie.
Ekonomista Mark J. Perry sięgnął po dane amerykańskiego Biura Statystyki Pracy z października 2021 r., i pokazuje zdumiewające różnice między młodymi mężczyznami i kobietami w Stanach Zjednoczonych. Proporcje nie tylko się odwróciły, ale panie mogą mieć wzrastające kłopoty ze znalezieniem tych interesujących (intelektualnie) partnerów.
Dziś więcej kobiet niż mężczyzn kończy szkoły średnie, wśród absolwentów szkół wyższych jest kobiet więcej niż mężczyzn o całe 20 procent. Mężczyźni znacznie częściej przerywają naukę zarówno na poziomie szkoły średniej, jak i podczas studiów, banalna jest obserwacją, że mężczyźni mają wielokrotnie częściej problemy z alkoholem, narkotykami i przestępczością. Jeśli idzie o liczbę doktoratów panie biją panów na głowę.
Patrząc na statystyki wyników nauczania to mężczyźni pozostają dziś daleko w tyle za kobietami i dotyczy to nie tylko sfeminizowanych zawodów takich jak farmacja, medycyna, pedagogika, ale również ekonomia czy biologia. Co więcej przyspiesza tempo zmian w dziedzinach, które były ostatnimi bastionami męskiej supremacji, na politechnikach, na wydziałach matematyki i fizyki panie przestały być dziwolągami (a panowie profesorowie i młodsi wykładowcy niestety często dają powody do podejrzeń, że nie są równo traktowane).
Czy to oznacza, że w amerykańskim systemie edukacyjnym kobiety są dziś uprzywilejowane? Od dawna mamy powody, by sądzić, że administracyjne wyrównywanie szans często przynosi skutki odwrotne od zamierzonych, kwoty, punkty, pozytywna dyskryminacja nie tylko hamują rozwój, nie tylko prowadzą do obniżania poziomu nauczania, ale są zabójcze dla grup, które były wcześniej dyskryminowane. Zamiast nagradzać pracowitość i talenty, nagradzają postawy roszczeniowe i prowadzą do bezpodstawnych oczekiwań.
Banalne jest stwierdzenie, że walka ze skutkami długotrwałej dyskryminacji, czy to ze względu na płeć, rasę, pochodzenie etniczne, czy grupę społeczną, musi zaczynać się od uzupełnienia rodzinnej i środowiskowej stymulacji intelektualnej dzieci od najwcześniejszych lat, że złe szkoły w połączeniu z przekonywaniem, że te dzieci są ofiarami systemowej dyskryminacji, przy równoczesnym domaganiu się obniżania oczekiwań, to strategia pogłębiania problemu i blokowania ruchliwości społecznej.
Problem dyskryminacji kobiet jest tu klasycznym przykładem. Sama dyskryminacja była (i nadal jest) zakotwiczona głównie w kulturze religijnej. Dziś jest najbardziej otwarcie podtrzymywana w islamie, prawosławie i katolicyzm męczą się z udawaniem, że porzuciły dawne przesądy, że tylko troszczą się o tradycyjny model rodziny, w którym mężczyzna zarabia, a kobieta rodzi i sprząta, protestantyzm niemal się poddał i posiada już nawet biskupki, (nie ma się jednak co oszukiwać, również protestanci mają swoje bastiony tradycji, których działanie widzimy zarówno w kościołach, jak i w wyznaniowych szkołach). Boko Haram (islamski ruch walki z zachodnią nauką dla dziewcząt), jest tylko w Afryce, ale Malala została postrzelona w Pakistanie za swoje głośnie domaganie się prawa do nauki.
My żyjemy w świecie, w którym walka o prawo dostępu kobiet do oświaty została uwieńczona pełnym zwycięstwem. Wszystko byłoby na najlepszej drodze, gdyby nie to, że dziś pseudo feministki zaczęły walkę o idealne parytety, jakby miały kłopoty ze zrozumieniem, że ważną dla społeczeństwa pozycję powinien pełnić człowiek z najlepszymi kwalifikacjami, że istotne jest równe traktowanie, a nie płciowa sprawiedliwość w organach władzy.
Walka z tym co pozostało z wielowiekowej dyskryminacji trwa. Pytanie jednak czy walczymy o równość szans, równość ocen w zależności od pracowitości i talentu, równość płac w zależności od jakości i wydajności pracy, czy o kwoty w oparciu o kryterium kto ma XX a kto XY. Kiedy ideologia bierze górę nad rozsądkiem, szydło wychodzi z worka i może poprawiać statystyki, ale szkodzi sprawie.
W dyskusjach o dyskryminacji kobiet jak na gumce powraca pytanie, czy są biologiczne różnice między umysłami kobiet i mężczyzn. Wiele wskazuje na to, że są i byłoby dziwne gdyby nie było. Różnice między jednostkami są większe i głębsze niż różnice między populacjami, a ujawnienie jednostkowych talentów zależy w dużym stopniu od tego, co dzieje się w pierwszych latach naszego życia. Opowieści o ścisłych umysłach mężczyzn i opiekuńczych skłonnościach kobiet sprawdzają się na wielkich liczbach, ale w prawdziwym życiu nieustannie zderzamy się z zaskakującymi odchyleniami od stereotypów (nawet jeśli mają one podstawy w rzeczywistości).
Nadal jest powód do rozwijania feminizmu, ale dobrze jest jednak patrzeć na jego jakość i wydajność. Twierdzenie, że ważne to co w głowie, a nie to, co między nogami, nie jest sprzeczne z walką z pozostałościami odwiecznej dyskryminacji, zgoła przeciwnie.
---