---
Olga Szymańska
---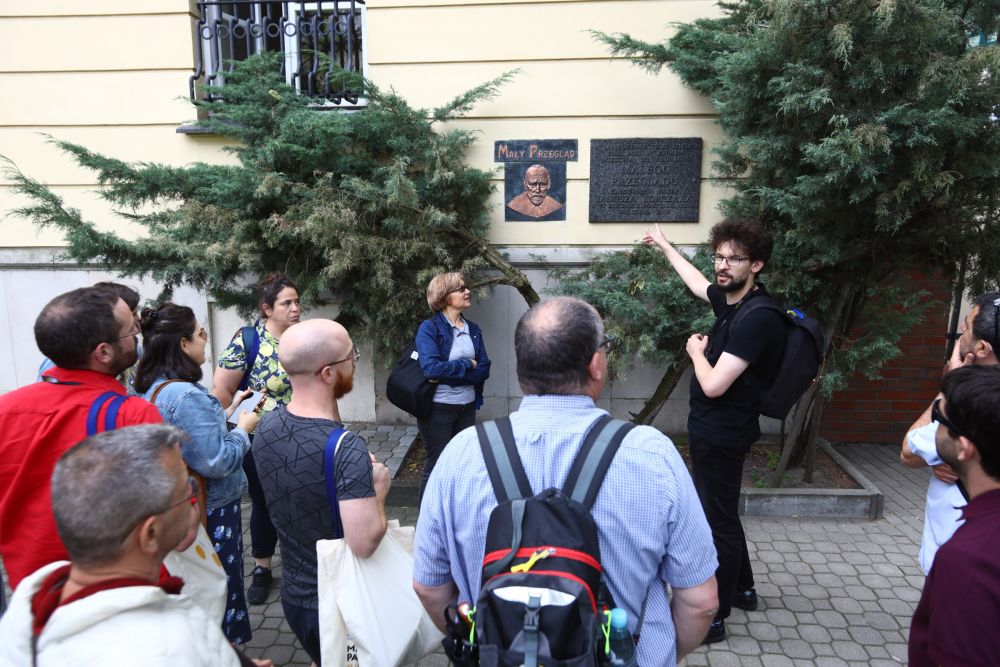 Fot. Grzegorz Kwolek (ŻIH)
Przy powitaniu Dyrektor Żydowskiego Instytutu Historycznego Monika Krawczyk wyraziła nadzieję, że lepsze poznanie historii budynku na Tłomackiem 3/5, specyfiki pracy poszczególnych działów, a przede wszystkim nawiązanie znajomości z pracownikami Instytutu sprawi, że wszyscy będą czuli się w ŻIH jak w domu. Wizytę rozpoczęliśmy od zwiedzenia wystawy stałej o twórcach i dokumentach Podziemnego Archiwum Getta Warszawskiego – "Czego nie mogliśmy wykrzyczeć światu", po której oprowadzała Olga Szymańska z Działu Edukacji. Była to okazja do zaprezentowania metody interpretacji dziedzictwa stanowiącą oś narracji edukatorów i przewodników ŻIH.
Naszą ofertę edukacyjną skierowaną do młodzieży i dorosłych przedstawił kierownik Działu Edukacji dr Bartosz Borys. Podkreślił genius loci Tłomackie 3/5, stanowiący punkt wyjścia do opowieści nie tylko o Zagładzie Żydów, lecz również o ich wielowiekowej obecności w Warszawie i Polsce. Podczas spaceru "Niezatarte ślady getta" uczestnicy zobaczyli takie wyjątkowe dla dziejów "dzielnicy zamkniętej" adresy, jak dawne Leszno 13 (siedziba Urzędu do Walki z Lichwą i Spekulacją, obecnie al. "Solidarności" 93), nieistniejące Leszno 18 (adres Emanuela Ringelbluma) oraz siedzibę teatru Femina (dawne Leszno 35, obecnie al. "Solidarności" 115). Odwiedzili upamiętnienie kładki nad ulicą Chłodną i zobaczyli jedne z nielicznych ostańców zabudowy getta – kamienice przy ulicy Waliców.
Drugiego dnia uczestnicy seminarium zwiedzili wystawę czasową "Tańczący 1944. Mieczysław Wejman" z dr. Bartoszem Borysem, a kurator z Działu Sztuki Michał Krasicki opowiedział o kolekcji zbiorów malarstwa i rzeźby należącej do ŻIH, sposobach, w jaki artefakty trafiały do Instytutu, pracy konserwatorów, historyków sztuki i Działu Digitalizacji. Agnieszka Reszka, kierowniczka Archiwum, pokazała oryginalne dokumenty z kolekcji Instytutu i wyjaśniła, jak korzystać z naszej bazy danych. O tym, jak w Polsce dbamy o synagogi, cmentarze i inne zabytki żydowskiego dziedzictwa materialnego, opowiedziała dyrektor Monika Krawczyk. Wskazała również, jakie kroki prawne i inne działania należy podjąć, aby ocalić to, co jeszcze pozostało.
Podczas spaceru z dr. Bartoszem Borysem "Impresja o Dzielnicy Północnej" uczestnicy odwiedzili miejsca kluczowe dla pamięci o powstaniu w getcie warszawskim, takie jak kopiec Anielewicza na Miłej 18, miejsce śmierci przywódców Żydowskiej Organizacji Bojowej. Obejrzeli także wykopaliska archeologiczne prowadzone przez Muzeum Getta Warszawskiego w sąsiedztwie Miłej 18.
Ostatniego dnia dr hab. Katarzyna Person (Dział Naukowy) opowiedziała o wielkiej akcji deportacyjnej z warszawskiego getta, a dr Bartosz Borys o dokumentach z obozu zagłady w Treblince znajdujących się w naszych zbiorach dzięki archiwistom i dokumentalistom z konspiracyjnej grupy Oneg Szabat. Po południu Olga Szymańska zabrała grupę na zwiedzanie cmentarza żydowskiego przy ulicy Okopowej w Warszawie, by ukazać łączność tradycji trzech cmentarzy Żydów warszawskich – poza Okopową także nieistniejącej już średniowiecznej nekropolii, zlokalizowanej prawdopodobnie w rejonie współczesnej ulicy Karowej i cmentarza praskiego na Bródnie. Uczestnicy odwiedzili grób Bera Sonnenberga – syna Szmula Zbytkowera (założyciela praskiego rodu) i masowy grób ofiar warszawskiego getta oraz dowiedzieli się, co łączy Ester Rachel Kamińską i "drugą trąbkę świata", czyli Eddiego Rosnera.
O kolekcji fotografii w Archiwum Ringelbluma opowiedziała w ostatnim wykładzie dr Agnieszka Kajczyk, kierowniczka Działu Dokumentacji Dziedzictwa. Ukazała szeroką panoramę możliwości analizy fotografii robionych w getcie, również tych robionych przez Niemców. Różnice między spojrzeniem sprawcy i obserwatora, nierzadko więźnia getta, szczególnie dobitnie widać na przykładzie zdjęć robionym dzieciom.
Na zakończenie seminarium uczestnicy otrzymali dyplomy, podzielili się wrażeniami i opowiedzieli o swoich planach na przyszłość. Do zobaczenia za rok w Tel Awiwie!
Projekt "Podziemne Archiwum Getta Warszawy – seminarium edukacyjne o losie polskich Żydów w czasie II wojny światowej skierowane do izraelskich nauczycieli i przewodników wycieczek edukacyjnych do Polski" jest organizowany przez Żydowski Instytut Historyczny we współpracy z Instytutem Polskim w Tel Awiwie i Moreshet, Anielevich Memorial – Centre for Holocaust Education and Research i dofinansowany ze środków Ministra Kultury i Dziedzictwa Narodowego w ramach programu "Kultura Inspirująca" na lata 2022-2023.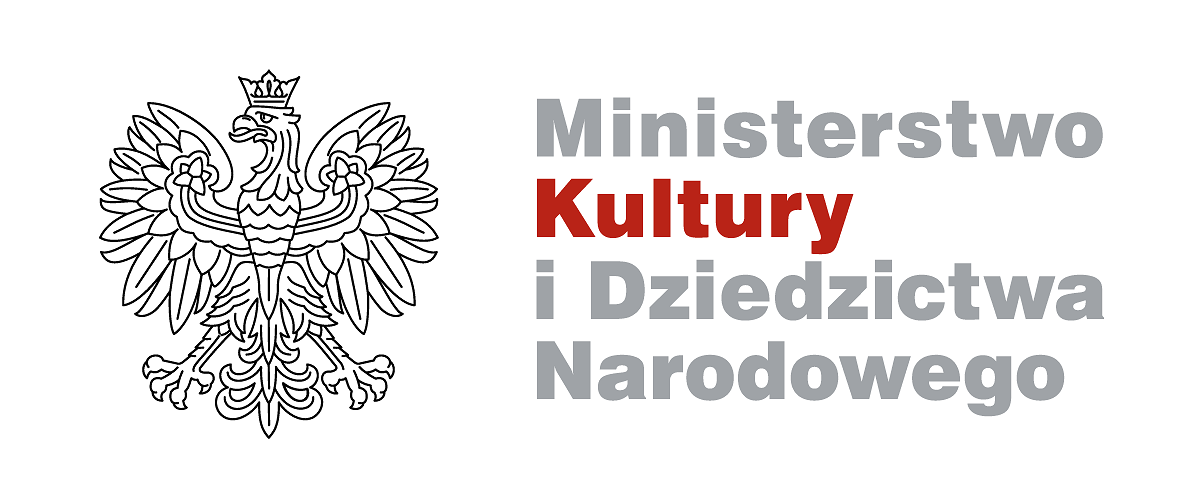 ---
---