POLIN
---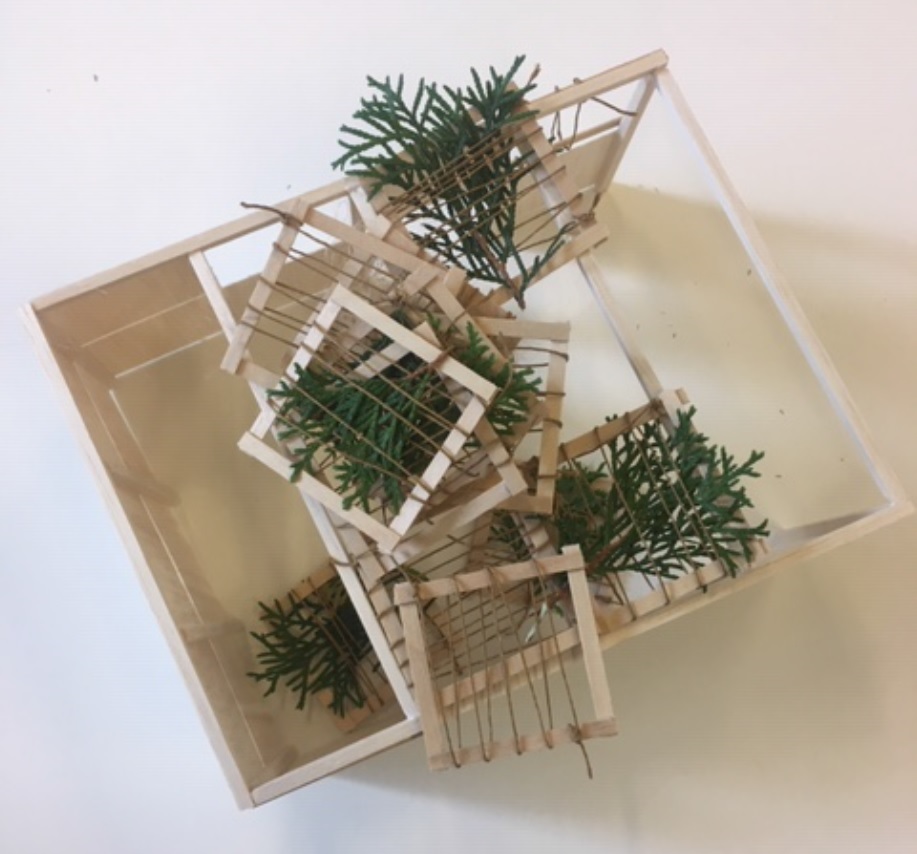 NA ZDJĘCIU: MODEL NAMIOTU NA ŚWIĘTO SUKOT, STWORZONY Z DREWNIANYCH RAMEK, KTÓRE OPLECIONE SĄ JASNYM SZNURKIEM. MIĘDZY LINKAMI SZNURKA WPLECIONE SĄ ZIELONE LIŚCIE PALMOWE, FOT. MUZEUM HISTORII ŻYDÓW POLSKICH
Jesienne święto Sukot w kalendarzu żydowskim wypada w dniach 15-21 miesiąca Tiszrej, w kalendarzu gregoriańskim to święto ruchome na przestrzeni września i października.
Sukot trwa siedem dni i zamyka je Hoszana Raba (pl. Wielka Hosnanna), ostatni najbardziej uroczysty dzień święta. Bezpośrednio po Sukot następują święta Szmini Aceret (pl. Zgromadzenie Ósmego Dnia) i Simchat Tora (pl. Radość Tory).
Sukot należy do cyklu Szalosz Regalim (pl. Trzy Pielgrzymki), czyli grupy wielkich świąt, charakteryzujących się w starożytności pielgrzymką Żydów do Świątyni Jerozolimskiej. Główna nazwa święta – Sukkot (pl. Szałasy), upamiętnia czterdziestoletnią wędrówkę Żydów przez pustynię z niewoli egipskiej do Ziemi Izraela, podczas której mieszkali w szałasach. Inną, rolniczą nazwą święta jest Hag Ha-Asif (pl. Święto Zbiorów), gdyż w Izraelu jest to czas zbiorów jesiennych płodów ziemi. W liturgii święto nosi nazwę Zman Simchatejnu (pl. Czas Naszej Radości), która podkreśla wesoły nastrój i radosne zwyczaje Sukot.
W celu obchodzenia Sukot Żydzi budują szałasy i spędzają w nich czas przez siedem dni święta. Tradycja nakazuje, aby szałas stał się dla Żydów tymczasowym domem, co realizuje się przynajmniej przez spożywanie w nim posiłków W Izraelu oraz w innych krajach o cieplejszym klimacie, wiele osób nie tylko spędza wiele czasu w ciągu dnia, ale także nocuje w szałasach. W krajach, gdzie w Sukot jest chłodno i deszczowo, jak w Polsce, tradycja zwalnia z obowiązku przebywania w szałasie, jeżeli pogoda uniemożliwia spożycie posiłku.
Suka, czyli szałas świąteczny, musi posiadać minimum trzy stabilne ściany, wykonane z dowolnego materiału. Budulcem dachu mogą być wyłącznie rośliny, np. gałęzie drzew, bambus, itp. Suka powinna stać pod otwartym niebem i jej dach powinien być dziurawy, by w nocy widać było z jej wnętrza gwiazdy. Wnętrze szałasu powinno być bogato zdobione malowidłami, owocami, kwiatami, gałęziami drzew owocowych, a czasem nawet kobiercami.
We wszystkie dni święta w synagogach odbywają się hakafot (pl. procesje) oraz rytuał potrząsania wiązką roślin składającą się z: liścia palmy daktylowej (hebr. lulaw), dwóch gałązek wierzby (hebr. arawot) oraz trzech gałązek mirtu (hebr. hadasim). Do wiązki dołącza się owoc etrog, przypominający cytrynę. Trzymając wszystkie arba minim (pl. cztery gatunki) w złączonych dłoniach, potrząsa się nimi w sześciu kierunkach, co symbolizuje wszechobecność Boga.
Szałasy zwykle buduje się na podwórkach, w ogrodach lub na balkonach. Czasami konstruuje się specjalne dachy, które można unieść – wtedy np. strych domu staje się szałasem. Dawniej, szałasy były stałym elementem jesiennego krajobrazu polskich miast i miasteczek. Zgodnie z tradycją, również we współczesnej Polsce obchodzi się Sukot bardzo uroczyście. I chociaż rzadko stawia się szałasy indywidualnie obok własnego domu lub mieszkania, to co roku, głównie przy czynnych synagogach, stawia się wspólnie obszerne suki, w których świętuje całe lokalne zgromadzenie.
Niezwykle ważne w czasie Sukot jest okazywanie gościnności. Przypomina o tym zwyczaj zapraszania do suki na początku każdego dnia święta wielkich bohaterów biblijnych zwanych Uszpizin i Uszpizot (Goście). Na posiłki w suce zaprasza się zarówno przyjaciół, jak i osoby ubogie, bezdomne i samotne. Bardzo ważne jest, aby Sukot obchodzić jak najradośniej. Wraz z gośćmi należy jeść, pić i radować się ze wszystkich darów Boga. W tym okresie tradycyjnie podaje się potrawy słodkie, soczyste oraz faszerowane – pierogi, gołąbki, nadziewaną rybę i wszelkie słodkie wypieki, ciasta i cukierki.
---
---