W sieci kłamstw. Historyk IPN manipuluje, aby zaatakować badaczy Zagłady
JAKUB SZYMCZAK
---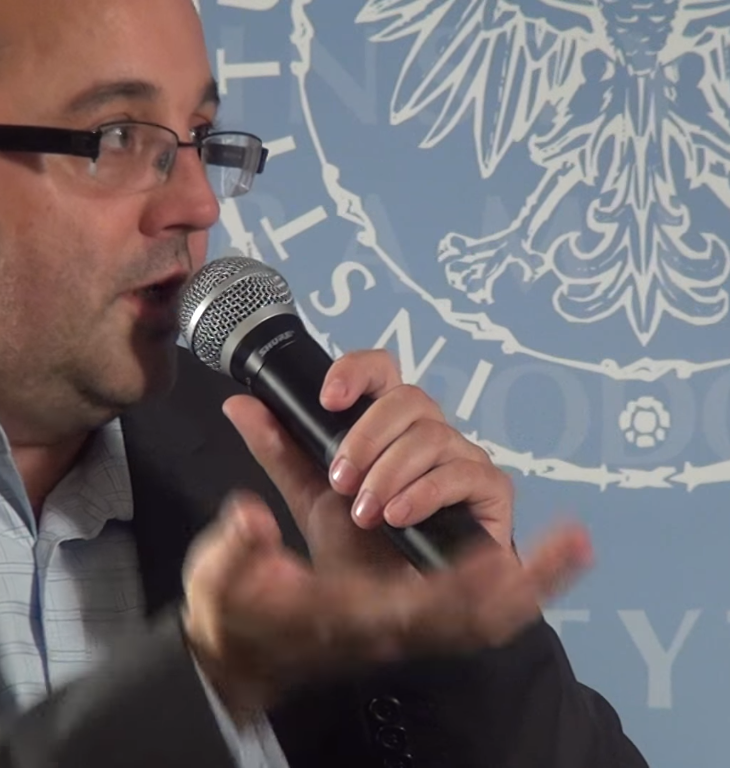 Piotr Gontarczyk
"Złapani na kłamstwie. Tak manipulują historią" – czytamy na okładce tygodnika "Sieci". Historyk IPN Piotr Gontarczyk zarzuca kłamstwo autorom "Dalej jest noc" – głośnej książki o losach Żydów w trakcie okupacji. Za pomocą manipulacji chce unieważnić lata pracy naukowców z PAN. To część szerszej ofensywy IPN
W wydanej przez Centrum Badań nad Zagładą Żydów książce "Dalej jest noc", w rozdziale o losach Żydów w powiecie bocheńskim, autorka pisze o likwidacji getta w Bochni we wrześniu 1943 roku. Historyk IPN Piotr Gontarczyk twierdzi, że w jednym akapicie tego rozdziału przyłapał autorkę na fałszu.
Z jego niezbyt spójnego wywodu wynika, że uraziło go sformułowanie o udziale polskiej policji w wyszukiwaniu i likwidacji bunkrów, w których ukryli się Żydzi likwidowanego getta. Gontarczyk twierdzi, że polska tzw. granatowa policja nie wchodziła do gett i nie mordowała tam Żydów. Ale autorka rozdziału wcale nie napisała, że bunkry znajdowały sie na terenie getta, ani też nigdzie nie negowała udziału żydowskiej policji.
Swoje wywody Piotr Gontarczyk zamieścił w tygodniku "Sieci" braci Karnowskich w tekście "Naukowa mistyfikacja". Tygodnik ogłosił ochoczo na pierwszej stronie, że przyłapał badaczy na kłamstwie. Pokażemy, że to nieprawda i manipulacja.
Przełomowa praca
Wydana w 2018 roku książka "Dalej jest noc" jest najobszerniejszą (ponad 1700 stron!) dotychczas próbą opisu losu ukrywających się podczas okupacji Żydów na wsiach i w małych miastach – ze szczególnym uwzględnieniem okresu po likwidacji gett w latach 1942-1943.
Pisaliśmy o niej dokładnie na naszych łamach. Warto podkreślić – nie jest to książka o tym, jak Niemcy zabijali Żydów, a Polacy w tym pomagali, ale o tym, jak Żydzi radzili sobie ukrywając się, jakie przyjmowali strategie. To, że Polacy często byli winni śmierci swoich żydowskich współobywateli, a często ich mordowali, nie jest głównym tematem publikacji.
Dwutomowe dzieło powstawało pod redakcją prof. Barbary Engelking i prof. Jana Grabowskiego. Naukowcy z Centrum Badań nad Zagładą Żydów przebadali dziewięć powiatów: Bielsk Podlaski, Biłgoraj, Bochnia, Dębica, Łuków, Miechów, Nowy Targ, Węgrów i Złoczów. Każdy powiat był badany przez jednego naukowca.
"Dalej jest noc" nie przestaje prowokować poprawiaczy historii na prawicy.
"Sensacyjna" okładka
11 marca 2019 na okładce tygodnika "Sieci" umieszczono fotografie prof. Jana Grabowskiego i prof. Barbary Engelking obok tytułu "Złapani na kłamstwie". Okładka reklamuje tekst Gontarczyka, który rzekome kłamstwo opisał.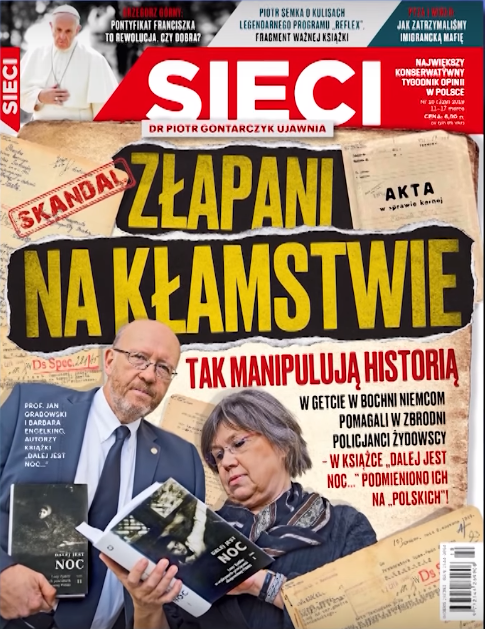 Już sama okładka jest manipulacją – w tekście Gontarczyka nie ma nic o "kłamstwach" Engelking czy Grabowskiego. Omówiony jest fragment z rozdziału o powiecie bocheńskim autorstwa Dagmary Swałtek-Niewińskiej. Ale zdecydowaną większość tekstu zajmuje co innego.
Na czterech z pięciu stron Gontarczyk opisuje historię Samuela Frischa – żydowskiego policjanta z getta w Bochni. Policja żydowska, czyli Żydowska Służba Porządkowa, działała w gettach i obozach, kolaborowała z Niemcami w urządzaniu łapanek, rekwizycji i akcji deportacyjnych, pomagała w likwidacji gett, a po likwidacji gett większość jej członków została przez Niemców zamordowana. Udział policji żydowskiej w likwidacji gett jest dobrze opisany i nie budzi żadnych kontrowersji badaczy.
Dopiero na ostatniej stronie Gontarczyk przytacza jeden akapit z pracy Swałtek-Niewińskiej i zarzuca jej podstawienie policji granatowej – polskiej, kolaborującej z Niemcami – w miejsce żydowskiej. Jest to oskarżenie, jak się za chwilę przekonamy, całkowicie bezpodstawne.
Oświadczenie PAN
Na tekst Gontarczyka odpowiedziała w oświadczeniu PAN Natalia Skipietrow, specjalista ds. public relations, Instytut Filozofii i Socjologii PAN.
"Od kilku dni mamy do czynienia z nową szkołą dyskusji naukowej, której wynalazcą jest dr Piotr Gontarczyk, a którą przeprowadza się za pośrednictwem wywiadów prasowych. Dr Gontarczyk poinformował, że jako historyk sprawdzał źródła wykorzystane w książce "Dalej jest noc. Losy Żydów w wybranych powiatach okupowanej Polski", która jest raportem z badania przeprowadzonego w latach 2012-2017 przez naukowców z Centrum Badań nad Zagładą Żydów Instytutu Filozofii i Socjologii PAN.
Pan Gontarczyk o swoich wnioskach i swoich emocjach z nimi związanych poinformował obszernie, acz bez konkretów, udzielając wywiadów w mediach (PR24, PAP), a także pisząc artykuł do tygodnika "Sieci". Wypowiedzi te bezpodstawnie dyskredytują prace badawcze, których efektem była książka.
Dr Gontarczyk pomawia badaczy z Centrum Badań nad Zagładą Żydów, autorów badania i publikacji "Dalej jest noc. Losy Żydów w wybranych powiatach okupowanej Polski" o nierzetelność badawczą, celowe zmienianie faktów, dopisywanie nieprawdziwych informacji do jednych źródeł, a pomijanie innych, celowe działania mające na celu pomówienie Polaków za śmierć Żydów w czasie Zagłady. Mamy nadzieję, że jest świadomy odpowiedzialności prawnej za swoje słowa.
Swój wywiad w Polskim Radiu dr Gontarczyk zakończył wezwaniem do badaczy Centrum: «Czekam na odpowiedź». Dr Gontarczyk odpowiedź dostanie, kiedy dostarczy recenzję naukową, w której znajdą się nie tyko pomówienia o nierzetelność naukową oraz opisy stanów emocjonalnych dr. Gontarczyka, ale fakty, do których można by się odnieść.
Na razie dr Gontarczyk wskazał tylko na jeden fakt. W książce nie ma szczegółowego opisu likwidacji bunkrów, w których ukrywali się Żydzi, a w których uczestniczyłby Samuel Frish. Są informacje o tym, że ludzie próbowali się w takich kryjówkach chować, ile ich prawdopodobnie było, a także opisy niektórych pomysłowych bunkrów i problemów np. z ukrywaniem w nich dzieci.
Jest też obszerny cytat z powojennych zeznań Menachema M. Selingera, w którym mowa jest o tym, że niektórzy członkowie policji żydowskiej spodlili się, wydobywali ludzi z bunkrów, obrabowywali, szantażowali. Jest też informacja, że policja żydowska w getcie w Bochni była mniej brutalna niż policja żydowska w getcie krakowskim. Jednak opisu zachowania akurat Samuela Frisha nie ma. Skoro tego nie ma, to tym bardziej nie jest prawdą – wbrew temu, co twierdzi dr Gontarczyk – że nastąpiła w tym opisie zmiana policji żydowskiej na policję granatową.
Dlatego wzywamy pana dr. Gontarczyka do zaprzestania medialnej kampanii oszczerstw wobec zespołu autorów publikacji "Dalej jest noc" i przedstawienia recenzji naukowej, zgodnie ze standardami obowiązującymi w świecie akademickim."
Czytanie z cytatu
Gontarczyk stawia autorce zarzut kłamstwa i celowej manipulacji źródłami. Pisze:
"Mamy do czynienia z bezpodstawnym przyklejeniem opisanych w tym artykule działań żydowskich OD-mannów Polakom."
OD-mann to członek policji żydowskiej – Judische Ordnungsdienst.
Tymczasem we fragmencie, który cytuje, nie ma słowa o ofiarach polskiej policji granatowej, jest tylko lakoniczna wzmianka o jej udziale w poszukiwaniu Żydów w Bochni – nie w gettcie.
Gontarczyk twierdzi, że w książce polska policja wchodzi do getta i tam wyszukuje Żydów. Problem w tym, że nawet w cytacie, na który się powołuje, nic takiego nie ma.
Fragment cytowany przez Gontarczyka brzmi (usunięte przez niego fragmenty są wytłuszczone):
"Grupy poszukujące ukrytych Żydów [w Bochni] składały się z kilku osób, zwykle policjanta niemieckiego, kilku policjantów polskich oraz często osoby zatrudnionej do wyważania drzwi. Tę ostatnią funkcję pełnił pod przymusem m.in. rusznikarz Karol Gross w czasie trzeciej akcji likwidacyjnej we wrześniu 1943 r. Swoją najbliższą rodzinę stracił w pierwszej akcji. W trakcie ostatniej akcji otworzył na rozkaz Niemców 30–40 bunkrów".
Autorka oświadczenia PAN ma rację, że w książce udział policjantów żydowskich w likwidacji getta w Bochni jest opisany. Oto przywołany przez nią cytat z Menachema Mendela Selingera, OD-mana, który po wojnie zeznawał tak:
"7 tygodni po mojej ucieczce z Bochni była likwidacja getta bocheńskiego. Uciekinierzy, którzy za mną na Węgry przyjechali, opowiadali mi o strasznych przeżyciach likwidacji i o tym, że niejeden OD-man bocheński, który przedtem zachowywał się przyzwoicie, spodlił się, wydobywał ludzi z bunkrów, szantażował, wyłudzał pieniądze itd."
Selinger mówi tutaj o "trzeciej akcji", czyli dokładnie tej, o którą chodzi Gontarczykowi.
Gdzie są dokumenty?
rekomendował: Leon Rozenbaum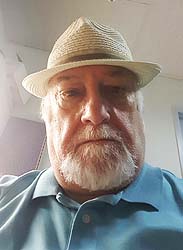 Gontarczyk w swoim artykule pisze:
"Rada Naukowa IFS PAN wydała oświadczenie o »skandalicznych komentarzach przedstawicieli IPN«: »Nasze Centrum realizuje pionierskie badania i zawsze będziemy wspierać debatę na ten temat na podstawie kryteria naukowe, a nie inwektywy i insynuacje«. Dlatego napisałem ten artykuł, a redakcja tygodnika »Sieci« udostępnia w internecie akta sprawy Salomona Frisha. Niech każdy sam wyrobi sobie zdanie, z jaką »nauką« mamy tu do czynienia".
Tymczasem na stronie tygodnika dokumentów nie ma.
Praktyka Gontarczyka – sugerowanie, że autorzy rzekomo ukrywają udział policjantów żydowskich w likwidacji gett, jest nie tylko "skandalicznym komentarzem przedstawiciela IPN". To kłamstwo, za pomocą którego próbuje on zdyskredytować badaczy Centrum.
Prawicowe media i czytelnicy powielają tezy Gontarczyka bez ich weryfikacji. Na stronie TVP.Info znajdziemy artykuł "Gontarczyk zarzuca »naukową mistyfikację« publikacji na temat historii Żydów", "Do Rzeczy" pisze: "Żydowskich policjantów z getta zamienili na polskich. Odkrycie historyka poraża". Tekst udostępniają prawicowi użytkownicy Twittera: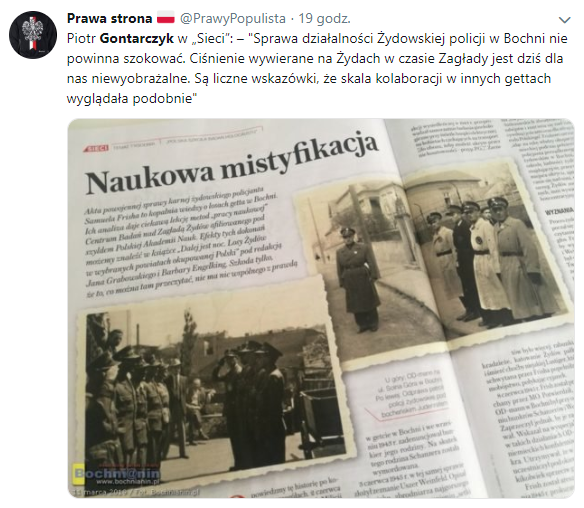 "Odkrycie" Gontarczyka skomentował historyk i senator PiS, Jan Żaryn: "Jeżeli ktoś w formie naukowej lub publicystycznej wprowadza kłamstwo w przestrzeń publiczną, skazuje się na automatyczne wykluczenie".
Czyżby miał na myśli samego Gontarczyka?
IPN na wojnie z Centrum
IPN, chociaż na co dzień nie zajmuje się Zagładą Żydów, przygotowuje serię recenzji "Dalej jest noc". Ukazało się już kilka tekstów autorów Instytutu, w tym najbardziej obszerny, autorstwa dr. Tomasza Domańskiego.
Opublikowana 13 lutego 2019 praca liczy sobie aż 70 stron. Domański nie ma doświadczenia w badaniu Zagłady. Nie dyskwalifikuje go to z krytykowania prac na ten temat, ale stawia przed nim bardzo trudne zadanie – polemikę ze specjalistami.
Do krytyki ze strony IPN, a w szczególności Domańskiego, odniosła się już piątka z dziewięciu autorów: Jan Grabowski, Anna Zapalec, Alina Skibińska, Dagmara Swałtek-Niewińska i Dariusz Libionka.
Prof. Grabowski napisał: "Mamy do czynienia nie tyle z recenzją badacza, ile ze zbiorowym wysiłkiem urzędników oddelegowanych przez przełożonych do zadania specjalnego, polegającego – co mam zamiar wykazać – na próbie podważenia reputacji niezależnych badaczy, a nie na intelektualnej polemice".
12 marca pracownicy Centrum wydali oświadczenie zatytułowane: "Wobec ataków na »Dalej jest noc« i wiarygodność naukową Centrum". Piszą w nim:
"W ostatnich dniach Centrum Badań nad Zagładą Żydów rozpoczęło na swojej stronie internetowej sukcesywne publikowanie odpowiedzi autorów tomów »Dalej jest noc. Losy Żydów w wybranych powiatach okupowanej Polski« na zastrzeżenia i zarzuty podniesione w publikacjach pracowników Instytutu Pamięci Narodowej. Odpowiadamy rzeczowo, mimo że obserwujemy próby zdyskredytowania naszych badań oraz opartej na nich książki za pomocą sensacyjnych materiałów w mediach, zawierających – obok wątków merytorycznych – niedopuszczalne generalizacje, manipulacje i pomówienia. Wyrażamy zdecydowany sprzeciw wobec takich metod".
Odpowiedzi autorów pracy "Dalej jest noc" można przeczytać na stronie Centrum.
---
---