KATARZYNA ANDERSZ
---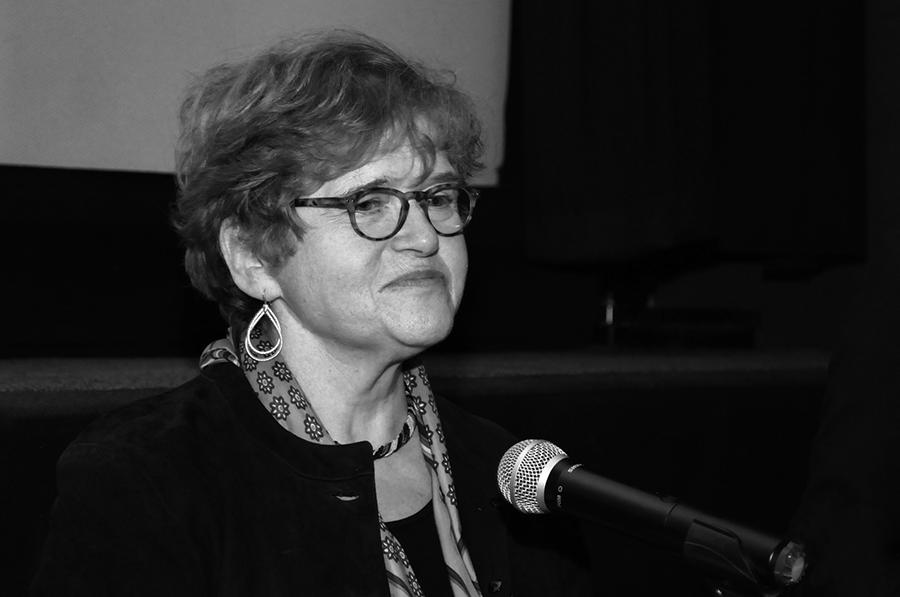 Deborah Lipstadt podczas warszawskiej premiery filmu "Kłamstwo" w styczniu 2017 r. /Fot. Fundacja Centrum Taubego Odnowy Życia Żydowskiego w Polsce
CZY POWĄTPIEWANIE W ZBRODNIE W JEDWABNEM I KIELCACH POWINNO BYĆ KARALNE? CZY W PRZYPADKU SPALENIA KUKŁY ŻYDA ZŁOŻENIE ZAWIADOMIENIA DO PROKURATURY JEST JEDYNĄ SŁUSZNĄ REAKCJĄ?
To nie prawo powinno definiować granice tego, co dopuszczalne. Można więc palić kukły, flagi i negować Zagładę, dopóty, dopóki nie prowadzi to do rzeczywistej przemocy – oto opinia amerykańskiej historyk z Emory University Debory Lipstadt, zajmującej się Zagładą i jej negacją.
Choć w 2000 roku, oskarżona przez brytyjskiego pseudohistoryka Davida Irvinga, musiała bronić się przed londyńskim sądem, kilka lat później, kiedy Irving został skazany na karę więzienia przez austriacki wymiar sprawiedliwości za negowanie istnienia komór gazowych, opowiadała się za jego uwolnieniem. Mówiła wtedy, że czuje się niekomfortowo ze skazywaniem za jakiekolwiek wypowiedzi.
Głośny proces Irvinga przeciwko Lipstadt został niedawno pokazany w filmie "Kłamstwo" z Rachel Weisz w roli głównej.
Katarzyna Andersz: Wygrana z Irvingiem to zwycięstwo sprawiedliwości, ale nie koniec problemu negacji Zagłady.
Deborah Lipstadt: Wielu osobom wydaje się, że to ja wniosłam sprawę przeciwko Irvingowi, bo chciałam sprawić, aby wreszcie skończyło się negowanie Zagłady. To nieprawda, cała historia pokazana jest zresztą w filmie. To ja broniłam się przeciwko oskarżeniom Irvinga.
Co w takim razie zmieniło się od korzystnego dla pani wyroku z 2000 roku?
Na pewno nastąpiło wyraźne zmniejszenie twardego (hard-core) sposobu negowania, takiego w stylu Irvinga, który twierdzi, że Zagłada nie miała wcale miejsca, że nie było komór gazowych, że Hitler nie miał z tym nic wspólnego, a w sumie umarło może kilka tysięcy Żydów, jednak na pewno ich nie zamordowano. Tego typu argumenty pojawiają się o wiele rzadziej, choć oczywiście zawsze znajdą się ludzie, którzy taką narrację propagują. Nastąpił za to wzrost miękkiego (soft-core) sposobu negowania.
Czym różnią się te dwa terminy?
Wyjaśnię to na przykładzie pornografii. W języku angielskim rozróżniamy pornografię twardą, bardzo wulgarną, i miękką, która jest bardziej subtelna. Czym jest więc miękki sposób negowania? Na przykład zadawaniem z pozoru niewinnych pytań: "Ile można mówić o Zagładzie?". Oczywiście, że odpowiedź brzmi: "Nie cały czas", bo tożsamość żydowska bazuje też na innych komponentach, nie tylko na Zagładzie. Jestem Żydówką nie dlatego, że moi przodkowie zginęli, tylko takie jest moje pochodzenie, w takiej kulturze się wychowałam. Problem polega na tym, że przy okazji zadawania takiego pytania, nagle okazuje się, że Zagłada nie była aż tak straszna.
Kolejny przykład miękkiego sposobu negowania – poruszanie kwestii związanych ze współczesnym Izraelem. Oczywiście, że można się nie zgadzać z polityką państwa, krytykować je za stosunek do Palestyńczyków. Jednak, gdy używa się zwrotu "Zagłada Palestyńczyków" albo "nazistowskie zachowanie izraelskiej armii", to jest nadużycie.
PRENUMERATA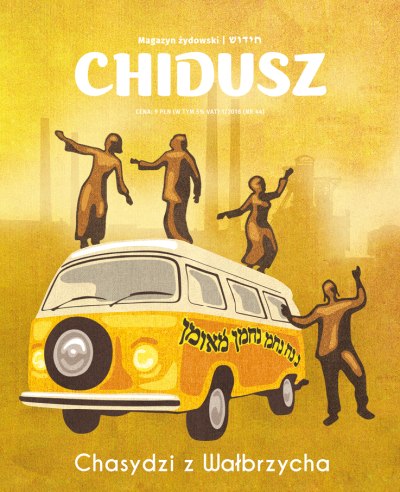 Nazywanie rasisty nazistą to też nadużycie?
Bardzo nie lubię takich porównań, bo upraszczają i spłycają historię. Jestem zdecydowaną przeciwniczką nowego prezydenta USA i mówię o tym otwarcie, ale mimo to nie uważam, że powinno się go nazywać "nazistą", tak jak robią to niektórzy. Może robić złe rzeczy, które nam się nie podobają, które nas przerażają, ale nie jest nazistą. W Stanach znana jest bajka Chicken Little, o kurczaczku, który ciągle opowiada, że spada na niego niebo. Kiedy niebo rzeczywiście na niego spada, nikt nie zwraca już uwagi na to, co mówi. Nie nadużywajmy więc zbyt mocnych słów w nieadekwatnych sytuacjach.

Wiele strasznych zbrodni i ludobójstw porównujemy do Zagłady.
Wystarczy spojrzeć na przykład konfliktu w Syrii, gdzie celowo zabija się ludność cywilną. Nie można jednak tego porównywać do eksterminacji Żydów. To inna zbrodnia – nie lżejsza ani nie cięższa, ale po prostu inna. Nie sugeruję, że to, co dzieje się w Syrii nie jest obrzydliwe, po prostu uważam, że nie powinno się stosować łatwych porównań. Porównywanie bólu przynosi efekt przeciwny od zamierzonego, w niczym nam nie pomaga. Jeśli mówię, że boli mnie ząb, a ktoś odpowiada mi, że jego bolą dwa zęby, wcale nie sprawia to, że mój ząb będzie mi mniej doskwierał. Podobnie z licytowaniem się na liczby: my straciliśmy sześć milionów ludzi, wy, na przykład, dwa miliony.
Który z rodzajów negacji jest groźniejszy?
Miękki jest znacznie bardziej podstępny. Jeśli mamy do czynienia z twardą negacją, z reguły łatwo podważyć nam absurdalne argumenty, mające świadczyć o tym, że nie było komór gazowych. Natomiast w przypadku miękkiej negacji, łatwo usprawiedliwić ją tym, że ktoś, kto ją dostrzega, przesadza, że jest zbyt wrażliwy. Trudniej jest więc ją zatrzymać, może rozprzestrzeniać się szybciej niż twarde kłamstwa.
Irving nie uosabiał więc najtrudniejszego do zwalczania rodzaju zła.
Sprawa była długa i wyczerpująca, wymagała żmudnych przygotowań. Z drugiej strony jednak była stosunkowo łatwa, bo nietrudno było odeprzeć argumenty Irvinga. Podążaliśmy śladem przypisów w jego książkach. Jeśli Irving twierdził, że w dokumencie źródłowym napisane jest to i to, sięgaliśmy po ten sam dokument i okazywało się, że jest tam coś zupełnie innego. Udowodnienie jego błędnego myślenia nie było więc trudne. To, co okazało się prawdziwym wyzwaniem, to wątpliwość, którą wyraził sędzia pod koniec procesu.
Zapytał, co w takim razie, jeśli Irving naprawdę wierzy w to, o czym pisze.
Czy Irving robił to nieumyślnie? Czy jego wnioski wynikały jedynie z błędnego rozumowania? My udowodniliśmy, że celowo zniekształcał obraz wynikający z dokumentów źródłowych.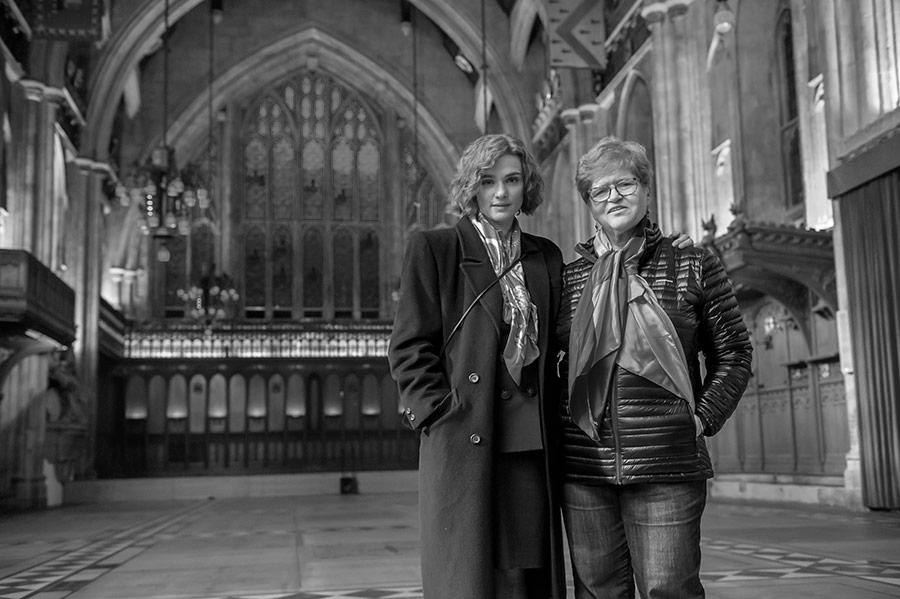 Rachel Weisz i Deborah Lipstadt na planie filmu "Kłamstwo". /Fot. Materiały dystrybutora
Zanim w ogóle zaczęła się ta sprawa, wcale nie było oczywiste, że do niej dojdzie. Społeczność żydowska w Londynie naciskała na przykład na to, żeby pójść z Irvingiem na ugodę.
Żydzi brytyjscy znacznie różnią się od Żydów amerykańskich. Przedstawiciele społeczności żydowskiej w Wielkiej Brytanii dbają o to, żeby dobrze dogadywać się ze wszystkimi. Przede wszystkim jednak bali się, że Anthony Julius [prawnik Lipstadt, znany m.in. z wygrania sprawy rozwodowej księżnej Diany – red.] będzie miał całkowitą kontrolę nad sprawą, nie licząc się ze zdaniem innych. Nie miało znaczenia, że też jest Żydem. Sądzili również, że sprawa przysporzy zbyt dużej sławy Irvingowi, który uwielbia brylować w świetle fleszy. Po wyroku przeprosili Anthonego i przyznali, że jego strategia była słuszna.
Irving wyszedł na idiotę.
Tego nie przewidzieli. Miał nagłówki w gazetach, ale co z tego? Teraz gdy pojawił się film, niektórzy także uważają, że niepotrzebnie zwróci uwagę na postać Irvinga. Przecież to kompletna bzdura. Pokazane są tam jego seksistowskie opinie, rasistowskie wierszyki, które pisze dla córki.
Rozważała pani kiedykolwiek opcję, żeby się z nim dogadać?
Nie, pójście na ugodę nigdy nie było przeze mnie rozpatrywane.
Mimo to jest pani przeciwniczką tego, żeby negowanie Zagłady było prawnie karane.
To zbyt proste zakazać konkretnych wypowiedzi. Gdzie będzie granica tego, co wolno powiedzieć? To niebezpieczne rewiry. Polska chce, aby karać za użycie zwrotu "polskie obozy koncentracyjne". Co, jeśli powiem "niemieckie obozy koncentracyjne w Polsce"? O tym, co jest jeszcze w porządku, a co już nie, będą decydowali politycy. Gdyby chodziło o mój kraj i polityków z mojego kraju, nie chciałabym, żeby to do nich należała ta decyzja. Stany mają nowego prezydenta, który ma bardzo zdecydowaną wizję tego, co jest dopuszczalne w sferze publicznej. Cały świat zelektryzował jego wpis na Twitterze, w którym twierdził, że ludzie, którzy protestując, spalili amerykańską flagę, powinni być pozbawieni obywatelstwa. Oczywiście, że palenie flagi nie jest chwalebnym czynem, ja nigdy bym tego nie zrobiła, ale takie jest prawo tych ludzi do wyrażania swoich emocji. Bardziej niebezpieczne jest zabronienie im robienia tego. Byłabym pierwszą osobą, która próbowałaby im wytłumaczyć, że nie powinno się palić flagi, ale prawne regulacje tego typu są po prostu niebezpieczne.
Jak w takim razie jak reagować, jeśli czyjeś wypowiedzi zaprzeczają Zagładzie?
Możemy przeciwdziałać, edukując młodych ludzi. Zwalczać negatywne wypowiedzi jeszcze większą liczbą pozytywnych. Poza tym, jeśli istnieje prawo to regulujące, znajdą się ludzie, którzy pomyślą: "skoro jest takie prawo, to może jest jakiś powód, żeby uciszyć tych, którzy tak mówią". W rękach antysemitów to też będzie argument na ich korzyść.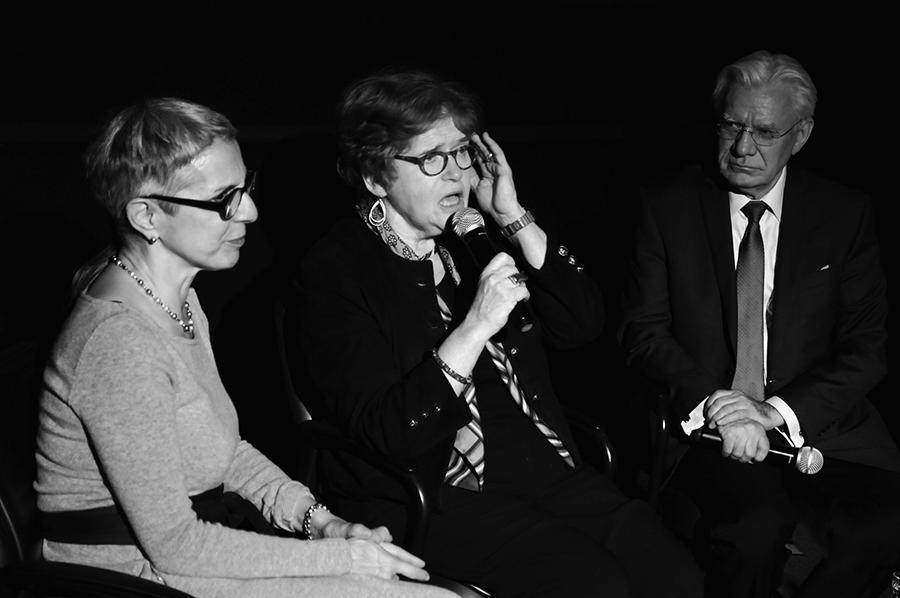 Polska premiera filmu "Kłamstwo", styczeń 2017 r. / Fot. Fundacja Centrum Taubego Odnowy Życia Żydowskiego w Polsce
Przykład z naszego podwórka. Czołowy polityk mówi, że nie wiadomo, kto mordował w Jedwabnem, w Kielcach, że nie wiadomo, co tak naprawdę się tam stało.
"Nie wiadomo, jak to naprawdę było" to jedno z najbardziej wyświechtanych powiedzeń.
Może więc powinny istnieć granice tego, co można powiedzieć?
Nie. Nawoływanie do zbrodni powinno być karane, ale nie takie, negujące wypowiedzi. Wyobraźmy sobie, że ktoś mówi, że Żydzi zabierają za dużo głosu w sprawie Jedwabnego, że za dużo jest o tym pogromie w Muzeum Historii Żydów Polskich i że powinno się to ukrócić. Jeśli po usłyszeniu takiej wypowiedzi, ktoś inny rzeczywiście pójdzie do muzeum i zniszczy wystawę o Jedwabnem, powinniśmy postawić człowieka, który ten czyn swoją mową zainspirował, przed wymiarem sprawiedliwości. Jednak samo dywagowanie, na przykład, na temat liczby osób, które zginęły w Jedwabnem, nie powinno być jeszcze karane.
Jaka miałaby być w takim razie reakcja, jeśli polityk mówi, że Polacy nie mordowali Żydów w Jedwabnem, albo twierdzi, że może i mordowali, ale dlatego, że byli podżegani przez Niemców? Obie wypowiedzi są akceptowalne?
Oczywiście, że nie są i powinny być stanowczo zwalczane. Jednak nie powinny być prawnie zakazane.
W takim razie inny przykład. Kiedy na wrocławskim rynku ktoś pali kukłę Żyda i obwinia Żydów o całe zło na świecie – co wtedy?
Może jestem idealistką, ale najlepszym rozwiązaniem byłoby, gdyby następnego dnia władze Wrocławia, znani i wpływowi mieszkańcy, nauczyciele i każdy, kto chce, przyłączyły się do marszu w proteście przeciwko temu, co się wydarzyło.
To też miało miejsce we Wrocławiu, ale osoba, która podpaliła kukłę, została również postawiona przed sądem.
I tu zaczyna się problem. Jeśli tuż po tym, jak została spalona kukła, doszłoby do tego, że Żydzi zostali zaatakowani, osoba odpowiedzialna za podpalenie powinna stanąć przed sądem. To oczywiście obrzydliwy czyn, nie mam co do tego wątpliwości, ale jeśli zaczyna się prawnie kontrolować to, co można albo nie można powiedzieć, wkracza się na niebezpieczny grunt. Mówię to jako Amerykanka. Rządy się zmieniają. Jeden zabroni jakiś konkretnych wypowiedzi, potem będą wybory i okaże się, że od teraz nie można na przykład krytykować prezydenta.
W tym przypadku dość powszechna była opinia, że należy złożyć na sprawcę doniesienie do prokuratury.
To błąd. Myślę, że rolą rządu lub lokalnych władz, gdziekolwiek w Polsce coś takiego by się wydarzyło, jest wyraźne oświadczenie, że taki czyn nie jest reprezentatywny dla polskiego społeczeństwa, że nie jesteście krajem antysemickim.
Sprawca dostał wyrok skazujący go na dziesięć miesięcy pozbawienia wolności.
Z więzienia wyjdzie jako męczennik, bohater. To będzie jak dodatkowy stopień na naramienniku.
Jest różnica pomiędzy mową nienawiści a podżeganiem do przestępstwa. W Ameryce jest bardzo głęboko zakorzeniona wiara w prawo do wolności słowa. Nie tylko jednak o moją wiarę chodzi. Bałabym się oddać w ręce rządu kontrolę nad tym, jakie wypowiedzi są uznawane za dozwolone, a jakie za zabronione.
---
---