AYELET COHEN
---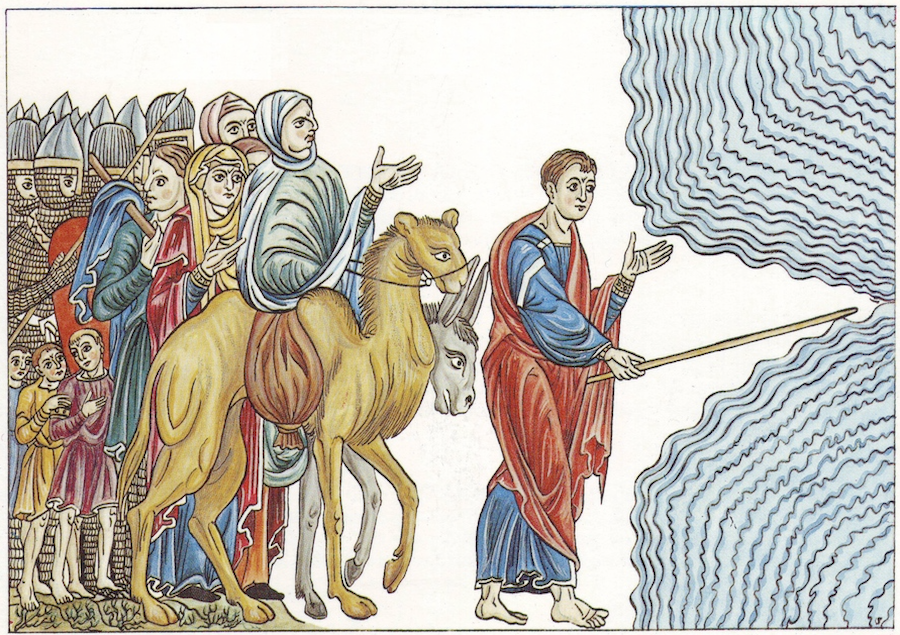 Herrada z Hogenburga, Mojżesz prowadzi Naród Izraela przez Morze Czerwone
QUEEROWE KOMENTARZE BIBLIJNE UKAZUJĄ SIĘ OD BLISKO ROKU W DRUKOWANYCH WYDANIACH "CHIDUSZU". Z OKAZJI PESACH PUBLIKUJEMY PO RAZ PIERWSZY ONLINE OBSZERNY FRAGMENT JEDNEGO Z NICH – PEŁNĄ WERSJĘ TEKSTU "O WYZWOLENIU I TRANSSEKSUALISTACH" MOŻNA PRZECZYTAĆ W BIEŻĄCYM NUMERZE "CHIDUSZU". 
Żydzi przygotowują się do Pesach – zarówno w kuchni, jak i w synagodze – bardziej skrupulatnie niż do jakiegokolwiek innego święta. Na kilka tygodni przed uroczystością w każdy szabat czytane są fragmenty Tory, które mają nas przygotować do jej obchodów. Również kuchnia – podczas intensywnych wiosennych porządków – musi zostać przystosowana do tego, żeby sporządzić w niej tradycyjne potrawy. Ironicznie, te długie przygotowania prowadzą do święta, które ma nam przypominać o przeprowadzonej w pośpiechu i na ostatnią chwilę akcji wyjścia Żydów z Egiptu.
Izraelici musieli opuścić Egipt tak szybko, że do opisu warunków ucieczki Tora stosuje specjalne określenie. Nic do tej pory nie zadziało się w atmosferze takiej paniki. Dzieci Izraela, ryzykując życie, musiały zostawić wszystko, co było im znane, dla zaledwie mglistej obietnicy czegoś lepszego. Do opisu mieszanki pośpiechu i strachu Tora używa słowa chipazon. Tak Izraelici po raz pierwszy zasmakowali wolności. Nakazano im bowiem: "A tak pożywać je będziecie: biodra wasze przepasane, obuwie wasze na nogach waszych, a laska wasza w ręku waszym, i spożyjecie je w pośpiechu (be-chipazon)" (Szemot 12:11).
Pesach to "czas wyzwolenia". Podczas tych wiosennych obchodów świętujemy odrodzenie się Żydów jako wolnego narodu, wyjście z Egiptu i zrzucenie jarzma niewolnictwa. Hagada na Pesach – tekst, który opowiada historię Exodusu i przewodzi nam podczas kolacji sederowej – zabiera nas w pełną doznań podróż od zniewolenia do wyzwolenia. Zawarte są w niej nietypowe rytuały i elementy świątecznego posiłku, przywołujące smak opresji (a później wolności). Jej charakter ma na celu prowokowanie pytań i dyskusji o historii zniewolenia Izraelitów i naturze wolności. "Po co te wszystkie rytuały?", zapytają uczestniczący w obchodach. Hagada daje na to pytanie prostą i najbardziej fundamentalną odpowiedź:
Awadim hajinu le-faro be-Micraim we-jocijenu Adonaj Elohejnu mi-szam be-jad chazaka u-bizroa netuja.
Niewolnikami byliśmy faraona w Micraim, i wywiódł nas Wiekuisty z Micraim ręką potężną i ramieniem podniesionym.
Hagada na Pesach ma nam przypominać, że w każdym kolejnym pokoleniu Żydzi powinni przeżywać ten czas tak, jakby sami właśnie opuszczali Egipt. Dobrze bowiem wiedzą, czym jest Egipt. Przez lata zbyt często doświadczaliśmy Micraimu– ciasnej przestrzeni, w której (fizycznie czy metaforycznie) byliśmy zamykani i uciszani tylko ze względu na nasze pochodzenie1. Homoseksualni członkowie naszej społeczności są szczególnie dobrze przygotowani do identyfikowania się z Izraelitami opuszczającymi Egipt, bo każdy, kto w swoim życiu "wyszedł z szafy", uciekł z niewoli. […]
W judaizmie uwielbiamy kategorie. Obsesyjnie pragniemy poznać naturę rzeczy, nazwać je i pozamykać w oddzielnych szufladach. Święte musi być oddzielone od tego, co przyziemne; szabat – od sześciu pozostałych dni stworzenia świata; produkty mleczne od mięsnych; kobiety od mężczyzn. Kapłani ludu Izraela, o których początkach czytamy w księdze Wa-jikra, opracowali cały system świętości, bazujący na podziałach. Próbując stworzyć porządek w świecie, którego często nie rozumieli, pragnęli zamknąć świętość w prawnych obostrzeniach, bo wierzyli, że jest to najpewniejszy sposób na spełnienie woli Bożej. Te podziały pogłębiały się wraz z rozwojem judaizmu rabinicznego, którego twórcy utrwalili spolaryzowane już w sferze religijnej role płciowe. Kobiety i mężczyźni postrzegani byli jako grupy o różnych duchowych potrzebach i odmiennym charakterze więzi z Bogiem. To mężczyźni byli w pełni dojrzali duchowo, rolą kobiet było zaś przede wszystkim zaspokajanie potrzeb swoich mężów i ojców, ważniejsze od ich własnych religijnych zobowiązań.
W ortodoksyjnych synagogach kobiety i mężczyźni nie tylko zajmują inne miejsca (oddzieleni mechicą), ale też każdego ranka odmawiają inne błogosławieństwa. Co rano mężczyźni modlą się słowami: Baruch ata Adonaj sze-lo asani isza ("Błogosławiony bądź, Boże […] za to, że nie stworzyłeś mnie kobietą"). W modlitwie przeznaczonej dla kobiet ten fragment zastąpiony jest wersem: Baruch ata Adonaj sze-asani ki-rcono ("Błogosławiony bądź Boże […] za to, że stworzyłeś mnie zgodnie z Twoją wolą").
W bardziej egalitarnych gminach podziały między kobietami a mężczyznami przestały mieć sens, zatem w wielu synagogach mechice zostały zdemontowane i wszyscy członkowie społeczności modlą się wspólnie. Każdy dorosły bierze pełny udział w nabożeństwie i może przewodzić modlitwie. W postępowych odłamach judaizmu poranne błogosławieństwo zostało zmienione – recytując je, każdy, niezależnie od płci, chwali Boga za to, że został stworzony na Jego podobieństwo. Odrzuca się też lewickie kategorie, według których do świętości można dojść jedynie poprzez stosowanie się do wyznaczonych podziałów. Świętość osiąga się bowiem poprzez pielęgnowanie indywidualnej i grupowej więzi z Bogiem, poprzez modlitwę, studiowanie Tory i działanie. Jednak mimo prób wyrównywania różnic, nawet liberalnym gminom żydowskim i społecznościom gejowskim nie udało się zatrzeć tradycyjnych granic między kobietami a mężczyznami. Choć te kategorie płciowe nie mają już tak dużego znaczenia w sferze społecznej, duchowej czy w świetle żydowskiego prawa, cały czas ciążą na nas emocjonalnie.
Niesamowity wiersz Jehudy Amichaja, narodowego wieszcza Izraela, opisuje rozpacz chłopca uwięzionego po złej stronie synagogi, po złej stronie mechicy:
Uczyłem się miłości w dzieciństwie w bóżnicy mego dzieciństwa

za pomocą kobiet za pomocą kobiet, za taką przegrodą,

która więziła moją mamę z wszystkimi kobietami i dziewczętami.

Ale przegroda, która je więziła, więziła mnie z drugiej strony,

one były wolne w swej miłości, a ja tkwiłem

zamknięty z wszystkimi mężczyznami i chłopcami w mej

miłości i mojej tęsknocie.

Chciałem być tam z nimi i znać ich tajemnice,

i powtarzać za nimi: "Błogosławiony, który stworzyłeś mnie

według swojej woli". A babiniec –

biała i delikatna muślinowa firanka, jak letnia spódnica

przesuwa się tam i z powrotem na kółkach i pętl-ach,

-ach -ach -ach, pętl-ach, -ach -ach, odgłosy miłości

w zamkniętym pokoju.

A twarze kobiet jak twarz księżyca za chmurami

albo w pełni, kiedy odsłania się kurtyna, jak w zaczarowanym

systemie kosmicznym. Nocą na zewnątrz zmawialiśmy

błogosławieństwo księżyca, a ja myślałem o kobietach2. 
Chłopiec z utworu Amichaja znajduje się po złej stronie mechicy. Nie ma w tym nic zabawnego, tragicznego ani dziwnego. To czysto żydowskie uczucie, bardzo osobiste i niezwykle prawdziwe. Chłopiec znajduje się nie gdzie indziej, jak w Micraim.
Awadim hajinu le-faro be-Micraim.
Płeć jest skomplikowaną kwestią, co wiadomo Żydom nie od dziś. Żydowscy mędrcy uwielbiali kategoryzować, ale byli też świadomi pewnej płynności tego pojęcia. Mimo że ich rozumienie płciowości było ograniczone, bo interesowała ich głównie biologia i stosunki seksualne, z Miszny wiemy, że rabini rozróżniali co najmniej cztery kategorie płci: mężczyzn, kobiety, tumtum i androginos (pisały o tym Charlotte Fonrobert, Margaret Wenig i Rachel Biale).
Ale czy od tego czasu coś się zmieniło? Nawet w społecznościach gejowskich osoby transseksualne często spotykają się z ignorancją i dyskryminacją. W heteroseksualnym świecie zaś codziennie narażone są na drwinę, stają się obiektem dyskryminacji i, częściej niż nam się wydaje, ofiarami przerażającej przemocy. Osobom transseksualnym wciąż odmawia się prawnych przywilejów, nawet mimo przyznawania ich wreszcie gejom i lesbijkom. […]
Izraelici jedli ofiarę na Pesach, ich pierwszy posiłek na wolności, w pośpiechu i strachu (be-chipazon). Dziś, podtrzymując pamięć o ucieczce z Egiptu i o chipazon, Żydzi w czasie święta jedzą macę. Tora każe przez siedem dni jeść przaśny chleb, "chleb nędzy; boś w pośpiechu wyszedł z ziemi Micraim – abyś pamiętał dzień wyjścia twojego z ziemi Micraim po wszystkie dni życia twojego" (Dwarim 16:3). Izraelici jedli ofiarę paschalną w pośpiechu, bo wiedzieli, że są o krok od wolności. Od opuszczenia Egiptu zależało ich życie. Jedli z sandałami na stopach, ze spakowanymi torbami – gotowi opuścić Micraim w każdym momencie i zostawić za sobą wszystko, co było im znane. Nie znali dokładnej godziny rozpoczęcia wędrówki, wiedzieli za to, że faraon może chcieć ich ścigać. Nie mogli więc czekać, aż chleb wyrośnie.
Nie mylmy pośpiechu Izraelitów z brakiem przygotowania. Twierdząc, że Hebrajczycy nie byli gotowi do ucieczki, zaprzeczylibyśmy ich całkowitej gotowości do bycia wolnymi. Powiedzieć, że się nie przygotowali, to jak wyprzeć się historii pokoleń, które przeżyły egipską niewolę. Niewątpliwie nadszedł czas wyzwolenia. 
Wędrówka osoby transseksualnej jest podobna do tej, w którą udały się dzieci Izraela – zakłada porzucenie wszystkiego, co znane, dla zaledwie obietnicy czegoś lepszego, choć zupełnie nieznanego. Od tego, czy zdecydują się uciec, zależy ich życie. Ale porzucenie znanego miejsca napawa strachem, nawet jeśli tym miejscem jest Micraim. Niewątpliwie nadszedł czas wyzwolenia.
PRENUMERATA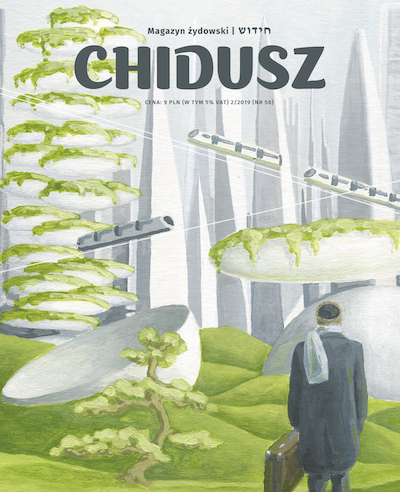 Ale gotowość to nie wszystko, należy jeszcze zmierzyć się z faraonem, który nie pozwala odejść – faraonem postępowego świata, w którym wciąż głęboko zakorzeniona jest spolaryzowana wizja płci; faraonem homoseksualnych środowisk, który wciąż nie chce zaakceptować, że osoby transseksualne i ich prawa są nieodłączną częścią queerowej tożsamości, queerowego aktywizmu i queerowej społeczności; faraonem strachu, faraonem ciała… Takich faraonów można mnożyć w nieskończoność. […]
Potrzeba nam Boskiego podniesionego ramienia, podniesionych rąk nas wszystkich do walki z niesprawiedliwością w naszych społecznościach i poza nimi. Tylko w ten sposób będziemy mogli powiedzieć, że pamiętamy wyjście z Egiptu. Dopiero wtedy będziemy mogli naprawdę wyobrazić sobie przejście ścieżką przez środek morza i wspólne radowanie się na drugim jego brzegu.
---
Tłumaczenie i wybór fragmentów: Jolanta Różyło
Przypisy:
1 Hebrajska nazwa Egiptu, Micraim, w dosłownym tłumaczeniu oznacza wąską lub ciasną przestrzeń (z hebr. car, wąski).
2 Jehuda Amichaj, Bogowie zmieniają się, modlitwy zostają na zawsze [fragment], [w:] Otwarte zamknięte otwarte, Wrocław 2017, s. 19.
---
---