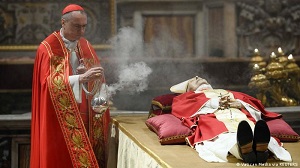 Benedykt XVI (z prawej) 2 stycznia 2023r.
---
Lucjan Ferus
---
Tak się złożyło, że za niniejszy odcinek zabrałem się w pierwszych dniach nowego 2023 roku
z zamiarem kontynuowania dotychczasowej argumentacji. Jednak biorąc pod uwagę fakt, że z
końcem ubiegłego roku zmarł emerytowany papież Benedykt XVI czyli Joseph Ratzinger, a
po jego śmierci w telewizyjnych kanałach pojawiło się wiele niezasłużonych (moim zdaniem)
pochwał skierowanych pod jego adresem, postanowiłem zmienić swój poprzedni zamysł i
napisać tekst, który powinien uświadomić chwalącym go osobom, jakiej organizacji był on
przywódcą. Oczywiście przytoczę tylko nieliczne fragmenty z jej niechlubnej historii, których
wymowa powinna dać do myślenia (mam taką nadzieję) ich czytelnikom.
Zacznę od tego, że wg Ewangelii kościelny urząd "biskupa Rzymu, Namiestnika Jezusa Chrystusa" (resztę tytułów pominę) jest nieuprawniony i nieuzasadniony. Oto co można się dowiedzieć z lektury Biblii: "Nikogo też na ziemi nie nazywajcie waszym ojcem; jeden bowiem jest Ojciec wasz, Ten w niebie. /../ Największy z was, niech będzie waszym sługą. Kto się wywyższa będzie poniżony, a kto się poniża będzie wywyższony" (Mt 23,9,11,12). Oraz: "Lecz kto by między wami chciał stać się wielkim, niech będzie sługą waszym. A kto by chciał być pierwszym między wami, niech będzie niewolnikiem wszystkich. Bo i Syn Człowieczy nie przyszedł aby Mu służono, lecz żeby służyć i dać swoje życie na okup za wielu" (Mk 10,43,44,45). Jest to więc uzurpacja władzy pełnionej w imieniu Boga. Przytoczę teraz niektóre świadectwa historyczne, potwierdzające wyżej wymieniony zarzut.
—— // ——
Papież Grzegorz I. Ogłasza prymat papieży nad całym światem chrześcijańskim i buduje ziemską potęgę Kościoła.
Papież Sylwester II. W 1000 r. ustala dogmat o czyśćcu, w którym mają oczekiwać dusze na wejście do nieba. Dzięki temu kler może odprawiać msze za zmarłych, aby skrócić to oczekiwanie w zaświatach, a na ziemi pobierać odpowiednie opłaty za usługę.
Papież Urban II. Nakłania zbrodniarzy do "świętej wojny", obiecując im bogactwa zrabowane muzułmanom na ziemi i zapomnienie przestępstw w niebie. Jako pierwszy, zaczyna od wymordowania tysięcy Żydów nad Renem i Dunajem. Po krwawym marszu na Jerozolimę, zdobywa ją w 1099 r., w planowo realizowanej rzezi 70 000 muzułmanów.
Papież Innocenty III. Doprowadza papiestwo do szczytu potęgi politycznej. Wydaje rozkaz zbrojnego opanowania ziem katarów w Langwedocji. W ciągu 30 lat armie papieskie wymordują ok. miliona ludzi tylko za to, że nie uznawali dyktatury biskupa Rzymu. Uważa siebie za najświętszego spośród wszystkich ludzi. Żydzi – zabójcy Jezusa – mają być zamykani w gettach, i nosić specjalne oznakowania ubiorów odróżniające ich od chrześcijan.
Papież Grzegorz IX. Na podstawie sfałszowanego "Daru Konstantyna" ogłasza się władcą całego świata i wszystkich monarchów, włącznie z cesarzem. Na jego rozkaz w Szampanii spłonie na stosie biskup oskarżony o nieprawomyślność oraz 180 mężczyzn, kobiet i dzieci.
Papież Bonifacy VIII. Słynie z niebywałego przepychu i rozrzutności. Zbrojnie niszczy swoich wrogów, także ogłasza słynną bullę, według której podlegają mu wszyscy władcy, a posłuszeństwo papieżowi jest niezbędne do osiągnięcia "ostatecznego zbawienia".
Papież Klemens V. Dwór papieski słynie z bogactwa i rozpusty. Avignon staje się wielkim ośrodkiem prostytucji, a do papieża najłatwiej dotrzeć przez jego kochankę – de Foix.
Papież Jan XXII. Tak bardzo fascynują go pieniądze, że odrzucił dogmat o ubóstwie Jezusa i ogłosił heretykiem każdego, kto twierdziłby, że Jezus i apostołowie niczego nie posiadali. Pod koniec życia ogłasza heretycką naukę, jakoby Maria i zmarli święci nie przebywali w niebie przed dniem Sądu Ostatecznego, czym budzi powszechne wzburzenie i zgorszenie.
Papież Innocenty VIII. Specjalną bullą nakazuje ścigać i torturować czarownice, inicjując tym samym okrutne, ciągnące się przez następnych 300 lat procesy o czary. Jego ostatnie dni są szczególnie odrażające. Usiłuje ratować swoje życie pijąc mleko karmiących matek i każe wykrwawić kilku chłopców, aby lekarze przetoczyli mu ich młodą krew. Jednak nie czuje się winny i w momencie śmierci wyznaje: "Przychodzę do Ciebie Panie, w swojej niewinności".
Papież Aleksander VI. Znany z gwałtów i rozpusty, licznych kochanek i dzieci oraz ogromnej
chciwości. Roszcząc sobie prawo do rządzenia nad całym światem (na podstawie fałszywego "Daru Konstantyna"), papież samowolnie dzieli powierzchnię globu na dwie strefy wpływów.
Papież Paweł IV. Formułuje katolickie podstawy antysemityzmu, ponawia uznanie Żydów za odpowiedzialnych za śmierć Jezusa i uznaje ich za niewolników. Nakazuje spalić wszystkie hebrajskie księgi i chełpi się krwawym terrorem wobec heretyków i innowierców. W 1808 r. Napoleon likwiduje Państwo Kościelne, a na klątwę papieża odpowiada, że uwolnił nareszcie Kościół kat. od ziemskich problemów, stwarzając mu możliwość zajęcia się misją duchową".
Papież Leon XII. Zamienia Państwo Kościelne w wyspę średniowiecznego zacofania, z policyjną kontrolą, inkwizycją i władzą absolutną duchownego-monarchy. Zakazane są wszelkie przejawy nowoczesności, a Żydzi znowu zostają zepchnięci do gett.
Papież Grzegorz XVI. Odnawia ambicję uznawania prymatu papiestwa nad władcami świata. Zakazuje w Państwie Kościelnym kolei i lamp gazowych, jako diabelskich wynalazków.
Papież Pius XII. Wsławia się początkowo współpracą z faszystami, a potem milczącym ich poparciem. Liczy na starcie Hitlera z bezbożnym Związkiem Radzieckim, mając nadzieję, że dojdzie do zniszczenia znienawidzonego prawosławia, ale i władzy komunistów, z którymi Kościół nie może się porozumieć. Dlatego błogosławi niemieckie wojska idące na ZSRR.
Papież Jan Paweł II. Zatuszował sprawę gigantycznej korupcji w Banku Watykańskim i podejrzenia o jej związek ze śmiercią Jana Pawła I oraz serią zabójstw po 1978 r.". To tyle z książki Lesława Żukowskiego Największe kłamstwo i mistyfikacje w dziejach Kościoła.
—— // ——
W powyższych cytatach papieże pojawiali się w porządku chronologicznym, natomiast w pozycji z której teraz skorzystam, nie tyle jest ważna chronologia historyczna, co tematyczne uszeregowanie i stąd bierze się dowolność czasowa opisywanych tu wydarzeń. Tym nie mniej sama ich wymowa i kontekst historyczny powinny dać czytelnikom sporo do myślenia.
—— // ——
Papież Grzegorz VII. Jego dewiza: "Niech będzie przeklęty ten, kto nie chce miecza umaczać we krwi!". Wezwał cały świat do stworzenia armii, którą chciał osobiście przewodzić w boju.
Papież Juliusz III. Jego dewiza: "Jeśli nie pomogą klucze Piotrowe, to niechaj pomoże jego miecz!". Prowadził wojny niemalże w każdym roku swego pontyfikatu i to tak skutecznie, że cesarz Maksymilian rozważał, czy nie zostać papieżem.
Papież Paweł VI. Wyznawał w połowie XVI w., że "ma ręce po łokcie unurzane we krwi".
Papież Grzegorz IX. Nawołuje do krucjaty przeciw chłopom ze Steding, odmawiających płacenia biskupowi nadmiernej daniny. 5 000 mężczyzn, kobiet i dzieci ginie z rąk krzyżowców, a zagrody owych chłopów zajmują osadnicy, obdarzeni nimi przez Kościół.
Papież Innocenty IV. Kazał spalić Talmud, a w licznych bullach z następnych lat, papieże zmuszali Żydów do słuchania ściśle kontrolowanych kazań nawracających, przy czym byli oni bici laskami, żeby nie zasypiali. Antysemickie dekrety kościelne pojawiały się do XIX w.
Papież Leon XII. Był tak moralny, iż zakazał walca, ale tworzył getta i korzystał z inkwizycji.
Papież Pius X. Oświadczył już w XX w.: "Religia żydowska była podstawą naszej religii, została jednak zastąpiona nauką Chrystusa i nie możemy uznać dalszej racji istnienia tamtej".
Papieże Marcin V i Eugeniusz VI. Propagują krucjaty przeciw husytom, podczas których dochodzi do strasznych wyczynów z obu stron: katolikom rzeźbi się na czołach krzyże, a husytom kielichy. Kapłanów piecze się w beczkach pełnych smoły, albo zasztyletowuje się przy ołtarzach. Dokonywane rzezie wyludniają całe miasta, a setki wiosek płoną.
Papież Pius V. Żądał "wyplenienia" hugonotów, dlatego we Francji w 1573 r. doszło do masakry, kiedy to w ciągu jednej nocy wymordowano 20 000 hugonotów (bojowy okrzyk: "Niech żyje msza! Zabijajcie, zabijajcie!").
Papież Honoriusz zauważa: "Kapłani sieją zgorszenie i stanowią pułapkę dla ludzi".
Papież Aleksander VI stwierdza zaś, "że lud zamiast stawać się lepszym, jest całkiem zdemoralizowany przez duchownych" /../ "Oni gniją jak bydło na kupie gnoju". Natomiast Waldhausen grzmi o "stajni Augiasza, zwącej się Kościołem Chrystusa, lecz będącej tylko burdelem Antychrysta" /../ Na soborze w Konstancji, który spalił Husa, było obecnych (wg relacji kronikarza Ulricha von Richenthala) oprócz papieża, ponad 300 biskupów i Ducha Świętego, także 700 ladacznic, prócz tych, które przywieźli ze sobą uczestnicy soboru" (wg Opus diaboli Karheinza Deschnera, autora także Kryminalnej historii chrześcijaństwa).
—— // ——
Na zakończenie tej krótkiej wyliczanki "zasłużonych" dla Kościoła papieży, oddam jeszcze głos jednemu autorowi, mianowicie Horstowi Herrmannowi i jego Książętom Kościoła:
Papież Jan XII. Uczyniony papieżem w wieku 16 lat, "jedna z najnikczemniejszych postaci, jakie odegrały rolę w historii Rzymu i Kościoła". Mąż, za którego rządów kielichy mszalne stanowiły opłatę za usługi prostytutek. Został oskarżony o morderstwo, krzywoprzysięstwo, kazirodztwo z dwiema siostrami i zhańbienie Kościoła. Jako pierwszy przyjął inne imię.
Papież Innocenty VIII. Jego przydomek to "Młot na czarownice" i jest winny śmierci tysięcy kobiet. Za czasów papieża Innocentego III doszło do IV krucjaty, o której czołowy historyk wypraw krzyżowych pisze, iż "nie było do tej pory większej zbrodni przeciw ludzkości". Papież Innocenty IV, to "kapłan pozbawiony sumienia /../ nie wzdragający się przed niczym, co przynosiło mu korzyści". Dopuścił swą bullą inkwizycyjną dowolne stosowanie tortur". Papież Klemens V, był osobnikiem całkowicie skorumpowanym. Jego kurię w Awinionie uważano za miejsce sprzedaży godności kościelnych, nadawanych przez papieża każdemu pasożytowi, który mógł za nie zapłacić. A pieniędzy potrzebował, bo jego metresa kosztowała go więcej "niż Ziemia Święta".
Papież Sykstus IV. By stworzyć nowy rynek ogłosił, że działanie odpustów rozciąga się nie tylko na żyjących, ale i na biedne dusze czyśćcowe. Owczarnia pojęła to w lot. Im więcej uzyskano odpustów, tym szybciej nieszczęsne dusze rodziców, rodzeństwa i dziadków dostaną się do nieba. Dlaczego więc nie zapłacić i nie skrócić pobytu w miejscu pokuty?
Papież Sykstus IV. Jeden z największych rozpustników swego stanu (sypiał z własną siostrą i córkami) wprowadził święto "Niepokalanego poczęcia". Od swych ladacznic inkasował 20 000 dukatów w złocie podatku od luksusu, ograbił 4 biskupstwa i zmarł w wieku 28 lat.
Biskupi i papieże tolerowali współżycie duchownych z kobietami, jeśli tylko uiszczona była opłata, tzw. "grosz kurewski" /../ Wpadali w gniew, jeśli duchowni chcieli się oficjalnie żenić i zaoszczędzić sobie wydatków, bo znikało wtedy ogromne źródło dochodów. Np. w diecezji konstancjańskiej miało przyjść na świat 1500 księżowskich dzieci i przynieść arcypasterzom 7500 guldenów. (Marcin Luter zarabiał wtedy 8 guldenów rocznie). Również konkubiny należało co roku "odkupywać" od biskupa. Papież Pius II zapewniał króla czeskiego, że "bez porządnie urządzonych burdeli Kościół nie miałby racji bytu".
Papież Pius XII. Już w połowie sierpnia 1939 r. zapewnił niemieckiego ambasadora przy Watykanie, że jeśli Hitler zwycięży Polskę, on powstrzyma się od potępienia Rzeszy. Na Boże Narodzenie 1939 r. apelował do katolików, by "zjednoczyli swe siły w walce przeciw wspólnemu wrogowi, ateizmowi /../ a przyczynę "dzisiejszej nędzy" widział nie w wojnie światowej Hitlera, ale w zbyt krótkich spódnicach kobiet". Ten sam papież zapewniał Hitlera, że "niczego nie pragnął bardziej, niż jego zwycięstwa". W tamtym czasie i okolicznościach, dewiza Kościoła brzmiała: "Naprzód do nowych /../ wojen, tam gdzie tylko się opłaca!".
—— // ——
To tyle historycznych świadectw o tych "świętych papieżach" z cytowanych przeze mnie pozycji. Wypadało by jednak do powyższej listy, dołączyć jakieś świadectwo historyczne o człowieku, który niejako stał się przyczyną napisania tej części cyklu. Tak się szczęśliwie składa, iż mam takowe, a to dzięki książce Leo Zena Tak wymyślono chrześcijaństwo. W rozdziale pt. "Zbrodnie Kościoła", m.in. znalazły się takie oto fragmenty:
"Sam Kościół /../ z cynizmem usiłuje na wszelkie możliwe sposoby uniemożliwić wypłatę odszkodowań na rzecz ofiar. Tym, który postulował ciszę, to znaczy zasadę "sekretu papieskiego" w odniesieniu do najpoważniejszych przestępstw popełnionych przez duchownych, był emerytowany papież Ratzinger, w czasie, gdy jeszcze jako kardynał przewodził Kongregacji ds. Wiary /../ Wydał on szczegółowy okólnik /../przesłany biskupom na całym świecie dnia 18.05.2001 r., w którym nie tylko zobowiązał wszystkich do zachowania poufności w kwestii owych okropnych zbrodni, lecz jednocześnie ujawnił, że działo się tak za wolą samego papieża, owego papieża Wojtyły, którego tuż po śmierci rzesza pospólstwa chciała natychmiast wynieść na ołtarze".
"Słynny teolog szwajcarski Hans Kunig /../ skierował słowa ostrego potępienia pod adresem Watykanu i sposobu, w jaki /../ zarządza skandalem pedofilskim. Bardzo ostro krytykował on byłego papieża Ratzingera /../: "Żaden inny dostojnik kościelny nie widział na swym biurku dokumentacji tak licznych przypadków nadużyć", /../ mając na myśli 24 lata kierownictwa przyszłego papieża Benedykta XVI Kongregacją ds. Wiary /../. W ciągu tego okresu Ratzinger zarządzał wszystkimi przypadkami nadużyć seksualnych w Kościele na całym świecie "w całkowitej poufności" nie podejmując żadnych drastycznych decyzji ani środków, dbając jedynie o to, by przypadki te nie zostały ujawnione opinii publicznej".
"Paolo Flores d'Arcais /../ stawia pytanie: "Czy podczas ostatnich 30 lat hierarchiczny Kościół papieża Wojtyły i papieża Ratzingera skierował do prokuratury /../ przypadki pedofilii wśród duchownych, o których wiedział?". Niestety, kategoryczna odpowiedź brzmi "Nie!". To jednoznacznie wskazuje na zmowę milczenia panującą w Kościele i tłumaczy "kto" ponosi odpowiedzialność za tragedię dziesiątek tysięcy dzieci zgwałconych przez księży katolickich. Kościół Wojtyły i Ratzingera nie tylko nie chciał nigdy denuncjować świeckiemu wymiarowi sprawiedliwości swych winnych pasterzy, ale wręcz udzielał im przebaczenia, chronił, bronił i nawet ukrywał".
—— // ——
I już całkiem na koniec, znalazłem takie oto podsumowanie tej "świętej instytucji" w jednej z książek jakie posiadam. Nosi ona tytuł Książęta Kościoła, a autorem jest Horst Herrmann :
"Świat spodziewał się czegoś innego, niż tego księstwa Kościoła, udającego zbawcę. Ludzie mogli oczekiwać też czegoś innego, niż 2 tys. lat historii kryminalnej. Nie spodziewali się ani biskupów, ani papieży, mordów ani zabójstw, stosów, wojen inkwizycyjnych, prześladowań "pogan", Żydów i "kacerzy", gromadzenia niesłychanych bogactw w imieniu Jezusa. Świat, wyzyskiwany przez książąt Kościoła /../ czuje się dogłębnie zawiedziony. Historia dowodzi, że świat i ludzie mogą oczekiwać ze strony arcypasterzy nieporównanie więcej cierpienia niż nadziei. Radosna Nowina przyniosła wszystko inne, tylko nie wolność. Co papieże i biskupi mieli do zaoferowania, to groźby, kajdany i śmierć".
"Papieże stali przez całe stulecia na czele krwawego, morderczego systemu, który kosztował więcej ofiar ludzkich, niż jakakolwiek wojna czy zaraza. /../ Przez całe biskupie życie uprawiali politykę siły; największy nacisk kładli na bogactwa materialne – łupili i obdzierali ze skóry tam, gdzie im się to wydawało konieczne – i byli wreszcie czczeni przez sobie współczesnych jako święci /../"Świętość" oznaczała konkretną władzę nad ludźmi. /../ Wielu ludzi zamyka oczy na to, co widać jak na dłoni. Są niewolnikami i pragną pozostać w tej niewoli. Kochają swą ślepotę jak jakiś skarb. Po prostu nie chcą widzieć. Wzbraniają się zrozumieć, że papież i jego biskupi mają niewiele wspólnego z niebem, ale dużo ze światem doczesnym. Ludzie słusznie nazywani przez swoich papieży "wiernymi", nie mają prawa poznać, że wszystko może wyglądać inaczej, niż to ilustruje ich katechizm".
—— cdn. ——
---
---