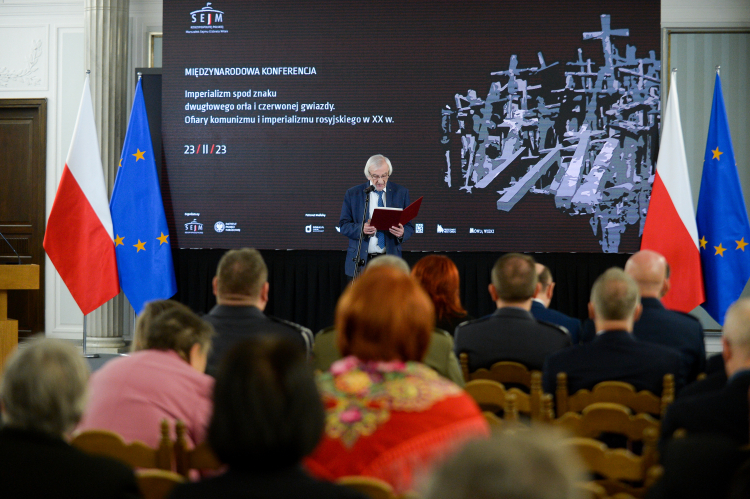 Warszawa, 23.02.2023. Wicemarszałek Sejmu Ryszard Terlecki podczas konferencji "Imperializm spod znaku dwugłowego orła i czerwonej gwiazdy. Ofiary komunizmu i imperializmu rosyjskiego w XX wieku", zorganizowanej przez IPN w Sejmie. Fot. PAP/M. Obara
---
Anna Kruszyńska, Maciej Replewicz
---
"Imperializm spod znaku dwugłowego orła i czerwonej gwiazdy. Ofiary komunizmu i imperializmu rosyjskiego w XX wieku" to tytuł międzynarodowej konferencji IPN w Sejmie. Spotkali się na niej historycy z Polski, Gruzji, Łotwy i Ukrainy.
"Imperializm rosyjski trwa od stuleci; zawsze niesie cierpienie, zniszczenie i utratę poczucia bezpieczeństwa" – podkreśliła marszałek Sejmu Elżbieta Witek w liście do uczestników międzynarodowej konferencji poświęconej ofiarom komunizmu i imperializmu rosyjskiego w XX wieku. List został odczytany przez wicemarszałka Sejmu Ryszarda Terleckiego.
"Cieszę się, że po raz kolejny Sala Kolumnowa w Sejmie Rzeczpospolitej jest miejscem naukowej debaty oraz historycznej refleksji. Ufam, że dyskusja tym bardziej zostanie pogłębiona, iż w dzisiejszym spotkaniu uczestniczy wielu znakomitych gości oraz wybitnych, cenionych naukowców" – podkreśliła marszałek Sejmu. Zaznaczyła także, że "temat konferencji jest tematem obszernym, a zarazem niezwykle trudnym, szczególnie teraz, w obliczu toczącej się już od roku wojny na Ukrainie".
"Jesteśmy świadkami niewyobrażalnej tragedii, zarówno pojedynczego człowieka, jak i całego narodu" – podkreśliła Elżbieta Witek. "My, mieszkańcy państw, którym w przeszłości carska Rosja, zaś później Związek Sowiecki odebrały prawo do wolności i suwerenności, doskonale rozumiemy, czym jest imperializm rosyjski. De facto trwa od stuleci, postępuje w sposób mniej lub bardziej widoczny, przybiera łagodniejsze lub bardziej drastyczne formy, ale zawsze niesie cierpienie, zniszczenie i utratę poczucia bezpieczeństwa" – wskazała.
Zwróciła również uwagę, że "nasze doświadczenia są zgoła odmienne niż mieszkańców państw zachodnich, którzy przez lata nie dostrzegali w Rosji, a następnie w Związku Sowieckim niebezpiecznego imperium". Marszałek Sejmu przypomniała także, że "dla wielu polityków, naukowców i publicystów z Zachodu komunizm, nacjonalizm i imperializm rosyjski był teoretyczną abstrakcją".
"Można powiedzieć – choć wygłaszanie takich hipotetycznych twierdzeń w tak znakomitym gronie historyków jest rzeczą wielce ryzykowną – że różne rzeczy mogłyby się w swoim historycznym przebiegu mieć choć trochę inaczej, gdyby pewne prawdy zdołałyby się przebić do świadomości publicznej i w niej zaistnieć" – ocenił prezes Prawa i Sprawiedliwości Jarosław Kaczyński w liście do uczestników konferencji.
"Narody i państwa naszej części Europy doświadczały tego w przeszłości, a dziś doświadcza tego w jakże dramatyczny sposób heroicznie walcząca z barbarzyńską rosyjską pełnoskalową agresją Ukraina" – zaznaczył prezes PiS.
Jego zdaniem, "gdyby społeczeństwa i rządy państw zachodnich miały odpowiednią wiedzę, a także w jakiejś mierze przez nią uwarunkowaną wolę polityczną, to wojna ta mogłaby mieć zupełnie inny przebieg albo nawet może i by nie wybuchła". "Na przykład dlatego, że nie powstałyby Nord Streamy" – dodał.
List prezesa PiS został odczytany przez szefową Kancelarii Sejmu Agnieszkę Kaczmarską.
"Walka Ukraińskiej Republiki Ludowej z bolszewicką Rosją była nie tylko konfliktem zbrojnym, ale także zderzeniem dwóch systemów społeczno-politycznych. Była to walka ze wspólnym wrogiem – bolszewicką Rosją i jednocześnie walką wolności ze zniewoleniem. Polska była jedynym krajem, który wtedy udzielił Ukrainie realnego wsparcia" – powiedział w swoim wystąpieniu jeden z panelistów, historyk Narodowej Akademii Nauk Ukrainy prof. Yuri Shapoval, przypominając, że w latach 1918-1921 niepodległa Rzeczpospolita i proklamowana w 1917 r. Ukraińska Republika Ludowa byli sojusznikami we wspólnej walce z agresją bolszewickiej Rosji.
Ukraiński historyk przypomniał obronę URL – pierwszego suwerennego państwa ukraińskiego przed agresywną polityką Rosji bolszewickiej oraz historię współpracy pomiędzy Symonem Petlurą i Józefem Piłsudskim.
W nocy z 21 na 22 kwietnia 1920 r. w Warszawie została podpisana umowa międzynarodowa między Rzeczpospolitą Polską a Ukraińską Republiką Ludową (URL). Sojusz umożliwił Polakom i Ukraińcom wspólną walkę z bolszewikami, jednak nie przyniósł Ukrainie niepodległości. Polska uratowała swoją niepodległość, odpierając armię bolszewicką spod Warszawy. Główne siły Petlury zostały rozbite jesienią 1920 r. Na okupowanej przez bolszewików Ukrainie walczyły jeszcze oddziały partyzanckie.
"To właśnie determinacja Piłsudskiego i Petlury doprowadziła do podpisania umowy warszawskiej. Obaj świetnie znali Rosję. Byli mężami stanu i wizjonerami. Sojusz ten jest kojarzony z koncepcją federacyjną Józefa Piłsudskiego. Należy zauważyć, że była ona częścią idei prometeizmu. Celem było rozbicie państwa rosyjskiego i uwolnienie krajów przemocą wcielonych do imperium rosyjskiego. Piłsudski starał się, już jako naczelnik państwa, realizować ją. Kluczowe miejsce w tej akcji było zarezerwowane dla Ukrainy" – powiedział historyk z UMCS i IPN dr hab. Mirosław Szumiło, podkreślając, że polsko-ukraiński pakt miał stanowić "przeciwwagę dla białej czy też czerwonej Rosji" a "odseparowanie Polski od Rosji poprzez suwerenną Ukrainę miało być zabezpieczeniem dla Polski".
Naukowiec podkreślił, że obaj przywódcy oceniali, że niezależnie od panującego tam ustroju, jest to kraj agresywny wobec państw ościennych, a po rewolucji bolszewickiej – dla całego świata i dodał, że mimo upływu ponad stu lat ta sytuacja trwa do dziś.
Naukowiec przypomniał postać ukraińskiego pułkownika Marka Bezruczki, którego podkomendni ramię w ramię z żołnierzami 31. Pułku Strzelców Kaniowskich bronili Zamościa przed armią konną Budionnego. 31 sierpnia 1920 r. połączone siły polskie i ukraińskie rozbiły bolszewicką konnicę podczas bitwy pod Komarowem.
Łotewski historyk prof. Eriks Jekabsons przypomniał walkę państw bałtyckich z bolszewikami w trakcie odzyskiwania niepodległości w latach 1918-20, zaś prof. Mikehil Bakhtadze z Tbilisi przedstawił zarys walk narodów Zakaukazia w obronie suwerenności w latach 1917-21 oraz ich walkę z siłami bolszewickimi.
W konferencji uczestniczą polscy naukowcy: dr hab. Sławomir Kalbarczyk (IPN), dr hab. Mieczysław Ryba (KUL) i dr Maciej Wyrwa z Centrum Dialogu im. J. Mierosławskiego.
W panelu popołudniowym prelegenci odniosą się do historii współczesnej, m.in. omówią zbrodnie sowieckie wobec polskich obywateli w czasie II wojny światowej a także sowieckie zbrodnie w krajach Europy Środkowo-Wschodniej w latach 1944-1989. (PAP)
---
---