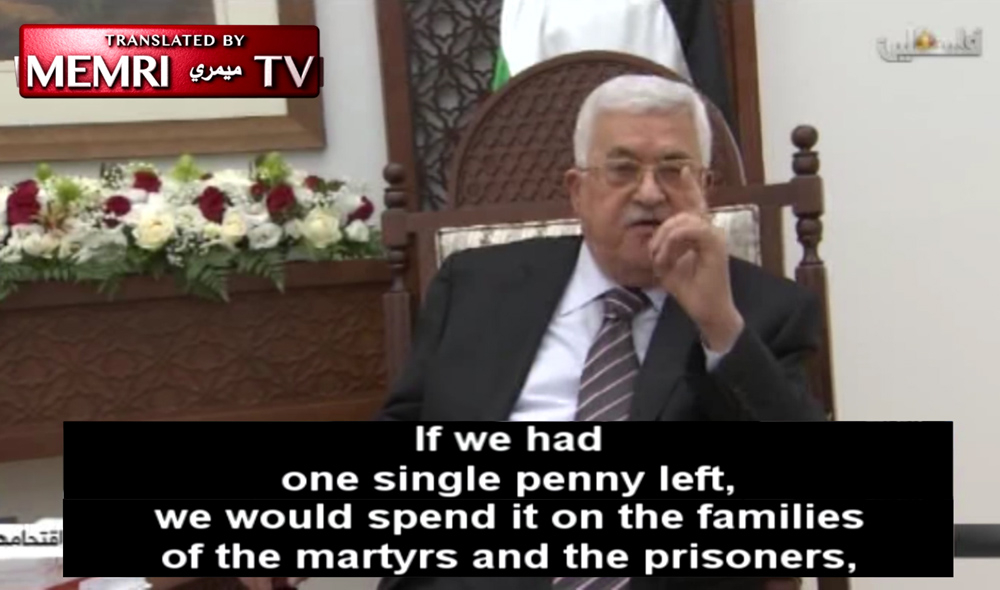 W tym, co stało się znane jako "płaca za mord", prezydent Autonomii Palestyńskiej Mahmoud Abbas jest nieugięty. Nadal będzie wypłacał duże świadczenia terrorystom i ich rodzinom. Na zdjęciu: Abbas przemawia na ceremonii ku czci palestyńskich terrorystów 23 lipca 2018 r. Powiedział wtedy: "Nie zmniejszymy ani nie wstrzymamy zasiłków rodzinom męczenników, więźniów i zwolnionych więźniów… gdyby pozostał nam jeden grosz, wydalibyśmy go na rodziny męczenników i więźniów". (Źródło: MEMRI)
---
Bassam Tawil
Tłumaczenie: Małgorzata Koraszewska
---
Po niedawnej fali ataków terrorystycznych w Jerozolimie i na Zachodnim Brzegu [tj. Judei i Samarii, MK] Palestyńczycy ponownie wyszli na ulice, by świętować mord na Żydach. W ramach obchodów Palestyńczycy tańczyli, skandowali hasła poparcia dla terrorystów i rozdawali słodycze przechodniom.
Czy celowo, czy nie, światowe media nadal pomijają wiele z takiego świętowania, w tym niepohamowaną radość Palestyńczyków po 11 września, kiedy niektóre media ujawniły nagrania Palestyńczyków tańczących, rozdających słodycze i świętujących zamordowanie tysięcy Amerykanów.
Amerykanie i inni ludzie na całym świecie, którzy byli wstrząśnięci horrorem 11 września, byli oburzeni, gdy światło dzienne ujrzały nagrania palestyńskich uroczystości. Dla Izraelczyków ta radość w odpowiedzi na terror jest koszmarem, z którym zmagają się od dziesięcioleci.
W jednym z najnowszych ataków na izraelskich cywilów, palestyński terrorysta zamordował siedmiu Żydów tuż po szabatowych modlitwach w synagodze. Palestyńczycy radowali się na ulicach, tańcząc, rozdając słodycze i strzelając fajerwerkami.
Kilkakrotnie udokumentowano, że wyżsi urzędnicy z rządzącej frakcji Fatah, na czele z prezydentem Autonomii Palestyńskiej Mahmoudem Abbasem, uczestniczyli w orgiach radości z powodu mordowania Żydów.
28 stycznia Ata Abu Rumaileh, szef Fatahu w mieście Dżenin na północnym Zachodnim Brzegu, wziął udział w marszu świętującym dwa ataki terrorystyczne w Jerozolimie.
Podczas marszu Abu Rumaileh, wymachujący karabinem szturmowym typu M-16, był otoczony dziesiątkami uzbrojonych i zamaskowanych terrorystów. Chwalił "sprawiedliwych męczenników", którzy przeprowadzili ataki i wezwał do nasilenia terroryzmu przeciwko Izraelowi.
Powiedział, że broń i kule powinny być jedynym językiem używanym w kontaktach z Izraelem. Intifada (powstanie), kontynuował, "przekształciła się w wojnę", która nie zakończy się, dopóki krew "męczenników" nie zostanie pomszczona. "Niech te ataki wyślą ich [Żydów] do piekła. Dzisiaj rozdajemy słodycze… w gratulacjach dla naszych bohaterskich męczenników".
Warto zauważyć, że Abu Rumaileh reprezentuje frakcję Fatahu, którą ludzie Zachodu często określają jako "umiarkowaną".
Zaledwie w zeszłym tygodniu szef tej partii, Mahmoud Abbas, odebrał telefon od sekretarza stanu USA Antony'ego Blinkena, który podobno obiecał wywrzeć presję na Izrael, aby wstrzymał "jednostronne działania". Nie trzeba dodawać, że Blinken nie krytkował Abbasa za podżeganie Fatahu do terroru ani za celebrowanie ataków terrorystycznych przez wielu Palestyńczyków.
Dżamal Al-Huwail, inny wysokiej rangi członek frakcji Fatahu Mahmuda Abbasa, również chwalił mordowanie Żydów. Kilka miesięcy temu Al-Huwail powiedział, że Diaa Al-Hamarszeh, terrorysta, który zamordował pięciu Izraelczyków w mieście Bnei Brak, "wniósł radość w serca Palestyńczyków".
"Ludzie w Dżeninie wyszli na ulice, aby świętować – dodał. – Al-Hamarszeh i jego rodzina przywrócili chwałę Fatahowi, Hamasowi, LFWP [Ludowemu Frontowi Wyzwolenia Palestyny] i Islamskiemu Dżihadowi".
Atak terrorystyczny w Bnei Brak rzeczywiście zgromadził rozradowane tłumy tańczących Palestyńczyków w Dżeninie i gdzie indziej, którzy skandowali: "Miliony męczenników maszerują do Jerozolimy!" i okrzyknęli terrorystę "bohaterskim przywódcą męczenników".
Nieco ponad miesiąc później, kilka kilometrów dalej, w mieście Elad, dwóch palestyńskich terrorystów zaatakowało Żydów (siekierą i nożem), mordując czterech mężczyzn, z których ostatni niedawno zmarł z powodu odniesionych ran.
W surrealistycznym zwrocie akcji, funkcjonariusz Abbasa z Fatahu, Ata Abu Rumaileh, zapewniał, że terroryści mają etykę skautów: "Odmówili zabijania kobiet, dzieci i osób starszych. Taka jest moralność bojowników i członków ruchu oporu".
Organizacja Palestinian Media Watch znacząco dodała, że "moralność" terrorystów jakoś nie całkiem dorasta do tych standardów: "zamordowali ojców siekierami i nożami na oczach ich dzieci w parku".
Być może Abu Rumaileh uznałby za precedensowe "etyczne zwycięstwo", kiedy podczas straszliwej masakry paschalnej w Netanji w 2002 roku Palestyńczycy tańczyli z radości z powodu trudnego "osiągnięcia" zamordowania 30 Żydów i zranienia 140 innych osób, głównie starych ludzi, podczas świątecznego posiłku.
Podobne świętowanie miało miejsce w następstwie masakry w jesziwie Merkaz HaRav w 2008 roku, po tym jak palestyński terrorysta zastrzelił ośmiu żydowskich uczniów. Potem "tysiące Palestyńczyków [wyszło] na ulice, strzelając z broni palnej w powietrze, odmawiając modlitwy dziękczynne i rozdając słodycze miejscowym dzieciom. Nie obchodzili święta religijnego ani mistrzostw sportowych. Świętowali okrutne zamordowanie ośmiu chłopców".
Są Palestyńczycy, którzy po prostu chcą żyć w pokoju i aktywnie pomagają izraelskim Żydom w niebezpiecznych sytuacjach, ale ich głosy i historie nie zwracają uwagi mediów. Jeden z takich Palestyńczyków został "zmuszony do ucieczki [z] Zachodniego Brzegu po groźbach śmierci za uratowanie dzieci zamordowanego rabina Miki Marka".
Powodem milczenia jest strach.
Trudno jednak wytłumaczyć wielotysięczne tłumy tańczące i radujące się z powodu zabijania niewinnych. Co sprawia, że człowiek mówi, iż celowe zmiażdżenie niemowlęcia pod kołami samochodu czyni sprawcę "bohaterem"? Co sprawia, że nazywają zamordowanie dwóch braci w wieku ośmiu i sześciu lat przez wjechanie samochodem w przystanek autobusowy "heroiczną operacją komandosów"?
Jest to wynikiem dziesięcioleci antyizraelskiego podżegania i prania mózgów przez przywódców palestyńskich, których sponsorzy nigdy im nie powiedzieli, że jest to złe. Dla większości Palestyńczyków: 1) wszyscy Żydzi są "osadnikami" i 2) Izrael jest jednym wielkim osiedlem, które należy zlikwidować.
Co więcej, trudno zrozumieć uznanie za zabawną karykaturę przedstawiającą głowę ofiary ataku terrorystycznego na półmisku, która ma być zjedzona w ramach tradycyjnej palestyńskiej uczty. Dlaczego wciąż słyszymy, jak Palestyńczycy twierdzą, że terror i gloryfikowanie mordowania niewinnych cywilów jest "naturalną reakcją"?
Nie ma nic "naturalnego" w mordowaniu żydowskich dzieci czekających na przystanku autobusowym. Nie ma nic "naturalnego" w mordowaniu nieuzbrojonych cywilów przed synagogą. Nie ma nic "naturalnego" w tańcu i rozdawaniu cukierków w celu uczczenia terroryzmu i mordowania Żydów lub kogokolwiek innego.
Podczas gdy Abbas od czasu do czasu potępia atak, który wywołał tak duże międzynarodowe oburzenie, że może zaszkodzić wizerunkowi Autonomii Palestyńskiej, jego czyny mówią głośniej niż słowa.
W tym, co stało się znane jako "płaca za mordowanie", Abbas stanowczo opowiada się za dalszym wypłacaniem wielkich świadczeń rodzinom terrorystów: "Nawet jeśli będę musiał opuścić swoje stanowisko, nie pójdę na kompromis w kwestii wynagrodzenia męczennikowi (szahid) lub więźniowi" – obiecał Abbas .
W wieku 87 lat Abbas nadal trzyma się urzędu. Pomimo amerykańskiego ustawodawstwa mającego na celu przeciwdziałanie wypłacania terrorystom i ich rodzinom setek milionów dolarów amerykańskiej, unijnej i międzynarodowej pomocy zagranicznej, Abbas wciąż znajduje kreatywne sposoby na kontynuację. Od 2017 r. Stwierdzono, że środki te "równe są w sumie około połowie pomocy zagranicznej na wsparcie budżetu" AP. W kolejnych latach ciągle rosły.
UE, Stany Zjednoczone i inni międzynarodowi sponsorzy Palestyńczyków nadal finansują rząd, który nie tylko odmawia potępienia terroryzmu, ale wręcz uprawia go jak lukratywną hodowlę terrorystów. Dla niektórych Palestyńczyków, takich jak przywódcy Hamasu i Palestyńskiego Islamskiego Dżihadu, obejmuje to nawet wysyłanie kobiet i dzieci do wysadzania się w powietrze i używanie dzieci jako żywych tarcz. Przywódcy nie wysyłają oczywiście członków swoich rodzin po takie "osiągnięcia".
Niestety, ci darczyńcy nawet nie proszą palestyńskich przywódców, by przestali nawoływać do przemocy i by przestali nagradzać za morderstwa jako warunku ich finansowania. Trzeba zadać sobie pytanie: dlaczego nie? Jeśli pójdziesz do banku i poprosisz o kredyt hipoteczny, bank określi warunki. To jest "naturalne".
Biorąc pod uwagę nieskrywaną jadowitość Fatahu i Autonomii Palestyńskiej we wspieraniu terroryzmu – zarówno słowami, jak i pieniędzmi – jak można poważnie oczekiwać od Izraela zaangażowania się w jakiekolwiek owocne rozmowy pokojowe z tymi Palestyńczykami?
---
Bassam Tawil – muzułmański badacz i publicysta mieszkający na Bliskim Wschodzie.
---
---