Simon Wiesenthal Center
---
The Simon Wiesenthal Center is calling on German authorities to prosecute Pink Floyd front man and anti-Israel zealot Roger Waters who embraced Holocaust distortion during a recent concert at the Mercedes Benz Stadium.
During the show, the names Anne Frank and Shireen Abu Akleh were projected side by side, drawing an equivalence between the teenage Holocaust victim and the Palestinian journalist who was accidentally shot dead while covering Israel's operation in the West Bank last year. Waters also dressed in the style of an SS soldier with an armband and firing a dummy rifle during the concert.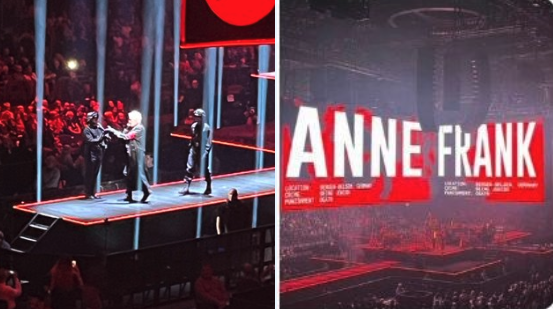 "Shame on Frankfurt authorities and Mercedes Benz arena in Berlin for providing anti-Semite Roger Waters this venue for his concert. Jewish community's concerns be damned… So will Germany prosecute Waters for Holocaust distortion or will promoters rush to book the anti-Semite for more lurid 3-D anti-Israel hate fests masquerading as concerts?," demanded Rabbi Abraham Cooper, Associate Dean and Director of Global Social Action.
There are few performers whose anti-Israel vitriol can match that of Waters. Despite his protests to the contrary, Waters has, for years, crossed the line between anti-Zionism and anti-Semitism [Waters has been included in SWC's 2013 Top 10 anti-Semitic Events as well as in 2018].
For further information, please email Michele Alkin, Director of Global Communications at malkin@wiesenthal.com or Shawn Rodgers at srodgers@wiesenthal.com, join the Center on Facebook, or follow @simonwiesenthal for news updates sent directly to your Twitter feed.
The Simon Wiesenthal Center is one of the largest international Jewish human rights organizations in the United States. It is an NGO at international agencies including the United Nations, UNESCO, the OSCE, the OAS, the Council of Europe and the Latin American Parliament (Parlatino).
---
---