PREZENTACJA
---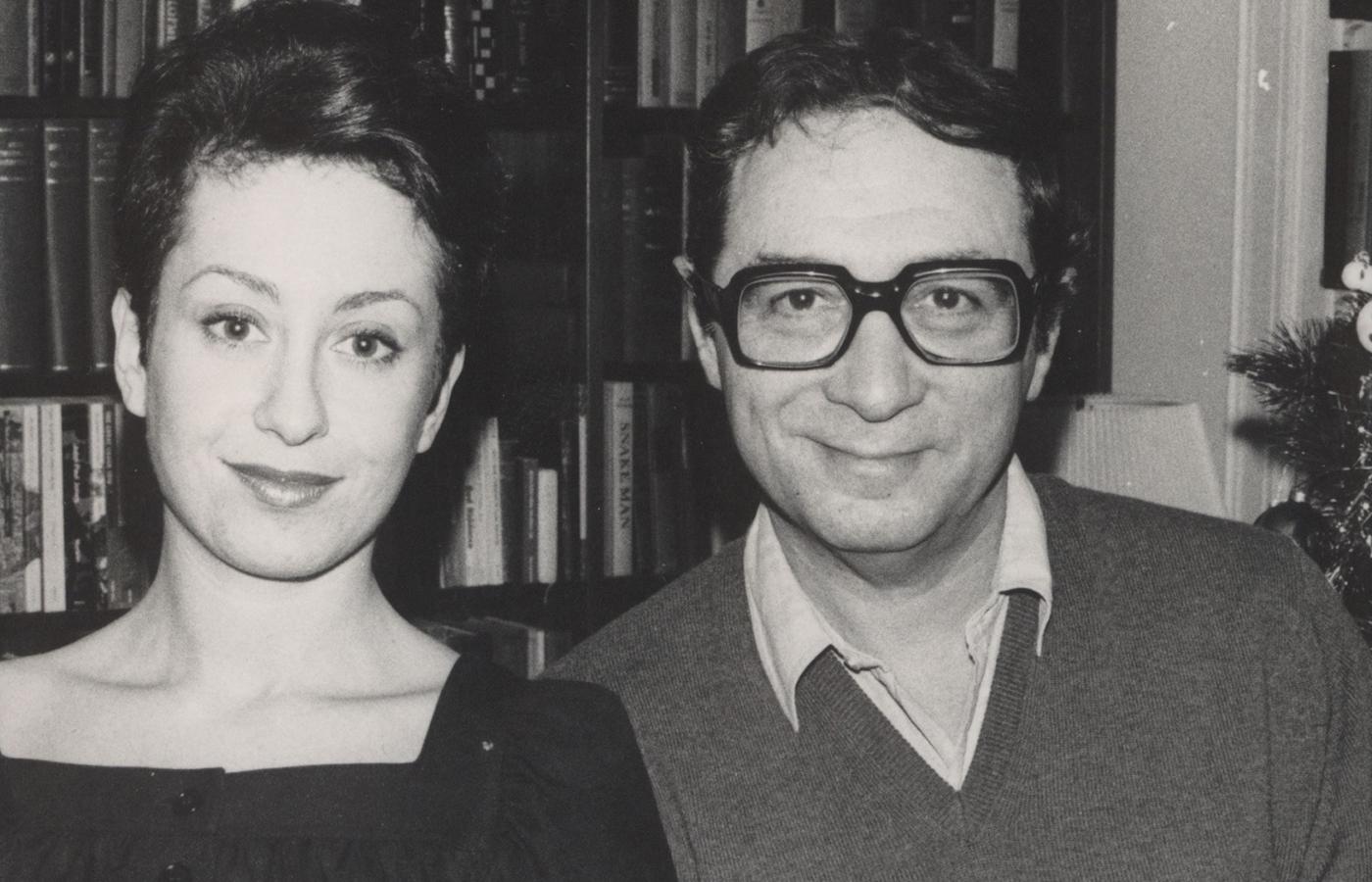 Państwo Tyrmandowie, lata 70. Archiwum Mary Ellen Tyrmand
"Twoja śmierć będzie taka jak Twoje życie" – miała napisać słynna astrolożka, w zrobionym na zamówienie horoskopie. I jest to wróżba sformułowana bardzo sprytnie, bo w obliczu życia Leopolda Tyrmanda, można się było po tej śmierci spodziewać dosłownie wszystkiego.
Król bikiniarzy, playboy, guru jazzu i kontestator komunistycznej władzy, a przede wszystkim autor Złego, stały bywalec salonów i gwiazda warszawskich kręgów artystycznych lat pięćdziesiątych – taki obraz Leopolda Tyrmanda szersza publiczność zna bardzo dobrze. W dużej mierze jest on zgodny z prawdą, ale jednocześnie jest obrazem fragmentarycznym – to zaledwie wycinek nadzwyczaj bogatej, trwającej sześćdziesiąt pięć lat, opowieści, której akcja toczy się w kilkunastu państwach, na tle burzliwej historii dwudziestego wieku. Marcel Woźniak w nowej Biografii Leopolda Tyrmanda nie pomija niczego.
Z detektywistyczną dokładnością śledzi losy pisarza – od narodzin po nagłą śmierć. A nawet nieco dłużej.Początki tej opowieści sięgają końca osiemnastego wieku, kiedy austriacki cesarz nakazuje żydom przyjąć nowe, niemiecko brzmiące nazwiska. Los zadecydował, że to nadane przodkom polskiego pisarza wymyślił inny literat – pracujący wówczas jako urzędnik, E.T.A. Hoffmann – autor bajki Dziadek do orzechów. To jedynie ciekawostka, w kontekście historycznego śledztwa, które przeprowadził Woźniak. I chyba można mu pogratulować skuteczności, skoro samemu Tyrmandowi, który nieraz zastanawiał się nad pochodzeniem i znaczeniem swojego nazwiska najprawdopodobniej nigdy nie udało się tej zagadki rozwikłać.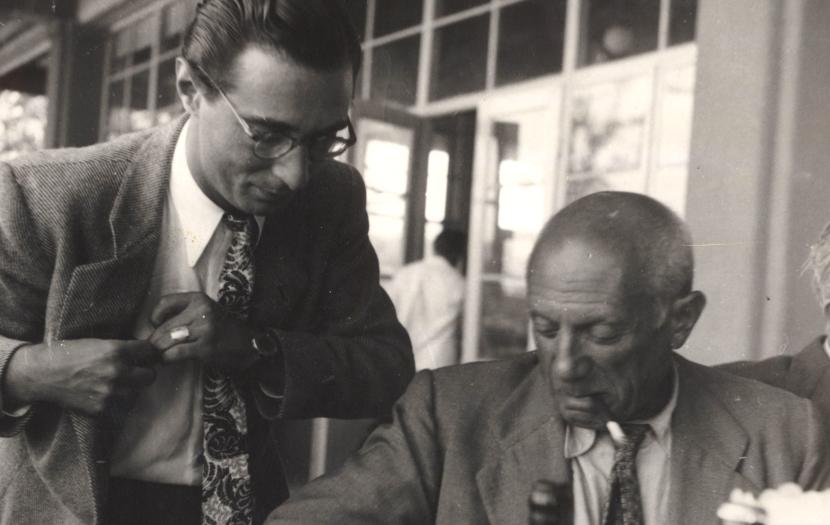 Tyrmand i Picasso, Wrocław 1948
Skrupulatność i reporterska wnikliwość pozwoliły autorowi Biografii… odpowiedzieć na wiele pytań, które frapowały nie tylko Tyrmanda, ale też rodzinę pisarza i badaczy jego twórczości. Jak mówi w przedmowie do książki Matthew, syn Leopolda: "Marcel odnalazł tak wiele: zdjęcia i wspomnienia z Wilna, listy więźniów obozu, cenne dokumenty i korespondencję", a co więcej te wyjątkowe znaleziska potrafił bardzo zręcznie złożyć we wciągającą całość. Chociaż Biografia… jest naszpikowana skanami dokumentów i rękopisów, cytatami z listów i wypowiedzi na panelach dyskusyjnych tekst czyta się bardziej jak dobrze skonstruowaną powieść niż beznamiętną, naukową publicystykę. Przy tym nie można książce odmówić rzetelności i precyzji tej drugiej. Każdy trop pociągnięty jest do końca, nawet ten, który okazuje się bezowocny – chociażby prześledzenie roczników "Sportu Polskiego", by dotrzeć jedynie do przypuszczenia, że za pseudonimem relacjonującego mecz Polska-Francja Lou-Lou kryje się Tyrmand. Wbrew pozorom te ślepe zaułki i stawiane w ich obliczu hipotezy nie tworzą poczucia jałowości podjętych przez Woźniaka wysiłków. Dają czytelnikowi pewność, że żaden wątek nie został przedwcześnie porzucony czy potraktowany po macoszemu, a o kwestiach w książce nierozwiązanych po prostu jednoznacznie orzec się nie da. Z drugiej strony dzięki tej szczegółowości z Biografii Leopolda Tyrmanda wyłania się niezwykle plastyczny i niemal namacalny obraz świata, którego już nie ma. Co rusz pojawiają się wzmianki o języku jakim posługiwali się przedwojenni gimnazjaliści, fotograficzne opisy warszawskich ulic, tak dobrze znane wielbicielom Złego, a wszystko nie po to by zasypać czytelnika ogromem faktów, ale pozwolić mu zobaczyć co kształtowało świat wewnętrzny Leopolda Tyrmanda i zrozumieć go w najprostszy, ludzki sposób.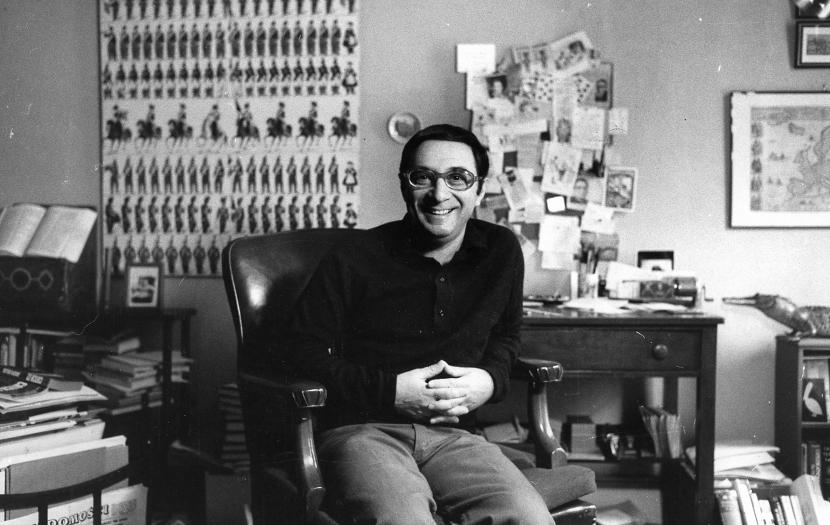 Leopold Tyrmand
Znajdą się też w książce wątki kontrowersyjne, które przyjaciołom i fanom pisarza często niełatwo było zrozumieć, jak rzekomy "zwrot w prawo", który warszawski bon vivant miał wykonać po przeprowadzce do USA czy kwestia współpracy Tyrmanda z prosowiecką gazetą, jeszcze w czasie wojny. Woźniak nie unika trudnych pytań i próbuje na nie odpowiedzieć. Nie rości sobie przy tym praw do ostatecznych rozstrzygnięć, a co najważniejsze – niezależnie od treści formułowanych wniosków, próbuje zrozumieć. Analizuje kontekst, śledzi rozwój poglądów na przestrzeni lat, szuka spisanych uzasadnień samego pisarza, jednocześnie sprawdzając ile w tych tłumaczeniach autokreacji i przekory – dostarcza wszelkich danych by myśli i działania Tyrmanda dostrzec wyraźnie i w całym bogactwie odcieni. To niezwykle cenne, bo chociaż książka skupia się na jednostce jest też świadectwem historii, która często czarno biała nie jest. Przez pryzmat Tyrmanda obserwujemy losy XX-wiecznej Europy. To historia Żyda, który przeżył drugą wojnę światową, konspiratora, gwiazdy warszawskiej inteligencji lat 50-tych, wroga publicznego prześladowanego przez SB, polskiego pisarza na emigracji i krytyka kultury masowej.
W Biografii Leopolda Tyrmanda nie brakuje lekkości. To opowieść wielowymiarowa, w której historie wojenne opisywane są równie rzetelnie co anegdoty o początkach rodzimej sceny jazzowej. Dzięki temu czytelnik poznaje nie tylko fakty, poznaje przede wszystkim człowieka. Pełnego sprzeczności i pytań, ale też uwielbienia dla życiowego detalu, którego los raz prowadzi do obozu jenieckiego pod Oslo, a innym razem… na koncert Duke'a Ellingtona w Paryżu. A po latach znalazł się ktoś, kto postanowił, że trzeba o tym opowiedzieć. O życiu i śmierci, która miała być taka jak życie: zapisana.
---
---