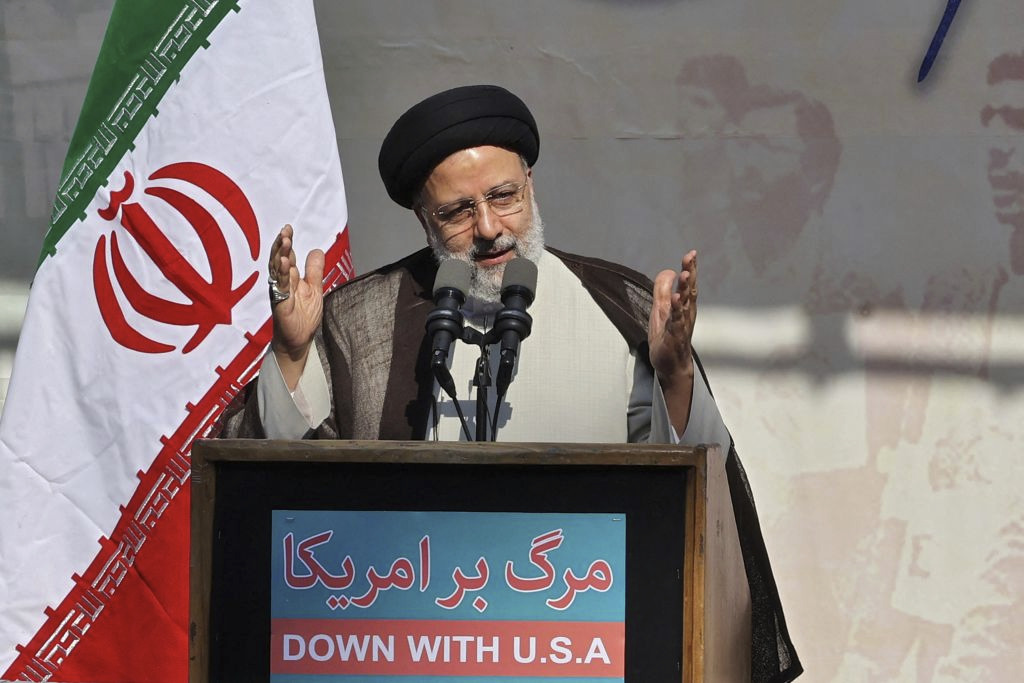 Co robi autokrata, gdy jego baza poparcia jest wstrząsana powszechnymi protestami? Standardowa odpowiedź brzmi: stara się uspokoić zwolenników, zwiększając ich przywileje, dając im tym samym większy udział w utrzymaniu status quo. Na zdjęciu: prezydent Iranu Ebrahim Raisi przemawia na wiecu przed byłą ambasadą USA w Teheranie, 4 listopada 2022 r. (Zdjęcie: Atta Kenare/AFP via Getty Images)
---
Amir Taheri
Tłumaczenie: Małgorzata Koraszewska
---
Co robi autokrata, gdy jego baza poparcia jest wstrząsana powszechnymi protestami?
Standardowa odpowiedź brzmi: stara się uspokoić zwolenników, zwiększając ich przywileje, dając im tym samym większy udział w utrzymaniu status quo.
To właśnie próbuje zrobić "Najwyższy Przewodnik" Republiki Islamskiej, ajatollah Ali Chamenei, wydając edykt dotyczący największego planu prywatyzacji w historii Iranu.
Przedstawiony publicznie w zeszłym tygodniu program jest siódmym tego rodzaju od czasu uruchomienia pierwszego 23 lata temu.
Nowy program oferuje cztery nowości:
Po pierwsze, w przeciwieństwie do poprzednich programów, nie ustanawia żadnych ograniczeń co do tego, jakie aktywa materialne można sprzedać.
Po drugie, zrzeka się indywidualnego nadzoru sprawowanego przez Radę Ministrów i Islamski Madżlis (namiastkę parlamentu).
Po trzecie, nie określa żadnych ograniczeń czasowych dla planu, w efekcie dając siedmioosobowej koterii prawo do sprzedaży majątku państwowego tak długo, jak uznają to za stosowne.
Na koniec powołuje siedmioosobową komisję, która ma nadzorować wdrażanie, jednocześnie zapewniając im nieodwołalny immunitet przed jakimkolwiek ściganiem związanym z programem.
Ten ostatni punkt jest szczególnie ważny, ponieważ daje kilku osobom, które wszystkie są związane z Korpusem Strażników Rewolucji Islamskiej (IRGC), władzę przekazywania nieokreślonych aktywów publicznych komu tylko zechcą.
Rozdawanie przysług jako sposób na kupowanie lub utrzymywanie poparcia politycznego jest cechą Republiki Islamskiej od jej powstania w 1979 roku.
W 1980 roku, kilka miesięcy po przejęciu władzy, ajatollah Ruhollah Chomeini zatwierdził masowy program wywłaszczeń realizowany poza jakąkolwiek formalną strukturą państwową.
W ramach tego planu tysiące mułłów (lub osób przebranych za mułłów i zapuszczających brody na tę okazję) przejęło własność prywatną w imieniu natychmiast utworzonych "islamskich organizacji charytatywnych".
W 1985 roku Ministerstwo Spraw Wewnętrznych poinformowało, że przejęto ponad 75 tysięcy firm i domów prywatnych, w większości od właścicieli, którzy uciekli z kraju.
Zajęte nieruchomości określono jako "ghanimah" (łup wojenny) zgodnie z zasadami szariatu. Chomeini wydał dekret, w którym stwierdził, że dopuszczalne jest odmawianie modlitw w skonfiskowanych majątkach.
Następnie rządy prezydenta Abol-Hassana Bani-Sadra i premiera Mir-Husseina Mussaviego przeprowadziły masową nacjonalizację, która zwiększyła udział sektora publicznego w gospodarce z 55 procent za szacha do 70 procent.
Nowy reżim wykorzystał ten schemat do nagradzania swoich zwolenników, tworząc miejsca pracy dla mężczyzn i przekazując majątek przedrewolucyjnych elit biznesowych nowopowstałym elitom rewolucyjnym.
By przytoczyć jeden przykład, ajatollah Hadi Ghaffrai, założyciel Hezbollahu, nagle został dyrektorem generalnym największego irańskiego producenta pończoch.
Jednak na początku lat 90. mułłowie obawiali się, że porewolucyjna burżuazja nabiera kształtu i może rzucić wyzwanie reżimowi.
Aby zapobiec temu niebezpieczeństwu, ówczesny prezydent Ali-Akbar Hashemi Rafsandżani rozwinął ideę "chosulati ", prywatno-publicznego sektora gospodarki kontrolowanego przez politycznych mułłów i ich sojuszników ze służb bezpieczeństwa wojskowego, poza zasadami sektora publicznego i prywatnego.
Nowy schemat stał się podstawą gospodarki rentierskiej, w której dostęp nie tylko do możliwości tworzenia majątku, ale także do normalnych usług publicznych jest zapewniony przez jeden kanał: lojalność wobec systemu i "Najwyższego Przewodnika".
Ten hybrydowy sektor składał się z ponad 400 fundacji i organizacji charytatywnych różnej wielkości, organizacji ad hoc, takich jak "Komitet Pomocy Imama", "Komitet ds. Wdrażania Rozkazów Imama", funduszy i holdingów związanych ze świętymi sanktuariami, rzekomo nieoprocentowanych islamskich banków, firm ubezpieczeniowych, licznych realnych lub fikcyjnych spółdzielni oraz ponad 30 nowo powstałych firm usługowych i doradczych związanych głównie z przemysłem naftowym.
Sektor hybrydowy rozszerzył się również na branżę transportową, będąc właścicielem czterech linii lotniczych, sześciu linii żeglugowych i kilku firm produkujących samochody, największego w kraju wykonawcy robót publicznych oraz kilku grup holdingowych i inwestycyjnych.
Cztery sieci supermarketów powiązane z IRGC i regularną armią, sieć hoteli i ośrodków turystycznych, a także przejęcie przemysłu komunikacyjnego, w tym telefonii komórkowej i poczty, radykalnie zwiększyły udział tego sektora w gospodarce.
W ramach sektora IRGC kontrolował 25 portów, z których mógł importować i eksportować towary bez przechodzenia przez normalne kanały celne.
Do roku 2000, kiedy uruchomiono pierwszy formalny program prywatyzacji, sektor hybrydowy stanowił 20 procent gospodarki narodowej.
Według profesora Hassana Mansoura, wybitnego irańskiego ekonomisty, w 2022 r. sektor publiczny stanowił 61 proc. gospodarki, z czego 39 proc. przypadło na hybrydowy i na kurczący się klasyczny sektor prywatny.
Pojawienie się gospodarki rentierskiej można opisać poprzez kolejne skandale korupcyjne, w większości z udziałem generałów IRGC.
Stephane A. Dudoignon, francuski specjalista ds. IRGC, pisze, że to podczas drugiej kadencji prezydenta Rafsandżaniego korupcja stała się systemowa, co oznacza, że nie była już wyjątkiem od reguły, ale samą regułą; właściwie stylem życia.
Czasami skandale zmuszały reżim do aresztowania niektórych wyższych oficerów IRGC, takich jak Masood Mehrdadi, niegdyś znany jako "ekonomiczny mózg" IRGC, i organizowania procesów pokazowych. Kilka innych wybitnych postaci IRGC, takich jak generałowie Ahmad Vahidi, pierwszy szef Sił Kuds, Muhammad Baker Kalibaf, Hussein Tala, Muhammad Esmail Kowthari, Rostam Kassemi i Huszang Allah-Dad, główny skarbnik Sił Kuds, oraz Dżamaleddin Aberumand są zamieszani w domniemane sprawy korupcyjne od 1989 roku.
Nieżyjący już generał broni Kassem Solejmani był również wymieniany jako główny udziałowiec w ponad 20 przedsiębiorstwach w Iranie, Iraku, Syrii i Libanie, kontrolując jednocześnie tajny budżet Sił Kuds, co zwalniało go z kontroli prawnej ze strony Rady Ministrów lub Madżlisu.
Przekazywanie majątku publicznego wybranym zwolennikom ma charakter rutynowy.
Zwolennik, zwykle starszy oficer IRGC lub starszy mułła, zabezpiecza niskooprocentowaną pożyczkę z banku państwowego, aby kupić państwowe aktywa po najniższej cenie. Prawie zawsze jest to tylko formalność. Po nabyciu aktywów nowy właściciel zakłada spółkę i sprzedaje część swoich udziałów innym, osiągając ogromny zysk. Ci, którzy nabywają najlepsze nieruchomości, mają wyjątkowo duże zyski.
Zwykle część zysków jest od razu chowana na rachunkach bankowych za granicą.
Program umożliwia również reżimowi przetworzenie na biznesmenów ogromnej liczby generałów, których IRGC i armia regularna produkują każdego roku.
Obecna czystka w korpusie oficerskim dodaje pilności najnowszemu planowi prywatyzacji.
Pozostaje jeden problem: czy zdemobilizowani lub emerytowani generałowie będą na tyle pewni przyszłości reżimu, by przystąpić do oferowanego programu przetwarzania ich?
---
---