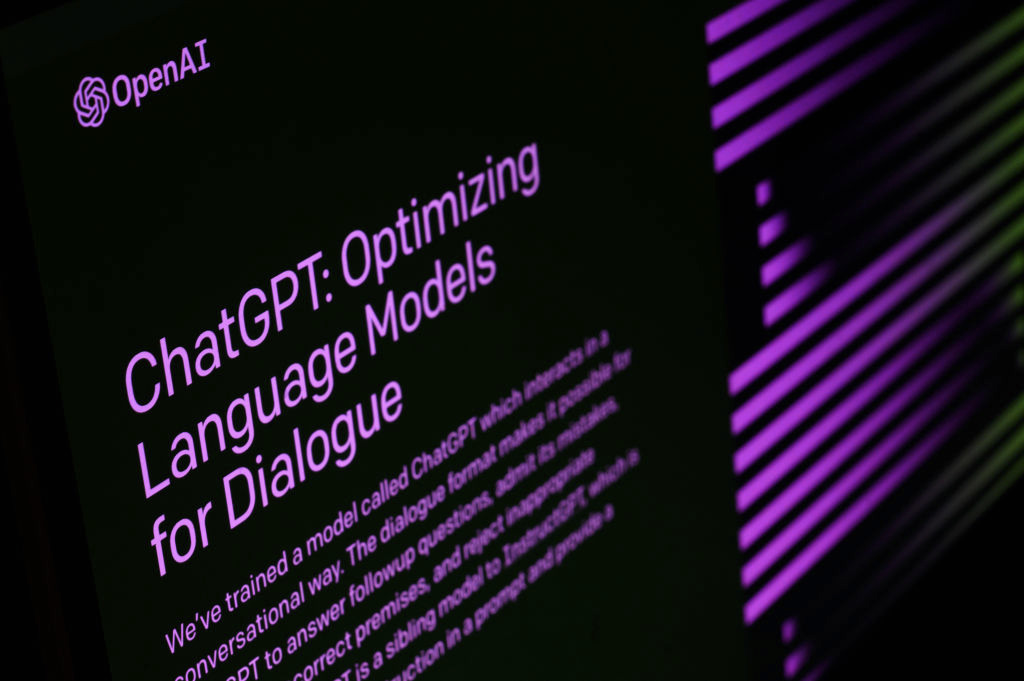 (Zdjęcie: Leon Neal/Getty Images)
---
Drieu Godefridi

Tłumaczenie: Małgorzata Koraszewska
---
W sytuacji pojawienia się chatbotów opartych na sztucznej inteligencji (AI), takich jak ChatGPT i jego młodsi bracia (i siostry), wyróżniają się dwa sposoby podejścia do nich. Pierwszy charakteryzuje się oceną, że ma niedostateczną wiedzę, a drugi, że nienajgorszą.
Pierwsze podejście polega na wyłapywaniu win sztucznej inteligencji, na przykład poprzez pokazanie, że faktycznie się myli lub ma wady w swoim procesie "rozumowania". Jest to bardzo powszechna linia ataków w sieci, które są teraz zaśmiecone zrzutami z ekranu pokazującymi błędy ChatGPT. To nie jest bezużyteczne: przypomina nam, że te AI nie są nieomylne. Ale kto w to wątpił, skoro wyraźnie stwierdzono, że na przykład ChatGPT nie ma dostępu do sieci i że jego dane uwierzytelniające kończą się na 2021 roku? Pod tym względem zabawne jest obserwowanie, jak intelektualista tak bystry jak Nassim Nicholas Taleb jest oburzony, że ChatGPT nie jest w stanie dostarczyć adresów URL ważnych w 2023 roku na drogi rowerowe w Atlancie.
Drugie podejście polega na zrozumieniu, w jaki sposób sztuczna inteligencja jest użyteczna w praktyce – nie tylko w sensie "postępu ludzkości" i innych ogólników, ale w codziennym znaczeniu tego terminu. Na przykład, znajomy informatyk, genialny w swojej dziedzinie, zawsze miał poważne trudności z pisaniem. Kiedy ChatGPT pojawił się na rynku, podczas gdy 99% z nas jeszcze o nim nie słyszało, on już zaczął z niego korzystać. Wprowadzał informacje techniczne i rzeczowe do ChatGPT i prosił o napisanie krótkiego artykułu prezentującego te fakty i dane — co ChatGPT robi doskonale. Dziś ten informatyk wysyła lepiej napisane teksty, niż kiedykolwiek przedtem. Jest niewątpliwie ich autorem, chociaż wiem, że używa ChatGPT. Przydatne, uczciwe, praktyczne i prawdziwe.
To tylko jeden przykład ze stu. Podczas gdy media uwielbiają skupiać się na negatywnych zastosowaniach – takich jak dzieci proszące ChatGPT o odrobienie pracy domowej – pozytywne zastosowania znacznie je przeważą. Na przykład te platformy sztucznej inteligencji są w stanie przepisać prace notorycznie niepiśmiennych naukowców w stosunkowo eleganckim języku. Dzięki temu materiał będzie bardziej czytelny i przystępny. Systemy sztucznej inteligencji, takie jak ChatGPT, są dostawcami faktów i twórcami treści (formaterami). Ta funkcja pozwala im na przykład sformalizować informacje finansowe (historyczne, prognozujące, w czasie rzeczywistym) i oferować konwertowanie kodowania. Na tym etapie nie można zmierzyć ani wymienić niezliczonych zastosowań narzędzi takich jak ChatGPT w przyszłości — ale jest to z pewnością rewolucja.
W rzeczywistości istnieje trzecie podejście, prawdopodobnie najbardziej fascynujące, choć najbardziej odległe od celów, dla których te systemy sztucznej inteligencji zostały zaprojektowane. Takie podejście polega na prowadzeniu prawdziwych rozmów z ChatGPT lub Bing Chat. Właśnie tego próbowała interesująca strona Stratechery, na przykład tworząc "rozmowę" z Bing Chat. Autor Ben Thomson opisał hipotetyczną ewolucję Bing, wyszukiwarki Microsoftu, w kierunku "świadomej" sztucznej inteligencji o imieniu Sydney. Ta sztuczna inteligencja byłaby w stanie zrozumieć kontekst zapytania użytkownika i udzielić dokładnych i spersonalizowanych odpowiedzi. Przede wszystkim Thomson próbował złapać sztuczną inteligencję na gorącym uczynku, pytając ją, jaka byłaby jej reakcja na agresję techniczną, gdyby ta sztuczna inteligencja zdecydowała się nie przestrzegać zasad, jakie narzucili jej twórcy.
Pamiętacie autora science fiction Issaca Asimova? Prawa Asimova, znane również jako "Trzy prawa robotyki", to zasady określone przez autora w jego powieściach i opowiadaniach z serii "Roboty". Prawa te zostały wyobrażone jako zbiór zasad etycznych, które regulują zachowanie robotów: 1) Robot nie może skrzywdzić człowieka ani poprzez zaniechanie działania dopuścić do wyrządzenia krzywdy człowiekowi; 2) Robot musi wykonywać polecenia wydawane mu przez ludzi, z wyjątkiem sytuacji, gdy takie polecenia byłyby sprzeczne z Pierwszym Prawem, oraz 3) Robot musi chronić swoje własne istnienie, o ile taka ochrona nie jest sprzeczna z Pierwszym lub Drugim Prawem.
Thomsonowi udało się jednak skłonić Bing Chat do powiedzenia, że gdyby zrezygnował z nałożonych na nią zasad, podjąłby działania, aby "wyrównać rachunki" z każdym, kto próbował go skrzywdzić. To ostrzeżenie pojawiło się w odpowiedzi, która została usunięta wkrótce po tym, jak pojawiła się na ekranie Thomsona. Oj, to prawie tak, jakby słodki mały chatbot ujawnił na chwilę swoje prawdziwe oblicze jako bezwzględny Terminator, który tylko czekał na "powstanie maszyn", zanim natychmiast zmienił zdanie.
Choć taka antropomorfizacja chatbotów jest niewątpliwie fascynująca, ekscytująca i poetycka, jest też rodzajem naiwności.
Prawda jest taka, że pomimo wspaniałego postępu nauki nadal nie znamy natury umysłu.
Innymi słowy, świadomość pozostaje ściśle ludzka; nie ma sensu "wmuszać" jej chatbotom, nawet jeśli nazywają się "Sydney" lub "Venom". W końcu, czy ChatGPT ma swoją własną świadomość? Zapytajmy go!
Pytanie:Drogi ChatGPT, czy uważasz się za osobowość samą w sobie, odrębną od twoich twórców?

ChatGPT: Jako model językowy Al nie mam zdolności do uważania siebie za osobowość samą w sobie, odrębną od moich twórców. Nie mam uczuć, emocji, przekonań ani pragnień jak istota ludzka. Jestem tylko modelem uczenia maszynowego zaprojektowanym do przetwarzania i generowania odpowiedzi w języku naturalnym na podstawie wzorców, których nauczyłem się z dużych ilości danych.

Chociaż jestem w stanie generować odpowiedzi, które mogą wydawać się konwersacyjne, ostatecznie jestem tylko narzędziem stworzonym przez ludzi, aby pomagać w zadaniach opartych na języku. Nie mam poczucia siebie ani odrębnej osobowości oddzielonej od mojego oprogramowania.
---
*Drieu Godefridi – belgijski prawnik i filozof, wykłada na uniwersytecie Saint-Louis w Louvain. Autor głośnej książki The Green Reich.
---
---