Ben-Dror Yemini
Tłumaczenie: Małgorzata Koraszewska
---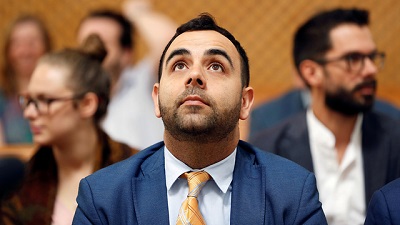 Pracownik Human Rights Watch, Omar Shakir, w sądzie w Jerozolimie (Zdjęcie: Reuters)
Omar Shakir, którego pozwolenie na pozostanie w Izraelu anulował Sąd Najwyższy, określa siebie jak "aktywistę praw człowieka". Jest dyrektorem na Izrael organizacji Human Rights Watch, największej organizacji obrony praw człowieka na świecie.
Można spokojnie założyć, że z czasem Izrael zapłaci za decyzję deportowania Omara. Kraj raz jeszcze zostanie przedstawiony jako niedemokratyczny – bojący się tych, którzy ośmielają się go krytykować, przerażony tymi, którzy mogą ujawnić go jako kraj łamiący prawa człowieka.
Warto wspomnieć, że choć "organizacje praw człowieka" stały się w Izraelu synonimem dla "wrogich elementów", nie wszystkie są wrogie. HRW jednak z pewnością należy do wrogich i to zajadle wrogich.
Przewodniczący HRW, Kenneth Roth, wysłał list do ówczesnego prezydenta USA, Billa Clintona, z żądaniem, by nie zapominał o palestyńskim "prawie powrotu" do ziemi w Izraelu.
Podczas ostatniego Dnia Nakby (dorocznego "Dnia katastrofy", podczas którego Palestyńczycy opłakują stworzenie państwa Izrael) Shakir, będąc w Izraelu, także wystosował oświadczenie z żądaniem uznania palestyńskiego "prawa powrotu", przedstawiając to jako oficjalne stanowisko HRW w tej sprawie.
To żądanie Shakira, z samej swej natury, przekreśla prawo Izraela do istnienia.
A przecież są dziesiątki milionów ludzi, którzy byli uchodźcami w latach 1940 – a także w latach 1970. – niemniej HRW nie żąda dla nikogo innego prawa powrotu.
Z punktu widzenia prawa te tak zwane żądania są wyłącznie oszustwem i sądy międzynarodowe już rozstrzygały w przeszłości żądania tego typu.
Na przykład, Niemcom sudeckim odmówiono spełnienia ich żądania powrotu do Kraju Sudetów w Republice Czeskiej po tym, jak zostali wydaleni po II Wojnie Światowej.
Taki sam werdykt otrzymali Grecy, którzy żądali, by świat uznał ich prawo powrotu do północnego Cypru, skąd siły tureckie wysiedliły ich w 1974 roku.
Ponieważ może być uznane za zbyt paskudne otwarte mówienie: "popieramy żądania Iranu i Hamasu zniszczenia Izraela", HRW używa zamiast tego zwrotu "prawo powrotu", zaciekle kłamiąc, że takie prawo ma jakieś podstawy.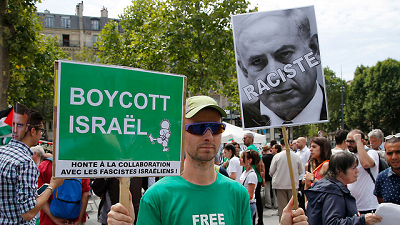 Paryska demonstracja poparcia bojkotu Izraela (Zdjęcie: AP)
Shakir osiągnął nowy poziom podstępu i przebiegłości, i wezwał Palestyńczyków do wycofania ich żądania samostanowienia (podstawowa zasada stwierdza, że narody mają prawo do swobodnego wyboru suwerenności i politycznego statusu) i żądania zamiast tego prawa "jeden głos dla jednego człowieka", co oznacza jeden kraj dla dwóch narodów, a w praktyce likwiduje Izrael jako schronienie dla narodu żydowskiego.
Od momentu, kiedy Omar Shakir wylądował na ziemi Izraela, miał ten sam modus operandi co zawsze i nawet pojechał do Bahrajnu, by promować myśl o zakazaniu przez FIFA miejsca dla Izraela. Bahrajn nie wpuścił go do kraju.
W zeszłym roku, po decyzji anulowania wizy Shakira, 15 organizacji praw człowieka, włącznie z izraelskimi NGO, B'tselem i Breaking the Silence, wezwały do zmiany tej decyzji.
"Ta decyzja tylko służy połączeniu Izraela z listą podejrzanych krajów, których rządy chcą kontrolować opinie, myśli i działania ludzi, zamiast chronić ich prawa do wolności słowa" – oznajmiły te grupy.
No cóż, zobaczmy: Kanada zakazała wjazdu do kraju byłemu parlamentarzyście brytyjskiemu i człowiekowi zaciekle nienawidzącemu Izraela, George'owi Galloway'owi; Francja zakazała wjazdu szejkowi Jusufowi al-Karadawiemu, uważanemu przez sunnickich muzułmanów za wybitnego intelektualistę; Wielka Brytania zakazała wjazdu amerykańskiemu aktywiście antygejowskiemu, Fredowi Phelpsowi, i jego córce, Shirley Phelps-Roper, jak również Michaelowi Savage'owi, skrajnie prawicowemu prezenterowi konserwatywnej rozgłośni radiowej; USA zakazały wjazdu filipińskiej działaczce praw człowieka, Lizie Maza, która zamierzała wziąć udział w konferencji o amerykańskiej aktywności w jej kraju; a ostatnio zarówno USA, jak Wielka Brytania zakazały wjazdu Omarowi Barghoutiemu, jednemu z głównych działaczy ruchu Bojkot, Dywestycje i Sankcje (BDS) i ideologicznemu bliźniakowi Omara Shakira.
Decyzja o wydaleniu Omara Shakira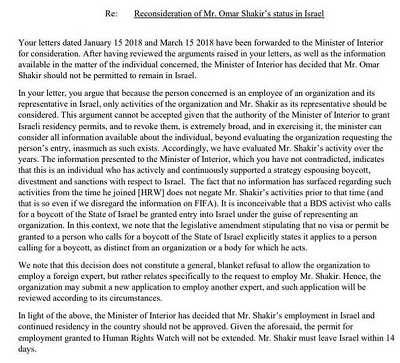 Można spokojnie założyć, że antyizraelskie elementy będą powtarzały swoje zwykłe bzdury o szkodach dla wolności słowa, co jest dziwne, biorąc pod uwagę fakt, że sam Shakir propaguje szkodzenie wolności słowa.
W 2015 roku Shakir podpisał petycję wzywającą do bojkotowania muzułmanów, którzy ośmielili się zaakceptować zaproszenie od Hartman Institute (mieszczącego się w Jerozolimie ośrodka pluralistycznej żydowskiej myśli i edukacji) na edukacyjny objazd Izraela.
Każdy kraj ma prawo zakazania wjazdu agitatorom i nie ma kraju na świecie, który pozwoliłby osobie odmawiającej mu prawa do istnienia na przekroczenie swoich granic. To samo dotyczy Izraela.
---
Ben-Dror Jemini – (ur. 1954 w Tel Awiwie) jest prawnikiem, historykiem i publicystą wielu izraelskich dzienników (m.in. Maariw, Jediot Achronot), a także wykładowcą, który zajmuje się m.in. badaniami nad wpływem antyizraelskiej propagandy.
Pochodzi z rodziny Żydów wypędzonych z Jemenu.
Ben-Dror Yemini jest zwolennikiem pogłębiania dialogu z Palestyńczykami. Od wielu lat opowiada się za niepodległym państwem palestyńskim.
---
---