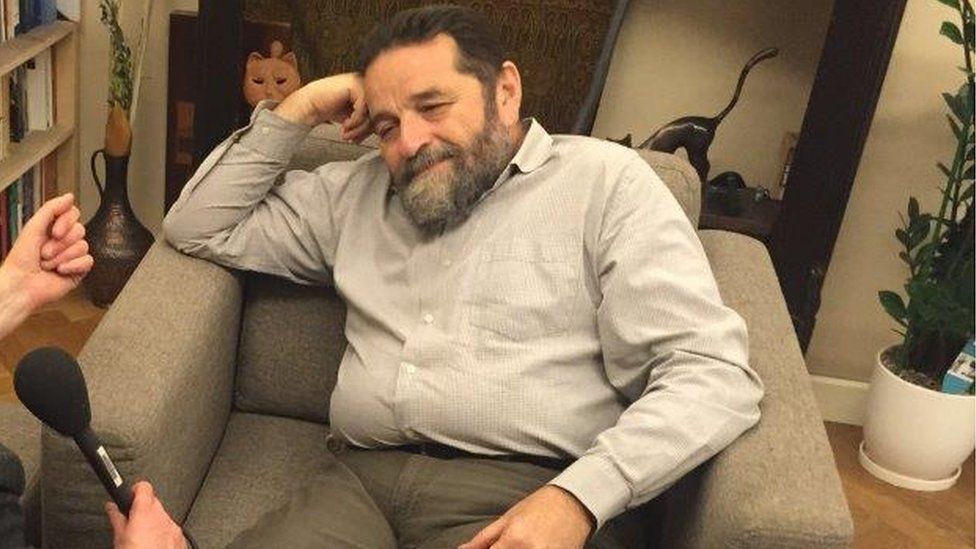 foto: BBC
---
Konstanty Gebert
---
Gdyby nie Zagłada, Izrael mógłby nie powstać. Ale to ona sprawiła, że ci, dla których miał powstać, zginęli. Dalej też nie poszło tak, jak to sobie wymyślił Teodor Herzl.
---
3 września 1897 roku, po zakończeniu obrad I Kongresu Syjonistycznego, jego organizator, dziennikarz Teodor Herzl zapisał w swoim dzienniku: "W Bazylei założyłem Państwo Żydowskie. Gdybym to dziś powiedział na głos, odpowiedzią byłby powszechny śmiech. Za pięć lat, a już na pewno za pięćdziesiąt, wszyscy to stwierdzą". 125 lat później widzimy, że pomylił się jedynie o rok: Izrael powstał w 1948 roku. Nie tylko jednak precyzja czasowa tej prognozy robi wrażenie: zdumiewające jest, że Izrael w ogóle powstał – i przetrwał.
Przełom XIX i XX wieku był czasem, w którym aż roiło się od pomysłów na nowe urządzenie polityczne poszczególnych krajów, czy wręcz planety. Socjaliści snuli wizję rządów pojednanego braterstwem międzynarodowego proletariatu, zaś anarchiści – świata bez władzy, połączonego solidarną współpracą wolnych ludzi. Pacyfiści marzyli o powszechnym pokoju, zaś rozmaici nacjonaliści roili już to odbudowę państw które, jak Polska, dawno zostały starte z mapy, lub wręcz, jak Ukraina, nigdy nie były niepodległe. Włoscy republikanie knuli obalenie w Rzymie władzy królewskiej, zaś francuscy monarchiści – co wydawało się zresztą bardziej realistyczne – przywrócenia jej w Paryżu. Wszystkie te utopijne programy musiały śmieszyć w obliczu trwałości i potęgi władzy ustanowionej.
Syjoniści śmieszni do kwadratu
Nawet jednak na tym tle syjoniści byli śmieszni do kwadratu. Ich utopia zamierzała zmienić nie tylko – czego chcieli też socjaliści czy anarchiści – politykę, dając bezsilnym możliwość stanowienia o swoim losie. Nie tylko – podobnie jak nacjonaliści – pragnęli zmienić historię, przywracając państwo przez nią dawno wymazane. Do tego wszystkiego chcieli też zmienić demografię – bo w kraju, w którym miała ich utopia być realizowana, Żydów było kilkadziesiąt tysięcy, miliony ich zaś mieszkały odeń o tysiące kilometrów. Co gorsza, owe miliony w ogóle nie zamierzały się tam przenosić: Kongres odbył się w Bazylei, a nie, jak planowano, w Monachium, bo tamtejsza gmina żydowska doniosła na policję, że do miasta pragną przybyć jacyś bezbożni wywrotowcy – i bawarska stolica zatrzasnęła przed nimi bramy.
Dla Żydów religijnych próba odbudowy żydowskiego państwa była buntem przeciwko Bogu, jedynemu władnemu, by tego cudu – w czasach mesjańskich – dokonać. Dla żydowskich liberałów syjonizm był sabotażem z takim trudem wywalczanego równouprawnienia, bo głosił, że prawdziwa ojczyzna Żydów leży gdzie indziej. Dla żydowskich socjalistów oznaczał zdradę żydowskiego i międzynarodowego proletariatu, w imię nacjonalistycznych mrzonek burżuazji. Dla tureckiego sułtana, suwerena prowincjonalnego spłachetka imperium, gdzie wyśnione przez Herzla państwo miało powstać, zamiar taki, o ile traktować go poważnie, był zamachem na jego władzę.
Teodor Herzl – marny wódz narodu
No i sam Herzl marnie się nadawał na wodza narodu. Religijnie indyferentny (wcześniej proponował masową konwersję na katolicyzm jako rozwiązanie "kwestii żydowskiej"), i narodowo kosmopolityczny – był niemieckojęzycznym Żydem węgierskim, zapatrzonym we Francję jako wzór demokratycznej republiki; hebrajskiego nie znał ni w ząb, a jidysz gardził jako żargonem, więc literatury żydowskiej, religijnej bądź świeckiej, nie znał. Wyobrażał sobie swoje Państwo Żydowskie jako coś w rodzaju Wiednia nad Jordanem, gdzie mówi się po niemiecku i chadza do opery. Świątynię wprawdzie odbudowano, ale nie tam, gdzie stała wcześniej, by nie wadzić muzułmanom, którzy pobudowali tam meczety, i bez ofiar ze zwierząt, by nie urażać współczesnej wrażliwości – ot, taki nieszkodliwy folklor. Muzułmańscy tubylcy, obdarzeni pełnią praw, lecz pozbawieni zbiorowych politycznych aspiracji, są zadowoleni ze swego losu.
W rozgrywającej się w tej spełnionej utopii powieści "Altneuland", którą Herzl wydał w pięć lat po Bazylei, jedna z czołowych postaci jest Raszid Bej, który chwali rozwój kraju i szczęście jego mieszkańców. Szwarc-charakterem jest natomiast rabin Geyer, zwolennik dyskryminacji nieżydowskich mieszkańców kraju, którego w wyborach prezydenckich pokonuje plebejski Dawid Litwak, głosiciel braterstwa wszystkich ludzi. Państwo Żydowskie, które Herzl istotnie z półwiekowym wyprzedzeniem w Bazylei założył, niezbyt przypomina to, które na tych założeniach powstało.
Herzl bowiem niewiele wiedział o Żydach, nic zaś o Arabach, i nie tym się kierował w swej wizji Państwa Żydowskiego. Cała jego wizja wyrastała z jego wiedzy o Europie, jej kulturze, jej marzycielach – i jej antysemitach, których powieściowy Geyer jest lustrzanym odbiciem. Bodźcem do działania była dla Herzla nie troska o żydowską tożsamość, lecz spotkanie, na paryskiej ulicy podczas afery Dreyfusa, z tłumem ryczącym "Śmierć Żydom!". Jeśli taka jest Francja, pomyślał, to nic dobrego nigdzie Żydów w Europie nie czeka. Żydów, a więc także i mnie. Reszta była tylko logiczną konkluzją.
Bezkompromisowa odwaga jednego człowieka
Jego Altneuland był pomyślany dla kosmopolitycznych Żydów zachodnioeuropejskich, lecz trzonem syjonizmu stali się Żydzi ze wschodu kontynentu, którzy mieli jeszcze więcej, niż Żydzi francuscy, powodów, by szukać za morzem schronienia przed przemocą.
Zarazem ich religijna i narodowa tożsamość wprowadziła do syjonizmu ciągłość, o której Herzl nie miał pojęcia: Żydzi od wygnania po zburzeniu II Świątyni nie przestali w diasporze marzyć o powrocie do ojczyzny. Dawali temu wyraz w języku religii, bo innego nie było: prośby swe kierowali więc do Boga, nie do Rady Bezpieczeństwa.
Jednych i drugich Europa, pod niemieckim przewodem, wymordowała w drugiej wojnie światowej; Izrael zbudowali w znacznym stopniu Żydzi bliskowschodni, o których istnieniu Herzl zgoła nie wiedział. Gdyby nie Zagłada, Izrael mógłby nie powstać. Ale to ona sprawiła, że ci, dla których miał powstać, zginęli. W realnej, nie powieściowej historii Altneulandu Raszid Bejowie traktowali Żydów jako wrogów i nie ustawali w wojnie z nimi, zaś Geyerowie odpłacali im pięknym za nadobne. W obliczu tej spirali nienawiści Litwakowie zaś tracili wiarygodność i dla jednych, i dla drugich.
Słowem, utopia, którą wymyślił Herzl, najbardziej niewyobrażalna spośród wszystkich, których realizację podjęto, w niczym niemal nie przypomina kraju, który sobie wymyślił. Ale jej sukces wyrasta nie z tego, że właściwie zdiagnozował rozwiązanie, lecz z tego, że trafnie rozpoznał problem. Dzisiejszy Izrael zdziwiłby go niepomiernie – ale możliwość Zagłady przewidział, i wyciągnął zeń wnioski. Rzadko się zdarza, żeby tak wiele wynikło z bezkompromisowej intelektualnej odwagi jednego człowieka.
---
---