Fred Maroun
Tłumaczenie: Małgorzata Koraszewska
---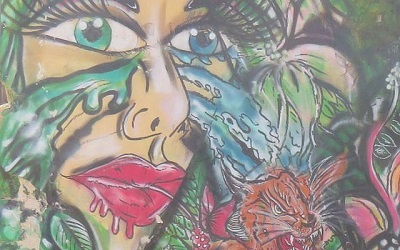 Mural w Tel Awiwie, który mógłby być obrazem horrorów wojny
Prędzej czy później będzie kolejna wojna między Izraelem a Hamasem, może już w 2019 roku. Nie jest to kwestia "czy", ale "kiedy". Kiedy będzie, oskarżenia wobec Izraela będą głośniejsze i bardziej agresywne niż kiedykolwiek, tak jak były podczas wojen 2008, 2012 i 2014 roku. I będą powtarzane te same stare kłamstwa.
Kłamstwo Nr 1: Izrael okupuje Gazę
Izrael przejął Gazę od Egiptu w czerwcu 1967 roku w wojnie obronnej i założył małe społeczności żydowskie w części Gazy, ale we wrześniu 2005 roku Izrael wycofał swoje wojska i wszystkie żydowskie społeczności, pozostawiając Gazę całkowicie w palestyńskich rękach. Po niecałych dwóch latach, w czerwcu 2007 roku, Hamas przejął panowanie nad Gazą po krwawej walce z Fatahem.
W wyniku terrorystycznych ataków z Gazy Izrael narzucił blokadę we współpracy z Egiptem, który, tak jak Izrael, ma granicę z Gazą. Oba kraje kiedyś panowały nad Gazą i oba kraje założyły obecnie blokadę na nią. Żaden z tych krajów nie okupuje jednak Gazy. Gaza jest w rzeczywistości pod tyrańskim reżimem Hamasu, organizacji terrorystycznej, która jest sprzymierzona z irańskim reżimem. Jeśli można powiedzieć, że jakikolwiek kraj okupuje Gazę, to jest to Iran.
Kłamstwo Nr 2: Gaza jest oblężona
Izrael dobrowolnie opuścił Gazę w 2005 roku i ewakuował wszystkie izraelskie osiedla. Nie narzucił blokady. Blokada, która jest blokadą na broń, nie zaś ogólną blokadą, została nałożona przez Izrael i Egipt dopiero po przejęciu panowania w Gazie przez Hamas i jego zachęcaniu i aktywnym organizowaniu ataków na Izrael, zamiast prób powstrzymania ich. Jedynym celem blokowania dostaw broni jest zatrzymanie tych ataków. Nawet antyizraelska Al-Dżazira przyznaje, że blokada "działa od kiedy Hamas przemocą przejął władzę od Fatahu w 2007 roku". Blokada na broń została także uznana za legalną przez ONZ.
Strona internetowa izraelskiego rządu wylicza towary, których wwóz do Gazy jest kontrolowany. Pewne są zakazane, a dla innych są ograniczenia ilościowe. Na tej liście jest broń, amunicja i dobra podwójnego zastosowania, które mogą być używane dla celów cywilnych, ale mogą być także używane dla działalności terrorystycznej. Przykładem taki towarów są cement, stalowe liny i pewne typy pojazdów.
Gaza nie jest oblężona. Oblężenie polega na otoczeniu miejsca i próbie zagłodzenia mieszkańców, by zająć to miejsce. Izrael nie głodzi mieszkańców Gazy ani nie próbuje jej zająć. Izrael regularnie przekazuje pomoc humanitarną, również, kiedy Izrael jest atakowany z Gazy. Codziennie "przeciętnie 800 ciężarówek wjeżdża do Gazy z żywnością, wyposażeniem medycznym, materiałami budowlanymi, materiałami rolniczymi, tekstyliami i tak dalej".
Mieszkańcy Gazy mogą także wjeżdżać do Izraela na leczenie. Izrael nie próbuje im szkodzić, po prostu chroni siebie. Gdyby władze Gazy zapobiegały terroryzmowi zamiast inicjować go, nie ma absolutnie żadnych wątpliwości, że blokada na broń zostałaby zdjęta. Ci, którzy troszczą się o skutki blokady na broń, powinni winić Hamas, nie zaś Izrael.  
Kłamstwo Nr 3: Gaza jest zbyt gęsto zaludniona
Tezą tego kłamstwa jest twierdzenie, że Gaza nie może odnosić sukcesów, bo jest zbyt mała.  
Gazie daleko do tytułu najgęściej zaludnionego miejsca na świecie. Gęstość populacji w Gazie wynosi 5046 ludzi na kilometr kwadratowy, podczas gdy gęstość populacji Singapuru wynosi 7916 ludzi na kilometr kwadratowy. Niemniej Singapur odnosi wielkie sukcesy gospodarcze, ma jeden z najwyższych poziomów zatrudnienia na świecie i żyje w pokoju ze swoimi sąsiadami.
Gęstość zaludnienia nie jest zasadną wymówką dla faktu, że władcy Gazy nie są w stanie żyć w pokoju z Izraelem. Nie jest zasadną wymówką dla faktu, że nie rozwinęli gospodarki, która przynosi korzyści ludziom i zapewnia im pracę inną niż bardzo niebezpieczna praca kopania nielegalnych tuneli do Izraela. Przyczyną sytuacji Gazy jest obsesja Hamasu w dążeniu do zniszczenia Izraela.
Izrael, który nawiasem mówiąc jest od 1965 r. silnym sojusznikiem Singapuru, oferował nawet pomoc Gazie w rozwinięciu gospodarki, ale jak można było przewidzieć, Hamas odrzucił tę ofertę, bo znaczyłoby to zakończenie ataków na Izrael.
To kłamstwo jest także przytaczane w odpowiedzi na oskarżenia Izraela, że terroryści umieszczają swoje militarne instalacje w najgęściej zamieszkałych terenach w celu podniesienia liczby ofiar cywilnych i zyskania tym sympatii zachodnich mediów. To kłamstwo sugeruje, że ataki wychodzą z gęsto zaludnionych terenów, ponieważ Gaza nie ma terenów, które nie są gęsto zaludnione.
To, oczywiście, jest nieprawdą. Strefa Gazy ma otwarte przestrzenie, które są bardzo rzadko zaludnione, włącznie z lasami i obszarami uprawnymi. Tylko miasta są gęsto zaludnione, ale miasta są miejscami, gdzie terroryści umieszczają swoje instalacje militarne w nadziei, że izraelskie uderzenie w te instalacje spowoduje cywilne ofiary.  

Kłamstwo Nr 4: Obie strony muszą okazać powściągliwość
Ataki rakietowe z Gazy przeciwko Izraelowi nasiliły się po przejęciu władzy przez Hamas w 2007 roku. Od tego czasu ataki trwają z przerwami na okazjonalne zawieszenia ognia. Przez zaledwie dwa dni wystrzelono 460 rakiet na Izrael, powodując jedną ofiarę śmiertelną i 108 rannych. Izrael nie może pozwolić na kontynuowanie tej przemocy i musi się bronić.
Jeśli terroryści przestaną atakować Izrael, będzie pokój między Gazą a Izraelem, ale terroryści nie przestaną dobrowolnie. Hamas wyraźnie oznajmił o swoim celu. Chce, by wszyscy palestyńscy uchodźcy i miliony ich potomków zamieszkali w Izraelu i zamienili go w państwo arabskie. To jest jedyny wynik, jaki Hamas zaakceptowałby jako trwałe rozwiązanie.
Kiedy ktoś żąda "powściągliwości po obu stronach", co często robią funkcjonariusze ONZ, jest to hipokryzja i nieuznawanie rzeczywistości konfliktu. Jedna strona, Izrael, chce pokoju, a druga strona, Hamas, tego nie chce. Dlatego istnieje konflikt. Żadna powściągliwość ze strony Izraela nie przyniesie pokoju.
Kłamstwo Nr 5: Mieszkańcy Gazy są zdesperowani z powodu Izraela
Mieszkańcy Gazy biorą udział w rozruchach przy granicy z Izraelem od kwietnia 2018 roku. Jest kłamstwem, że te rozruchy są spowodowane poczuciem bezsilności mieszkańców Gazy wobec blokady i że biorą udział w rozruchach tylko dlatego, że nie widzą żadnego innego sposobu poprawienia swojej sytuacji.
Nie ulega wątpliwości, że mieszkańcy Gazy są zdesperowani, ale to nie Izrael spowodował ich rozpaczliwą sytuację.  
Ci, którzy chcą żyć w pokoju z Izraelem, rozpaczają, że żyją pod władzą reżimu, który poświęca całą swoją energię na próby zniszczenia Izraela zamiast na budowanie gospodarki, która dostarcza miejsc pracy i usług społecznych. A ci, którzy podzielają obsesję Hamasu na punkcie zniszczenia Izraela,  są zdesperowani, że 70 lat po zdobyciu przez Izrael niepodległości, nie ma żadnych oznak, że można go będzie pokonać.
W obu wypadkach winienie Izraela za ich zdesperowanie nie jest racjonalną reakcją. Mieszkańcy Gazy powinni protestować przeciwko Hamasowi, a nie przeciwko Izraelowi, ale istnieją trzy powody, dla których tego nie robią.
Pierwszym powodem jest to, że protestowanie przeciwko Hamasowi jest bardzo niebezpieczne. Hamas nie toleruje sprzeciwu i stosuje tortury, nielegalne aresztowania i mordy dla zdławienia opozycji.
Drugim powodem jest to, że protestujący w Gazie wiedzą, że przemoc przeciwko Izraelowi czyni ich bohaterami w oczach Hamasu i otrzymują nagrody finansowe oraz uznanie społeczne.
Trzecim powodem jest to, że wielu mieszkańców Gazy akceptuje cele Hamasu. Sondaż przeprowadzony przez Palestinian Center for Policy and Survey Research we wrześniu 2017 roku pokazuje, że przywódcę Hamasu, Ismaila Haniję, popiera 62% Gazańczyków.
Niezależnie od tego, czy mieszkańcy Gazy są ofiarami Hamasu, marionetkami Hamasu, czy wspólnikami Hamasu, muszą zrozumieć, że problemem jest Hamas i jego ideologia, nie zaś Izrael.

Kłamstwo Nr 6: Izrael celuje w cywilów
Gdyby Izrael celował w cywilów, byłyby tysiące zabitych za każdym razem, kiedy mieszkańcy Gazy uczestniczą w rozruchach na granicy z Izraelem. Izraelska armia ma wyposażenie do osiągnięcia takich wyników, gdyby tylko chciała, ale w rzeczywistości widzimy, że ginie maleńki ułamek, także wśród terrorystów. Na przykład, 11 maja 2018 roku w rozruchach brało udział 15 tysięcy mieszkańców Gazy i zginął tylko jeden. W innym wypadku, 24 sierpnia 2018 roku, 5 tysięcy mieszkańców Gazy uczestniczyło w rozruchach i nikt nie został zabity. Także wśród zabitych, jak Hamas sam przyznał, 50 z 62 zabitych w przemocy na granicy było członkami Hamasu, nie zaś cywilami.
Kiedy ludzie patrzą uczciwie na ten konflikt, widzą, jak dalekie są te kłamstwa od rzeczywistości. Na przykład, Raf Sanchez, bliskowschodni korespondent "Telegraph", napisał: "Zrozumieliśmy, jak ostrożny jest Izrael w unikaniu ofiar cywilnych podczas nalotów na Gazę. Izraelska armia zadzwoniła do jednego faceta, którego spotkaliśmy i rozmawiali z nim przez telefon przez 45 minut, namawiając go, by ewakuował swoich sąsiadów zanim zburzą budynek mediów Hamasu obok jego budynku".
Jest całkowicie oczywiste, że Izrael stosuje niesłychaną powściągliwość i że jego celem jest powstrzymanie ataków przeciwko własnym obywatelom i przeciwko nienaruszalności granicy, nie zaś powodowanie ofiar cywilnych.

Prawda: nie widać rozwiązania
Izrael od 2005 roku próbuje powstrzymać terrorystów z Gazy, ale bez powodzenia.
Niektórzy krytycy argumentują, że brakuje skutecznego odstraszania. Mimo że Izrael walczył w trzech wojnach z terrorystami z Gazy, ci krytycy twierdzą, że za każdym razem Izrael nie pokonał rozstrzygająco Hamasu, pozostawiając Hamasowi nadzieję, że jednak może pokonać Izrael.
Kontrargumentem jest, że dla Hamasu dobro Palestyńczyków, a nawet życie członków własnej organizacji, nie jest głównym priorytetem, ponieważ ich głównym priorytetem jest zniszczenie Izraela. Zatem, według tej argumentacji, żadne zastraszanie nie odstraszy Hamasu poza niesłychanie niszczącym atakiem, na który Izrael jest zbyt etyczny, by to nawet rozważać.
To prowadzi czasami do kontr-kontrargumentu, że dla zneutralizowania terrorystów Izrael może być zmuszony do ponownego przejęcia panowania nad Gazą. To jednam także ma oczywiste negatywne strony, włącznie z prawdopodobieństwem wysokiej liczby ofiar śmiertelnych wśród izraelskich żołnierzy.
Proponowano potencjalne rozwiązanie, polegające na tym, że Egipt anektuje Gazę, ale nie ma żadnych oznak, by Egipt był zainteresowany w dodaniu tego problemu do wszystkich swoich innych problemów. Jak informował "Haaretz", Egipt w przeszłości odmówił anektowania Gazy i z pogardą traktował jej mieszkańców. Nie jest prawdopodobne, że Egipt zmienił zdanie.
Organizacja Narodów Zjednoczonych i przywódcy światowi również nie przedstawili żadnego rozwiązania i okazują hipokryzję, kiedy pouczają Izrael, sami nie przyjmując żadnej odpowiedzialności za próbę rozwiązania konfliktu.
To jest prawda o Gazie.
---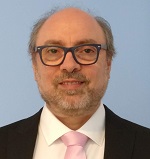 Fred Maroun – Pochodzący z Libanu Kanadyjczyk. Wyemigrował do Kanady w 1984 roku, po 10 latach wojny domowej. Jest działaczem na rzecz liberalizacji społeczeństw Bliskiego Wschodu. Prowadzi stronę internetową fredmaroun.blogspot.com
---
---