Andrzej Koraszewski
---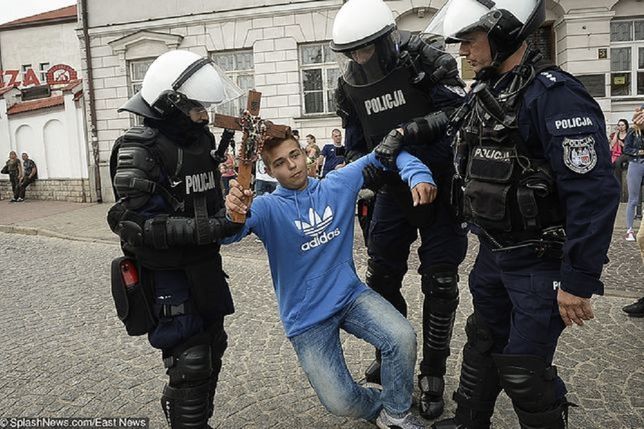 Jakub Baryła na Marszu Równości. (East News)
Są ludzie, którzy tak bardzo kochają swoją ojczyznę, że gotowi są zdradzić dla niej swoje człowieczeństwo. Najnowsza książka Grzegorza Gaudena dorzuca kolejny kamień na szaniec zbrodni naszych rodaków, którzy bez wątpienia łączyli głęboki patriotyzm z bandycką prywatą i brakiem ludzkich odruchów, długo i starannie kultywowanym przez chrześcijańską moralność.
Gauden przypadkiem odkrył patriotyczną zbrodnię z pierwszych dni naszej niepodległości, z listopada 1918 roku, staranie wymazaną z kart historii przez dobrych ludzi, którzy z miłości do ojczyzny wybierają kłamstwo i cichą solidarność z rodakami-zbrodniarzami.
Sto jeden lat temu, zaledwie kilkanaście godzin po odbiciu Lwowa z rąk Ukraińców, polscy patrioci wyruszają na orgię grabienia, gwałcenia i mordowania bezbronnych Żydów. Doskonale znamy te sceny patriotycznych zrywów z innych miejsc, ta orgia nieludzkiego patriotyzmu została skutecznie schowana przez historyków pod dywan, więc zapewne Grzegorz Gauden znajdzie się na czarnej liście dzisiejszych chrześcijańskich obrońców Ojczyzny.
Nie wiemy nawet dokładnie ilu Żydów zginęło wtedy we Lwowie z rąk polskich patriotów. Szacunki mają dużą rozpiętość, twierdzi się, że między 50 a 150 osób. Jest pewne, że obrabowano i spalono ponad 500 sklepów, głównego organizatora tej orgii patriotyzmu pochowano jako bohatera.
Kto sięgnie po tę książkę? Kilka może nawet kilkanaście tysięcy stałych czytelników, ludzi, którzy nie obawiają się konfrontacji z rzeczywistością, ludzi o podwójnej lub potrójnej lojalności.
Ksiądz profesor Józef Tischner powiedział kiedyś, że: "najpierw jestem człowiekiem, potem filozofem, potem długo, długo nic, a dopiero potem księdzem". Narodowości przy tej okazji nawet nie wspomniał, jakby była gdzieś na jeszcze dalszym planie. Zarzut rzekomej niewystarczającej lojalności wobec polskości był dla naszych rodaków udawanym usprawiedliwieniem ich morderczych i bandyckich potrzeb.
Rzekomo niewystarczająca lojalność wobec polskości żydowskich ofiar jest nadal, po ponad stu latach, usprawiedliwieniem patriotycznego bohaterstwa przodków przez ich dzisiejszych prawnuków. Ci, którym patriotyzm wymazuje człowieczeństwo, nie tylko masowo uciekają od prawdy o niezliczonych mordach popełnianych najpierw pod wrażeniem chrześcijańsko-narodowej ideologii, potem pod osłoną niemieckich nazistów, z okazji tego, że mord był bezkarny, a wreszcie, już po klęsce nazistów, z obawy, że ktoś, kto przeżył, zechce odebrać dom, czy chociażby powierzoną na przechowanie walizkę, nie szczędzą również trudu, by opluć ofiary swoich przodków. Ta niezłomna lojalność wobec rodaków-zbrodniarzy nie tylko zwalnia z człowieczeństwa, daje poczucie świętości i wierności Prawdzie, prawdzie oczywiście przez duże P, ponieważ ta przez małe p jest nazbyt bolesna, a jej akceptacja grozi wiecznym potępieniem.
Lwów – kres iluzji. Opowieść o pogromie listopadowym 1918 Grzegorza Gaudena to tylko kolejna pozycja obok takich książek jak Sąsiedzi i Strach Jana Tomasza Grossa, My z Jedwabnego, Anny Bikont, Judenjagd Jana Grabowskiego, Tajemnice pana Cukra, Anny Karoliny Kłys, Spowiedź Calka Perechodnika, Młyny boże, Jacka Leociaka i dziesiątek innych pozycji oferujących wspomnienia, badania i analizy tym, którzy odmawiają pogodzenia się z żądaniem, by patriotyzm i człowieczeństwo były wartościami niekompatybilnymi.
Małym wydarzeniem medialnym był niedawno heroiczny protest piętnastolatka, Jakuba Baryły, który chciał krzyżem zatrzymać marsz równości w Płocku. Na jednym ze zdjęć widzimy chłopca (właściwie dziecko), stojącego z wyciągniętym przed sobą krzyżem przed zwartym szeregiem uzbrojonych policjantów. Mocny przekaz, który naprawdę trudno zlekceważyć. (Z jakiegoś powodu to zdjęcie przypomniało mi podziw głęboko wierzącego przyjaciela dla muzułmańskich zamachowców-samobójców. Przyjaciel miał do nich obrzydzenie z powodów moralnych, ale nadal podziwiał ich wiarę silniejszą niż chęć życia). Trudno o wątpliwości, że głęboka wiara Jakuba Baryły jest z pogranicza pragnienia męczeństwa. Warto jej się przyjrzeć i uważnie posłuchać tego, co ten piętnastoletni człowiek sam o niej mówi.
Kanał wRealu24 nadał kilkunastominutowy wywiad z Jakubem Baryłą, w którym młody człowiek prezentował motywy swojego działania i podstawy swojej chrześcijańskiej wiary. Zapytany przez dziennikarza Marcina Rolę dlaczego "to" zrobił, zaczyna od "niech będzie pochwalony Jezus Chrystus" i wyjaśnia, że to, co "oni" robią jest sprzeczne ze zdrowym rozsądkiem, że propaganda LGBT dociera do szkół, a na dodatek PiS nie wprowadził jeszcze całkowitego zakazu aborcji, "a przecież osoby, które to robią mają, co tu dużo mówić, krew małych dzieci na rękach". Dziennikarz nie przerywa, Jakub Baryła kontynuuje, że chciał pokazać, iż "nie ma zgody na te profanacje, które tam się odbywały. Matka Boska z tęczową aureolą woła o pomstę do nieba. Katolicy muszą się bronić". Młodzieniec dodaje z uśmiechem, że dostaje dużo gratulacji. Dziennikarz Marcin Rola zadaje pytanie, w jaki sposób, my, chrześcijanie mamy się bronić przez tą marksistowską, lewicową ideologią, dodając, że przecież my chrześcijanie jesteśmy tolerancyjni.
Piętnastoletni bohater wyjaśnia, że w szkole indoktrynowano go, iż tolerancja to jest po prostu szacunek do tego, że ktoś ma inne poglądy. Wyjaśnia dalej, że nie może być tolerancji dla zła, że zło trzeba zwalczać. Przywołuje Jezusa i mówi, że czasami trzeba używać siły. Więc gdyby był papieżem Franciszkiem, to powinno się wywalić wolnomularstwo i modernizm na zbity pysk. (Nie dowiadujemy się, jak definiuje zło, o co mu chodzi z tym wolnomularstwem ani skąd mu się wziął dziewiętnastowieczny modernizm).
Tu jednak (po 3 minutach i 25 sekundach rozmowy) mamy pierwszy sygnał informujący o nauczycielach młodzieńca. Baryła jest zwolennikiem mszy trydenckiej, czyli liturgii przedsoborowej. To ciekawe, bo to wiąże się z bodaj najbardziej konserwatywnym nurtem w Kościele katolickim. Trzeba wyplenić wszelką propagandę LGBT, mówi Baryła, "bo oni psują kulturę, naród, bo bardziej od wolnościowca, to jestem narodowcem". Należy zakazać marszów równości, a osoby, które będą je organizowały, powinny być skazywane na karę więzienia lub grzywnę.
Na marginesie, młodzieniec wspomina, że narodowcy podczas swoich marszów nie powinni nikogo bić, ale najgorsze, że biorą na swoje sztandary tego mordercę i socjalistę Piłsudskiego. "Nie ma Kościoła katolickiego, który mówi coś modernistycznego, nie ma Kościoła katolickiego bez poszanowania dla wypraw krzyżowych, nie ma kościoła katolickiego bez reanimacji dobrego zdania o świętej inkwizycji. Kościół musi być walczący, żeby nasza wiara nie była szargana po ulicach…" powiada Jakub Baryła, dodając, że "musimy iść po trupach do celu, aby nasza wiara zajęła takie miejsce w życiu publicznym, jakie jej odebrał protestantyzm i aby zajęła takie miejsce jak należy". Demokracja jest jednym z najgorszym z ustrojów, tylko monarchia katolicka jest dobrym ustrojem. Baryła nie ukrywa złego zdania o rządach PiS-u i o samym Kościele, to co jest, to kontynuacja komunizmu. "Tak naprawdę to wszystko jest satanizm, pod pokrywką, wszystko różne, każdy inny".
Dziennikarz powraca do pytania o marsze równości, stwierdza, że jest to propaganda ewidentnie opłacana, organizowana przez te same osoby i pyta młodzieńca przez kogo i komu na tym zależy? W tym momencie (11.10 wywiadu) Baryła odpowiada, że przede wszystkim zależy na tym lewicy, bo to jest uderzenie w Kościół,
po drugie, to jest po prostu, uderzenie środowisk żydowskich, teraz mamy tą ustawę 447, yyy, no Żydzi chcą nas okraść, Żydzi chcą nas ograbić bezpodstawnie, a jeszcze chcą, żeby nasze dzieci były zwyczajnie pogubione w sensie umysłowym i chcą zrobić z naszych dzieci po prostu wariatów. Przyjechali do Płocka, jak powiedział… o Jezu, nie pamiętam nazwiska, no w każdym razie powiedział, że przyjechali, żeby tu zrobić gnój. […] oni przyjechali tu, po prostu rozwalić naród polski i rozwalić Polskę, dlatego, żeby z Polski zrobić Polin…
Młodzieniec wyjaśnia pod koniec wywiadu, że nie zrobił tego dla sławy, ale Pan Bóg się nim posłużył. Wyznaje, że chce być księdzem, a uczyć chce się wyłącznie w Seminarium Bractwa Kapłańskiego Świętego Piusa X, krótko mówiąc ma ambicję dołączenia do elitarnej grupy (dziś około 600 kapłanów) wyznawców arcybiskupa Marcela Lefebvre'a, nie tylko zagorzałych tradycjonalistów, ale i pielęgnujących tradycję morderczego antysemityzmu.
Moglibyśmy w tym miejscu powiedzieć, że oglądaliśmy kukiełkę, a brzuchomówca ukrywa się gdzieś na parafii świętej Jadwigi w Płocku. Byłoby to jednak uproszczenie. Bliższe prawdy byłoby stwierdzenie, że oglądamy człowieka dobrze wychowanego, inteligentnego, oczytanego i, jak to bywa z nazbyt dobrymi uczniami, ufnie kroczącego śladami swoich nauczycieli.
Czy spotka na swojej drodze kogoś, kto go skłoni do zadawania pytań? Mało prawdopodobne, ale nie niemożliwe. Chwilowo trudno sobie wyobrazić, żeby zaczął sięgać po książki takie jak książka Grzegorza Gaudena, a nawet jeśli to zrobi, to bez trudu znajdzie racjonalizację wypierającą refleksję.
Jego podwójna lojalność na pierwszym miejscu stawia wierność wobec sekty Bractwa Świętego Piusa X, na drugim, odczłowieczoną przez taką religijność tożsamość narodową. Jest ciekawy jako zjawisko, jako reprezentant odradzającej się siły, dla której człowieczeństwo i narodowość są wartościami wzajemnie wykluczającymi się.
Nic dziwnego, że wśród tych, którzy dostrzegli płomień narodowej wiary w oczach tego piętnastoletniego ukształtowanego człowieka znalazł się arcybiskup Marek Jędraszewski mówiący, że "to znak, który budzi nadzieję. W jego geście musimy widzieć sprzeciw młodych, którzy nie chcą godzić się na seks edukację w duchu zbrodniczych ideologii, uderzających w niewinność przedszkolnych dzieci".
Marka Jędraszewskiego przewodniczący Episkopatu Polski, Stanisław Gądecki, porównał do księdza Jerzego Popiełuszki oraz proroków, którzy w przeszłości byli karani za "mówienie prawdy". – Dziś prorocy także są obrzucani błotem — stwierdził Gądecki.
Wojenne werble stają się coraz głośniejsze, LGBT jest zaledwie pretekstem, wypaliła się kwestia aborcji, wypalił się "zamach smoleński", dziś trzeba połączyć lojalność wobec sług Boga i narodu z walką z homoseksualizmem, bo to akurat rajcuje umysły i pozwala postawić mur między człowieczeństwem a tożsamością tych wiernych, którzy gotowi są iść trupach do celu. Boże młyny mielą coraz szybciej.
---
Andrzej Koraszewski – Publicysta i pisarz ekonomiczno-społeczny. Ur. 26 marca 1940 w Szymbarku, były dziennikarz BBC, wiceszef polskiej sekcji BBC, i publicysta paryskiej "Kultury".
---
---