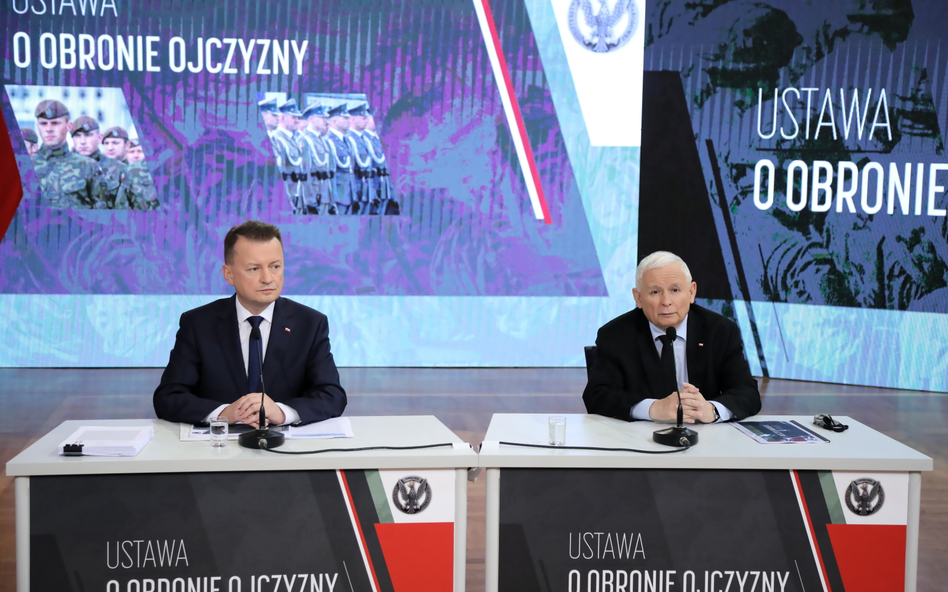 Wicepremier Jarosław Kaczyński oraz minister obrony narodowej Mariusz Błaszczak podczas konferencji prasowej w Warszawie / Foto: PAP/Wojciech Olkuśnik
---
Marek Domagalski, Zbigniew Lentowicz
---
– Chodzi o to, by wobec zewnętrznych zagrożeń wielokrotnie zwiększyć siły naszej armii, a nowa ustawa o obronie ojczyzny stwarza ku temu podstawy – powiedział we wtorek wicepremier, szef PiS Jarosław Kaczyński.
Po zmianach siły zbrojne mają wzrosnąć do 250 tys. żołnierzy zawodowych i 50 tys. żołnierzy WOT. To zakładane minimum.
Wprowadzona ma być zasadnicza służba wojskowa dla ochotników (obowiązkowa nie wróci). Ci żołnierze po 28-dniowym szkoleniu podstawowym, a potem 11-miesięcznym specjalistycznym, będą mogli wstąpić do zawodowej służby wojskowej bądź wrócić do cywila.
Zostaną uelastycznione zasady awansu w wojsku i do jednego etatu, np. dowódcy kompanii, będzie przypisanych kilka stopni wojskowych, a więc będzie możliwy awans na tym samym stanowisku. Przewidziano też dodatkowy stopień starszego szeregowego specjalisty z wyższym wynagrodzeniem.
Zachętą dla starszych żołnierzy zawodowych ma być 1500 zł dodatkowego wynagrodzenia, jeśli zdecydują się zostać w służbie po 25 latach, oraz 2500 zł – po 28 latach.
Projekt już budzi kontrowersje.
– Boję się, że proponując 250-tys. armię zawodową, licytujemy znacznie poza granice ekonomicznej wydolności państwa – mówi były dowódca Wojsk Lądowych Waldemar Skrzypczak.
Gdybyśmy osiągnęli taki stan liczebny profesjonalnych żołnierzy, bylibyśmy trzecią co do wielkości po USA i Turcji armią w NATO. A to oznaczałoby konieczność zwiększenia nakładów na sprzęt i uzbrojenie do bezprecedensowego poziomu.
Rząd chce, aby środki na te szerokie plany zapewniał Fundusz Wsparcia Sił Zbrojnych, m.in. z obligacji BGK i wpłaty z zysku NBP.
Takimi planami oburzony jest Sławomir Dudek, główny ekonomista FOR.
– W parlamencie jest budżet państwa na przyszły rok, który nie obejmuje już setek miliardów złotych ukrytych w zadłużeniu i funduszach właśnie przy BGK. Teraz tworzony jest kolejny poza kontrolą parlamentu, poza konstytucyjną definicją finansów publicznych. Poza budżet zostanie wyprowadzona część finansów militarnych – mówi.
—psk
---