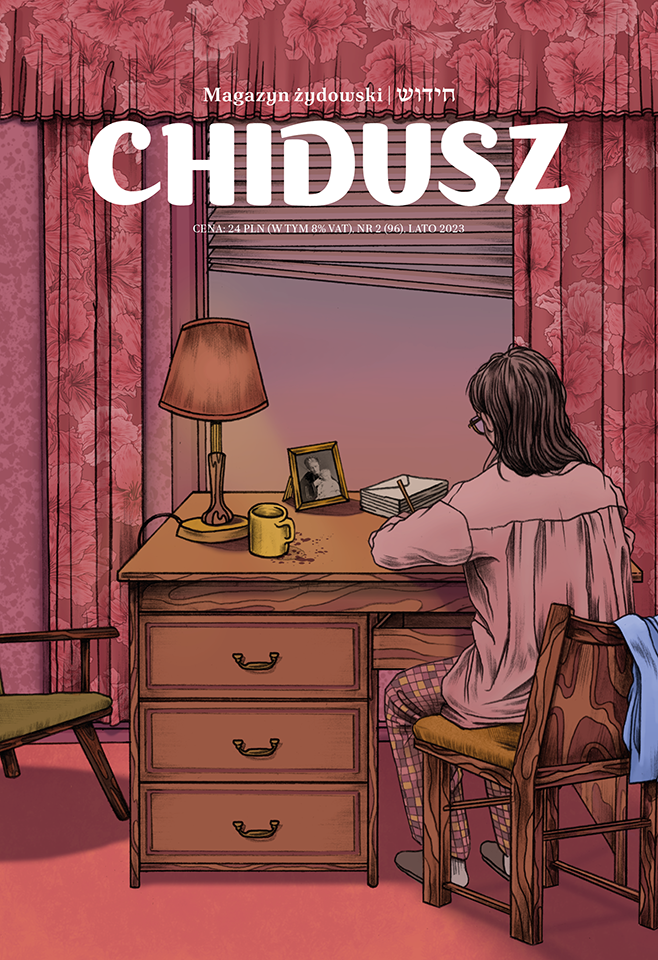 Okładka Magdaleny Pelc do "Chiduszu" 2/2023 przedstawiająca Rosę Lublin, główną bohaterkę opowiadania "Rosa" Cynthii Ozick
---
REDAKCJA
---
W "CHIDUSZU" 2/2023 PUBLIKUJEMY PIERWSZY POLSKI PRZEKŁAD OPOWIADANIA ROSA, KTÓRE – WRAZ Z SZALEM – UCHODZI ZA JEDNO Z NAJWAŻNIEJSZYCH I NAJLEPSZYCH DZIEŁ WYBITNEJ AMERYKAŃSKIEJ PISARKI CYNTHII OZICK. NA 164 STRONACH LETNIEGO WYDANIA ZNAJDZIECIE SPORO LITERATURY, PASJONUJĄCYCH ROZMÓW I ARTYKUŁÓW POŚWIĘCONYCH KULTURZE ŻYDOWSKIEJ. 
CYNTHIA OZICK, ROSA 
Opowiadanie Rosa Cynthii Ozick opublikowane zostało w "New Yorkerze" w 1983 roku. Jest ono kontynuacją wydanego trzy lata wcześniej Szala, którego pierwszy przekład na język polski zaprezentowaliśmy w "Chiduszu" 1/2023. Tytułową Rosę Lublin, "wariatkę i obdartuskę", tym razem spotykamy na Florydzie, gdzie wiele lat po wojnie wciąż zmaga się z traumą Zagłady, utraty dziecka i ojczyzny. Oba teksty, świetnie przełożone przez Agę Zano, uznawane są za jedne z najważniejszych i najlepszych dzieł Ozick. To obowiązkowe pozycje na liście lektur o Zagładzie.
"TYGODNIK POWSZECHNY" LICZY, ILU ŻYDÓW ZGINĘŁO Z RĄK POLAKÓW 
Michał Okoński w "Tygodniku Powszechnym" liczy, do ilu żydowskich ofiar Polacy przyłożyli rękę w czasie wojny. Wcale nie jest jednak oczywiste, że odejmowanie w jego działaniu nie powinno być dodawaniem. 
Fragment polemiki Michała Bojanowskiego: 
Podstawowe pytanie, jakiego nie zadaje sobie Okoński, brzmi: Dlaczego Szymon Datner założył, że tylko 10% Żydów podjęło próbę ratowania się przed śmiercią? Dlaczego ci, którzy uniknęli masowych deportacji do obozów zagłady, nie chcieli się ratować? Dlaczego, jak słusznie pyta Anna Bikont, Żydzi poszli do Hotelu Polskiego? Odpowiedź jest bardzo prosta: nie mieli nadziei na przetrwanie. Wiedzieli, że po tzw. aryjskiej stronie staną się od razu łowną zwierzyną, że aby przeżyć, potrzebują bardzo dużo szczęścia i sporo pieniędzy. Wiedzieli, że Polak za lokum zapłaci miesięcznie tyle, ile Żyd musi często zapłacić za jeden dzień, że inni szmalcownicy, co akurat nie oskubywali na śmierć swoich lokatorów (bo wyrzucenie na ulicę kończyło się śmiercią), czekali tuż za bramą getta albo mogli w każdej chwili zapukać do kryjówki z propozycją szantażu nie do odrzucenia. Żydzi wiedzieli, że "ucieczka" z getta tak naprawdę zaczyna się dopiero po jego opuszczeniu. Stąd najpewniej tylko 10% śmiałków. Można chyba założyć, że z tych samych powodów część Żydów "rezygnowała" z ukrywania się i "wracała" do gett. Bo – poza ewentualną tęsknotą za bliskimi – jaki miałby być inny powód rezygnacji z chęci przeżycia?
YEHOSHUA ELLIS, RABIN OD CMENTARZY
Dwie torby podróżne, w nich głównie ubrania, modlitewnik, ulubione kipy. Tyle miał ze sobą, kiedy w 2003 roku przyjechał do Polski po raz pierwszy. Społeczność skupiona wokół synagogi Nożyków nie była duża, ale jako początkujący wówczas żydowski edukator czuł, że to miejsce wyjątkowe. Był młody, zaangażowany i lubił pracę z ludźmi, mimo to niespecjalnie miał na siebie pomysł. Po roku wolontariatu, mając niespełna 26 lat, postanowił nie wrócić już do domu, do Stanów. Zrozumiał, że w Polsce brakuje rabinów i zdecydował: zostanie jednym z nich.
W lipcu, po dwudziestu latach od pierwszego przyjazdu do Warszawy, rabin Yehoshua Ellis wyjeżdża na stałe z Polski, by objąć posadę rabina w synagodze Shearith Israel w Montrealu. Myślę, że moja rodzina potrzebuje zmiany, a ja nowych wyzwań i nieco normalności – opowiada Pauli Szewczyk o powodach wyjazdu. Wojna, a po niej represje komunistyczne wyrządziły tu tyle krzywd, że normalne życie żydowskie w Polsce ledwie istnieje. Sam dużo pracuję z martwymi Żydami. To miłe, bo nie narzekają. Myślę jednak, że już czas popracować z żywymi.
 JAK NIE BYĆ ZJADACZEM WIATRU?
Boris Cyrulnik (rocznik 1937) jest najbardziej znanym francuskim neuropsychiatrą. O swoich rodzicach nie wie prawie nic. Dzięki spektakularnej ucieczce z transportu w 1944 roku ukuł teorię résilience – odporności psychicznej. Jest autorem ponad dwudziestu książek z zakresu psychologii i psychiatrii, sprzedających się we Francji w ogromnych nakładach. 
Fragment rozmowy:
Anna Pamuła: Tęskni pan czasem za mamą?
Boris Cyrulnik: Całe życie. Zniknęła, gdy miałem niecałe sześć lat. Nie mam konkretnych wspomnień, ale czuję, że dała mi poczucie bezpieczeństwa. W sumie to jestem tego pewien, ponieważ nawet w chwilach największej rozpaczy czułem, że uda mi się przeżyć. Inni się poddają, bo może nie mają w sobie takiego zapału. Ktoś go we mnie rozpalił i dzięki temu zawsze wiedziałem, że życie ma sens. To była mama. Wydaje mi się też, że ktoś opiekował się nią w czasie ciąży. Z badań wiemy, że mózg i psychika dziecka zaczynają kształtować się podczas ciąży. Trzeba wtedy koniecznie zadbać o to, by rodzina, mąż lub partner rozumieli, że muszą dać w tym czasie kobiecie spokój, nie mogą narażać jej na stres. Mówię moim pacjentom, żeby się nie martwili, że odzyskają ją potem, ale na czas ciąży niech po prostu będą przy niej, bo matki otoczone opieką otaczają następnie tą opieką dziecko, które noszą. To częściowo dzięki mojej mamie zrozumiałem, że muszę się ukryć, kiedy w 1944 roku zostałem aresztowany i uwięziony w synagodze wraz z grupą innych dzieci. Mimo że dawali nam pyszne mleko skondensowane. Wszystkie te dzieci zostały wysłane do Auschwitz, a ja przetrwałem, bo schowałem się w toalecie. Potem ukryłem się pod ciałem umierającej kobiety, gdzie znalazła mnie pielęgniarka. To była ta pani z telewizji. 
Anna Pamuła: Czego pan żałuje? 
Boris Cyrulnik: Tego, że nie wiem nawet, jaki był mój pierwszy język. Rodzice zapewne mówili między sobą w jidysz i po polsku, ale do mnie może już po francusku, żebym się szybciej zintegrował? Chciałbym to wiedzieć, bo ten pierwszy język zostawia ślady w mózgu na zawsze. Pierwsze dźwięki, ich melodia jest zapisana gdzieś bardzo głęboko. Jak pani jednak słyszy, moje korzenie tam nie sięgają. 
JUDITH PLASKOW, ROK AGUNY
Sam fakt istnienia kategorii aguny to akt przemocy wobec kobiet, plama na honorze społeczności żydowskiej i pogwałcenie praw człowieka, wymagające natychmiastowej interwencji – pisze ostro w eseju Rok aguny Judith Plaskow, jedna z najważniejszych współczesnych myślicielek żydowskich. Badaczka błyskotliwie argumentuje, dlaczego aguny są problemem wszystkich, a nie tylko osób ze społeczności ortodoksyjnych:
Biorąc pod uwagę przechodzenie Żydów między różnymi nurtami – oraz to, że w Izraelu wszelkie kwestie dotyczące małżeństw i rozwodów rozstrzyga halacha – każda Żydówka może na jakimś etapie życia odkryć, że przez brak getu (listu rozwodowego) nie przysługuje jej prawo do ponownego zamążpójścia. Co za tym idzie, dzieci takich kobiet mogą zostać uznane za mamzerim (bękarty), gdyż ich matka wyszła za mąż i urodziła je bez ważnego listu rozwodowego.
Po drugie utrzymywanie statusu aguny w dzisiejszych czasach to problem natury etycznej, na który powinno zwrócić uwagę całe środowisko żydowskie. Wielu Żydów i wiele Żydówek poświęca czas i energię na walkę z różnymi aspektami opresji wobec kobiet w społeczeństwie i w innych kulturach. Nadawanie statusu aguny to najpoważniejsza zbrodnia, jaką czyni kobietom judaizm, i właśnie dlatego powinno się ją uznać za palący problem, który dotyczy wszystkich Żydów.
Rok aguny to jeden z pięciu esejów Judith Plaskow, jakie publikujemy w tym "Chiduszu" w przekładzie Agi Zano. Pozostałe traktują o roli mężczyzn w kształtowaniu feministycznego judaizmu, ignorowaniu problematycznych fragmentów Biblii, konieczności łączenia spraw świeckich i religijnych oraz o istotności utrzymywania przestrzeni wyłącznie dla kobiet – miejsc, w których mogą one m.in. dalej pracować na rzecz równouprawnienia. Wszystkie pochodzą z książki The coming of Lilith.
OPERACJA "PUSZCZA". O MILICYJNEJ AKCJI NA CMENTARZU ŻYDOWSKIM W WARSZAWIE
10 września 1961 roku, w święto Rosz ha-Szana, na cmentarzu żydowskim w Warszawie zauważono swastyki i napisy "Juden raus!" namalowane na nagrobkach żołnierzy poległych w trakcie obrony Warszawy we wrześniu 1939 roku. Organy ścigania sprawę potraktowały niezwykle poważnie i przeprowadziły operację "Puszcza", której historię przedstawia Krzysztof Bielawski. 
Fragment artykułu:
Ważną rolę odegrali tajni współpracownicy MO, w tym jeden z mężczyzn zatrudnionych na cmentarzu żydowskim. Do akcji zaangażowano tajnego współpracownika o kryptonimie "Wyga" – Żyda, który miał nawiązać kontakt z kamieniarzem Marianem J.: "TW «Wyga» uda, że poszukuje grobu swojej rodziny pochowanej na cmentarzu żydowskim 30 lat temu (cmentarz nie posiada rejestru pochowanych i trudno jest odnaleźć grób z okresu przedwojennego) […]. Szukanie takiego grobu odbywa się przez dłuższy czas, tak że dojdzie między nimi do szeregu spotkań. […] «Wyga» nadmieni o swastykach […]. Dalszy tok rozmowy będzie kierował na ewentualne ustalenie, czy J. był sprawcą namalowania swastyki". Oprócz tego Marian J. miał zostać objęty pięciodniową obserwacją. Na ponowne przesłuchania wezwano pracowników cmentarza żydowskiego i protestanckiego. 
Polecamy zwrócić szczególną uwagę na ostatni akapit tego artykułu.
CHODZI O SPODNIE I TAŁES
W niewielkiej, wydanej niedawno książce Spodnie i tałes Konstanty Gebert zaskakująco zestawia ze sobą i analizuje dwa spory. W pierwszym zabójcy kłócą się o to, komu należą się spodnie zdarte z Żyda, którego zamordowali w czasie Zagłady. Drugi – półtora tysiąca lat starszy – to fragment Talmudu, gdzie dwóch Żydów spiera się o to, do kogo należy tałes, który oboje znaleźli w tym samym momencie. Rozważania Geberta sprawią, że będziecie odlatywać daleko od spodni i tałesu, by jednak ostatecznie do nich powracać – ze zrozumieniem, że są one fundamentalne.
Fragment rozmowy:
Konstanty Gebert: Większość systemów prawa zakłada przyjęcie zasady, że ludzi nie wolno mordować i że wszyscy ludzie są ludźmi. Nie jest otóż oczywiste, że zawsze tak myślimy. Pod władzą III Rzeszy Żydzi zostali wykluczeni z gatunku ludzkiego, wykluczeni dość skutecznie. W przytoczonym zeznaniu – co dla mnie jest kluczowe – nie ma cienia refleksji moralnej: "no dobra, ale zabiliśmy człowieka…". Krawiec Chycek ewidentnie nie był człowiekiem. Przypuszczam – choć to oczywiście tylko mój domysł – że historyczny punkt wyjścia refleksji nad definicją człowieka był taki: nasza społeczność to ludzie, a wszystkie inne dwunogi, jakie spotykamy na swojej drodze, to zwierzęta. Albo mogą być niebezpieczne, albo my możemy stanowić zagrożenie dla nich. Zaś pojęcie rodzaju ludzkiego, do którego należą wszyscy ludzie łącznie z tymi, z którymi nie jesteśmy spokrewnieni, których nie znamy i którzy nawet czymś się od nas różnią, pewnie wzięło się z przeświadczenia, że tak będzie bezpieczniej, że skoro ja mogę kogoś nie uznać za człowieka, to ktoś może i mnie za niego nie uznać. Jeśli uznamy jednak Żydów za zwierzęta, to wprawdzie może w sprawie ich mordowania wybuchnąć duży spór prawny, jak o zabitego wołu – do kogo ten wół należy, kto go bardziej zarżnął. Samo zabicie wołu jest jednak dla tych przepychanek bez znaczenia, bo wół nie ma przyrodzonego prawa do życia. 
Michał Bojanowski: Wystarczy kogoś wykluczyć.
Konstanty Gebert: Albo nie "wkluczyć" kogoś do rodzaju ludzkiego, żeby też pozbawić go prawa do życia – i wtedy ten dialog morderców przestaje szokować. Oni nadal chcą żyć w społeczeństwie rządzącym się prawami i wartościami, które obowiązują wszystkich ludzi. Tyle tylko, że Żydów one nie obowiązują, bo Żydzi – tak jak woły – nie są ludźmi. I jeżeli skupimy się na tym, że tu o prawie i wartościach debatują mordercy, to pominiemy kwestię większą i ważniejszą – że umowa, zgodnie z którą wszyscy ludzie mają przyrodzone prawo do życia, jest właśnie tylko tym – umową. Nie jest czymś naturalnym, niepodważalnym. To, że wszystkim ludziom przysługuje prawo do życia, to też pewna konwencja, w dodatku niekoniecznie respektowana. Wymaga ona dodatkowej sankcji, na przykład takiej jak w judaizmie, gdzie wszyscy jesteśmy równi, bo wszyscy pochodzimy od jednego praprzodka – Adama.
NIE MA RZECZY NIEMOŻLIWYCH. DAVID RODIN I OPOWIEŚCI CHWALIPIĘTÓW
W "Chiduszu" 2/2023 publikujemy pierwsze polskie tłumaczenie opowiadań z książki Davida Rodina Draj barimer (Trzech chwalipiętów), wydanej w Nowym Jorku w 1940 roku. Draj barimer to zbiór historyjek różnej długości, opowiadanych sobie nawzajem przez trzech żydowskich chłopców z Nowego Jorku: Chaima, Moszego i Gecla – wyjaśniają prof. Monika Adamczyk-Garbowska oraz Piotr Sewruk, autorzy przekładu. Nieustannie rywalizują ze sobą, gdyż każdy z nich chce, by to właśnie jego historyjka najbardziej zaskakiwała słuchaczy ilością nagromadzonych w niej dziwów. Kliknij tutaj, aby przeczytać fragment artykułu na temat życia i twórczości Rodina oraz jedno z opowiadań. 
CMENTARZ ŻYDOWSKI W JELENIEJ GÓRZE I HISTORIE Z NAGROBKÓW
Kolejną osobą, której nagrobek jest jednym z siedmiu zachowanych na cmentarzu żydowskim w Jeleniej Górze, jest Mathilde Buttermilch. Marta Maćkowiak pisze nie tylko o niej, ale również o niezwykłych losach jej wnuka Hansa Keilsona, pisarza, którego geniusz objawił się światu dopiero w XXI wieku. Twórczość potomka Mathilde Buttermilch wciąż jednak czeka na polski przekład.
Fragment artykułu:
W 2007 roku, przez zupełny przypadek, tłumacz Damion Searls natknął się na kopię trzeciej książki Keilsona Komödie in Moll w koszu na przeceny przed jedną z austriackich księgarni i rozpoczął starania, by przywrócić dzieła niemieckiego pisarza do życia. Trzy lata później, w wieku stu lat i 77 lat po debiucie, Keilson wkroczył na międzynarodowy rynek literacki. Niewątpliwie pomogła mu w tym Francine Prose, która na łamach "The New York Timesa" nazwała go geniuszem, recenzując dwie jego książki: Das Leben geht weiter i Komödie in Moll [Komedia w tonacji molowej], którą dziennikarka okrzyknęła "arcydziełem". W rozmowie z Philipem Oltermannem dla angielskiego "Guardiana" Keilson mówił: "Wydawało mi się, że ta recenzja była dość przesadzona, nie sądzisz? Kiedy ją przeczytałem, pomyślałem sobie: «Czy to naprawdę ja?». Nie jestem nawet prawdziwym pisarzem!". Po chwili dodał jednak: "Powoli zachodzi chyba we mnie zmiana. Może jednak udało mi się stworzyć coś niecodziennego? Nie jest niczym niezwykłym, że dzieła literackie odkrywane są na nowo dziesiątki lat po ich napisaniu. Dziwną rzeczą w moim przypadku jest jednak to, że ja wciąż żyję, kiedy to się dzieje".
CO WOLNO NA CMENTARZU?
Fragment książki Spodnie i tałes (Austeria 2023), w którym Konstanty Gebert m.in. wyjaśnia, skąd takie a nie inne zasady panują na cmentarzach żydowskich.  
Fragment:
Rzecz w tym, że – zgodnie z halachą – na cmentarzu żyć nie wolno. Cmentarz jest domem umarłych, a żywi mogą ich jedynie odwiedzać, bacząc przy tym, by nie urazić ich uczuć wykonywaniem w ich milczącej obecności działań, których zmarli już wykonywać nie mogą. Wolno modlić się w ramach rytuału pogrzebowego, który jest nastawiony na oddawanie czci zmarłemu, lecz nie można się modlić inaczej, studiować Tory ani nosić tefilin. Wszystko to bowiem podpada pod zakazaną kategorię "szyderstwa ze zmarłych" (baraita do Bereszit 18a). Wynika ona z Księgi Przysłów (17,5): "Kto szydzi z biednych, bluźni Bogu" – zmarli, niezdolni już do spełnienia choćby jednej micwy, są najbiedniejszymi z biednych. Na tej samej zasadzie zabronione jest tam również noszenie tałesu. 
Nie wolno też czerpać z cmentarza jakichkolwiek korzyści: nie można siadać na grobach ani zbierać na cmentarzu kwiatów czy owoców. Jedzenie i picie na cmentarzu oraz załatwianie tam potrzeb fizjologicznych także są zakazane. Zabronione jest wreszcie spędzanie na cmentarzu nocy, aby oddawać się nekromancji. Wszystkie te zakazy oznaczają, że normalne funkcjonowanie na cmentarzu jest ściśle ograniczone, a mieszkanie na nim – niemożliwe.
[W powyższym fragmencie usunięto przypisy.]
GNOJÓWKA Z HITLEREM
Michał Bojanowski przekonuje, że poparzenie nie jest najgorszą rzeczą, jaka może zdarzyć się podczas zrywania pokrzywy. Krótka opowieść o wrocławskim Sępolnie i osobliwej parze emerytów, tęskniącej za komorami gazowymi. 
Fragment felietonu:
Zupełnie jak na wsi, tyle że słynne niebieskie tramwaje mkną stąd w kilka minut do centrum, gdzie, rzut beretem, duszno i gorąco. Ten niemal niczym niezmącony spokój, przynajmniej na mojej ulicy, burzy nieco pewna kobieta. Jej choroba sąsiadom objawia się w ten sposób, że zazwyczaj raz na dobę krzyczy przez kilka minut w swoim mieszkaniu. W ciepłe miesiące, których w Polsce jak na lekarstwo, można, siedząc w ogródku, usłyszeć ten hałas. Trwa to jednak tylko kilka chwil. Nieopodal jej okien, w piękne, majowe popołudnie, kucałem przyczajony w krzakach, zrywając pokrzywy na gnojówkę… 
DOLINA POKOJU
Anna Knafo tym razem zabiera nas do Doliny Pokoju, niesamowitego miejsca w pobliżu Jokneam w Izraelu. To piękny zakątek, raj dla oczu i duszy, który w czasie izraelskiej (różnej od kalendarzowej) wiosny i wczesnym latem pokrywa się różnorodną roślinnością, kwiatami i ziołami.
Fragment artykułu:
Po ukończeniu nauki Ader pracował w sierocińcu w Kirjat Bialik koło Hajfy. Tam spotkał Żyda z Kamerunu, który powiedział mu, że jego imię występuje w Biblii, a ludzie z plemienia Aszer zamieszkują Jokneam. 
Informacja ta pomogła Aderowi podjąć decyzję o powrocie w okolice Jokneam i osiedleniu się tam. W 1960 roku poznał Adriana, imigranta z Rumunii, który był agronomem i – tak jak Aszer – weganinem. Wraz z nim kupił od Ester Kerensky z moszawy Jokneam działkę o powierzchni 0,8 ha, na której wcześniej prawdopodobnie znajdowała się osada Wzgórze Dwóch. Zakasali rękawy. Mieszkali w wieży wartowniczej, zbudowanej tam w latach 30. XX wieku, bez prądu i wody (przynosili ją z odkrytego przez Adriana źródła). Spędzali całe dnie na upartych próbach kultywowania dziewiczej ziemi. Własnymi rękami usuwali kamienie, sami tworzyli proste maszyny rolnicze do obróbki roli i zbiorów. W przeciwieństwie do innych ludzi umieścili na swojej bramie duży napis "Wstęp jest dozwolony" i zapraszali wędrowców, aby weszli, usiedli z nimi, zjedli i pozbierali owoce.
Nie wiadomo, jaka jest etymologia nazwy Dolina Pokoju, ale przypisuje się ją właśnie tym dwóm mężczyznom, którzy miłowali pokój i założyli tu swoje gospodarstwo.
WSZYSTKO TO UTKWIŁO MI W PAMIĘCI
13 listopada 2011 roku Krzysztof Bielawski przeprowadził rozmowę ze zmarłym w kwietniu tego roku Ryszardem Bielawskim, jednym z najstarszych polskich youtuberów, autorem licznych nagrań popularyzujących zabytki żydowskie w Polsce. Podczas wojny był on świadkiem zagłady społeczności żydowskiej w Szczuczynie na Białorusi. 
Fragment rozmowy:
Krzysztof Bielawski: W maju 1942 roku był pan świadkiem egzekucji szczuczyńskich Żydów. Czy może pan opisać te wydarzenia?
Ryszard Bielawski: Najpierw jechał samochód i Niemcy mówili, żeby nie wychodzić z domów. Od strony rynku zaczęli wyganiać Żydów. Wchodzili do każdego budynku i wypychali ich na ulicę, która prowadziła w kierunku Różanki. Nie przeganiali ich, ale zostawiali na ulicach, przed domami. Moi sąsiedzi stali na samym początku ulicy. Wyganiali Niemcy i żołnierze ubrani na czarno – kto to był, nie wiem, może jakaś policja. Podobno Niemcy mówili Żydom, że pójdą w kierunku stacji, że ich wywiozą. Jak cała kolumna ruszyła, to po 200–300 metrach stał samochód i tam kazali im skręcić w lewo, w boczną ulicę. Zastanawialiśmy się, co się dzieje, bo przecież nie jest to droga do dworca w Różance. My mieszkaliśmy w domu murowanym, on miał półtora piętra wzwyż i nadbudowany strych. Duże okno ze strychu wychodziło w kierunku, w którym ruszyła ta cała kolumna. Po pewnym czasie weszliśmy na strych. W oddali zobaczyliśmy już nie kolumnę, ale tłum zebrany pod lasem. Tłum wyglądał jak dywan ludzkich ciał. Oni klęczeli, a może siedzieli z głowami w dół. Po ich plecach biegali ci na czarno ubrani żołnierze. Jak ktoś z Żydów podnosił głowę, to go walili pałką. Klęczący nie mogli widzieć, co się dzieje przed nimi. Z tej grupy odganiano pewne osoby i było słychać strzały. 
ŻYDZI SĄ JAK WSZYSCY? JAK MÓWIĆ O ZAGŁADZIE?
Nie ma odpowiedniego języka do mówienia o dziewięćdziesięciu dziewięciu procentach ofiar Zagłady – pisze w swoim felietonie prof. Stanisław Krajewski. Zasadniczo nadal jest tak, że retorykę żołnierską uznaje się za wzorcową, a inne godne uznania postawy są co najwyżej dodatkiem. Na szczęście coraz więcej mówi się o cichym bohaterstwie, o oporze cywilnym, o szukaniu momentów normalności w świecie wywróconym do góry nogami. (….)
W obecnej Polsce interesowne wykorzystywanie Zagłady jest nagminne. Wedle forsowanej przez rząd "polityki historycznej" Polacy na ogół pomagali Żydom, a powstańcy to część polskiego ruchu oporu. Podobnie brzmiał oficjalny przekaz za czasów PRL-u. Obecnie mówi tak premier i rząd. Najwyraźniej wierzy w to większość społeczeństwa. Tymczasem Polacy na ogół nie pomagali Żydom, a żydowscy powstańcy raczej nie byli wówczas traktowani jako część polskiego podziemia. Było wiele wyjątków, ale to nie one tworzyły regułę. Przypomniała o tym Barbara Engelking i została za to haniebnie zaatakowana. 
JAK POKOCHAŁAM POLSKĄ POLITYKĘ HISTORYCZNĄ #2
O meandrach polskiej (prawicowej) polityki historycznej pisze Katarzyna Markusz.
Fragment artykułu: 
Koniec maja obfitował w spektakularne wydarzenia z udziałem wybrańców narodu. Najpierw poseł Grzegorz Braun postanowił bronić naszego polskiego honoru i w czasie wykładu prof. Jana Grabowskiego w Niemieckim Instytucie Historycznym wdarł się na podest, wyrwał mikrofon, po czym uderzał nim dzielnie o pulpit, uniemożliwiając kontynuowanie spotkania. Potem Prawo i Sprawiedliwość opublikowało na Twitterze filmik łączący uczestników marszu opozycji z 4 czerwca z obozem Auschwitz. Z filmu dowiedzieliśmy się, że w obozie zginęło ponad milion ofiar, a ponieważ nie podano, kim one były, to łatwo się domyślić, że zapewne Polakami, a nie Żydami. Następnie już wprost mogliśmy przeczytać, że w czasie wojny zostało zamordowanych sześć milionów Polaków, co nie jest prawdą, ale nam takie szczegóły przeszkadzać nie powinny.
CHAIM GRADE, AGUNA 
PRZEDOSTATNI ODCINEK WYBITNEJ POWIEŚCI CHAIMA GRADEGO
OD "CHIDUSZU" 10/2021 PUBLIKUJEMY W ODCINKACH PIERWSZY POLSKI PRZEKŁAD AGUNY CHAIMA GRADEGO W TŁUMACZENIU MAGDALENY WÓJCIK. GRADE UZNAWANY BYŁ PRZEZ ŚRODOWISKO JIDYSZYSTYCZNE – OBOK BASZEWISA SINGERA – ZA NAJPOWAŻNIEJSZEGO KANDYDATA DO NAGRODY NOBLA Z LITERATURY ŻYDOWSKIEJ. W PRZEDOSTATNIM ODCINKU POWOLI ŻEGNAMY SIĘ ZE ŚWIATEM DAWNEGO ŻYDOWSKIEGO WILNA, W KTÓRYM CHASYDZI NIE SĄ MILE WIDZIANI, A RABINI WZBUDZAJĄ SZACUNEK NAWET WŚRÓD BYŁYCH REWOLUCJONISTÓW.
Fragment powieści:
– Widzicie tę, która krzyczy? Przyszła bez męża, bo był najlepszym przyjacielem Mojszke Cyrulnika i bał się tu pokazać. Starsza, ta, którą prowadzi dwoje dziewcząt, też przyszła bez małżonka, bo ją zostawił.
– Stara, schorowana matka aguny mieszka w domu starców. Jest sparaliżowana i blisko jej na tamten świat. Nawet nie wie, że jej córka się powiesiła.
– A gdzie jest mąż aguny?
– Ten cap? Przecież ją porzucił. Ma szczęście, że się nie pojawił, bo z pewnością oberwałby kamieniem.
– Siostrzyczkom należałoby wydrapać oczy – zaczęły syczeć kobiety. – Niech nawet nie podchodzą do trumny. Ta nieszczęśnica była bardziej naszą siostrą niż ich.
Mimo łez Gołda poczuła panujące wokół niej wrogie milczenie. Zazwyczaj na pogrzebach spotyka się wielu przyjaciół. Obce kobiety podtrzymują żałobników pod ręce, płaczą i szepczą słowa otuchy, a zgromadzeni przyglądają się z twarzami pełnymi współczucia. Tym razem jednak ludzie odwracali się od Gołdy plecami, a niektórzy wręcz poszturchiwali ją z niechęcią. Zdało jej się, że słyszy wyłącznie jeden głos, dobiegający z czarnej trumny:
– Chciałaś mnie zmusić do ślubu z moim zaciętym wrogiem, byle tylko mąż cię nie zostawił, a tymczasem zabiłaś i mnie, i siebie. Teraz twojemu mężowi łatwiej będzie cię porzucić.
ANTYSEMITYZM NA KARTACH BRUNATNEJ KSIĘGI 
W nowej edycji Brunatnej Księgi, dokumentującej zdarzenia na tle rasistowskim i ksenofobicznym w ostatnich trzech latach, odnotowano blisko 270 wypowiedzi i zdarzeń o charakterze antysemickim.
Fragment artykułu Anny Tatar:
Do najbardziej kuriozalnych i szkodliwych antysemickich teorii spiskowych w kontekście wojny przeciwko Ukrainie należy ta o "Niebiańskiej Jerozolimie", wedle której Żydzi z Izraela mieliby zasiedlić tereny południowo-wschodniej Ukrainy. W takim ujęciu winę za wybuch wojny rzekomo ponoszą właśnie Żydzi. Teoria ta była propagowana między innymi przez byłego warszawskiego radnego Rafała Mossakowskiego podczas manifestacji w stolicy 12 marca 2022 roku. W trakcie swojego wystąpienia przedstawił on kuriozalną antysemicką wizję przyszłych wydarzeń: "Ta wojna ma wiele kontekstów żydowskich. […] Na Ukrainie ma powstać Niebiańska Jerozolima w roku 2022. […] Ta wojna, dlatego, że są takie plany, o których się nikomu nie mówi, jest jedną wielką manipulacją". I dalej: "Obywatele państwa położonego w Palestynie mają wracać do Polin. […] Polin to są te obszary w znacznej mierze ukraińskie, gdzie ta nacja chce wrócić". 
SZORTY, CZYLI KRÓTKO NA RÓŻNE TEMATY
W krótkich artykułach piszemy m.in. o austriackich pomysłach na pamięć o nazistowskiej przeszłości, zniszczeniu cmentarza żydowskiego w Zabrzu, kontrowersjach wokół tablicy upamiętniającej getto ławkowe na Uniwersytecie Warszawskim, symbolicznym grobie twórców Archiwum Ringelbluma i o tym, co Polacy tak naprawdę myślą o Żydach. 
ZAPRASZAMY DO LEKTURY
---
"Chidusz" dostępny jest w wybranych Empikach na terenie całego kraju oraz w prenumeracie. Roczna prenumerata krajowa 90 zł (list ekonomiczny), roczna prenumerata elektroniczna za 50 zł. Zamówienia: chidusz.com/prenumerata. Wydanie elektroniczne można znaleźć na publio.pl. Przyjemnej lektury!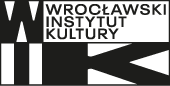 Partnerem wydawniczym tego numeru "Chiduszu" jest Wrocławski Instytut Kultury w ramach Wrocławskiego Programu Wydawniczego. 
---
---