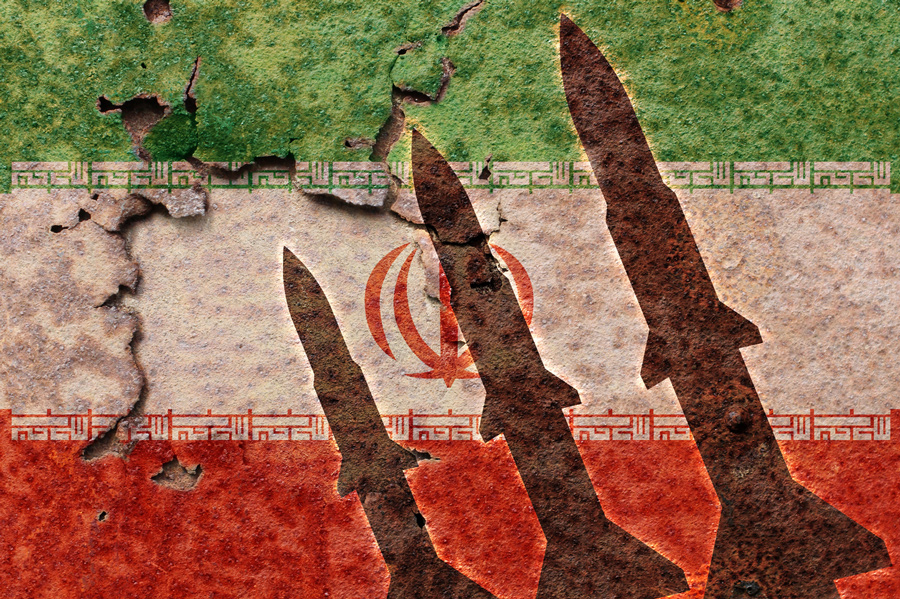 Oczywiste jest, że prezydent Biden nie ma większego zamiaru dotrzymania swoich powtarzających się zobowiązań o zapobieżeniu uzbrojenia w broń nuklearną Iranu, niż Obama. Biden pogodził się z nieuchronnością zdobycia bomby przez Teheran i opowiada się za polityką powstrzymywania opartą głównie na ugłaskaniu ajatollahów, zakamuflowanym jako porozumienie nuklearne. (Zdjęcie: iStock)
---
Richard Kemp Tłumaczenie: Małgorzata Koraszewska
---
Iran jest w zasadzie państwem na progu wejścia w posiadanie broni nuklearnej, które wzbogaciło wystarczającą ilość uranu, by zbudować wiele bomb atomowych w ciągu kilku tygodni, jednocześnie ciężko pracując nad ich uzbrojeniem w ramach czasowych, które są jak dotąd nieznane, ale prawdopodobnie w wynoszą mniej niż rok.
Wiele z tego wydarzyło się podczas prezydentury Joe Bidena. Kiedy prezydent Donald Trump wycofał się z wadliwej umowy nuklearnej JCPOA prezydenta Baracka Obamy, wzbogacanie uranu w Iranie wynosiło poniżej 5%, a Trump utrzymał je na tym poziomie dzięki kampanii sankcji "maksymalnego nacisku". Ajatollahowie bali się Trumpa i nie chcieli go kusić do działań kinetycznych, a strach ten wzmocniło jego celowe zabicie międzynarodowego terrorysty i przywódcy Korpusu Strażników Rewolucji Islamskiej Kasema Soleimaniego w 2020 roku.
Kiedy rok później Biden wkroczył do Białego Domu, niczego nie pragnął bardziej, niż wskrzeszenia JCPOA w ramach obsesyjnego niszczenia wszystkiego, co zrobił Trump (z wyjątkiem opuszczenia Afganistanu) wraz z determinacją jego i odziedziczonego po Obamie personelu przywrócenia spuścizny ich byłego szefa. Co więcej, Biden postanowił niewolniczo powrócić do błędnej strategii Obamy polegającej na zmianie równowagi sił na Bliskim Wschodzie, by dać przewagę Iranowi. Złagodził więc sankcje i wyraźnie pokazywał, że zrobiłby prawie wszystko, by zawrzeć umowę.
Konsekwencją było wzbogacenie uranu z 5% do 60%, z częścią do 84%, według podejrzeń MAEA – na granicy poziomu potrzebnego do produkcji bomb.
Biden był tak skupiony na zdobyciu porozumienia, że pozwolił Moskwie przejąć inicjatywę w negocjacjach międzynarodowych, a jego plany przewidywały nawet przejęcie przez Rosję kontroli nad wysoko wzbogaconym uranem w Iranie. Wszystko to, gdy Putin grozi Zachodowi własną bronią nuklearną i pustoszy Ukrainę, podczas gdy amerykańscy podatnicy wydają miliardy dolarów, by mu przeciwdziałać.
Teraz Biden jest podobno bliski "mini-umowie" lub "nie-umowie", w ramach której Iran zgadza się zamrozić dalsze wzbogacanie, być może uwolnić kilku amerykańskich zakładników i łaskawie zgodzić się na zaprzestanie atakowania amerykańskich kontrahentów w Syrii i Iraku. "Zamrożenie" najwyraźniej oznacza niewzbogacanie więcej uranu powyżej 60%, krótki skok do czystości na poziomie produkcji broni. Porównaj to ze złą umową JCPOA, która ograniczyła wzbogacenie do 3,67%.
W zamian praktycznie za nic, Teheran otrzymałby początkowe uwolnienie zamrożonych aktywów w wysokości 20 miliardów dolarów, a być może kolejne setki miliardów, a także zobowiązanie USA do nienakładania dalszych sankcji ani podejmowania rezolucji przeciwko Iranowi w Radzie Bezpieczeństwa ONZ lub Międzynarodowej Agencji Energii Atomowej (MAEA).
Ta umowa "zamrożenie za odmrożenie" nie ma żadnego sensu, zwłaszcza z Iranem, krajem, który ma historię łamania warunków JCPOA, nie wspominając już o udokumentowanych naruszeniach podpisanego przez siebie traktatu o nierozprzestrzenianiu broni jądrowej.
Biorąc pod uwagę długą historię przemocy Iranu w całym regionie i na całym świecie, administracja nie może wskazać na żadne oznaki zreformowanego, bardziej pokojowego nastawienia reżimu, co mogłoby stanowić uzasadnienie dla tezy, że można z nim rozmawiać jak z cywilizowanym krajem.
Wręcz przeciwnie. W chwili pisania tego tekstu drony dostarczone przez Iran są ponownie wystrzeliwane na ludność cywilną Ukrainy, czyniąc Teheran współsprawcą wielu zbrodni wojennych. Ajatollahowie nadal dostarczają Rosji zabójcze drony o specjalnie zwiększonej śmiercionośności i współpracują z Moskwą nad budową nowej fabryki, aby produkować je na jeszcze większą skalę. Umowa na dostawę pocisków balistycznych jest w przygotowaniu. Wszystko to łamie warunki istniejącej rezolucji Rady Bezpieczeństwa ONZ popierającej JCPOA.
W kraju ajatollahowie bezlitośnie tłumią powszechne protesty przeciwko łamaniu praw człowieka i brutalnym represjom wobec irańskich kobiet. Tymczasem kilka tygodni temu pełnomocnik Iranu, Islamski Dżihad, wystrzelił 1500 pocisków, dostarczonych lub sfinansowanych przez Teheran, przeciwko ludności cywilnej Izraela: to są kolejne zbrodnie wojenne.
Iran, zdecydowany na zadanie śmierci i zniszczenia wiodącemu sojusznikowi Ameryki na Bliskim Wschodzie, nadal pracuje w Syrii nad budową bazy do ataku na Izrael i uzupełnia wiele tysięcy sztuk śmiercionośnej broni w Libanie, jak również popycha swojego pełnomocnika, Hezbollah, do prowokacji w terenie. W Judei i Samarii irańscy agenci podsycają przemoc, dostarczają broń i fundusze oraz podżegają młodych Arabów do przeprowadzania ataków terrorystycznych na Izraelczyków.
Lista naprawdę jest długa. Jest to pozytywny dowód na ciągłe gwałtowne zamiary Iranu, które umożliwi i napędzi ogromny zastrzyk gotówki, który proponuje Biden. Część tych pieniędzy zostanie oczywiście skierowana do irańskiego programu broni jądrowej.
Każdy rozsądny człowiek zapyta: o co tu chodzi? Po pierwsze, Biden rozpaczliwie pragnie czegoś, co mógłby przedstawić Amerykanom jako zwycięstwo jego polityki zagranicznej przed wyborami w przyszłym roku. Z pewnością takie zwycięstwo jest mu potrzebne po upokorzeniu USA i NATO katastrofalnym wycofaniem się z Afganistanu. Ten pokaz żałosnej słabości był kluczowym czynnikiem w ośmieleniu rosyjskiego prezydenta, Władimira Putina do rozpoczęcia w zeszłym roku inwazji na pełną skalę na Ukrainę.
Biden stoi także przed możliwością dalszych niepowodzeń swojej polityki, jeśli Ukraina nie będzie w stanie pokonać rosyjskiej potęgi wojskowej pomimo ogromnej pomocy USA. Wie, że jeśli Kijów nie zwycięży, część odpowiedzialności za to będzie spoczywać na jego barkach, biorąc pod uwagę kropelkową dostawę broni, kiedy zalanie Ukrainy bronią było nie tylko konieczne, ale także możliwe. Będzie to oznaczać kolejną porażkę dla USA i NATO za jego kadencji.
Dodajmy do tego błędną ocenę sytuacji na Bliskim Wschodzie przez Bidena: nie tylko ustępstwa wobec Iranu, ale także rozdrażnione i obraźliwe traktowanie Arabii Saudyjskiej, co otworzyło drogę Komunistycznej Partii Chin do zajęcie roli głównego regionalnego gracza.
To jest część historii. Druga część to pragnienie Bidena, by zniwelować izraelskie działania przeciwko irańskiemu programowi nuklearnemu. Jerozolima cofnęła ten program o być może dziesięć lat dzięki wysoce skutecznej kampanii cyberwojny, sabotażu i (podobno) ukierunkowanym zabójstwom naukowców nuklearnych. Izrael, bardziej niż jakikolwiek inny kraj, nie może sobie pozwolić na to, by Iran stał się państwem uzbrojonym w broń nuklearną. Stanowi bowiem główny cel ataku Teheranu. Jerozolima nie może ryzykować z reżimem, który wielokrotnie deklarował swój zamiar wymazania Izraela z powierzchni ziemi i wypracowuje środki by tego dokonać.
Biden obawia się, że jeśli dojdzie do kryzysu, Izrael rozpocznie poważny atak na irańskie obiekty nuklearne. Jego domniemana nowa umowa ma na celu skomplikowanie procesu decyzyjnego Jerozolimy, w tym kalkulacje prawdopodobnych konsekwencji geopolitycznych. Bardzo to podobne do myślenia Obamy z JCPOA.
Oczywiste jest, że Biden nie ma większego zamiaru dotrzymywać swoich powtarzających się zobowiązań uniemożliwienia Iranowi uzbrojenia się w broń nuklearną, niż Obama. Podobnie jak jego poprzednik z Partii Demokratycznej, Biden pogodził się z nieuchronnością posiadania bomby przez Teheran i opowiada się za polityką powstrzymywania, opartą głównie na ugłaskiwaniu ajatollahów, zakamuflowanym jako porozumienie nuklearne. Oznacza to nic innego jak kapitulację przed irańskim szantażem.
Mimo wszystkich plotek i przecieków, a nawet publicznych pomruków najwyższego przywódcy Iranu Alego Chameneiego, administracja Bidena utrzymuje, że formalnego traktatu nie ma na stole. To domniemane zastrzeżenie zdecydowanie sugeruje plan dojścia do nieformalnego porozumienia z Iranem, które nie wymagałoby zatwierdzenia przez Kongres: nie byłoby niczego na piśmie i być może zostałoby nazwane "spotkaniem umysłów" lub jakkolwiek inaczej.
Na nieszczęście dla administracji Bidena Kongres uchwalił Ustawę o przeglądzie umowy nuklearnej z Iranem (INARA) z 2015 r., przy silnym poparciu ponadpartyjnym, właśnie po to, by uniknąć takiej sztuczki.
Kongresman Michael McCaul (R-Texas), przewodniczący Komisji Spraw Zagranicznych Izby Reprezentantów, napisał w liście do Bidena z 15 czerwca 2023 r.:
"INARA została uchwalona przy silnym ponadpartyjnym poparciu, aby zapewnić Kongresowi nadzór nad polityką USA dotyczącą irańskiego programu nuklearnego… Ta definicja wyjaśnia, że każde porozumienie z Iranem, nawet nieformalne, wymaga przedstawienia go Kongresowi… Wzywam administrację, by pamiętała, że prawo USA wymaga, aby wszelkie umowy, układy lub porozumienia z Iranem były przedkładane Kongresowi zgodnie z INARA". [Podkreślenie dodane.]
Kongres nie powinien tolerować pomijania jego konstytucyjnych uprawnień, cynicznie uzurpowanych w ten sposób. Nadszedł czas, aby głos zabrali ci kongresmeni po obu stronach politycznego podziału, którzy przysięgli, że nie pozwolą Teheranowi zdobyć broni nuklearnej. Powinni zrobić wszystko, co w ich mocy, aby zmusić Bidena do ujawnienia sytuacji oraz mocno nalegać na sankcje ONZ przeciwko Iranowi zgodnie z warunkami JCPOA.
Poza niewypowiedzianym potencjałem destrukcyjnym, zastanów się, do jakiego stopnia zachodni przywódcy zostali zastraszeni przez pobrzękiwanie nuklearną szabelką Putina. Nie tylko Izraelowi grozi kolejna terrorystyczna dyktatura z bronią jądrową, ale całemu regionowi i światu.
---
---