Alexander Maistrovoy
Tłumaczenie: Małgorzata Koraszewska
---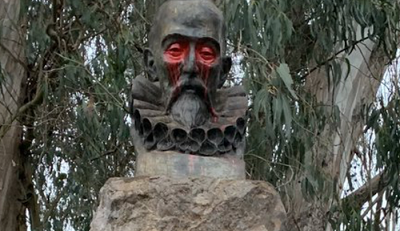 Arabowie, Turcy i Afrykanie powinni prosić Europejczyków o przebaczenie im za potworności wyrządzone w całkiem nieodległej przeszłości.
Pod koniec czerwca wandale w San Francisco zbezcześcili pomnik Miguela de Cervantesa. Zamienili Cervantesa we "właściciela niewolników".
Jest dobrze znanym faktem, że ten wielki pisarz i odważny hidalgo był sam przez pięć lat niewolnikiem algierskich korsarzy. Schwytali go ze statku płynącego z Neapolu do Barcelony.
Cervantes stał się własnością okrutnego muzułmańskiego Albańczyka, Dali-Mami, który nosił przydomek Chromy. Wioślarzami na jego statku byli biali chrześcijańscy niewolnicy. Skuci kajdanami, jedli, spali i wypróżniali się tam, gdzie siedzieli. Wielu, w efekcie wybuchów gniewu Dali-Mamiego, miało obcięte uczy, nosy lub wykłute oczy. Kiedyś rozkazał, by obcięto rękę wioślarza, który coś przewinił, i bił tą ręką całą załogę.
W Algierii sytuacja nie była lepsza. Aukcje niewolników trwały od 8 rano do 2 w nocy. Nieszczęsnych ludzi zmuszano do biegania i skakania, by pokazali swoją siłę i wytrzymałość; nadzorcy, jak nakazuje muzułmańskie prawo, obcinali dłonie za każdy skradziony drobiazg. Egzekucje, okaleczenia, torturowanie niewolników było codzienną rozrywką algierskiego Deja. Nadzy ludzie umierali w męczarniach pod palącym słońcem przed jego domem. Haki w murach przed bramami więzień były "ozdobione" głowami chrześcijańskich niewolników i dziobały je kanie.
Przynależność do szlacheckiej rodziny uratowała życie pisarza Cervantesa, ale los nie był tak łaskawy dla setek tysięcy innych niewolników.
Przez cztery stulecia Imperium Osmańskiego życie białych chrześcijan w nadbrzeżnych miastach Europy było piekłem.
Piraci Hayreddina Barbarossy (Hizir-reis), który był wasalem sułtana Sulejmana, panowali na wodach "tureckiego jeziora" (Morza Śródziemnego). Trudno opisać horror, w jakim żyli mieszkańcy hiszpańskich, włoskich i sycylijskich wsi. Berberzy przybywali zazwyczaj nocą, kiedy ludzie spali. Włamywali się do domów, mordowali starych i zabierali młodych mężczyzn i kobiety, chłopców i dziewczynki, którzy byli cennym towarem na targach niewolników. Z reguły, po "udanym" napadzie, palili całą wieś lub miasto.
Kobiety, nastolatki i dzieci były przeznaczone na dostarczanie seksualnych przyjemności tym, którzy ich pojmali. Na obrazach malarzy z XVII- XIX wieku, takich jak Jean-Leona Gerôme'a "Targ niewolników" lub Giulio Rosatiego "Inspekcja nowej dostawy", często widać bogatego szejka, który bada i dotyka stojącą przed nim kobietę, a jego służący starannie ją mierzy i właściciel z werwą opowiada o wartości "żywego towaru".
Masy białych niewolników dostarczano na gigantyczne targi niewolników w Algierii, w Konstantynopolu (Stambule) i innych miastach podbitego Cesarstwa Bizantyjskiego. Te targi ("Esir" lub "Jesir") założył sułtan Mehmed II Zdobywca i znajdowały się one w większości miast i miasteczek Imperium Osmańskiego. Francuski podróżnik z XVI wieku, Nicolas de Nicolay, opisał je jako gigantyczne zgromadzenia nagich, uległych i przestraszonych ludzi, których wizytujący kupcy i bogaci mieszczanie z pogardą dotykali, badali, klepali po brzuchu, plecach, bokach i pośladkach, jak bydło.
Według profesora historii z Ohio State University, Roberta Davisa, od początku XVI wieku do połowy XVIII wieku do Afryki Północnej dostarczono 1,25 miliona europejskich niewolników.
Napady i chwytanie białych niewolników było dobrze zaplanowanymi militarnymi operacjami. W 1544 roku Hayreddin zajął wyspę Ischia i wziął 4000 więźniów. Następnie wziął do niewoli około 5000 mieszkańców Lipari. W 1551 roku Turgut Reis, inny pirat berberyjski, wziął do niewoli całą populację maltańskiej wyspy Gozo, około 6000 ludzi. Wszyscy zostali wysłani do osmańskiej Trypolitanii. W 1554 roku zniszczył miasto Vieste w regionie Apulii. 5000 jego mieszkańcom obcięto głowy w stylu ISIS (islam jest religią pokoju, prawda?), a 6000 (głównie kobiety i dzieci) zamieniono w niewolników. Następnego roku spalił Bastię na północ od Korsyki i wziął do niewoli 6000 miejscowych ludzi. Dzisiaj można oglądać majestatyczny monument Turguta Reisa i Barbarossy w Stambule. Dlaczego nie jest on atakowany przez tych, którzy zajmują się obalaniem pomników?
Wyspy Liparyjskie, Amalfi, Massa Lubrense, Sorrento, Torre del Greco, wybrzeża Toskanii, Piombino — praktycznie nie było miejsca na wybrzeżach Włoch, gdzie ziemia nie była przesiąknięta krwią i łzami ofiar piratów.
Wiele przybrzeżnych regionów w Europie było całkowicie wyludnionych. Ani jeden kraj europejski (nawet te najbardziej odległe), nie czuł się bezpieczny. W czerwcu 1631 roku Murat Reis napadł na Baltimore w Irlandii: wszystkich ludzi stamtąd zabrał do Afryki Północnej. Mężczyzn zamienił w galerników; kobiety zostały seksualnymi niewolnicami szejków i emirów. Dla Berberów, rudowłose celtyckie dziewczęta były egzotycznym przysmakiem.
Także Islandia została splądrowana: İzlanda seferi było serią rajdów na ten kraj w lipcu 1627 roku. Ponieważ starzy i chorzy ludzie nie mieli żadnej wartości w Berberii, zamykano ich w kościołach i podpalono. Jeden z nielicznych, któremu udało się powrócić z niewoli – ksiądz Olaf Egilsson — napisał później książkę o tych wydarzeniach.
W 1886 roku (wówczas, na szczęście, świat jeszcze nie wiedział o politycznej poprawności), "New York Times" opisał handel dziewczętami i kobietami z Kaukazu, Syrii i Nubii. Za szczególnie piękne uważano kaukaskie, chrześcijańskie dziewczęta – jasnoskóre, a więc kosztowne. Kosztowały do 500 lirów i często kupowano je na podarunki dla osmańskiej arystokracji i urzędników.
Przez stulecia Chanat Krymski (wasal Imperium Osmańskiego) najeżdżał terytorium Rosji, Bałkany i Europę Wschodnią. Znane to jest w historii jako "plony ze stepu". Przeciętnie Krymscy Tatarzy brali z tych ziem do niewoli 10 tysięcy ludzi rocznie. Od 1468 do 1694 roku około dwa miliony Rosjan, Ukraińców i Polaków pognano w "jasyr". Handel niewolnikami w Kaffa (obecnie Teodozja) ustał dopiero po zdobyciu Krymu przez Katarzynę II w 1783 roku. To było niespełna 250 lat temu.
Czy nie pora postawić pomniki tym milionom nieszczęsnych ludzi?
I na koniec najważniejsza sprawa. Osmanie, Arabowie i Berberzy nie pozbyli się niewolnictwa z własnej dobrej woli, ale z powodu armat amerykańskich, brytyjskich i holenderskich fregat. To było jedno z najwspanialszych zwycięstw praw człowieka w historii świata.
---
Alexander Maistrovoy ukończył dziennikarstwo na Uniwersytecie Moskiewskim, a w 1988 roku wyemigrował do Izraela. Jest publicystą i autorem książki pt. "Agony of Hercules or a Farewell to Democracy (Notes of a Stranger)" [Agonia Herkulesa i pożegnanie z demokracją (Zapiski obcego)].
---
---