Jonathan S. Tobin
Tłumaczenie: Małgorzata Koraszewska
---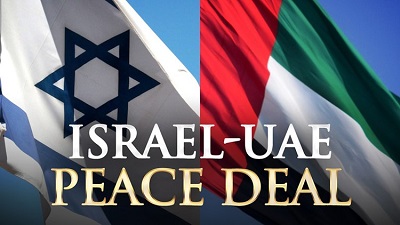 W dniu, w którym dzieje się coś historycznego i w oczywisty sposób pozytywnego, zawsze pouczające może być słuchanie tych, którzy nie przyłączają się do aplauzu. Choć nawet wielu krytyków prezydenta Donalda Trumpa i izraelskiego premiera Benjamina Netanjahu oklaskiwało sponsorowaną przez USA umowę między Izraelem a Zjednoczonymi Emiratami Arabskimi o "pełnej normalizacji stosunków" nadal są tacy, którzy ją potępiają.
Autonomia Palestyńska i ich rywale z Hamasu jednogłośnie określili porozumienie jako "zdradę" i "czarny dzień w historii Palestyny". Są wściekli na decyzję rządu państwa arabskiego, że nie będzie dłużej zakładnikiem trwającej od stu lat wojny Arabów z syjonizmem.
Równie wystraszeni są niektórzy ludzie na żydowskiej lewicy. Antysyjonistyczne grupy, takie jak Jewish Voice for Peace i IfNotNow oznajmiły o swojej solidarności z palestyńskimi negacjonistami. Reprezentantka Rashida Tlaib (D-Mich.), kongresmenka, która popiera antysemicki ruch BDS, tweetowała, że jest to "cicha zmowa" i, używając języka bardzo podobnego do oświadczenia wydanego przez Hamas, powiedziała, że to tylko przedłuży izraelski "apartheid" i "kradzież ziemi".
Także niektórzy z tych, którzy aprobują gotowość Zjednoczonych Emiratów Arabskich do normalizacji stosunków z Izraelem, nie potrafili zrobić tego całym sercem. J Street powiedziała, że choć ucieszyła ją decyzja Netanjahu zawieszenia planu rozciągnięcia suwerenności na części Zachodniego Brzegu, złe jest "wyłączenie Palestyńczyków". W innych miejscach na lewicy słyszymy tę samą retorykę o "okupacji" i "apartheidzie" ze strony, na przykład, przedstawicieli byłej administracji Obamy.
Mimo całego poruszenia wokół planu błędnie określanego jako "aneksja" (kraj nie może przecież anektować ziemi, która nie należy prawnie do żadnego innego kraju lub do której naród tego kraju ma prawo, jak to jest w wypadku Żydów i Zachodniego Brzegu), nie zmieniłoby to niczego w terenie. Ani też chwilowe odroczenie tego niczego nie zmieni.
Tymczasem formalne uznanie istnienia Izraela przez państwo z Zatoki, które zrobiło to jako pierwsze państwo arabskie po Egipcie i Jordanii, jest trzęsieniem ziemi. Podczas gdy większość świata arabskiego już ma silne, choć ukryte, stosunki z Izraelem w sprawach bezpieczeństwa i ekonomii, sformalizowanie ich jest kolejnym wyłomem w formalnie solidnym murze odrzucenia żydowskiego państwa przez świat islamski.
Przez dziesięciolecia Autonomia Palestyńska przypisywała sobie prawo nie tylko odmowy pójścia na jakikolwiek kompromis z Żydami; żądali także i otrzymywali zgodę na to stanowisko od reszty regionu i od innych muzułmanów. Rezolucja z Chartumu podjęta po wojnie sześciodniowej 1967 roku (często nazywana konferencją "Trzech NIE") umocniła podejście świata arabskiego, mówiąc "nie dla pokoju, nie dla uznania, nie dla negocjacji" z Izraelem. Czyniło to jasnym, że ich wojna nie może zakończyć się niczym innym poza zniszczeniem żydowskiego państwa i wygnaniem lub wymordowaniem jego obywateli.
Egipt był pierwszym krajem arabskim, który odzyskał rozsądek i zrozumiał, że dalsze wojny dlatego, że Palestyńczycy odmawiają zaakceptowania werdyktu historii, są bezsensowną utratą krwi i majątku. Egipski prezydent, Anwar Sadat, tworzył historię, kiedy w 1977 roku przybył do Jerozolimy, by zawrzeć pokój ze swoim sąsiadem.
Wydawało się, że Palestyńczycy doszli do tego samego wniosku, kiedy podpisali Umowy z Oslo w 1993 roku, lub tak sądziła większość obserwatorów. Izraelczycy wkrótce jednak dowiedzieli się, że palestyński przywódca, Jaser Arafat, nie miał najmniejszego zamiaru zawarcia autentycznego pokoju. Jego nieustanne wspieranie terroryzmu i odmowa uznania prawomocności żydowskiego państwa, niezależnie od tego, gdzie miały być jego granice (co okazało się jasne przez odrzucenie przez Arafata i jego następcę, Mahmouda Abbasa, terytorialnych ofert, które dałyby im niepodległe państwo), przekonały większość Izraelczyków, że pokój nie jest możliwy w dającej się przewidzieć przyszłości.
Wtedy właśnie wielu w świecie arabskim zaczęło dochodzić do tego samego wniosku: że Izrael jest i pozostanie. Ponadto, militarna siła Izraela nie była dla nich zagrożeniem, ale mogła służyć jako pomoc w odstraszeniu coraz bardziej agresywnego i wrogiego Iranu. Państwa Zatoki zrozumiały także, że odrzucanie najbardziej rozwiniętej gospodarki w regionie po prostu jest głupie.
Choć świat arabski jest nadal głęboko skażony antysemityzmem i mogą być tam niektóre kraje (jak Arabia Saudyjska, która uważa się za strażnika islamskich miejsc świętych), które prawdopodobnie nigdy otwarcie nie uznają Izraela, większość z nich zdecydowała, że ich interesy nie muszą być dłużej podporządkowane palestyńskim urojeniom o zniszczeniu Izraela.
Ta umowa jest także głębokim szokiem dla żydowskiej lewicy, która głosi, że Izrael nigdy nie może zaznać dobrobytu, bezpieczeństwa i pokoju, dopóki nie uzyska zgody Palestyńczyków na kontynuowanie swojego istnienia. Nienormalna sytuacja na Zachodnim Brzegu, w której Palestyńczycy mają autonomię nad większością ziemi, ale nie mają suwerenności ani nie panują nad bezpieczeństwem, nie zadowala nikogo. Przeciwnicy Izraela, jak również część spośród tych, którzy twierdzą, że są jego przyjaciółmi, prorokowali od 1967 roku, że Izrael jest skazany na izolację i zniszczenie, jeśli nie uda mu się przekonać Palestyńczyków, by zaakceptowali rozwiązanie w postaci dwóch państw.
Te proroctwa okazały się jednak błędne. Mimo braku pokoju z Palestyńczykami Izrael był coraz silniejszy.
W regionie jest militarnym supermocarstwem i rozwinął gospodarkę do poziomu pierwszego świata – osiągnięcia, które w 1967 roku uważano by za fantazje. Obecnie, ze światem arabskim odmawiającym podążania za palestyńskim negacjonizmem, amerykańska polityka zaprojektowana do ciągłego wywierania presji na Izrael, by czynił samobójcze ustępstwa dla własnego dobra – by "uratować Izrael przed samym sobą" (jak wierzył prezydent Barack Obama), jest w równym stopniu zbankrutowana.
Izrael może sobie teraz pozwolić na czekanie, niezależnie od tego jak długo to potrwa, by któregoś dnia Palestyńczycy odzyskali rozsądek i ogłosili pokój.
Czy Palestyńczycy zrozumieją – wbrew ich zadawnionej i głębokiej wierze o tym, że żydowskie państwo zostanie w końcu wymazane z mapy – że czas nie jest po ich stronie? Niestety, palestyńskie poczucie narodowej tożsamości jest nierozerwalnie związane z wojną z syjonizmem. Nie mogą zakończyć konfliktu, ponieważ cała ich koncepcja palestyńskiej narodowości nie ma sensu, jeśli oznacza życie w pokoju obok państwa żydowskiego.
I czy lewicowi Żydzi zrozumieją, że realia konfliktu obaliły ich krytykę? Niestety, oni także tyle zainwestowali we własny mit o dwóch państwach i tak źle ocenili palestyńskie kierownictwo jako ludzi chcących pokoju, że będą czepiać się swojej wiary, mimo że tych bardzo niewielu Izraelczyków, którzy podzielają ich poglądy, to polityczny margines.
Nie jest też prawdopodobne, że uznają zasługi administracji Trumpa w propagowaniu wizji regionu, która podkreśla dobre stosunki między Izraelem i światem arabskim, która to wizja doprowadziła do tego porozumienia. Można tylko mieć nadzieję, że jeśli Demokraci pokonają Trumpa w listopadzie, nie będą starali się sabotować tego przez powrót do prowadzącej do ślepego zaułka polityki Obamy nacisków na Izrael, która tylko wzmacniała palestyński negacjonizm, jak też do polityki ugłaskiwania Iranu.
Jest tragedią, że palestyńskie kierownictwo, jak również ich zagraniczni cheerleaderzy i pomagierzy, są zamroczeni ideologiami i błędnym postrzeganiem rzeczywistości, które podsycały ten konflikt przez całe stulecie. Można mieć nadzieję, że z czasem uwolnią się od uzależnienia od wojny z syjonizmem. Czy jednak zrobią to, czy nie, i kiedy mogłoby się to zdarzyć, fakt, że ludzie na Bliskim Wschodzie rozumieją, że pokój z Izraelem jest dobry dla wszystkich w regionie, jest czymś, co warto świętować.
---
Jonathan S. Tobin
Amerykański dziennikarz, redaktor naczelny JNS.org, (Jewish News Syndicate). Komentuje również na łamach National Review, New York Post, The Federalist, w prasie izraelskiej m. in. na łamach Haaretz.
---
---