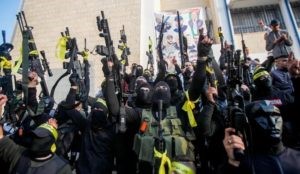 Hugh Fitzgerald
Tłumaczenie: Małgorzata Koraszewska
---
Od wielu lat uzbrojone frakcje palestyńskie zajmują się zmuszaniem innych do "poświęcenia się dla sprawy". Na przykład w Strefie Gazy Hamas, Palestyński Islamski Dżihad i Ludowy Front Wyzwolenia Palestyny przez wiele lat ukrywały swoją broń w obiektach cywilnych i w ich pobliżu – w szkołach, szpitalach, biurowcach, mieszkaniach – aby zapewnić że cywile również będą narażeni na niebezpieczeństwo, jeśli i kiedy Izrael zaatakuje te kryjówki z bronią. Oczywiście Izrael robi wszystko, co w jego mocy, aby ostrzec cywilów w budynkach, które mają być celem ataków, wysyłając e-maile, dzwoniąc i wykorzystując technikę "pukania w dach". Mimo to zawsze znajdą się tacy, którzy nie odejdą na czas, i pomimo najlepszych wysiłków Izraela, są ranni i zabici palestyńscy cywile.
Inną praktyką Palestyńczyków jest rekrutowanie nieletnich, podsycanie im marzeń o zostaniu "szahidami" lub "męczennikami" dla Allaha i Palestyny. Coraz więcej rodziców dzieci wyraża zaniepokojenie tą praktyką; nie chcą, aby ich nastoletni synowie stali się mięsem armatnim. Więcej na ten temat można znaleźć tutaj: "Mieszkańcy Nablus martwią się, że nieletni dołączają do starć z IDF", autor: Khaled Abu Toameh, Jerusalem Post, 17 grudnia 2022 r.
Niektórzy Palestyńczycy w Nablusie wyrażają zaniepokojenie rekrutacją nieletnich przez grupy zbrojne w mieście i pobliskim obozie uchodźców Balata.


Niektórzy z nieletnich otrzymali zadanie od grup Jaskinia Lwów i Batalion Balata przygotowania ładunków wybuchowych, które są używane przeciwko żołnierzom, podały źródła palestyńskie. Inni byli uzbrojeni w karabiny.
Przygotowanie materiałów wybuchowych dla innych do użycia przeciwko żołnierzom IDF samo w sobie jest bardzo niebezpiecznym zadaniem. Podobnie jest z uzbrojeniem nieletnich w broń palną, co czyni ich jeszcze bardziej gotowymi i chętnymi do udziału w bitwach, do walki i umierania za Palestynę. Uzbrojeni w broń palną stają się także bardziej prawdopodobnymi celami snajperów IDF.
Rekrutacja nieletnich przez palestyńskie grupy zbrojne nie jest nowym zjawiskiem. W rzeczywistości ta praktyka istnieje od dziesięcioleci.


Ale w ostatnich tygodniach niektórzy mieszkańcy Nablus krytykowali grupy zbrojne za umożliwianie chłopcom w wieku 15-17 lat brania udziału w starciach z IDF. Mieszkańcy zaatakowali również grupy za wykorzystywanie chłopców do przygotowywania ładunków wybuchowych i monitorowania ruchów żołnierzy IDF….


Dyrektor szkoły w tym mieście powiedział, że otrzymał skargi od wielu rodziców na temat "wyzyskiwania" ich dzieci przez grupy zbrojne. "Ściśle współpracujemy z rodzinami i palestyńskimi służbami bezpieczeństwa, aby rozwiązać ten problem – powiedział. – Nie chcemy narażać życia naszych dzieci"
Jedynym "rozwiązaniem" tego problemu narażania dzieci na niebezpieczeństwo jest wspólne wywieranie przez rodziców wystarczającej presji na grupy terrorystyczne, aby zaprzestały tej bezwstydnej praktyki przekonywania młodych ludzi do walki i umierania za "sprawę Palestyny".
15-letni chłopiec, który przedstawił się jako Nasser, powiedział "Jerusalem Post", że "pracuje" dla Batalionu Balata, który składa się z dziesiątek zbrojnych mężczyzn z obozu dla uchodźców.


W wywiadzie przeprowadzonym na Starym Mieście w Nablusie w zeszłym tygodniu Nasser powiedział, że on i jeden z jego przyjaciół, 16-letni Mohammed, zajmowali się przygotowywaniem improwizowanych ładunków wybuchowych dla grupy…
Nakłanianie tych dzieci – 15-letniego Nassera i 16-letniego Mohammeda – do ryzykowania życiem przy próbach złożenia "improwizowanego urządzenia wybuchowego" jest haniebne. Ilu dorosłych, a tym bardziej dzieci, zginęło robiąc to? To jest stwarzanie zagrożenia dla dzieci.
" Moim wzorem do naśladowania jest Ibrahim al-Nabulsi" – powiedział Nasser, mówiąc o zamachowcu z Nablus, zabitym przez IDF na Starym Mieście w Nablusie w sierpniu ubiegłego roku. "Chcę być męczennikiem jak Ibrahim"…


"Powiedziałem ojcu: 'Ty mnie kochasz i chcesz, żebym był z tobą, ale Bóg też mnie kocha i chce, żebym był z Nim. Wybrałem bycie z Bogiem'".
Jestem pewien, że serce ojca Nassera zamarło, gdy usłyszał, jak jego 15-letni syn deklaruje, że jest gotowy do zostania "szahidem", by nie być z ojcem tu na ziemi, ale z "Bogiem", który "chce, bym był z Nim". Dokładnie wyprano mu mózg. Ojciec niewiele może zrobić, poza wyładowaniem swojej wściekłości na tych z grup terrorystycznych, którzy doprowadzili jego syna do tej brzemiennej w skutki decyzji, stawiając mu jako przykład nieżyjącego Ibrahima al-Nabulsiego.
Nasser powiedział, że on i jego przyjaciele stracili zaufanie do Autonomii Palestyńskiej. "Naszym przywódcą jest [dowódca wojskowy Hamasu] Mohammed Deif. Reprezentuje nas i palestyński ruch oporu".
Tak, mimo swoich wielu wad, Autonomia Palestyńska– w przeciwieństwie do Hamasu i innych grup terrorystycznych – nie próbuje rekrutować do swojego skrzydła wojskowego, Fatahu, dzieci-żołnierzy, nieletnich "szahidów". Autonomia Palestyńska sporadycznie współpracuje też z izraelskimi siłami bezpieczeństwa przy krzyżowaniu planów ich wspólnych wrogów, Hamasu i PIJ, co bez wątpienia jest powodem, dla którego Nasser i jego przyjaciele "stracili zaufanie" do AP.
Chociaż Nasser mieszka w obozie dla uchodźców Balata, prawie codziennie odwiedza miejsce śmierci al-Nabulsiego na Starym Mieście w Nablusie. Dodaje, że kiedy wraca do obozu Balata, razem z innymi nastolatkami przygotowuje ładunki wybuchowe.
Jakież skazane na porażkę życie zgotował sobie Nasser. Rzucił szkołę w wieku 15 lat. Zamiast uczyć się, oddaje hołd zmarłemu Ibrahimowi al-Nabulsi, odwiedzając prawie codziennie miejsce, w którym zginął "męczennik". Nasser nie ma teraz przyszłości poza naśladowaniem życia al-Nabulsiego i prawie na pewno szybkiej śmierci. Spędza dni na przygotowywaniu materiałów wybuchowych – najbardziej niebezpieczne przedsięwzięcie – pracując razem z innymi palestyńskimi nastolatkami, którzy marzą o mordowaniu Izraelczyków i, jeśli to konieczne, oddaniu własnego życia "za Palestynę".
W zeszłym miesiącu 15-letni Mahdi Haszasz zginął, gdy wybuchło urządzenie wybuchowe, które miał przy sobie.

Incydent miał miejsce podczas starć między bandytami a żołnierzami IDF towarzyszącymi żydowskim wyznawcom do Grobu Józefa w pobliżu obozu Balata.
Inny 15-latek, Mahdi Haszasz, przypadkowo wysadził się w powietrze, niosąc ładunek wybuchowy, być może ten sam, który wcześniej sam, choć wadliwie, sfabrykował. To właśnie Izraelczycy zjadliwie nazywają "wypadkiem przy pracy". Bez wątpienia Mahdi chciał rzucić nim w żołnierzy IDF, ale zanim to zrobił, źle skonstruowany ładunek wybuchowy rozerwał go na strzępy. A może to nie urządzenie było wadliwe, ale powodem była nastoletnia nieostrożność Mahdiego Haszasza, która skończyła się jego śmiercią. Czy był to rodzaj granatu i czy po wyciągnięciu zawleczki Haszasz zwlekał zbyt długo z rzuceniem go tak, że wybuchł mu w dłoni? Batalion Balata nie informuje.
Batalion Balata uznał później Haszasza za jednego ze swoich "męczenników". Grupa jednak nie przyznała publicznie, że Haszasz, nazywany Szaimounem, miał przy sobie ładunek wybuchowy.

Przyjaciele Haszasza powiedzieli "Jerusalem Post", że podobnie jak wielu nastolatków, jedną z jego misji było również monitorowanie ruchów IDF, kiedy wkraczają do Nablus.


Po jego śmierci Batalion Balata wychwalał Haszasza jako "bohatera" i określił go jako "Lwa Batalionu".
Takie pochwały dla Mahdiego Haszasza sprawiają, że inni podatni na wpływy palestyńscy nastolatkowie chcą naśladować jego życie, a zwłaszcza "heroiczną" śmierć.
W sierpniu ubiegłego roku 18-letni Waseem Chalifeh, również z obozu dla uchodźców Balata, został zabity przez IDF podczas walki u boku bandytów z Batalionu Balata. Rok wcześniej Chalifeh został postrzelony i ciężko ranny przez IDF podczas starć zbrojnych w obozie.

Źródła w obozie potwierdziły, że Chalifeh wstąpił do Batalionu Balata w wieku 16 lat.
Waseem Chalifeh po raz pierwszy zobaczył walkę, gdy miał 17 lat. Trzymał się tego, mimo że został ranny, ale jego starsi towarzysze z Batalionu Balata wyprali mu mózg tak bardzo, że uwierzył, że życie "szahida" jest jego najwyższym powołaniem. I ledwie rozpocząwszy życie, wciąż nieletni, Waseem Chalifeh zginął.
Inny nastolatek, 16-letni Ahmed Szehadeh, zginął podczas starć zbrojnych z IDF w Nablusie pod koniec listopada.


Szehadeh, mieszkaniec Starego Miasta, był bliskim przyjacielem Haszasza. Kilka dni przed śmiercią Szehadeh opublikował wideo, na którym stoi obok grobu Haszasza.
Batalion Balata opisał Szehadeha jako "chłopca z kamieniami", co odnosi się do jego udziału w rzucaniu kamieniami w żołnierzy IDF. Niektórzy mieszkańcy twierdzili, że Szehadeh został zwerbowany przez Jaskinię Lwów….
Podobnie jak wszyscy ci nastoletni wojownicy, którzy chcieli zostać męczennikami, Szehadeh miał gruntownie wyprany mózg, by "walczyć na rzecz Allaha". Inspirację znalazł w "męczeństwie" swojego przyjaciela Haszasza; zamieścił wideo, na którym stoi obok grobu swojego przyjaciela na kilka dni przed tym, jak sam zginął w walce z żołnierzami IDF w Nablusie.
Grupy terrorystyczne na Zachodnim Brzegu aktywnie rekrutują nastolatków. Ta praktyka świadczy o okrutnej obojętności wobec życia tych nastoletnich Palestyńczyków, których nakłaniają do przyłączenia się do tych grup, by służyli jako mięso armatnie, albo przygotowując materiały wybuchowe, co jest niebezpiecznym zadaniem, albo w walce jeszcze zanim osiągną dorosłość. I choć niektórzy palestyńscy rodzice, zwłaszcza matki, twierdzą, że są zadowoleni, że ich dzieci wybrały "męczeństwo" i mieli nadzieję, że ich pozostali synowie pójdą i zrobią to samo, większość palestyńskich rodziców rozpacza, że ich dzieci również mogą pójść w ich ślady tą samą żałosną ścieżką, co Nasser, Waseem Chalifeh, Ahmed Szehadeh i Mahdi Haszasz.
---
Palestinian Parents Alarmed as Their Minor Children are Recruited to Be 'Martyrs'
Johad Watch, 20 grudnia 2022
Hugh Fitzgerald jest publicystą Juhad Watch.
---
---