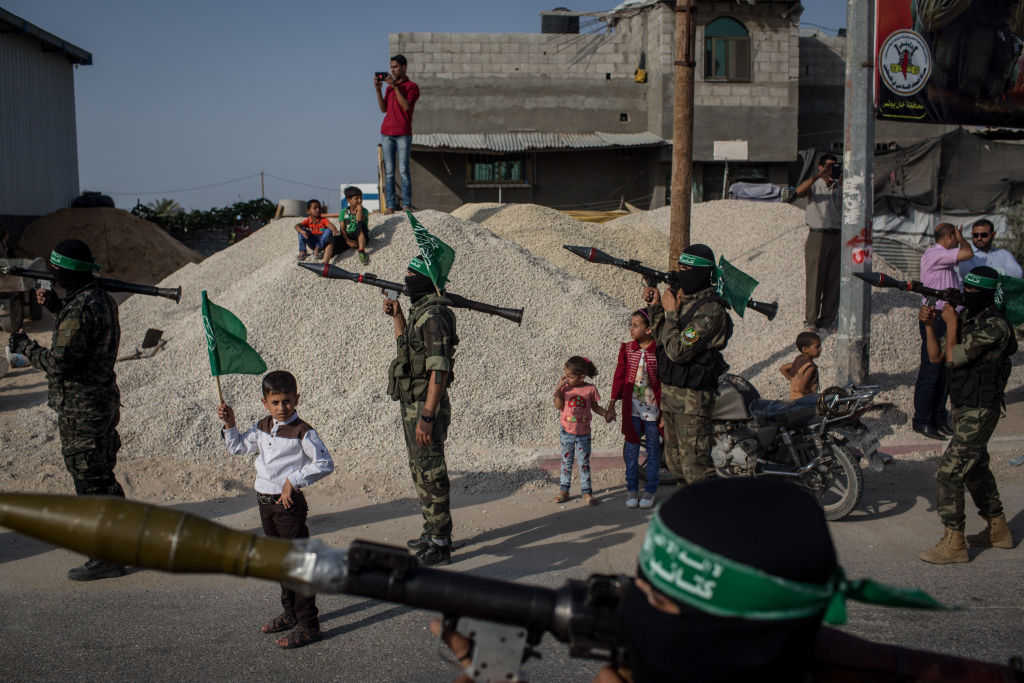 Palestyńskie grupy terrorystyczne rekrutują nieletnich do przeprowadzania ataków terrorystycznych, podczas gdy przywódcy palestyńscy i organizacje międzynarodowe krzyczą, że "zabijane są niewinne dzieci". Palestyńskie dzieci od kołyski są poddawane praniu mózgu przeciwko Izraelowi i celowo narażane na niebezpieczeństwo, podczas gdy ONZ i reszta świata odwracają wzrok. Na zdjęciu: terroryści Hamasu uzbrojeni w granatniki idą w paradzie razem z dziećmi w Strefie Gazy 20 lipca 2017 r. (Zdjęcie: Chris McGrath/Getty Images)
---
Bassam Tawil
Tłumaczenie: Małgorzata Koraszewska
---
Rada Bezpieczeństwa Organizacji Narodów Zjednoczonych (RB ONZ) 5 stycznia pospiesznie zwołała nadzwyczajną sesję, ponieważ Żyd odważył się przejść po najświętszym miejscu judaizmu, Wzgórzu Świątynnym w Jerozolimie. Dwa dni wcześniej ten Żyd, Itamar Ben-Gvir, minister bezpieczeństwa narodowego Izraela, odbył cichą, 13-minutową wycieczkę po tym miejscu.
Chociaż Żydzi odwiedzający Wzgórze Świątynne są często nękani, zastraszani, a czasami fizycznie atakowani przez muzułmanów, krótka podróż Ben-Gvira zakończyła się pokojowo i ani muzułmanie, ani Żydzi nie zgłosili żadnych aktów przemocy. Mimo to Palestyńczycy i niektóre kraje, nazywając tę wizytę "niebezpieczną i bezprecedensową prowokacją", nadal potępiali za nią Izrael.
Znamienne jest to, że w tym samym tygodniu, w którym Rada Bezpieczeństwa ONZ i różne kraje potępiały Żydów za odwiedzanie ich najświętszego miejsca w Jerozolimie, Palestyńczycy, którzy nieustannie maltretują dzieci i popełniają zbrodnie przeciwko ludzkości, co jest nieodmiennie ignorowane przez media i społeczność międzynarodową, ponownie wysyłali nieletnich do atakowania izraelskich żołnierzy na Zachodnim Brzegu [Judei i Samarii].
Według Organizacji Narodów Zjednoczonych zbrodnie przeciwko ludzkości obejmują:
h. Prześladowanie jakiejkolwiek możliwej do zidentyfikowania grupy lub zbiorowości z powodów politycznych, rasowych, narodowych, etnicznych, kulturowych, religijnych, płci, jak zdefiniowano w paragrafie 3, lub z innych powodów powszechnie uznanych za niedopuszczalne na podstawie prawa międzynarodowego, w związku z jakimkolwiek czynem, do którego odnosi się niniejszy ustęp, lub z jakąkolwiek zbrodnią objętą jurysdykcją Trybunału;

k. Inne nieludzkie czyny o podobnym charakterze celowo powodujące ogromne cierpienie lub poważne uszkodzenie ciała albo zdrowia psychicznego lub fizycznego.
Wykorzystywanie palestyńskich nieletnich w wojnie przeciwko Izraelowi nie jest nowym zjawiskiem. Zaczęło się natychmiast po utworzeniu kilku palestyńskich grup terrorystycznych, zwłaszcza Organizacji Wyzwolenia Palestyny (OWP), ponad 50 lat temu. Grupy te nie wahały się przed praniem mózgów dzieci i rekrutowaniem ich jako bojowników w "walce zbrojnej" przeciwko Izraelowi.
W ostatnich tygodniach palestyńskie grupy terrorystyczne działające na Zachodnim Brzegu wysyłały nieletnich w wieku 15-17 lat, aby stawiali czoła izraelskim żołnierzom, którzy wkraczają do społeczności palestyńskich w celu aresztowania terrorystów. Wielu nieletnich jest uzbrojonych w karabiny automatyczne i improwizowane ładunki wybuchowe, a także koktajle Mołotowa, kamienie i inne przedmioty.
Kiedy ci nieletni zostają ranni lub zabici podczas starć z żołnierzami, palestyńscy przywódcy szybko potępiają Izrael za zabijanie "niewinnych dzieci". Wielu nieuczciwy zagranicznych dziennikarzy i obrońców praw człowieka nie ma problemu z papugowaniem fałszywej palestyńskiej narracji o śmierci nieletnich.
Ostatnie ofiary palestyńskiego znęcania się i wykorzystywania dzieci to 16-letni Amer Abu Zeitoun z obozu dla uchodźców Balata i 15-letni Adam Ajjad z obozu dla uchodźców Dheiszeh. Ci dwaj, którzy zginęli podczas gwałtownych starć z izraelskimi żołnierzami w pierwszym tygodniu stycznia, nie byli bynajmniej "niewinnymi dziećmi".
Ci, którzy wysyłają nieletnich do przeprowadzania ataków terrorystycznych, powinni zostać pociągnięci do odpowiedzialności za popełnienie zbrodni przeciwko Palestyńczykom, za celowe narażenie swoich dzieci, a nie tylko Izraela.
Według Palestyńczyków Abu Zeitoun był jednym z kilku nieletnich zwerbowanych przez grupy zbrojne w jego obozie do monitorowania ruchów izraelskich żołnierzy zaangażowanych w operacje antyterrorystyczne. Nieletni nazywani są "Strażnikami Obozu", a ich zadaniem jest zaalarmowanie terrorystów, gdy zobaczą w okolicy żołnierzy.
Rządząca frakcja Fatahu na czele z prezydentem Autonomii Palestyńskiej Mahmoudem Abbasem przyznała, że Abu Zeitoun faktycznie był zamieszany w starcia zbrojne między izraelskimi żołnierzami a palestyńskimi terrorystami. Na plakacie opublikowanym 5 stycznia Fatah okrzyknął Abu Zeitouna "męczennikiem, bohaterem i wojownikiem".
Na pogrzeb Abu Zeitouna przybyły dziesiątki zbrojnych ludzi, najprawdopodobniej tych samych terrorystów, którzy go zwerbowali i wysłali do ataku na izraelskich żołnierzy.
Autonomia Palestyńska, która gloryfikuje terrorystów i nagradza ich i ich rodziny comiesięcznymi wypłatami, zorganizowała "wojskowy pogrzeb" palestyńskiego nieletniego. To ta sama Autonomia Palestyńska, która pozwala grupom terrorystycznym na swobodne działanie na terenach pod swoją kontrolą. To ta sama Autonomia Palestyńska, która nie potępia terrorystów za wykorzystywanie dzieci i wysyłanie ich do walki z armią izraelską, jedną z najsilniejszych armii na Bliskim Wschodzie.
Druga niedawna ofiara palestyńskiego wykorzystywania dzieci, Adam Ajjad, również okazała się nie być "niewinnym dzieckiem". Według jego przyjaciół i sąsiadów, Ajjad był powiązany z Ludowym Frontem Wyzwolenia Palestyny (LFWP) OWP, niesławną grupą palestyńską uznaną za organizację terrorystyczną przez Stany Zjednoczone, Unię Europejską, Kanadę i Izrael. Podczas jego pogrzebu ciało Ajjada było owinięte czerwoną flagą LFWP.
Ajjad, który zginął podczas gwałtownych starć z izraelskimi żołnierzami, napisał nawet testament, w którym wyraził pragnienie śmierci jako "męczennik".
"Mówię wszystkim, że męczeństwo to nie tylko śmierć – napisał Ajjad. – Męczeństwo to duma dla ciebie i duma dla całego świata. Męczeństwo to prawdziwe zwycięstwo, które kończy twoje życie, ale kończy się, gdy jesteś szczęśliwy. Cieszę się, że Bóg spełnił jedno z moich marzeń: męczeństwo".
To tyle, jeśli chodzi o bycie "niewinnym dzieckiem". Podobnie jak Abu Zeitouneh i inni nieletni, Ajjad dokładnie wiedział, co robi i że może zginąć podczas ataku na izraelskich żołnierzy. LFWP, której przywódcy zwerbowali i wysłali Ajjada na pole bitwy, zorganizowali później ceremonię, aby uhonorować go za "męczeństwo".
Abu Zeitouneh i Ajjad nie byli jedynymi nieletnimi zwerbowanymi przez grupy terrorystyczne do przeprowadzania ataków terrorystycznych. W listopadzie 2022 roku Mahdi Haszasz, 15-letni chłopiec z obozu dla uchodźców Balata, zginął, gdy improwizowane urządzenie wybuchowe, które przygotowywał do rzucenia w izraelskich żołnierzy, przypadkowo przedwcześnie wybuchło. Po jego śmierci lokalna grupa terrorystyczna Batalion Balata wychwalała Haszasza jako "bohatera" i "lwa".
Palestyńskie grupy terrorystyczne rekrutują nieletnich do przeprowadzania ataków terrorystycznych, podczas gdy przywódcy palestyńscy i organizacje międzynarodowe krzyczą, że "zabijane są niewinne dzieci".
Palestyńskie dzieci od kołyski są poddawane praniu mózgu przeciwko Izraelowi i celowo narażane na niebezpieczeństwo, podczas gdy ONZ i reszta świata odwracają wzrok.
Członkowie ONZ, którzy zwołali nadzwyczajną sesję w celu przedyskutowania wizyty Żyda na Wzgórzu Świątynnym, są największymi hipokrytami ze wszystkich. Ci rzekomi dostawcy cnót nie chcą przyznać, że palestyńska rekrutacja dzieci na żołnierzy jest prawdziwym zagrożeniem dla pokoju i bezpieczeństwa, a nie Żyd spacerujący po terenie świętego miejsca w Jerozolimie.
Byłoby lepiej dla ONZ i wszystkich tych, którzy rzucili się do potępienia wizyty Ben-Gvira, gdyby zwołali posiedzenie nadzwyczajne, aby zobaczyć, dlaczego palestyńskie dzieci są wysyłane przez ich własny naród na śmierć w starciach z armią izraelską.
Byłoby również lepiej, gdyby ONZ zorganizowała specjalną sesję w celu przedyskutowania odpowiedzialności przywódców palestyńskich za trwające podżeganie przeciwko Izraelowi i zachęcanie nieletnich do szukania śmierci jako "męczennicy".
Nie stawiając czoła wykorzystywaniu dzieci, ONZ i wrogowie Izraela narażają na niebezpieczeństwo życie większej liczby palestyńskich dzieci, które zostały zwerbowane do dżihadu (świętej wojny) przeciwko Izraelowi i Żydom.
Krew następnego palestyńskiego dziecka zabitego w bitwie będzie na rękach kłamców na korytarzach ONZ i dziennikarzy z redakcji głównych gazet na całym świecie, które nadal ignorują palestyńskie okrucieństwa wobec własnego narodu.
---
Bassam Tawil jest muzułmańskim badaczem i publicystą mieszkającym na Bliskim Wschodzie.
---
---