Krzysztof Rybak
---
Do księgarń trafia zaadaptowany na powieść graficzną kultowy "Dziennik" Anne Frank, świadectwo Zagłady holenderskich Żydów, ale i trudnych ludzkich relacji widzianych oczami nastolatki. W formie poruszająco odmalowanych komiksowych kadrów sprawdza się znakomicie.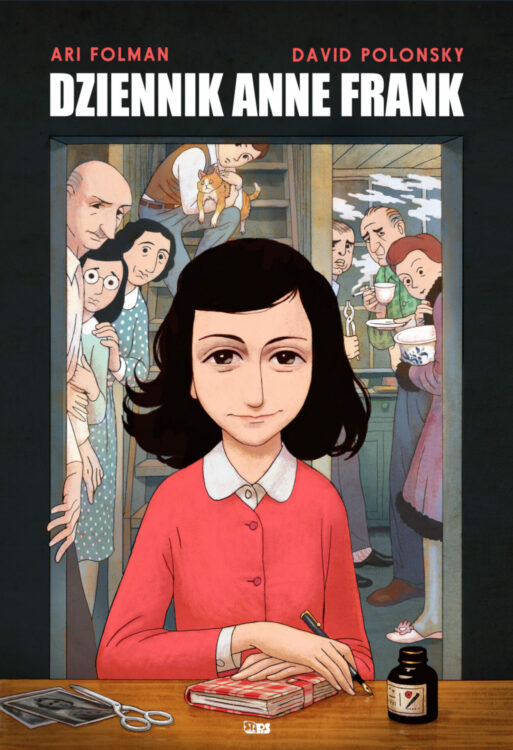 Anne Frank bezsprzecznie stała się ikoną Zagłady [1]: jej dziennik pisany w czasie okupacji Holandii czytany jest na całym świecie, a dom przy Prinsengracht w Amsterdamie, w którym ukrywała się rodzina Franków wraz z innymi prześladowanymi Żydami, to jedno z najbardziej obleganych przez turystów miejsc w ojczyźnie van Gogha [2]. Mimo globalnego zainteresowania, w polskiej szkole "Dziennik" raczej się nie pojawia. Podobnie na rodzimym rynku książki dla niedorosłych brakuje publikacji poświęconych Anne Frank, jej biogramy można znaleźć co najwyżej w zbiorowych publikacjach, takich jak "Opowieści na dobranoc dla młodych buntowniczek" Eleny Favilli i Franceski Cavallo [3]. Tym bardziej cieszy, że wreszcie ukazało się polskie wydanie powieści graficznej bazującej na "Dzienniku" Frank – premiera internetowa będzie miała miejsce 12 czerwca, w rocznicę urodzin autorki (1929–1945) [4].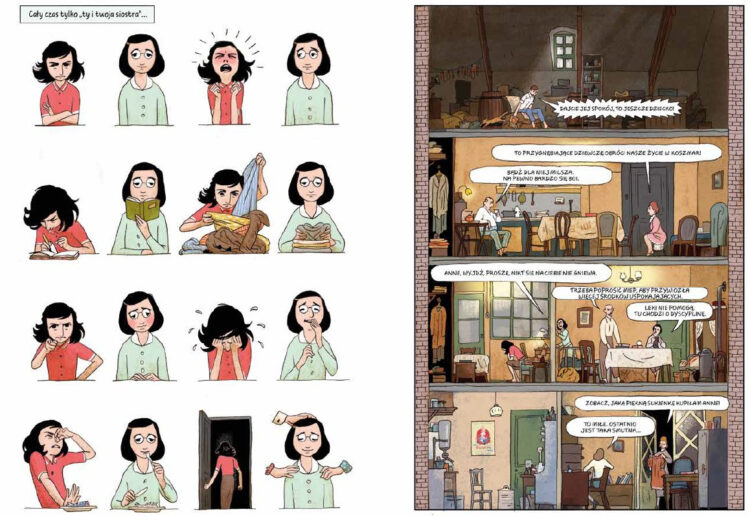 Na wstępie warto podkreślić, że powieść graficzna zachowuje układ oryginału – wpisy zostały zaadaptowane na formę komiksową przez Ariego Folmana, twórcę między innymi "Walca z Baszirem" [2008]. Mimo to powieść graficzna zadowoli zarówno tych, którym "Dziennik" Anne Frank jest dobrze znany, jak i przyszłych czytelników amsterdamskiego świadectwa. W tekście wydobyte zostały realia okupacji, w tym narastające represje wobec ludności żydowskiej, a także, podobnie jak w oryginale, miejscami przerysowana codzienność życia w oficynie (sekretnym aneksie) znajdującej się na tyłach budynku przy Prinsengracht 263. To właśnie tam przez dwa lata ukrywała się Anne wraz z siostrą Margot, rodzicami Ottem i Edith, rodziną van Daan (Auguste i Hermannem oraz ich synem Peterem) i Albertem Dusselem. Dzięki pomocy pracowników firmy Opekta zarządzanej przez Otto Franka mieli oni szansę niemal bez większych trudności przetrwać tak długi czas w spokoju, mając do dyspozycji cztery pokoje, kuchnię oraz łazienkę. Jak łatwo się domyślić, przebywanie na tak małej przestrzeni z tymi samymi ludźmi w każdym może wzbudzić z czasem irytację, której sama Anne – zarówno w "Dzienniku", jak i w powieści graficznej – nie kryje.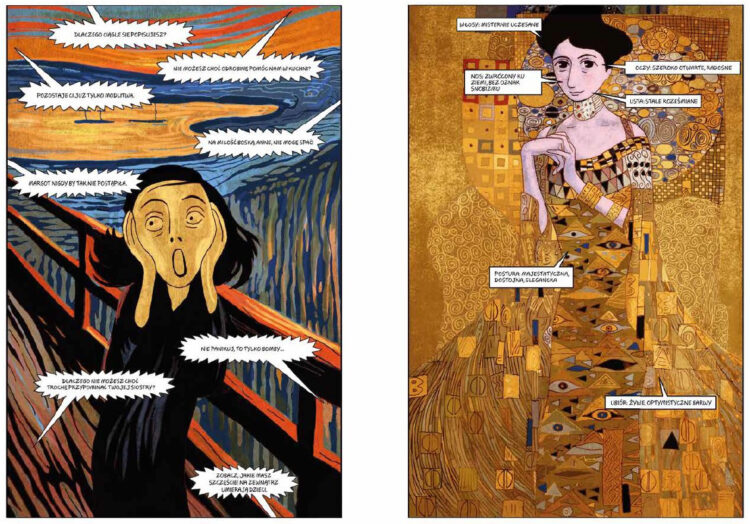 Właśnie subiektywna perspektywa charakterystyczna dla formy dziennika jest jednym z najciekawszych elementów pierwowzoru, którego lektura oferuje czytelnikowi obraz skomplikowanej psychiki nastoletniej, dojrzewającej dziewczyny. Anne była marzycielką, chciała zostać nawet pisarką – poza znanym dzisiaj "Dziennikiem" stworzyła też kilka krótkich form prozatorskich. Ponadto była ciekawa świata, uczyła się języków (w tym francuskiego i greki), interesowała się także sztuką i kinem, czego świadectwem były wycięte z gazet zdjęcia gwiazd wielkiego ekranu wiszące w jej pokoju. Nie da się jednak zaprzeczyć, że czasem była złośliwa, bezpardonowa, miejscami ostro krytykowała współlokatorów. Te wszystkie, nierzadko sprzeczne emocje w artystycznej formie przedstawił David Polonsky, ilustrator współpracujący wcześniej z Folmanem przy produkcji "Walca z Baszirem" (w Polsce dostępna jest również zilustrowana przez niego książka "Stłuc świnkę" Etgara Kereta [5]). Przerysowane, odczłowieczone sylwetki i twarze mieszkańców oficyny, a także humorystyczne, miejscami surrealistyczne sceny widziane oczami narratorki – wszystko sprawia, że zapiski Anne Frank stają się bliższe czytelnikowi i o wiele bardziej atrakcyjne.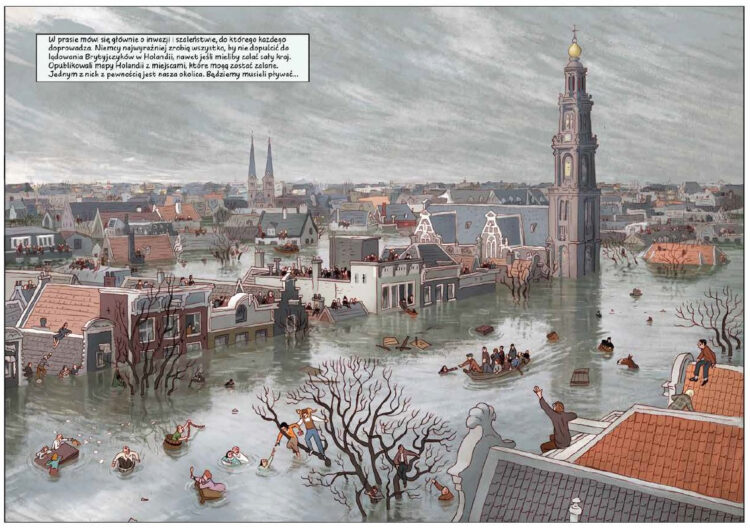 Należy zaznaczyć, że – podobnie jak oryginalny "Dziennik" Frank – powieść graficzna Folmana i Polonsky'ego może z dużym powodzeniem trafić na grunt nastoletniego oraz dorosłego odbiorcy. Ten pierwszy znajdzie w środku sporą dawkę humoru, a także podane w skrótowej formie informacje historyczne, które zachęcą do dalszych poszukiwań. Ponadto spojrzy na świadectwo Zagłady oczami nastoletniej narratorki (być może swojej rówieśniczki?), rozdartej nie tylko losem europejskich Żydów, lecz także przeżywającej pierwszą miesiączkę i burzę hormonów. Rozbuchana wyobraźnia Anne została w pełni odmalowana przez Polonsky'ego, który – co może zainteresować zwłaszcza czytelników dorosłych – odwołuje się do dziedzictwa kultury wizualnej, w tym "Krzyku" Edvarda Muncha oraz portretów między innymi Katharine Hepburn, Ingrid Bergman i Marlene Dietrich (w każdym przypadku wkomponowując w oryginał twarz diarystki).
Zasadniczą zaletą "Dziennika Anne Frank" jest sprawne połączenie wspomnianych partii humorystycznych oraz wizualizacji nieokiełznanej wyobraźni autorki z dramatem Zagłady Żydów. Okupacja niemiecka oraz wydarzenia towarzyszące tak zwanemu ostatecznemu rozwiązaniu w Holandii przyjmują zarówno dosłowną, jak i metaforyczną formę. Dzięki temu Zagłada staje się nie tyle wydarzeniem bardziej zrozumiałym, co bliższym doświadczeniu ofiar (reprezentowanych przez Anne Frank), sterroryzowanych wszechogarniającymi prześladowaniami. Folman i Polonsky stworzyli niezwykle atrakcyjną, ale równocześnie przejmującą opowieść o nienawiści i strachu, przełamaną siłą marzeń i nastoletniej wyobraźni.
---
Przypisy:
[1] Świadczy o tym choćby tytuł książki "Nie tylko Anna Frank. Ukrywane dzieci i ich rodziny w powojennej Holandii" Diane L. Wolf [tłum. A. Goździkowski, UNIVERSITAS, Kraków 2010] czy okładka publikacji naukowej "W(y)czytać Zagładę. Praktyki postpamięci w polskiej literaturze XXI wieku dla dzieci i młodzieży" M. Wójcik-Dudek [Wydawnictwo Uniwersytetu Śląskiego, Katowice 2016].
[2] Więcej o Anne Frank House na stronie [https://www.annefrank.org/en]
[3] Zob. E. Favilli, F. Cavallo, "Opowieści na dobranoc dla młodych buntowniczek. 100 historii niezwykłych kobiet", tłum. E. Borówka, wyd. Debit, Katowice 2017.
[4] Anne Frank urodziła się 12 czerwca 1929 roku we Frankfurcie nad Menem, skąd przeniosła się do Amsterdamu w 1934 roku. Po denuncjacji wszyscy ukrywający się w oficynie zostali pojmani. Anne została przewieziona do obozu w Westerbork, stamtąd do Auschwitz, a następnie trafiła do Bergen-Belsen, gdzie zginęła prawdopodobnie w lutym 1945 roku. Z całej rodziny ocalał tylko Otto Frank, ojciec Anne, który zdecydował się opublikować dziennik córki.
[5] Zob. E. Keret, "Stłuc świnkę", il. D. Polonsky, tłum. A. Maciejowska, wyd. W.A.B., Warszawa 2016.
Książka:
Anne Frank, "Dziennik Anne Frank. Powieść graficzna", adaptacja Ari Folman, il. David Polonsky, przeł. Kamil Budziarz (ustalone z ANNE FRANK FONDS fragmenty tłumaczenia zostały zaczerpnięte z "Dziennika" Anne Frank (wyd. SIW Znak Sp. z o.o., 2015) w tłumaczeniu Alicji Oczko-Dehue), wyd. Stapis, Katowice 2019.
Rubrykę redaguje Paulina Zaborek.
---
---