Khaled Abu Toameh
Tłumaczenie: Małgorzata Koraszewska
---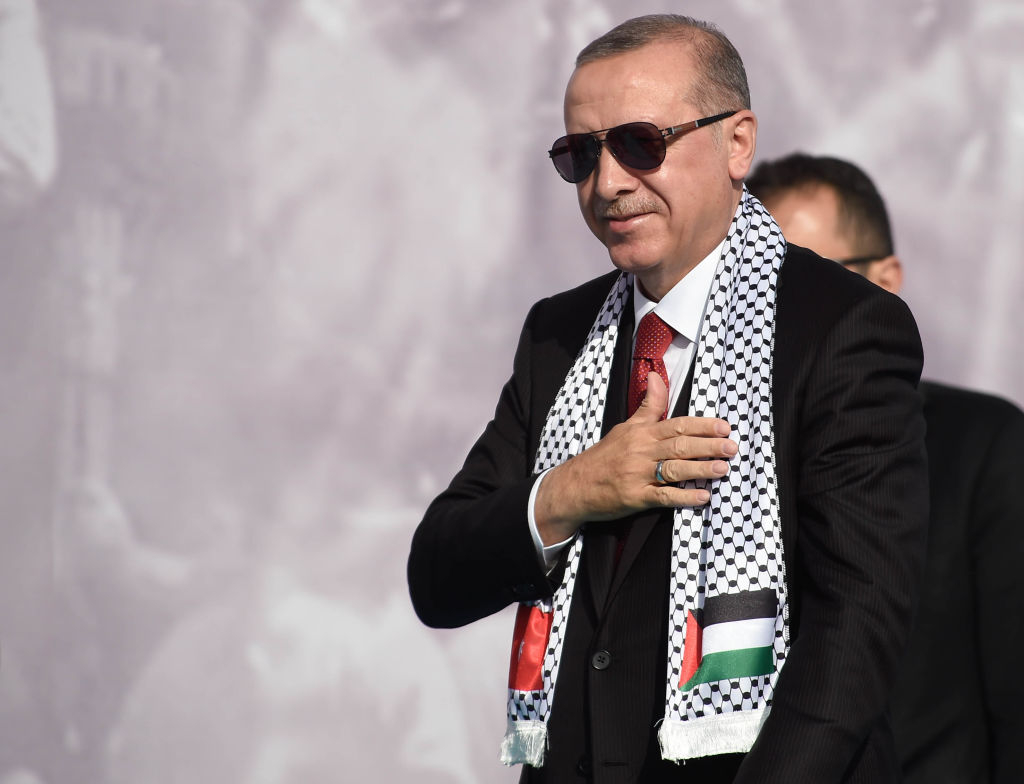 Jest tylko jedno przesłanie z niedawnego spotkania między tureckim prezydentem Recepem Tayyip Erdoganem a przywódcą Hamasu, Ismailem Haniją, w trakcie tygodnia, kiedy Hamas wielokrotnie wzywał do zniszczenia Izraela: Turcja popiera Hamas, jego agendę i ideologię. Na zdjęciu: Erdogan na antyizraelskim wiecu, paraduje w szaliku z flagami Turcji i Autonomii Palestyńskiej, 18 maja 2018 r. w Stambule. Zdjęcie: Getty Images)
Palestyński ruch Hamasu świętował w tym tygodniu 32. rocznicę swojego powstania przez przypomnienie wszystkim o jego głównym celu: zniszczeniu Izraela. Jest to dowód, że Hamas nie zmienił – i nie zmieni – swojej Karty, pierwotnie opublikowanej w 1988 roku. Jest to także potężny komunikat dla tych, którzy mogą się oszukiwać, że Hamas zmienił się w nieużywającą przemocy palestyńską frakcję.
Ta Karta, znana także jako Przymierze Islamskiego Ruchu Oporu, stanowi, że "walka [Hamasu] przeciwko Żydom jest wielka i bardzo poważna" i wzywa do zastąpienia Izraela państwem islamskim. "Nie ma rozwiązania dla sprawy palestyńskiej poza Dżihadem (świętą wojną)" – powiada Karta. "Inicjatywy, propozycje i międzynarodowe konferencje są stratą czasu i daremnym przedsięwzięciem. Zrzeczenie się jakiejkolwiek części Palestyny oznacza zrzeczenie się części religii [islamu]".
Trzydzieści dwa lata później przywódcy Hamasu raz jeszcze pokazują, że pozostają bardziej niż kiedykolwiek oddani temu przymierzu, szczególnie w sprawie pragnienia zastąpienia Izraela państwem islamskim.
Pod tym względem Hamas zasługuje na pochwałę za szczerość w sprawie swoich prawdziwych zamiarów. W wypowiedziach na obchody rocznicy założenia Hamasu przywódcy tego ruchu raz jeszcze pokazali, że mówią bez ogródek.
Ibrahim Jazouri, jeden z założycieli Hamasu i jego militarnego skrzydła, Izz ad-Din al-Kassam, powiedział w wywiadzie dla związanego z Hamasem Palestyńskiego Centrum Informacyjnego:
"Hamas i jego militarne skrzydło kontynuują swoją politykę aż do wyzwolenia Palestyny. Zbliżamy się do dnia wyzwolenia. Za kilka lat, jak Bóg zechce, będzie wyzwolony meczet Al-Aksa, okupowana Jerozolima i cała Palestyna. Hamas będzie nadal używał wszystkich środków do wyzwolenia Palestyny. Wielkie zwycięstwo zbliża się i musimy być cierpliwsi".
Kiedy przywódcy Hamasu mówią o "wyzwoleniu całej Palestyny", w rzeczywistości powtarzają zobowiązanie do zniszczenia Izraela.
Ponadto, kiedy przywódcy Hamasu mówią o "wszystkich środkach do wyzwolenia Palestyny", mówią o różnych rodzajach terroryzmu, włącznie z zamachami smaobójczymi i atakami rakietowymi na Izrael. To są jedyne środki, jakie zdaniem Hamasu są sposobem do osiągnięcia ich celu.
Hamas nie uznaje – i nigdy nie uzna – prawa Izraela do istnienia. Jak ten ruch oznajmia w swojej Karcie: "ziemia Palestyny jest i będzie islamskim Wakf przez pokolenia i do Dnia Zmartwychwstania. Nikt nie może zrzec się jej ani jej części lub opuścić ją lub jej część"
Wypowiedzi kilku przywódców Hamasu w tym tygodniu mają identyczną treść z tą Kartą. Te wypowiedzi – 32 lata po założeniu Hamasu – potwierdzają ekstremistyczną i niebezpieczną ideologię tego ruchu.
Osama al-Mazini, inny wysoki rangą funkcjonariusz Hamasu w Strefie Gazy powiedział w przemówieniu na obchodach rocznicy ruchu: "Hamas obiecuje, że pozostanie wierny swojemu ludowi i zasadom. Tchórzliwy wróg rozumie jedynie mowę siły i prochu strzelniczego". Wezwał także Żydów do "opuszczenia Palestyny" i ostrzegł, że Hamas przygotował tysiące zamachowców-samobójców, by wygnać Żydów "z całej Palestyny".
Musa Abu Marzouk, zastępca przewodniczącego "biura politycznego" Hamasu skorzystał z tej okazji, by określić Izrael jako "syjonistyczny projekt". Podkreślił potrzebę, by Palestyńczycy "opierali się syjonistycznemu projektowi w celu wyzwolenia Palestyny, całej Palestyny".
Wypowiedź Abu Marzouka pokazuje, że on także pozostaje w pełni oddany Karcie Hamasu. "Hamas jest jednym z ogniw w łańcuchu Dżihadu do skonfrontowania syjonistycznej inwazji" – stwierdza Karta.
"Syjonistyczne organizacje mają olbrzymie zasoby materialne, które umożliwiają im wypełnianie ich misji w społeczeństwach z wizją zrealizowania syjonistycznych celów i siania pojęć, które mogą być użyteczne dla wroga. Te organizacje działają [w sytuacji], w której islam jest nieobecny i wyalienowany od ludzi. Dlatego muzułmanie muszą wypełnić obowiązek przeciwstawienia się planom i spiskom tych sabotażystów. Kiedy islam odzyska posiadanie [środków] do kierowania życiem [muzułmanów], zetrze [z powierzchni ziemi] te syjonistyczne organizacje], które są wrogiem ludzkości i islamu".
Obchody rocznicy Hamasu w Strefie Gazy, które przyciągnęły dziesiątki tysięcy Palestyńczyków, zbiegły się w czasie ze staraniami Egiptu, Kataru i ONZ, by osiągnąć długotrwałe zawieszenie broni między Hamasem a Izraelem. Rocznica przypadła także na czas wzmożonych rozmów o gotowości Hamasu do uczestniczenia w nowych wyborach na prezydenta Autonomii Palestyńskiej i do palestyńskiego parlamentu – Palestyńskiej Rady Legislacyjnej.
Olbrzymie tłumy na prohamasowskich wiecach w Strefie Gazy wskazują na popularność tego ruchu wśród Palestyńczyków. Dziesiątki tysięcy Palestyńczyków, którzy uczestniczyli w wiecach Hamasu, podzielali, jak się wydaje, zasady i ideologię tego ruchu, szczególnie w sprawie anihilacji Izraela. Widocznie oni także wierzą, że siła i terroryzm są jedynym językiem, jaki rozumie Izrael. Oni także skandowali o "wyzwoleniu całej Palestyny" od rzeki Jordan do Morza Śródziemnego.
Teraz, kiedy Hamas znowu – wyraźnie – przypomniał światu, że nie zmienił się i kontynuuje dążenie do zniszczenia Izraela, pytanie brzmi: dlaczego przywódcy świata, rządy i organizacje nadal akceptują przywódców tego ruchu?
W tygodniu, w którym Hamas powtarza wezwanie do likwidacji Izraela, dlaczego turecki prezydent, Recep Tayyip Erdogan, spotyka się z przywódca Hamasu, Ismailem Haniją? Co takie spotkanie mówi Palestyńczykom i reszcie Arabów i muzułmanów?
Jest tylko jedno przesłanie z niedawnego spotkania między tureckim prezydentem Recepem Tayyip Erdoganem a przywódcą Hamasu, Ismailem Haniją: Turcja popiera Hamas, jego agendę i ideologię. Nic dziwnego, że przywódca Hamasu chwalił Turcję za "poparcie dla ludu palestyńskiego" po spotkaniu z Erdoganem.
Kolejne pytanie, jakie należałoby zadać w świetle niedawnych, jadowicie antyizraelskich wypowiedzi przywódców Hamasu w ostatnich dniach: dlaczego Organizacja Narodów Zjednoczonych próbuje przekonać Hamas, by uczestniczył w palestyńskich prezydenckich i parlamentarnych wyborach?
Jaki jest sens naciskania na Hamas, by uczestniczył w planowanym głosowaniu, jak długo Hamas pozostaje oddany zniszczeniu Izraela? Zamiast wzywania Hamasu do uczestnictwa w wyborach, byłoby lepiej, gdyby ONZ wzywała Hamas do porzucenia ich Karty i zaprzestania starań o zniszczenie Izraela.
Społeczność międzynarodowa już spowodowała szkody przez pozwolenie Hamasowi na udział z wyborach w styczniu 2006 roku bez stawiania żadnych warunków. Katastrofalnie, społeczność międzynarodowa nie zażądała od Hamasu, by wyrzekł się przemocy, uznał prawo Izraela do istnienia i zobowiązał się do przestrzegania wszystkich porozumień podpisanych między Palestyńczykami a Izraelem jako warunek wstępny uczestnictwa w wyborach, których wynikiem było zwycięstwo Hamasu.
Przywódcy Hamasu są jednak sprytni. Przystąpili do wyborów pod parasolem tych samych Umów z Oslo, których uznania odmawiali. Innymi słowy, Hamas użył Umów z Oslo, które odrzuca, jako środka do przejęcia kontroli nad palestyńskim parlamentem.
Teraz wygląda na to, że społeczność międzynarodowa powtórzy katastrofalną decyzję pozwolenia Hamasowi na uczestnictwo w wyborach. Doprawdy nie jest trudno zrozumieć prawdziwą politykę i stanowisko Hamasu – Hamas przedstawia je kryształowo jasno.
Wystarczy, by Erdogan i reszta świata posłuchali wypowiedzi przywódców Hamasu z ostatnich kilku dni, by zrozumieli, że ten ruch jest bardziej zdecydowany niż kiedykolwiek na osiągnięcie celu wygnania Żydów "z całej Palestyny" i zastąpienia Izraela państwem islamskim. Słuchali tego przez 32 lata. Czego nie rozumieją w słowach "ŚMIERĆ IZRAELOWI"?
Ci, którzy akceptują i przyjmują Hamas, legitymizują jego ekstremistyczną ideologię i ułatwiają mu misję zniszczenia Izraela, tym razem przez dojście do władzy poprzez wybory popierane przez ONZ, UE i inne strony międzynarodowe. Można się zastanawiać nad ich prawdziwymi motywami.
---
---