Griffin Judd
Tłumaczenie: Małgorzata Koraszewska
---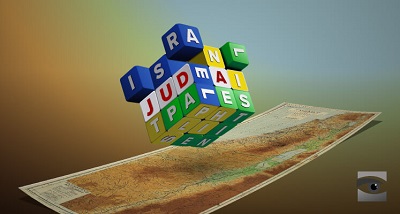 Ziemia między rzeką Jordan a Morzem Śródziemnomorskim była zamieszkała od tysiącleci, tyle przynajmniej jest bezdyskusyjne. Jerycho, Jerozolima, Dżenin i Jaffa należą do najstarszych miast na świecie i były nieustannie zamieszkałe od 2000 p.n.e.
Wszystko inne jednak o tej ziemi jest kontrowersyjne, aż do samej nazwy. Palestyńscy historycy, tacy jak Nur Masalha, oraz członkowie palestyńskiego kierownictwa aż do Mahmouda Abbasa twierdzili, że Palestyńczycy są potomkami starożytnych ludów, takich jak Kananejczycy i Filistyni, i że nazwa "Palestyna" wypływa z tego związku.
Pamiętając, że nacjonalizm, tak jak go rozumiemy, jest XIX wiecznym zjawiskiem, warto zapytać, czy twierdzenia Palestyńczyków są prawdą.
Czy nazwa Palestyna pochodzi od narodu, czy też naród przyjął nazwę od miejsca?
Pochodzenie nazwy "Palestyna"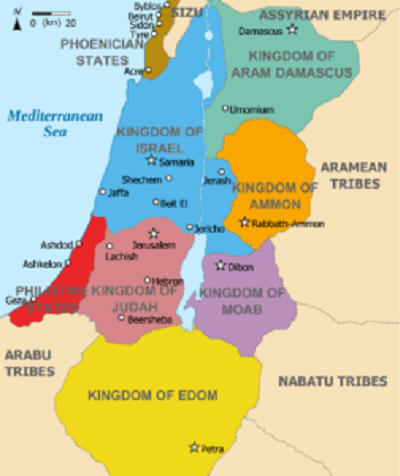 Starożytne królestwa Izrael, Judea i Filistia
Są dwa główne źródła informacji o regionie, znanym dzisiaj jako Izrael, Palestyna, Lewant i Kanaan: archeologia i Biblia. Choć są między nimi różnice, archeolodzy i historycy zgadzają się, że ogólna opowieść biblijna jest poprawna: Kananejczycy rządzili Lewantem zanim zostali wyparci przez starożytnych Hebrajczyków, którzy następnie walczyli z Filistynami aż najeźdźcze imperia pokonały oba plemiona.
Nazwa "Palestyna" pojawiła się po raz pierwszy w historiach Herodota w V wieku p.n.e. na określenie nadbrzeżnego obszaru Lewantu, gdzie żyli Filistyni, zanim Rzymianie zastosowali tę nazwę do całego terytorium po zdławieniu buntu Bar Kochby w 132 roku n.e. Następnie słowo Palestyna odnosiło się do całej tej ziemi i kolejni władcy tak ją określali.
Pochodzenie palestyńskiego narodu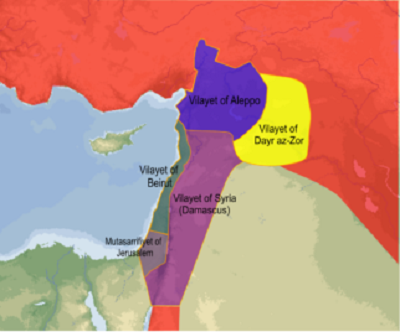 Prowincja osmańskiej Syrii
Ważne jest pamiętanie, że chociaż terytorium zostało nazwane Palestyną w 134 roku n.e., islam miał przybyć do tego regionu dopiero po kolejnych 500 latach.
W 634 roku przywódcy pierwszego muzułmańskiego kalifatu rozpoczęli serię inwazji, których wynikiem był podbój wschodnich prowincji rzymskich Lewantu, włącznie z obszarem znanym jako Palestyna. Po podboju nastąpiło masowe nawracanie ludności na islam i równoczesna migracja arabskich ludów z ich rodzinnego półwyspu do nowo podbitych terytoriów, gdzie szybko zintegrowali się w społeczeństwach i mieszali z tubylcami, tworząc wyraźne grupy genetyczne, blisko odpowiadające arabskiej kulturze.
Po islamskim podboju Lewantem rządziła cała seria imperiów i kalifatów, najpierw Kalifaty Raszidun, Umajjadów, Abbasydów i Fatimidów, potem było Królestwo Jerozolimy (założone przez Krzyżowców), które zastąpiły sułtanaty Ajjubidów i Mameluków, zanim wreszcie zdobyli ten obszar Osmanie, którzy rządzili Lewantem od 1516 do 1917 roku. Mimo że było to imperium zdominowane przez Turków, Osmanom znakomicie udało się zintegrować Arabów. Dopiero w 1908 roku Arabowie zaczęli domagać się więcej praw i niezależności poprzez polityczny arabizm.
Wielka Arabska Rewolta z 1916 roku, wspierana przez Imperium Brytyjskie, zakończyła panowanie Osmanów na tym terenie. Rewolta była arabską odpowiedzią na turecki nacjonalizm i produktem arabskiego nacjonalizmu.
Nie wszyscy Arabowie jednak wierzyli w ten ruch i nie było powszechnego powstania na palestyńskim terytorium. Mimo tego po zakończeniu I wojny światowej, region Palestyny został włączony, kiedy ogłoszono Arabskie Królestwa Syrii, wraz z dzisiejszą Syrią, Libanem i częściami Jordanii. Dopiero kiedy to królestwo rozpadło się w 1920 roku zaczął się wyłaniać  jakiś rodzaj specyficznej, palestyńskiej tożsamości narodowej w reakcji na syjonizm i rosnącą imigrację żydowską na tereny nazywane teraz Brytyjskim Mandatem Palestyny.
Pochodzenie nazwy "Judea"
Dynastia Hasmoneuszy (Machabeuszy)
Nazwa Judea pochodzi od Królestwa Judy, jednego z państw-sukcesorów biblijnej zjednoczonej monarchii, która rządziła starożytnym Izraelem. Założone w 934 roku p.n.e., królestwo Judy rządziło ziemią od Jerozolimy do Beer Szewy aż do podboju przez Babilon w 586 roku p.n.e.
Chociaż królestwo zostało zniszczone, nazwa przetrwała w narodzie żydowskim i kiedy niepodległe królestwo powstało raz jeszcze w 140 roku p.n.e., nazwano je królestwem Judy. Ta nazwa przetrwała nawet rzymski podbój i stworzona z większej części byłego królestwa prowincja rzymska nosiła nazwę Judea (zlatynizowana jako Iudaea).
Ludność Judei nie chciała jednak rzymskiej władzy i żydowscy mieszkańcy buntowali się wiele razy, co zmusiło Rzym do rozlokowania tam silnych jednostek legionów. Po trzecim i ostatnim z tych buntów (wspomnianym wcześniej buncie Bar Kochby), Rzymianie zmienili nazwę samej prowincji jako część starań o zdławienie żydowskiego nacjonalizmu, i od tego czasu przylgnęła nazwa Palestyna.
Pochodzenie nazwy "Izrael"
Izrael jest jeszcze starszą nazwą niż  Judea i znajduje się w Bibli (Księga Rodzaju 32:28):
Powiedział: "Odtąd nie będziesz się zwał Jakub, lecz Izrael, bo walczyłeś z Bogiem i z ludźmi, i zwyciężyłeś". 
Nazwa Izrael od tego czasu oznacza plemiona i królestwo Izraela, które założyli potomkowie Jakuba i stała się synonimem Judy, zanim została przez nią z czasem zastąpiona.
Pierwszy raz szeroko używano tej nazwy w erze nowożytnej podczas Brytyjskiego Mandatu: choć oficjalną nazwą po angielsku było Mandate for Palestine, w oficjalnych dokumentach napisanych po hebrajsku nazwa zawierała inicjały dla Eretz Yisrael.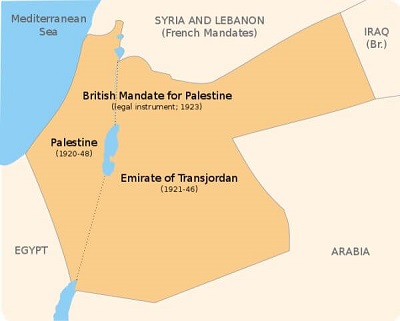 Brytyjska Palestyna Mandatowa
To w połączeniu z faktem, że nazwa Juda była kojarzona z ziemiami, które w większości nie zostały włączone według planu podziału z 1947 roku, dało nazwę nowego państwa żydowskiego: Medinat Yisrael, Państwo Izraela.
Dlaczego ma to znaczenie?
W innej sytuacji byłaby to jedynie debata o semantykę: Lewant, Kanaan, Judea, Filistia, Palestyna, Izrael, byłyby to tylko różne nazwy tego samego miejsca.
Niestety, kluczową cechą palestyńskiego nacjonalizmu jest wymazanie żydowskiej historii, a więc to, jak ta ziemia nazywa się, ma znaczenie. Autonomia Palestyńska systematycznie uznaje archeologiczne znaleziska w Jerozolimie za fałszywe lub nieprawne (patrz tutaj, tutaj i tutaj). Często słyszy się twierdzenie, że "Jezus był Palestyńczykiem", ale to wprowadza w błąd; Jezus najprawdopodobniej urodził się w Betlejem, które dzisiaj jest na Zachodnim Brzegu, ale był Żydem i w czasie jego narodzin Betlejem było częścią Tetrarchii Heroda, żydowskiego państwa-klienta Rzymu. Ponadto, twierdzenie, że Jezus był Palestyńczykiem (lub Izraelczykiem, lub Arabem, lub człowiekiem bliskowschodnim itd.) jest z natury błędne, ponieważ te nazwy nie istniały w owym czasie. Jezus z pewnością nie identyfikowałby się jako Palestyńczyk, ponieważ ta nazwa istniała tylko jako nazwa miejsca, a nawet jako taka nieczęsto była używana.
To wszystko nie znaczy, że palestyńscy Arabowie nie mają narodowej historii, bo z pewnością mają. Jednak narracja palestyńska o pochodzeniu od Kanaanu przez całą historię do naszych dni jest, w najlepszym wypadku nieszczera, a w najgorszym, zwyczajnie całkowicie fałszywa, ponieważ sugeruje, że idea Palestyny jako narodu istniała tak samo długo, a to jest oczywistym fałszem.
Podsumowując, nazwa Palestyna początkowo nie miała nic wspólnego z narodem palestyńskim, ale zamiast tego była najpierw związana z Filistynami, a potem z obszarem, na którym żyli, podczas gdy naród palestyński jest mieszanką ludów rdzennych i arabskiej populacji, którzy wzięli sobie tę nazwę od Brytyjskiego Mandatu.
W odróżnieniu od tego naród żydowski jest historycznie związany z nazwami Judea/Juda i Izrael. Choć nie unieważnia to palestyńskiego roszczenia do narodowości, ważne jest wiedzieć, co jest prawdą, a co nią nie jest.
---
---