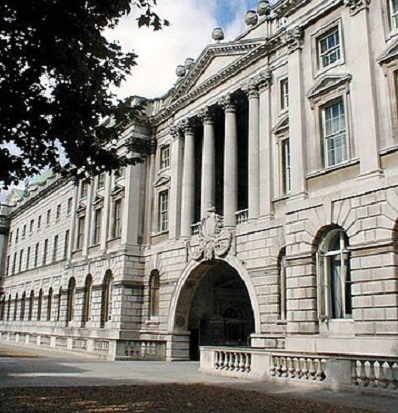 Kilka brytyjskich uniwersytetów jest obecnie praktycznie Judenfrei: wolne od Żydów. Jest to mrożące krew w żyłach oskarżenie nie tylko brytyjskiego środowiska akademickiego, ale społeczeństwa liberalnej demokracji, które toleruje, często z powodu ignorancji lub samozadowolenia, falę dyskryminacji Żydów, jaka przetacza się w ostatnich dziesięcioleciach przez uniwersytety. Na zdjęciu: King's College w Londynie, miejsce protestów i przemocy przeciwko wizytującemu, izraelskiemu wykładowcy w 2016. (Zdjęcie: Wikipedia)
---
Richard Kemp
Tłumaczenie: Małgorzata Koraszewska
---
"Cel jest osiągnięty! Nie ma więcej Żydów na niemieckich uniwersytetach" – triumfalnie oznajmiła czołowa, nazistowska gazeta studencka, "Die Bewegung", w 1938 roku.
Oczywiście, nic takiego nie mogłoby zdarzyć się znowu. Tyle tylko, że coś takiego dzieje się znowu – teraz, w Wielkiej Brytanii. Według raportu opublikowanego w tym tygodniu przez Davida Colliera, brytyjskiego badacza, kilka brytyjskich uniwersytetów jest obecnie praktycznie Judenfrei: wolne od Żydów.
Jest to mrożące krew w żyłach oskarżenie nie tylko brytyjskiego środowiska akademickiego, ale społeczeństwa liberalnej demokracji, które toleruje, często z powodu ignorancji lub samozadowolenia, falę dyskryminacji Żydów, jaka przetacza się w ostatnich dziesięcioleciach przez uniwersytety. Z tych przybytków nauki szerzy się antysemityzm i wzmacnia to, co już jest solidnym ruchem, który zagraża Żydom w różnych częściach społeczeństwa i doprowadziło wielu z nich do odejścia. To dzieje się nie tylko w Wielkiej Brytanii. Collier określa środowisko akademickie jako "epicentrum globalnego antysemityzmu".
Ta nienawiść do Żydów okrywa się szatą antysyjonizmu, doktryny, która twierdzi, że żydowskie państwo, jedyne państwo ze wszystkich na świecie, nie ma prawa istnieć. Stara się rozpalić nienawiść do Izraela przez skupianie się na trzech podstawowych kłamstwach: oskarżeniu o apartheid, czystkę etniczną i osadniczy kolonializm.
Tak jak szczucie wypędziło żydowskich studentów i profesorów z niemieckich uniwersytetów, i liceów, a ich dostęp do nich został z czasem zakazany edyktem państwa niemieckiego, w dzisiejszej Wielkiej Brytanii antysyjonistyczni pracownicy akademiccy i studenci, na których wpłynęli, stworzyli środowisko alienujące wielu Żydów, jako pretekstu używając kwestii poparcia dla państwa żydowskiego. Oczywiście, nie każdy żydowski student popiera Izrael, a bardzo niewielu robi to bezkrytycznie. Niemniej Collier pisze:
"Żydzi dzisiaj na kampusach mogą być tolerowani, osłaniani lub prześladowani. W żadnym momencie nie są traktowani jak równi. Najlepsze, na co mogą mieć nadzieję, jest osłona i tolerancja we wrogim środowisku. Obiegową mądrością na kampusie jest to, że ich przekonanie o swojej żydowskiej tożsamości jest fundamentalnie złe".
W szczególności Żydzi są groteskowo napiętnowani jako członkowie rasy, dla której nie ma miejsca w Izraelu, gdzie są "białymi" kolonialnymi okupantami i ciemiężycielami rdzennego ludu.
Collier pyta: "Dlaczego student, który nie chce ukrywać swojego żydowskiego pochodzenia   miałby chcieć uczęszczać na uniwersytet, gdzie będzie szkalowany przez innych studentów i prześladowany przez wykładowców?" Rzeczywistość dzisiaj w Wielkiej Brytanii jest taka, że żydowscy studenci wybierają uniwersytet nie na podstawie zawartości kursów lub jakości nauczania, ale ze względu na rozmiary antysemityzmu, z jakim się spotkają. Baronessa Ruth Deech, była Independent Adjudicator for Higher Education [organ rozpatrujący skargi studentów. przyp. tłum.] Wielkiej Brytanii i zasłużona nauczycielka akademicka oraz była rektorka jednego z kolegiów w Oxfordzie, pisała już wcześniej, że "wśród żydowskich studentów narasta przekonanie, że należy unikać pewnych uniwersytetów".
Można spotkać wielu żydowskich studentów w Wielkiej Brytanii i wielu innych krajach europejskich, którzy to poświadczają, którzy powiedzą ci o stosunkowo bezpiecznych uniwersytetach i o innych, których lepiej unikać.
Często występuję na uniwersytetach mówiąc na rozmaite tematy. Tylko kiedy występuję na zaproszenie żydowskich lub proizraelskich grup spotykam się z wrogością zamiast z otwartą dyskusją. Dosłownie w każdym przypadku mam gwarantowany jakiś rodzaj fizycznego protestu, jak również obelg w mediach społecznościowych – nie po to, by wyrazić inne zdanie, ale żeby zamknąć mi usta. To działo się w Wielkiej Brytanii, USA, Afryce Południowej i Australii, gdzie jeden z wykładów był tak poważnie zakłócony, że doprowadził do dochodzenia przez władze uniwersytetu z nieczęsto stosowaną akcją dyscyplinarną przeciwko sprawcom, wśród których byli nauczyciele akademiccy.
Badania Colliera pokazują, że:
"Jeśli [żydowscy studenci] są obiektem znęcania się nad nimi, jest to znacznie mniej poważne wykroczenie niż [takie samo zachowanie] przeciwko komuś ze społeczności muzułmańskiej, BAME lub LGBTQ. Jeśli odpowiedzialny za nękanie jest nauczyciel akademicki (patrz Bristol, Leeds, Warwick) chroniony będzie nauczyciel, a skarżący się student będzie prześladowany – nawet jeśli student może dowieść nękania".
W klasycznym wzorze radykalizacji na uniwersytetach istnieje sieć nauczycieli akademickich, którzy zatruwają studentów uprzedzeniami i nienawiścią. Najskuteczniejsze w utrwalaniu szerzenia się antysemityzmu jest indoktrynowanie studentów przez niektórych z nich w ramach nadzoru nad ich doktoratami, co prowadzi do zagorzałego aktywizmu i późniejszej poziomej i pionowej transmisji, często z uniwersytetu na uniwersytet i z kraju do kraju.
Ich wpływ nie ogranicza się do uniwersytetów. Niektórzy piszą wypełnione oszczerstwami książki, publikują wypaczone artykuły w krajowej prasie i otrzymują zaproszenia do szerzenia swoich uprzedzeń na falach eteru. NGO, rządowe organizacje i międzynarodowe korporacje przyjmują te osoby na konsultantów i partnerów. Często odgrywają oni wiodącą rolę w ruchach takich jak Bojkot, Dywestycje i Sankcje (BDS) i grupach aktywistów, takich jak tak zwana Palestine Solidarity Campaign, podżegając do nienawiści do Żydów szeroko i daleko, czasami niszcząc własność i zastraszając Żydów na ulicach.
Najbardziej zagorzali obrońcy Partii Pracy Jeremy'ego Corbyna pochodzili ze świata akademickiego. Profesorzy uniwersyteccy wielokrotnie oskarżali tych, którzy sprzeciwiali się Corbynowi, o oczernianie jego i jego popleczników politycznie motywowanymi kłamstwami. Niefortunnie dla nich, Partia Pracy została pierwszą polityczną partią głównego nurtu, w sprawie której Equality and Human Rights Commission przeprowadziła dochodzenie. EHRC uznała Labour za winną tego właśnie, czemu zaprzeczały armie nauczycieli akademickich – nielegalnego nękania Żydów.
Wielkiej Brytanii nie można porównywać do Niemiec z lat 1930., ale podobieństwa istnieją w pewnych obszarach działania i metodach nazistowskich zabijaków na niemieckich uniwersytetach tamtej ery. Zanim Żydzi zostali definitywnie wykluczeni, członkowie Narodowo-Socjalistycznej Ligi Studentów często przerywali wykłady, prowokowali starcia i zastraszali żydowskich studentów. Wszystko to można zobaczyć dzisiaj na brytyjskich kampusach uniwersyteckich.  
Reagując na pełne przemocy protesty studentów z King's College London przeciwko wizytującemu wykładowcy izraelskiemu, Lord Eric Pickles, Specjalny Wysłannik ds. Post-Holocaustu, powiedział w parlamencie: "Jeśli chcemy wiedzieć, kim są nowi faszyści, wystarczy jak spojrzymy na tych, którzy dokonali tego ataku". Jak powiedział mi Robert Festenstein z brytyjskiej organizacji Jewish Human Rights Watch, który od lat zwalcza antysemityzm na brytyjskich uniwersytetach: "Żydzi są czyszczeni etnicznie z pewnych uniwersytetów w Wielkiej Brytanii".
Celem dzisiejszych akademickich zabijaków nie tyle jest wygnanie Żydów, ile zamknięcie im ust – zdławienie każdego sprzeciwu wobec ich radykalnej, antysyjonistycznej agendy nakierowanej na delegitymizację żydowskiego państwa. Często udaje im się to i zmuszają Żydów do odejścia, do milczenia o faktach w sprawie Izraela lub do ukrywania ich żydowskiej tożsamości. Jest całkiem zrozumiałe, że wielu młodych Żydów, którzy po prostu chcą kontynuować studia i swoje życie, unika angażowania się w potencjalnie niszczącą konfrontację polityczną i ryzykowania oszkalowania lub gorzej, co mogłoby mieć negatywne skutki dla ich wyników na egzaminach i perspektywie uzyskania zatrudnienia.
Dlaczego jakikolwiek Żyd, tak samo jak każdy członek jakiejkolwiek rasy lub wyznania, miałby być prześladowany za to, kim jest? Dlaczego jakikolwiek dumny Żyd, który chce wyrazić poparcie dla żydowskiego państwa, miałby bać się zrobienia tego? Izrael jest jednym z najważniejszych sojuszników Wielkiej Brytanii, dostarczając nam ratujące życie dane wywiadowcze i technologie, i jest coraz mocniejszym partnerem handlowym. Nade wszystko, wbrew wypaczonym pojęciom żydożerców, Izrael nie jest winien fałszywych oskarżeń, jakie żydożercy rzucają, by go oszkalować. W każdym razie, w cywilizowanym społeczeństwie, musi być możliwe przedstawianie własnych argumentów bez strachu.
W 2016 roku brytyjski rząd przyjął roboczą definicję antysemityzmu, sformułowaną przez International Holocaust Remembrance Alliance's (IHRA), co dostarcza narzędzi umożliwiającego organom publicznym na działanie przeciwko takiej dyskryminacji, jaka szaleje na naszych uniwersytetach. Rząd stara się przekonać uniwersytety, by przyjęły definicję IHRA, włącznie z ostrzeżeniem, że mogą odebrać finansowanie. Często ostro sprzeciwia się temu grono nauczycielskie, które chce zachować możliwość zastraszania żydowskich studentów ze swoich katedr. Jesienią zeszłego roku zaledwie 29 z 133 instytucji nauczania wyższego przyjęło tę definicję, chociaż podobno od tego czasu zrobiło to także kilka kolejnych. Na tych, którzy ją odrzucają, należałoby wywrzeć więcej nacisków, jak również prowadzić skrupulatne monitorowanie, by zapewnić trzymanie się tej definicji na kampusach, a jeśli będzie to potrzebne, zapisać ją w prawie.
Konieczne jest naświetlenie sytuacji żydowskich studentów – mało który Brytyjczyk ma jakiekolwiek pojęcie o tym, co dziele się w naszych tak zwanych przybytkach nauki. Dlatego praca Davida Colliera jest tak ważna. Jego raport jest punktem wyjściowym do naszkicowania mapy antysemickich sieci na wszystkich brytyjskich uniwersytetach, żeby zrozumieć gdzie i jak działa ta wrogość i położyć jej kres.
---

Richard Justin Kemp – Były dowódca sił brytyjskich w Afganistanie, pracował w Joint Intelligence Committee oraz COBR. Po przejściu na emeryturę napisał książkę o wojnie w Afganistanie Attack State Red, która stała się bestsellerem.
---
---