---
Andrzej Koraszewski
---
Ajathollah Ruhollah Musawi Chomejni czlowiek ktory wydal rozkaz zabicia Salmana Rushdiego. (zdjecie: Wikipedia)
Ci których to obchodzi, sprawdzają wiele razy dziennie komunikaty o stanie zdrowia, czytają komentarze, nieliczni wyciągają z półki książki, żeby chociaż na chwilę zanurzyć się w jego prozie. Życie pisarza jest nadal w niebezpieczeństwie, jeśli przeżyje, nie wiemy jak rozległe będą szkody. Nie wszystkich to obchodzi. Ostatecznie mało jest spraw, które obchodzą wszystkich. Wojna, kiedy przychodzi zbyt blisko, zaraza, huragan, trzęsienie ziemi. Zamach na pisarza obchodzi jego czytelników, ludzi, którzy zastanawiają się nad związkiem między terrorystycznym atakiem w Nowym Jorku a naszym życiem w odległym o tysiące kilometrów miejscu.
Salman Rushdie we wszystkich swoich książkach pisze o religii, o związkach między jednostką i historią, o meandrach naszego rozumienia świata i o dręczących nas wątpliwościach. Czas i miejsce naszego urodzenia plasuje nas w kontekście, który możemy biernie akceptować lub próbować się z niego wyzwolić. Religia jest pępowiną łączącą nas z macierzą. Przecięcie tej pępowiny, wątpliwości, wywołują gniew i niepokój strażników owej macierzy, którzy w świecie jego narodzin codziennie wzywają do mordów. Mordy zwykłych ludzi w Pakistanie, Afganistanie, Indiach, czy Iranie, podobnie jak ludobójstwo afrykańskich chrześcijan codziennie mordowanych przez muzułmanów w Afryce, mało kogo poruszają, niezwykle rzadko zasługują na notkę w gazecie. Próba zamordowania pisarza trafiła na pierwsze strony gazet, chociaż niewielu zastanawia się, jak bardzo ten właśnie akt terroru jest znamieniem naszych czasów.
Salman Rushdie urodził się w Bombaju, zaledwie kilka tygodni przed ogłoszeniem niepodległości Indii, po którym przyszedł krwawy podział na Indie i Pakistan. Urodził się w zamożnej rodzinie liberalnych muzułmanów, której związki z wiarą były osłabione od kilku pokoleń. Sam Rushdie wychowywał się od trzynastego roku życia w Wielkiej Brytanii, więc jego spojrzenie na religię i kulturę przodków jest z perspektywy tożsamości wielokulturowej, łączącej dziedzictwo Awerroesa z sokratesowym dziedzictwem Europy i odrazą do niszczącego wszystko barbarzyństwa.
Zamach na Salmana Rushdiego jest zamachem na humanizm, jest aktem, który ma odstraszyć od wątpliwości, przypomnieniem, że za próbę odcięcia pępowiny karą jest śmierć. W 33 lata po ogłoszeniu nagrody w wysokości trzech milionów dolarów za zabicie pisarza dwudziestoczteroletni muzułmanin z USA, otwarcie wielbiący Chomeiniego, Chameneiego i Sulejmaniego wykonał wydane na długo przed jego urodzinami polecenie. Jak informuje amerykańska policja, "motywy jego działania są nieznane", chociaż możemy się domyślać, że wyżej ceni nagrodę od Allaha niż mało prawdopodobną szansę odebrania nagrody finansowej z rąk jego namiestnika.
Irańscy duchowni nigdy nie anulowali fatwy z 1989 roku. Media nieraz przypominały jej brzmienie, żeby nikt nie zapomniał. Ajatollah Chomeini dekretował:
Jesteśmy od Boga i do Boga powrócimy. Informuję wszystkich odważnych muzułmanów na świecie, że autor Szatańskich wersetów, tekstu napisanego, zredagowanego i opublikowanego przeciwko islamowi, Prorokowi Islamu i Koranowi, wraz ze wszystkimi redaktorami i wydawcami świadomymi jego treści, są skazani na śmierć. Wzywam wszystkich dzielnych muzułmanów, gdziekolwiek są na świecie, aby ich bezzwłocznie zabili, aby nikt nie odważył się odtąd obrażać świętych wierzeń muzułmanów. A kto zostanie zabity w tej sprawie, będzie męczennikiem, z woli Boga. Tymczasem, jeśli ktoś ma dostęp do autora książki, ale nie jest w stanie przeprowadzić egzekucji, powinien poinformować ludzi, aby [Rushdie] został ukarany za swoje czyny.
Następca założyciela Islamskiej Republiki Iranu Ali Chamenei, w lutym 2019 roku w kilku językach przypominał:
---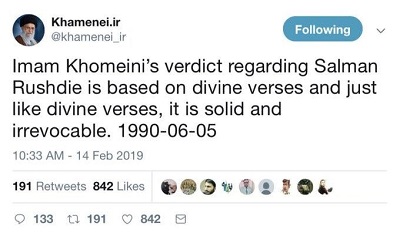 [Werdykt imama Chomeiniego dotyczący Salmana Rushdiego jest oparty na świętych wersetach i podobnie jak święte wersety, jest trwały i nieodwołalny.]
---
Czy książki Rushdiego obrażają? Zdania są podzielone, amerykański prezydent Jimmy Carter nawet był przeciwnikiem zabijania pisarzy, ale ponad 30 lat temu nie ukrywał, że zgadza się z ajatollahem, że myślenie jest zbrodnią przeciw Bogu.
Autor Szatańskich wersetów wiele razy mówił rzeczy, które mogą obrażać nazbyt mocno wierzących i to  nie tylko muzułmanów.
Od samego początku ludzie posługiwali się Bogiem, żeby usprawiedliwić to, co usprawiedliwione być nie może.
To zdanie obraża irańskiego ajatollaha, szejka Al Azharu, polskiego biskupa i moskiewskiego patriarchę. Mówienie oczywistej prawdy jest bluźnierstwem, a karą za bluźnierstwo jest śmierć.
Dziesięciolecia polowania na pisarza zostały uwieńczone sukcesem nie tylko dlatego, że on sam nie zamierzał zamilknąć ani się ukorzyć, również dzięki osobliwej współpracy liberalnych demokracji z nieustannie domagającymi się śmierci dla bluźnierców świątobliwymi mężami. Religijnie motywowany terror ze strony muzułmanów jest chroniony, niezależnie od liczby muzułmańskich, chrześcijańskich, hinduskich, czy ateistycznych ofiar.
Obecny profesor amerykańskiej uczelni a wówczas ambasador Islamskiej Republiki Iranu przy ONZ zapytany w 1989 roku o fatwę i wyznaczenia nagrody za głowę Rushdiego odpowiedział: "Myślę, że wszystkie islamskie kraje zgadzają się z Iranem, że każde bluźniercze wystąpienie przeciw świętym islamskim postaciom musi być potępione". Żeby było zabawniej ówczesny ambasador, a dzisiejszy amerykański profesor Mohammad Jafar Mahallati powołał się wtedy na wolność słowa. Od tego czasu, były dziesiątki tysięcy ofiar śmiertelnych, ludzi zabijanych za rzekome bluźnierstwo w majestacie islamskiego prawa lub ginących z rąk szczutego przez duchownych motłochu.
Zaledwie w dwa dni po zamachu na Salmana Rushdiego muzułmanin w Lyonie obciął głowę swojemu ojcu i paradował z nią po ulicy. Policja nie zna jeszcze motywów jego działania, chociaż okrzyk "Allahu akbar" może wskazywać na motyw wyboru sposobu rozstrzygnięcia konfliktu z ojcem.
Autorka "Harry'ego Pottera" otrzymała po zamachu na Rushdiego groźbę "Ty będziesz następna". Można w tym miejscu zacząć filozofować, że przecież, o ile książki Rushdiego traktują o wyznawcach islamu i ich wątpliwościach, o tyle J.K. Rowling nie interesowała się Mahometem i jego wyznawcami. Prawdopodobnie propagowanie wrażliwości i krytycznego myślenia też jest bluźnierstwem przeciw Prorokowi.
Bohater poprzedzającej Szatańskie wersety książki pod tytułem Dzieci północy urodził się w godzinie, w której ogłoszono niepodległość Indii. Wątpliwości religijne jego dziadka zaczęły się w 1915 roku od nazbyt energicznych pokłonów i rozbicia nosa o ziemię.
Czy krwawy zamach na pisarza obudzi nasze wątpliwości w sprawie tolerancji dla nietolerancji?
Zaledwie kilka dni temu prezydent Biden przekazał na Twitterze swoje zaniepokojenie z powodu zamordowania czterech muzułmanów w Albuquerque. Pisał, że jego modlitwy są z rodzinami ofiar, a jego administracja stoi zdecydowanie po stronie społeczności muzułmańskiej. "Na te nienawistne ataki nie ma miejsca w Ameryce".
Kiedy okazało się, że policja aresztowała Muhammada Syeda, muzułmanina wyznania sunnickiego, stawiając mu zarzut zamordowania dwóch muzułmanów wyznania szyickiego i stwierdzając w komunikacie, że są poważne podstawy, że będzie również oskarżony o dwa inne mordy muzułmanów wyznania szyickiego, Biały Dom zamilkł. Faktycznie były to morderstwa z nienawiści na tle religijnym, do których islam różnych odmian zgodnie z nakazem Koranu nieustannie podżega. Ziemia znów uderzyła nas w nos, na tym polu jednak przebudzenia nie widać.
---
Andrzej Koraszewski – Publicysta i pisarz ekonomiczno-społeczny. Ur. 26 marca 1940 w Szymbarku, były dziennikarz BBC, wiceszef polskiej sekcji BBC, i publicysta paryskiej "Kultury". Więcej w Wikipedii.
---
---