Jan Ołdakowski
---
Gdy oglądam dziś telewizję, muszę się chwilę zastanowić, co widzę – czy to nasz film "Miasto ruin" o zburzonej Warszawie z 1945 r., czy jednak przelot drona nad Mariupolem, bo te kadry wyglądają łudząco podobnie.Rozmowa z Janem Ołdakowskim, dyrektorem Muzeum Powstania Warszawskiego.
.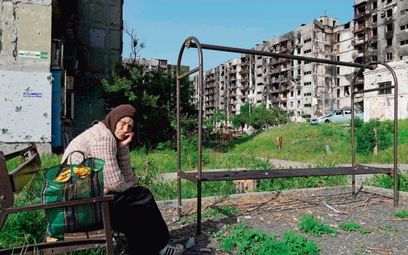 Mariupol, osiedle mieszkaniowe zniszczone przez rosyjski ostrzał, 31 maja 2022 r. / Foto: STRINGER/AFP Michał Płociński
Plus Minus: Jak przygotowuje się w Warszawie obchody powstania, gdy tuż obok inne miasta równane są z ziemią?
Dla Warszawy obchody rocznicy wybuchu powstania są bardzo ważne, bo stanowią manifestację wyjątkowej, wręcz magicznej wspólnoty. I to paradoks, bo wspominamy klęskę i zniszczone miasto, a jednak to jedyne wydarzenie, które jest w stanie połączyć wszystkich warszawiaków. W Godzinę "W" stają obok siebie wszyscy ci, którzy często przeżywają silne emocje związane z drugą stroną politycznego sporu. I na moment odnajdują coś, co ich spaja. Nie ma w Polsce wielu takich wydarzeń, wyjąwszy może sportowe.
Ale o tym rozmawialiśmy już wiele razy przy poprzednich obchodach, a tym razem będą one…
…wiem, szczególne. Dlatego ta wspólnota jest dzisiaj jeszcze ważniejsza. Jak ogląda się w telewizji niektórych ludzi, zwłaszcza tych mocno zaangażowanych w konflikt polityczny, można mieć wątpliwości, czy w przypadku ataku na Polskę byliby oni w stanie stanąć ramię w ramię z ideowymi przeciwnikami i bronić wspólnie ojczyzny. A powstanie warszawskie daje nadzieję, że gdzieś tam pod tym widocznym na co dzień konfliktem jest prawdziwa wspólnota, która by się ukazała, gdybyśmy znaleźli się w sytuacji ekstremalnej. Oczywiście wszyscy mamy nadzieję, że u nas wojny nie będzie, ale być może Ukraińcy też w to wierzyli.
I w Muzeum Powstania Warszawskiego myślicie dziś, co robić, gdy ona jednak wybuchnie?
Raczej myślimy o tym, by robić wszystko, co w naszej mocy, aby historia się nie powtórzyła. Zawsze mówiliśmy, że celem działalności naszego muzeum jest to, by było ono upamiętnieniem ostatniego polskiego powstania. Niektórzy są przekonani, że powstania w Polsce biorą się z dużego poparcia w społeczeństwie dla myśli insurekcyjnej jako takiej i dlatego trzeba tę postawę zwalczać, bo prowadzi ona do tragicznych w skutkach wystąpień zbrojnych. Tyle że powstania wybuchają przede wszystkim z powodu obcej interwencji i stacjonowania w kraju wrogiego wojska. Wystarczy więc do takiej sytuacji nie dopuścić, a poziom poparcia społecznego dla insurekcjonizmu pozostanie całkowicie bez znaczenia. Dlatego w naszej opowieści o powstaniu warszawskim zawsze był zawarty program dla polskich elit, bo to od nich zależy, czy powtórzą się w kraju okoliczności, w jakich wybuchają powstania.
Program jeszcze niedawno dość abstrakcyjny.
Bo z wolnością jest jak z powietrzem – doceniamy ją dopiero wtedy, gdy jej zabraknie. Dzięki wejściu Polski do NATO i Unii Europejskiej nabraliśmy przekonania, że Francis Fukuyama miał rację: historia się skończyła, żadna wojna już u nas nie wybuchnie, a konflikty będą teraz dotyczyć jedynie podziału środków unijnych z funduszy strukturalnych i inwestycyjnych. A tu nagle okazuje się, że opowieść, którą aktualizowaliśmy przez ostatnie 18 lat, od momentu utworzenia muzeum, staje się rzeczywistością – historia wychodzi z książek, filmów oraz gablot wystawienniczych i zaczyna dziać się na naszych oczach. Gdy oglądam dziś telewizję, muszę się chwilę zastanowić, co widzę – czy to nasz film "Miasto ruin" o zburzonej Warszawie z 1945 r., czy jednak przelot drona nad Mariupolem, bo te kadry wyglądają łudząco podobnie. Historia, o której opowiadaliśmy, przestała być historią.
Czy to znaczy, że muzeum przestało być muzeum?
Zastanawiamy się, czy zwiedzający widzą u nas coś więcej niż tylko historię, dawne dzieje. Zamówiliśmy nawet na ten temat badania, by przekonać się, na ile to tylko nasze poczucie, że fotografie Mariupola są niepokojąco podobne do zdjęć zrujnowanej Warszawy, a na ile tak odbierają to wszyscy. Na ich wyniki musimy jeszcze poczekać, ale z jakiegoś powodu mamy dziś frekwencję na prawie takim poziomie, jak przed pandemią. To ewenement na skalę kraju, bo wiele polskich muzeów, niestety, nie potrafi ciągle podnieść się po lockdownach. W ostatnich tygodniach odwiedza nas prawie 2 tys. osób dziennie, w tym relatywnie dużo obcokrajowców.
Dziś na Zachodzie powraca dylemat, z którym często mierzymy się w Polsce w okolicach 1 sierpnia: bić się czy nie bić. Sami Ukraińcy chcą oczywiście walczyć, ale w różnych krajach intelektualiści dywagują, czy to na pewno najlepsze wyjście dla ukraińskiego narodu.
Ale jak wytłumaczyć np. obrońcom Azowstalu, że jednak nie powinni się bronić? Przecież dla nich to nie "bić się czy nie bić", ale "żyć albo nie żyć". Są miejsca, gdzie reakcja na agresję Rosjan nie przypomina powstania warszawskiego, tylko raczej powstanie w getcie – gdzie walka jest nie tylko próbą odzyskania wolności i warunkiem przetrwania, ale niekiedy tragicznym wyborem godnej śmierci z bronią w ręku. Oczywiście, takie porównania nie zawsze pasują, ale warto sobie uzmysłowić, co tak naprawdę stoi za propozycją, by się nie bić. Ja nie potrafię przejść do porządku dziennego nad tym, że morduje się żony walczących na froncie żołnierzy, ponieważ służą oni w formacjach zwalczanych przez Rosjan. Pytanie, czy w ogóle powinniśmy doradzać tym, których wojska rosyjskie chcą eksterminować, by się poddali, by nie ratowali własnego życia. Czy na pewno pacyfizm jest najlepszą odpowiedzią w takiej sytuacji? Moim zdaniem prawo do obrony własnego życia nie powinno być kwestionowane.
Szkoła realizmu politycznego jednak apeluje o rozwagę, nieporywanie się na pewną śmierć.
Tzw. realizm w polskim wydaniu ma jedną zasadniczą wadę – paradoksalnie jest oderwany od rzeczywistości. Wygrywanie bitew po fakcie i tłumaczenie z dzisiejszej perspektywy, z dzisiejszą wiedzą, co byłoby lepsze dla Polski np. podczas II wojny światowej, nie ma większego sensu. Wiele razy musiałem tłumaczyć młodym ludziom, którzy byli zafascynowani ideą, że Polacy mogli przecież pójść z Niemcami na "tego brzydkiego Sowieta", jak to by wyglądało w praktyce. Bo czyimi rękami w takim scenariuszu mordowani byliby polscy Żydzi? Jaki to miałoby wpływ na sytuację Polski po wojnie? Te pytania zawsze pozostawały bez odpowiedzi. Tak samo jest dzisiaj, bo jaka jest tzw. realistyczna recepta dla Ukraińców? Powinni rozpoznać swoją słabość i przyłączyć się do silniejszego, ale kosztem – jak rozumiem – tych, którzy nie pasują do rosyjskiego wzorca. Ich by eksterminowano.
I znowu: prowadzimy dziś te same dyskusje jak co roku, tylko tym razem nie o powstaniu. Bo jakby Ukraińcy znowu się szybko poddali, jak w 2014 r., to może nie wydarzyłyby się takie tragedie, jak w Buczy czy Mariupolu?
Pytanie, czy Rosjanie i tak nie wyśledziliby i nie zamordowali tych ludzi, których chcieli eksterminować, a później ukryli nieudolnie ludobójstwo, jak próbowali to robić właśnie w Buczy. Ta rozpaczliwa próba ukrycia zbrodni łączy ich zresztą z III Rzeszą. I przecież to nie przypadek, że ciała w Buczy były rozebrane lub miały spodnie ściągnięte do kostek, a koszule podciągnięte do szyi – bo szukano u nich tatuaży wskazujących na służbę wojskową. Zatem jaka jest rada realistów dla takiego weterana np. z Pułku "Azow", któremu i tak Rosjanie nie popuszczą? Jaka jest rada dla jego rodziny, która i tak zostanie wyśledzona? Mnie przeraża, że to się dzieje tu i teraz, że wkraczają wojska i mordują cywilów.
A zaskakuje?
Nie, bo dla nas zawsze było oczywiste, że taka tragedia może się powtórzyć. Z historii trzeba wyciągać wnioski, z tego też powodu przygotowaliśmy właśnie wystawę z Instytutem Pileckiego o rzezi Woli i Heinzu Reinefarcie. Oczywiście, ekspozycja opowiada o polskiej historii, ale mam nadzieję, że będzie również zachętą dla Ukraińców, których zamierzamy na nią zaprosić, do tego, by nie popełnili tych samych błędów co my. Na wystawie pokażemy historię potwornej zbrodni, która z powodów politycznych nigdy nie została rozliczona, przedstawimy opowieść o zbrodniarzu, który po wojnie zrobił karierę polityczną, był szanowanym adwokatem i nigdy nie poniósł żadnych konsekwencji. No, może poza pytaniami dziennikarzy o przeszłość, co uważał za szykanę…
Chciałbym, by Ukraińcy zrozumieli, że kiedy zaczęliśmy w muzeum tworzyć listę ofiar cywilnych powstania warszawskiego, okazało się, że brakuje nam około dwóch trzecich nazwisk. Udało nam się zgromadzić dane zaledwie 50 tys. ze 150 tys. ofiar. Zatem jeśli chodzi o anonimowych zamordowanych warszawiaków, ludobójczy plan Hitlera się powiódł, bo nie dość, że pozbawiono ich życia, to jeszcze zatarto pamięć o nich.
Dlaczego to się udało?
Bo szybko zaczęto tę historię zamilczać. W Norymberdze nie postawiono takich oskarżeń, jak zbrodnie niemieckie podczas powstania warszawskiego, nie gromadzono materiałów dowodowych w tej sprawie. W komunistycznej Polsce, może poza krótkim okresem tuż po wojnie, gdy zebrano trochę relacji, nie można było się tym zajmować, bo powstanie warszawskie miało zostać zapomniane.
I jak to się ma do dzisiejszej Ukrainy?
Jeżeli zamordowanych z Buczy ma spotkać inny los, to od razu teraz trzeba włożyć bardzo dużo pracy w dokumentowanie zbrodni, w zbieranie relacji, ustalanie tożsamości zarówno ofiar, jak i sprawców. Wystawa "Wola 1944: Wymazywanie. Ludobójstwo i sprawa Reinefartha" jest naszą reakcją na to, co dzieje się za wschodnią granicą. Za pomocą tej ekspozycji chcemy powiedzieć Ukraińcom: "Uważajcie, bo łatwo można ten moment przegapić, a kiedy dotrze do was, że chcecie o tym opowiedzieć światu, możecie znaleźć się w takiej sytuacji jak my, że będziecie znać tożsamość tylko jednej trzeciej ofiar, a reszta pozostanie bezimienna – i ludobójstwo znowu się dopełni".
Polska na szczęście pomaga Ukraińcom także instytucjonalnie, bo wspomniany już Instytut Pileckiego powołał Centrum Dokumentowania Zbrodni Rosyjskich w Ukrainie im. Rafała Lemkina, a wy powołaliście Komitet Pomocy Muzeom Ukrainy.
Zaprosiliśmy do tego komitetu kilkadziesiąt polskich muzeów i koordynujemy pomoc. Zajmuje się tym m.in. lwowianka, którą przyjęliśmy do pracy nad tym projektem. Ta pomoc to transporty z materiałami potrzebnymi ukraińskim muzeom, pomoc w odbudowie jednego z nich, ale też stały kontakt z ludźmi tworzącymi te instytucje i wspólna praca nad nowymi koncepcjami. Bo ukraińska tożsamość będzie w końcu odbudowywana w oparciu o zbiory tych muzeów, ale najpierw ich narracje muszą przejść derusyfikację. Przecież wszystkie te instytucje sięgają korzeniami Związku Sowieckiego i właściwie nie były od tego czasu poważnie zmieniane. Teraz czeka je mnóstwo pracy, bo najwyższy czas skupić się na tożsamości ukraińskiej, a nie ogólnie postsowieckiej, nadszedł także moment zrewolucjonizowania sposobu prowadzenia narracji.
I ludzie je tworzący rozumieją te wyzwania?
Rozumieją je doskonale. Przychodzą dziś do pracy w pustych, ogołoconych z eksponatów muzeach. Na ścianach, często nieodmalowywanych od kilkudziesięciu lat, widzą ślady po obrazach, które teraz są pochowane w magazynach. Przypomina to bardziej dom, z którego ktoś w pośpiechu musiał uciekać, niż muzeum. I dociera do nich, że te wszystkie eksponaty nie mogą po prostu wrócić w te same miejsca, że wystawy trzeba będzie ułożyć całkowicie od nowa. A my chcemy im w tym pomóc, ale też dać nadzieję na to, że odbudowa jest możliwa – taka nauka płynie z Warszawy, która 78 lat temu wyglądała jak dzisiejszy Mariupol. Kiedy już w końcu wygrają i zapanuje pokój, ważne, by mieli pomysł na nową opowieść o sobie, bo na tym właśnie polega muzealnictwo – to nie jest antykwariat; muzeum poprzez swoje historyczne zbiory musi opowiadać również o współczesności.
A czy po tym, co widzieliśmy w Mariupolu i Buczy, my też będziemy musieli jakoś uaktualnić naszą opowieść o powstaniu warszawskim?
Nasza opowieść jest ciągle aktualna, dzięki temu mogliśmy to wszystko w jakimś sensie antycypować. Gdy czytaliśmy, co pisze Władimir Putin o Ukrainie – a przecież pamiętaliśmy o tym, co pisał wcześniej Adolf Hitler o innych narodach – wiedzieliśmy, że to jest nie tylko publicystyka polityczna, ale także bardzo precyzyjny plan. Dlatego nasza opowieść się nie zmieni, pytanie tylko, co teraz wyniosą z niej ludzie. Czy zrozumieją dziś wagę tego wyzwania, jakie stoi przed nami, by nigdy nie dopuścić do powstania. A jedyną drogą do tego, by to się nie powtórzyło, jest utrzymanie takich granic, jakie mamy, i niedopuszczenie do ataku na Polskę.
---
---
---