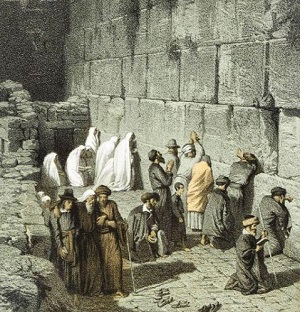 Żydzi modlący się przy Ścianie Zachodniej w Jerozolimie, Johann Martin Bernatz (1868)
---
Jeff Jacoby
Tłumaczenie: Małgorzata Koraszewska
---
W sierpniu 1870 roku amerykański mąż stanu William H. Seward — były gubernator, senator i sekretarz stanu Abrahama Lincolna — wyruszył w 14-miesięczną podróż po świecie wraz ze swoją adoptowaną córką Olive Risley Seward. Odwiedzili Japonię, Chiny, Indonezję, Indie, Lewant i Europę, a po powrocie jesienią 1871 roku rozpoczęli pracę nad książką o swoich podróżach. Prawie 800-stronicowy tom — William H. Seward's Travels Around the World  — został opublikowany w 1873 roku i stał się bestsellerem.
"Urok tej pracy polega na jej prostocie"– napisał wówczas recenzent "New York Timesa". "Styl jest prosty i znajomy, a jednocześnie ma pewną godność, która przypomina męża stanu, a nie zwykłego odkrywcę czy zawodowego pisarza. W rozważaniach, jakie pan Seward czyni na temat instytucji krajów, które odwiedził, radosny optymizm jego charakteru jest tak oczywisty, jak przenikliwa intuicja i trafny osąd człowieka".
Niedawno nabyłem egzemplarz książki Sewarda i z zainteresowaniem ją przeglądałem. Szczególnie poruszający wydał mi się jego opis tego, co zobaczył w Jerozolimie – opis tym stosowniejszy w tym tygodniu, którego kulminacją będzie najsmutniejszy dzień żydowskiego kalendarza.
W Tisza B'Aw — dziewiątego dnia miesiąca Aw, który przypada między końcem lipca a połową sierpnia — wydarzyło się wiele najgorszych nieszczęść w żydowskiej historii. W tym dniu, w 586 roku p.n.e., siły babilońskie zniszczyły Pierwszą Świątynię w Jerozolimie, która przez cztery stulecia była centrum życia żydowskiego. Ostatecznie wybudowano Drugą Świątynię, która została zniszczona przez legiony rzymskie tego samego dnia w 70 roku n.e. To zniszczenie wywołało najgorsze masowe mordy i zniewolenie Żydów aż do nazistowskiego Holocaustu w XX wieku.
Inne katastrofy wydarzyły się 9 Aw. Obejmują one wygnanie Żydów z Anglii w 1290 roku i znacznie bardziej katastrofalne wypędzenie z Hiszpanii w 1492 roku wszystkich Żydów, którzy odmówili przyjęcia chrztu. I wojna światowa rozpoczęła się na Tisza B'Aw w 1914 roku, uruchamiając ciąg wydarzeń, które doprowadziły do pojawienia Hitlera. I tego pamiętnego dnia w 1941 r. nazistowski dowódca Heinrich Himmler otrzymał pozwolenie na opracowanie "ostatecznego rozwiązania", niemieckiej kampanii eksterminacji europejskiego żydostwa.
Żadna data w żydowskim życiu nie wywołuje tak głębokiego żalu. Od ponad 2000 lat pobożni Żydzi upamiętniają ten dzień wstrzymując się od jedzenia i picia wody przez 25 godzin. W synagogach na całym świecie rodziny zbierają się o zachodzie słońca, aby rozpocząć post od siedzenia na podłodze i czytania biblijnej Lamentacji Jeremiasza, zbioru bolesnych lamentów opłakujących (pierwsze) zniszczenie Jerozolimy i wynikającej z tego diaspory. Opowiada się historię o Napoleonie, który dziewiątego dnia Aw przechodził obok synagogi i pytał o powód płaczu, który słyszał z jej wnętrza. Kiedy powiedziano mu, że Żydzi pogrążyli się w żałobie z powodu rocznicy zburzenia Świątyni i zniszczenia miasta 18 wieków wcześniej, podobno zauważył, że naród zdolny, by tak długo opłakiwać swoją stratę, pewnego dnia znów rozkwitnie na swojej ziemi.
Opowieść o Napoleonie może być apokryficzna. Ale nie jest apokryficzna wizyta Sewarda w Jerozolimie latem 1871 roku ani to, jak wzruszył go smutek żydowskich mieszkańców miasta z powodu degradacji ich wiecznego miasta.
Jerozolima w czasach Sewarda była częścią Imperium Osmańskiego, islamskiego supermocarstwa i była nią od wieków. Jednak, jak zauważył Seward, Żydzi stanowili największą grupę mieszkańców.
"Mahometan [tj. muzułmanów] jest 4 tysiące i zajmują północno-wschodnią dzielnicę, w tym cały obszar meczetu Omara" – napisał. "Żydów jest 8 tysięcy i mają południowo-wschodnią dzielnicę. . . . Ormianie liczą 1800 ludzi i mają południowo-zachodnią dzielnicę; a pozostali chrześcijanie, w liczbie 2200, mają północno-zachodnią dzielnicę, która wychodzi na Dolinę Gehenny". 
Dziś palestyńscy propagandyści pracują dniami i nocami, by przedstawiać Żydów jako intruzów w Jerozolimie. W rzeczywistości od 3000 lat w mieście istnieje prawie nieprzerwana obecność Żydów. Ludność Jerozolimy była głównie żydowska od co najmniej początku XIX wieku.
Ten były amerykański sekretarz stanu opowiadał, że on i jego towarzysze spędzili swój ostatni dzień w Jerozolimie "wśród i z Żydami, którzy byli budowniczymi i założycielami tego miasta, i którzy coraz bardziej trzymają się go z powodu jego nieszczęść i spustoszenia". Było piątkowe popołudnie, jedyny dzień w tygodniu, kiedy Żydzi mieli dostęp do Ściany Zachodniej, a Seward widział ich "wylewających swoje lamenty nad upadkiem ich ukochanego miasta i modlących się o jego przywrócenie Panu". Bez względu na to, czy pada deszcz, czy świeci słońce — kontynuował — są tam bez wątpienia w każdy piątek:
 Zbierają się o wczesnej godzinie, starzy i młodzi, mężczyźni, kobiety i małe dzieci – biedni i bogaci, w najlepszych strojach, kłótliwi jak różne narody, z których pochodzą.
Towarzyszą im ich rabini, z których każdy przynosi starannie zachowany i misternie oprawiony tekst Lamentacji Jeremiasza w swoich językach lub w oryginale hebrajskim. Przez wiele godzin wylewają swoje skargi, czytając i recytując poetycki język proroka, bijąc dłońmi o ścianę i obsypując kamienie pocałunkami i łzami. To nie jest tylko formalna ceremonia. W ciągu kilku godzin, kiedy byliśmy jej widzami, nie było ani jednego aktu lekceważenia czy obojętności.
Poruszony tym, co zobaczył, Seward napisał, że niewielu Amerykanów potrafi docenić "powagę i głębię żalu i pobożnych uczuć okazywanych przez Żydów, z którymi siedział. Czy mógłby uwierzyć, że w ciągu stulecia Żydzi będą suwerenną władzą w Jerozolimie, albo że Osmanowie, jak każde inne imperium, które rządziło Jerozolimą podczas długiej, długiej historii narodu żydowskiego – Hetyci, Babilończycy, Grecy, Persowie, Rzymianie, Mamelucy, Krzyżowcy — odejdą w zapomnienie? Prawdopodobnie nie. Ale nie ma wątpliwości, że Żydzi, których obserwował tego dnia, "obsypujących kamienie swoimi pocałunkami i łzami", uwierzyliby w to.
Bowiem Żydzi nigdy nie przestali w to wierzyć. "Jeżeli zapomnę o tobie, Jeruzalem", zabrzmią przerażające słowa Psalmu 137, "niech moja prawa ręka zapomni o swoich umiejętnościach". Nikt nie miał tak trwałego związku z miastem. Więź między judaizmem a Jerozolimą jest starożytna i nierozerwalna, w najsmutniejszy dzień w roku i każdego innego dnia.  
---

Jeff Jacoby
Amerykański prawnik i dziennikarz, publicysta "Boston Globe" od 1994 roku.
---
---