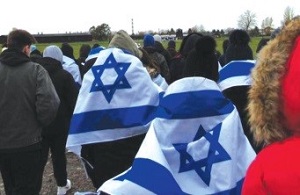 Uczniowie 11. klasy oglądają horror Holocaustu. Tutaj, w Auschwitz, przysięgaliśmy, że nigdy nie pozwolimy światu zapomnieć. / (zdjęcie: ZOE STERNOVITZ)
---
Issy Lyons
Tłumaczenie: Małgorzata Koraszewska
---
Stoję pośrodku pustego baraku w Auschwitz. Jest rok 2018 i jestem w Polsce razem z moją klasą. Łzy płyną mi po twarzy, kiedy uświadamiam sobie ciszę. "Nigdy więcej", mówię cicho i wierzę w to, co mówię.
Oglądam niekończące się sterty żydowskich włosów i ubrań. Łapię się na myśli, że mimo tak wielu książek, które przeczytałam, wysłuchanych wspomnień ocalałych, zdjęć i wideo, które widziałam, także z tego miejsca, na którym teraz stoję, nadal jestem nieprzygotowana.
Moi koledzy i koleżanki z klasy kurczowo trzymali się siebie. Wychodząc z tych baraków wszyscy powtarzaliśmy jak mantrę: "nigdy więcej", a potem znowu, kiedy patrzyliśmy na stertę popiołów w pobliżu wyjścia z obozu. Te popioły były kiedyś setkami tysięcy Żydów, którzy nie byli zbyt różni od nas. Każdy z tych ludzi był kiedyś uczniem jakiejś 11 klasy, z podobnymi do naszych nadziejami i marzeniami.
Kiedy tam stoimy, każdy z nas mówi przez minutę o jednej zamordowanej osobie, z listy tych, których nazwiska i biografie właśnie nam pokazano. Próbujemy pojąć znaczenie tysięcy ludzi zredukowanych do stery popiołu.
Później, rozmawiamy o naszej roli, jako tych, którzy niosą dalej świadectwo o tych potwornościach. O tym, jak narastający antysemityzm i brak międzynarodowej reakcji pozwolił, by to się zdarzyło.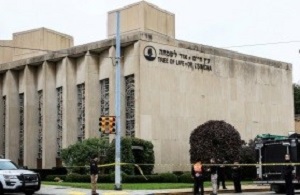 Policjanci pilnują synagogi Tree of Life po strzelaninie w synagodze w Pittsburgh w Pensylwanii, 27 października 2018 roku. (zdjęcie: REUTERS/JOHN ALTDORFER)
Zaczynamy odczuwać odpowiedzialność za przekazanie tej części naszej historii innym, ale myślimy o tych koszmarach w czasie przeszłym. Mówimy z przekonaniem i poczuciem pewności, wiemy przecież, że mimo ciężaru naszej kolektywnej przeszłości, za tydzień będziemy ponownie w domu, w naszych bezpiecznych szkolnych klasach.
Tutaj jednak, nadal w Auschwitz, przysięgamy, że nigdy nie damy światu zapomnieć i czujemy się, jak gdyby ta obietnica wystarczała, by nas zabezpieczyć. Głęboko poruszeni tym, co widzieliśmy, opuszczamy obóz i czujemy się także na nowo wzmocnieni.
W niespełna godzinę później, siedzimy zamyśleni w autobusie, który jedzie do Krakowa, gdzie będziemy spędzać szabat. Przewodnik mówi "nigdy więcej" i informuje, że będziemy modlić się w synagodze, która stoi pusta od czasu koszmaru, który ten przyjazd miał nam unaocznić.
Myślę o tym, jak wielu byłych członków tej synagogi zakończyło swoje życie w tych drewnianych barakach, których obraz już na zawsze będzie odciśnięty w naszych mózgach. Siedzimy w autobusie w milczeniu, wszyscy głęboko zatopieni we własnych myślach. Mówimy o tym, jak słowa "nigdy więcej" dają siłę i jak po powrocie będziemy dzielić się naszymi doświadczeniami z naszymi nieżydowskimi kolegami w szkole.
Głównie jednak siedzimy w milczeniu. To jest daleka podróż i jest tak dużo do przemyślenia. Wyglądam przez okno, obserwując ludzi zajętych swoimi codziennymi sprawami, obojętnymi na autobus pełen żydowskich uczniów z 11. klasy, którzy właśnie widzieli popioły swoich rodaków zamordowanych nawet nie sto lat wcześniej, chwilami po prostu gapię się tępo w mały ekran telewizyjny wiszący pod sufitem, który nasz polski kierowca nastawił na wiadomości po angielsku.
Nagle ten ekran przyciąga wszystkich, jak w koszmarnym śnie. Słuchamy wiadomości o strzelaninie w USA. Mówią: Pittsburgh. Synagoga nazywa się Tree of Life – Drzewo Życia.
Nagle trudno mi złapać oddech. Jak to możliwe, że w niespełna godzinę przeszliśmy od mówienia "nigdy więcej" do samych siebie, z łzami płynącymi ciurkiem po policzkach, do huczącego w głowie jednego słowa: "ZNOWU?"
Nagle antysemityzm i skierowana na żydowski naród nienawiść nie jest już lekcją odległej historii ani częścią wystawy muzealnej, ani nie jest daleko w Europe. Nie zniknie na końcu tej podróży niezależnie od tego, jak często powtarzamy słowa "nigdy więcej". Jest tutaj i teraz, i w naszym domu. Znowu.
Tyle mówiliśmy o dawaniu świadectwa, o znaczeniu tego, by nigdy nie zapomnieć, ale co z tego? Po raz pierwszy zaczynam rozumieć słowa, jakie przez lata słyszeliśmy od tak wielu ocalałych: "poza Eretz Israel, każdy dom, niezależnie od tego, jak gościnny, wydaje się tymczasowy".
Rozmawialiśmy o tym na początku podróży i nasz nauczyciel powiedział nam, że zrozumiemy to lepiej pod koniec naszej podróży po Polsce, ale wątpię jednak, by to miał na myśli.
Podczas szabatu, kiedy pustą synagogę w Krakowie wypełniamy naszymi modlitwami i pieśniami, myślę o innej synagodze, teraz najprawdopodobniej cichej. Jeszcze jednym miejscu, w którym znowu rozlano żydowską krew. Czuję się, jakby nic się nie zmieniło, moi ludzie są nadal atakowani za coś, czego nadal nie pojmuję.
Wracam myślami do tych wszystkich chwil, kiedy broniłam Izraela w zespole dyskusyjnym w moim liceum i w Modelu UN (studenckiej symulacji obrad ONZ), i jak do tej chwili było to dla mnie tylko intelektualne wyzwanie.
Podobne do słów "nigdy więcej", właściwie nic innego, jak tylko słowa – mające wpływ, ale równocześnie nagle puste. Rozumiem, że choć dawanie świadectwa i nie pozwalanie innym na zapomnienie jest ważne, to jednak nie wystarcza. Nigdy więcej nie chcę powiedzieć słowa "znowu". Składam sobie obietnicę, że znajdę sposób na zrobienie czegoś więcej, by zakończyć ten cykl.
Kiedy dzisiaj siedzę tutaj i piszę te słowa, jestem w innym rodzaju baraku. Nasze baraki nie są puste, są wypełnione dźwiękami dobra i życia, i żydowskiej przyszłości. Jestem w mojej bazie, służę w Izraelskiej Armii Obronnej. Jest rok 2021. Jestem żołnierką, żeby bronić żydowski naród. Rozglądam się. To miejsce nie jest jałowe. Jest ożywione nadzieją. Naprawdę jesteśmy tutaj. Jesteśmy szczęśliwi. Jesteśmy silni. Teraz, kiedy mówię słowa "nigdy więcej", naprawdę to mam na myśli.
---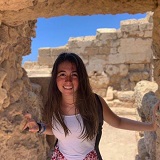 Issy Lyons – Odbywa służbę wojskową w jednostce bojowej IDF w Isuf Kravi na granicy z Syrią. Wcześniej mieszkała w Hong Kongu i na stałe osiadła w Izraelu w 2020 roku.
---
---