Ruthie Blum
Tłumaczenie: Małgorzata Koraszewska
---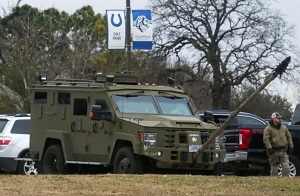 Opancerzony pojazd sił porządku publicznego na terenie, gdzie mężczyzna wziął zakładników w synagodze podczas nabożeństwa, które transmitowano na żywo w Colleyville w Teksasie, USA, 15 stycznia 2022. / (zdjęcie: REUTERS/Shelby Tauber)
Niespełna dwie godziny przed tym, jak urodzony w Pakistanie brytyjski muzułmanin wziął 15 stycznia czterech żydowskich zakładników w synagodze Beth Israel w Colleyville w Teksasie, afro-Amerykanin Martial Simon pchnął młodą kobietę pod nadjeżdżający pociąg metra na stacji Times Square w Nowym Jorku.
W pierwszym wypadku zginął tylko sprawca. W drugim, ofiara straciła życie.
Te dwa niezwiązane wydarzenia mają więcej wspólnego niż się wydaje na pierwszy rzut oka. Oba dotyczą napastników, którzy byli dobrze znani siłom porządku publicznego. O obu członkowie ich rodzin powiedzieli, że cierpieli na "chorobę psychiczną".
Zacznijmy od Malika Faisala Akrama. Po wejściu do synagogi podczas porannego nabożeństwa w szabat i oznajmieniu związku z pakistańską terrorystką, Aafią Siddiqui, uzbrojony cudzoziemiec przez 11 godzin trzymał rabina i trzech uczestników nabożeństwa jako zakładników. (Reszta już zmniejszającej się liczby wiernych z powodu wzrostu zakażeń COVID-19 uczestniczyła przez Zoom.)
Przez większość dnia agenci zespołu FBI SWAT prowadzili negocjacje z Akramem, którego nazywanie Siddiqui "siostrą" okazało się wyrazem ideologicznego, nie zaś dosłownego pokrewieństwa. Jednak jego emocjonalne więzy z "Lady Al-Kaidy" były wystarczająco silne, by wybrać się za ocean i żądać jej zwolnienia z więzienia, gdzie Siddiqui odsiaduje 86-letni wyrok za próbę zamordowania żołnierzy USA w Afganistanie i udział w spisku wiodącym do przeprowadzenia zamachu mającego spowodować masowe ofiary.
W zamian za jej zwolnienie Akram miał powstrzymać się od zabicia niewinnych Żydów, których sterroryzował.
Tylko dzięki łasce Boga, zaradności rabina Charlie Cytron-Walkera i profesjonalizmowi agentów FBI tego dnia w synagodze rozlała się tylko krew Akrama. Na szczęście ofiary – choć niewątpliwie w szoku – wyszły z tego fizycznie nienaruszone.
Analiza ruchów Akrama prowadzących do tego ohydnego czynu pokazuje, że przyleciał on 29 grudnia do Nowego Jorku na międzynarodowe lotnisko Johna F. Kennedy'go i podał hotel w Queens jako miejsce, gdzie się zatrzyma podczas wizyty. Dwa dni później był w samolocie do Teksasu.
Chociaż prezydent USA, Joe Biden, powiedział, że Akram "podobno" spędził pierwszą noc w mieście w "schronisku dla bezdomnych" i musiał kupić broń "na ulicy", policja powiedziała, że prawdopodobnie wystarał się o nią w Dallas. Tak czy inaczej, Akram starannie zaplanował swoje posunięcia zanim wsiadł do samolotu w Wielkiej Brytanii.
To nie przeszkodziło jego bratu, Gulbarowi – rzeczywistemu krewnemu, nie tak jak jego duchowa siostra Siddiqui – przed wskazaniem "problemów zdrowia psychicznego", które "pogorszyły się", kiedy inny brat zmarł kilka miesięcy wcześniej na COVID-19, jako winnych tej sytuacji.
Oskarżył także władze USA o niedbałość przy sprawdzaniu wjeżdżających. Ot, taka ironia.
"On był znany policji; był karany – powiedział Gulbar Akram o Maliku w licznych wywiadach dla mediów. – Jak mógł wjechać do Ameryki? Dlaczego dostał wizę? Jak wylądował na lotnisku JFK i nikt go nie zatrzymał ani na sekundę? Jak mógł zdobyć broń?"
Wszystko to są zasadne pytania. Jednak każdy, kto śledzi polityczny i kulturowy klimat w Ameryce Bidena nawet nie trudziłby się zadawaniem ich. Sama myśl o sprawdzaniu muzułmanina powoduje, że Demokraci w Kongresie trzęsą się ze strachu przed gniewem "Squadu"
Tymczasem Wielka Brytania mogłaby głęboko przemyśleć sprawę Akrama. Według informacji z poniedziałku w "Telegraph", otrzymał on zakaz wstępu do sądu w Blackburn już w 2001 roku. Ten rzadki "Nakaz wykluczenia", który zakazywał mu wstępu na teren budynku, został wydany bezpośrednio po atakach 9/11, kiedy wyklinał woźnego sądowego, życząc mu, by został zabity w ataku jednego z samolotów, które obaliły World Trade Center.
Innymi słowy, jak pozornie umysłowo niestabilny był biedy Akram przez całe życie, jego islamistyczne skłonności były stabilne przez cały czas. Nic dziwnego, że wybrał Żydów w swojej wyprawie do Colleyville. Antysemityzm jest przecież integralną częścią, jeśli nie kluczowym elementem dżihadyzmu.
Zapytajcie Siddiqui, która, nawiasem mówiąc, odsiaduje karę w Carswell Federal Medical Center w Fort Worth, gdzie siedzą skazane kobiety o różnych "poziomach niebezpieczeństwa" i "potrzebie opieki psychiatrycznej".
Jak napisała Phyllis Chesler dla IPT (Investigative Project on Terrorism) News: "Siddiqui pokazała się jako zażarta żydożerczyni. Jej proces rozpoczął się od żądania, by jej ławników zbadać genetycznie i zapewnić, że nie ma wśród nich Żydów. Po wysłuchaniu wyroku skazującego wykrzyczała, że 'wyrok jest z Izraela, a nie z Ameryki. Tam trzeba skierować gniew'".
Ponadto, jak podaje Chesler, Siddiqui "podobno napisała do [byłego] prezydenta [Baracka] Obamy, mówiąc mu, że 'okrutni, niewdzięczni, wbijający noże w plecy Żydzi… spowodowali, że byli bezlitośnie wyrzucani zewsząd, gdzie zdobyli siłę. To dlatego >holokausty< wielokrotnie im się przydarzają!'"
I tyle w sprawie jakichkolwiek wątpliwości, jakie mogą istnieć w sprawie wyboru miejsca przez Akrama.
Także Simon nie wybrał przypadkowo miejsca dla swojej koszmarnej zbrodni. Spychanie ludzi na tory metra stały się modne wśród nowojorskich "bezdomnych" i "chorych psychicznie".
Michelle Go, ofiara Simona, nie miała tyle szczęścia, co modlący się w Beth Israel. Ta mieszkanka Upper West Side dosłownie nie wiedziała, co ją uderzyło w tę zwyczajną skądinąd sobotę.
Kobieta, która zobaczyła Simon pędzącego przez platformę z rękami ustawionymi do popełnienia mordu, nie miała czasu na nic, poza usunięciem się z jego drogi. W tym ułamku sekundy ostrzeżenie innych o jego napaści nawet nie było opcją.
Ani też nikt nie był w stanie skoczyć na ratunek w sposób, w jaki niedawno zrobiło to kilkoro bohaterskich Nowojorczyków wobec podobnej napaści, ponieważ tym razem pociąg już nadjeżdżał. Wszystko, co pozostało tym, którzy byli świadkami tego koszmaru, to krzyk przerażenia.
Simon, który opuścił stację równie szybko, jak wszedł, sam oddał się w ręce policji. Na szczęście, ponieważ policja nowojorska była zajęta w pobliżu starając się opanować demonstrację przeciwko przymusowym szczepieniom. Gdyby zniknął w tym tłumie, z łatwością mógłby uniknąć aresztowania.
Jego siostra, Josette Simon, łkała nad jego losem podczas wywiadu w poniedziałek, opowiadając "New York Post", jak kiedyś błagała szpital, by go nie wypuszczać. Powiedziała, że u tego obecnie 61-letni człowieka stwierdzono schizofrenię, kiedy był po trzydziestce i że choroba "pogorszyła się" po śmierci ich matki 23 lata temu.
"Ona się nim opiekowała – powiedziała Josette. – Parę razy musiała wzywać policję, ale potem było coraz gorzej. Przez ostatnie 20 lat był wielokrotnie w szpitalach psychiatrycznych i wypuszczali go".
Dodała, że w pewnym momencie "jedna z moich sióstr wzięła go. Był [w Georgii] a potem powiedział: 'Muszę wrócić do Nowego Jorku'".
Nowojorska policja powiedziała, że Simon, opisywany przez większość mediów jako "bezdomny", ma długą historię przestępczej działalności, pobytów w więzieniu i na zwolnieniu warunkowym. Porównanie tego, co mówiła siostra, z relacją policji, pokazuje bardziej niż niejasną oś czasu.
Pewne jest jednak, że zostanie oskarżony o zamordowanie Michelle Go, tak jak powinien być. To nie znaczy jednak, że nie zostanie uznany za niepoczytalnego i zwolniony od winy – bo jest "chory psychicznie". Gdyby został zabity, jak Akram, taka kwestia nie pojawiłaby się.
To nie znaczy, że Akram był zdrowy psychicznie, ani że Simon nie jest chory. To muszą ustalić psychiatrzy, którzy podobno już to zrobili. W takim razie nie zauważyli autentycznego zagrożenia, jakie stanowili ci mężczyźni.
Tak czy inaczej obaj powinni byli być zamknięci na dobre dawno temu, albo w więzieniu, albo w instytucji dla chorych psychicznie przestępców. Akram jest wreszcie tam, gdzie przynależy. Miejmy nadzieję, że to samo będziemy mogli powiedzieć o Simonie. Każdy, kto uważa inaczej, powinien udać się do psychiatry.
---

Ruthie Blum
Amerykańsko-izraelska dziennikarka, publicystka Jerusalem Post.
---
---