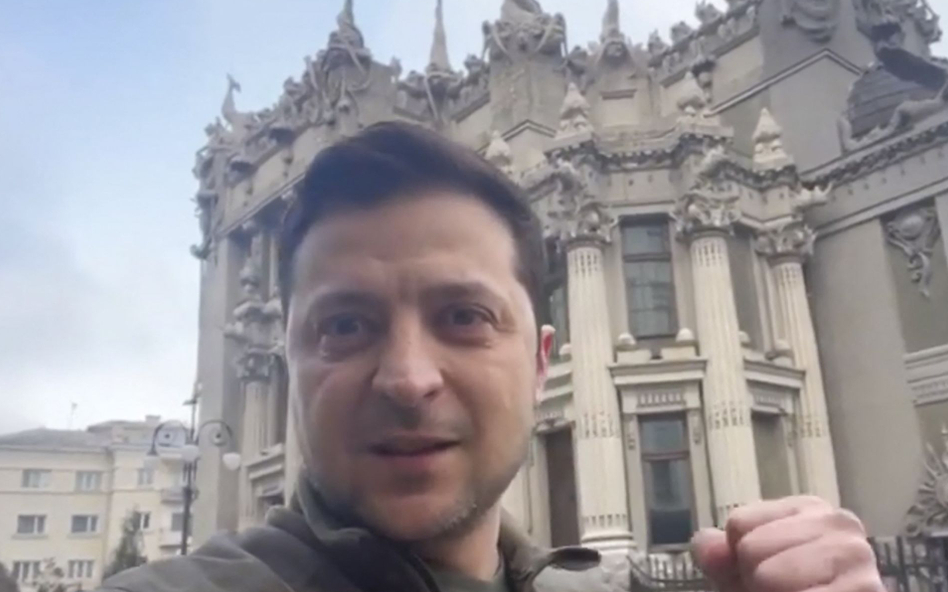 Wołodymyr Zełenski / Foto: AFP
---
Artur Bartkiewicz
---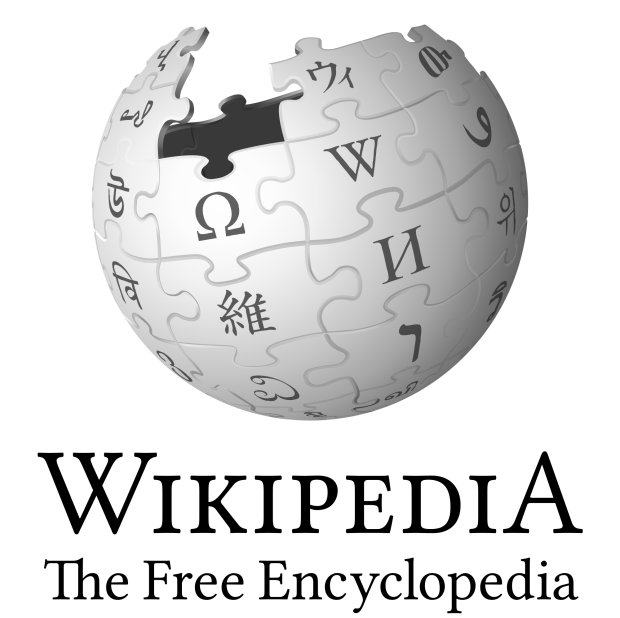 Wołodymyr Ołeksandrowycz Zełenski[a] (ukr. Володимир Олександрович Зеленський; ur. 25 stycznia 1978 w Krzywym Rogu[1]) – ukraiński satyryk, aktor, scenarzysta, producent filmowy i polityk, z wykształcenia prawnik. Od 2019 prezydent Ukrainy.
Życiorys
Pochodzenie i wykształcenie
Urodził się w rodzinie ukraińskich Żydów[2][3]. Jako dziecko przez kilka lat mieszkał w Mongolii, gdzie pracował wówczas jego ojciec, profesor cybernetyki. Wołodymyr Zełenski kształcił się w zakresie prawa w Krzyworoskim Instytucie Ekonomicznym (filii Kijowskiego Narodowego Uniwersytetu Ekonomicznego), nie podjął pracy w zawodzie prawnika[1].
Działalność zawodowa
W okresie nauki występował w amatorskich szkolnych przedstawieniach. W połowie lat 90. dołączył do lokalnej grupy kabaretowej, biorącej udział w pojedynkach w ramach KWN (popularnym w krajach byłego ZSRR współzawodnictwie kabaretowym)[1]. Został wkrótce zaproszony do zespołu "Zaporiżżia-Krywyj Rih-Tranzyt". W 1997 współtworzył grupę "95-j kwartał". Objął w niej funkcję kapitana, był też autorem większości przedstawianych skeczy. W latach 1998–2003 zespół brał udział w zawodach KWN na najwyższym poziomie, zaczął również regularnie występować w krajach postsowieckich[1][4].
Wołodymyr Zełenski został też współwłaścicielem przedsiębiorstwa producenckiego Studija Kwartał-95, współpracującego najpierw z telewizją 1+1, następnie ze stacją Inter[1]. Był pomysłodawcą, dyrektorem i prezenterem programu telewizyjnego Weczirnij kwartał[4]. W 2006 zwyciężył w pierwszej edycji programu tanecznego Tanci z zirkamy[1]. W latach 2010–2012 wchodził w skład zarządu telewizji Inter, pełniąc też funkcję głównego producenta[5]. Jako aktor występował w rosyjskojęzycznych komediach romantycznych, takich jak Miłość w wielkim mieście (2009, a także dwa kolejne filmy z tego cyklu z 2010 i 2014), 8 pierwszych randek (2012) czy 8 nowych randek (2015)[6]. W 2015 został gwiazdą satyrycznego serialu telewizyjnego Słuha narodu, wcielił się w nim w postać nauczyciela historii, który objął urząd prezydenta Ukrainy[1][5]. Program emitowała telewizja należąca do Ihora Kołomojskiego[7].
Działalność polityczna
W grudniu 2017 jego współpracownicy wystąpili o rejestrację partii politycznej o takiej samej nazwie jak serial Słuha narodu[8]. W 2018 Wołodymyr Zełenski zaczął pojawiać się w sondażach prezydenckich, odnotowując rosnące poparcie[5]. 31 grudnia 2018 oficjalnie zapowiedział swój start w wyborach prezydenckich zaplanowanych na marzec 2019[9], dokonując następnie rejestracji swojej kandydatury[10].
W pierwszej turze głosowania, która odbyła się 31 marca 2019, Wołodymyr Zełenski uzyskał poparcie 30,2% głosów, zajmując tym samym pierwsze miejsce i przechodząc do drugiej tury z ubiegającym się o reelekcję Petrem Poroszenką[10]. W drugiej turze z 21 kwietnia 2019 otrzymał 73,2% głosów, pokonując swojego konkurenta i wygrywając tym samym wybory prezydenckie[10].
Urząd prezydenta objął po zaprzysiężeniu 20 maja 2019. Ogłosił następnie rozwiązanie parlamentu[11]. W przedterminowych wyborach z 21 lipca 2019 związana z nim partia Sługa Ludu uzyskała większość bezwzględną w parlamencie[12].
---
Prezydent Ukrainy popularność, która zawiodła go do prezydentury, zawdzięczał roli w serialu. Ale rolę życia gra teraz – i gra ją tak, że ręce same składają się do oklasków.
.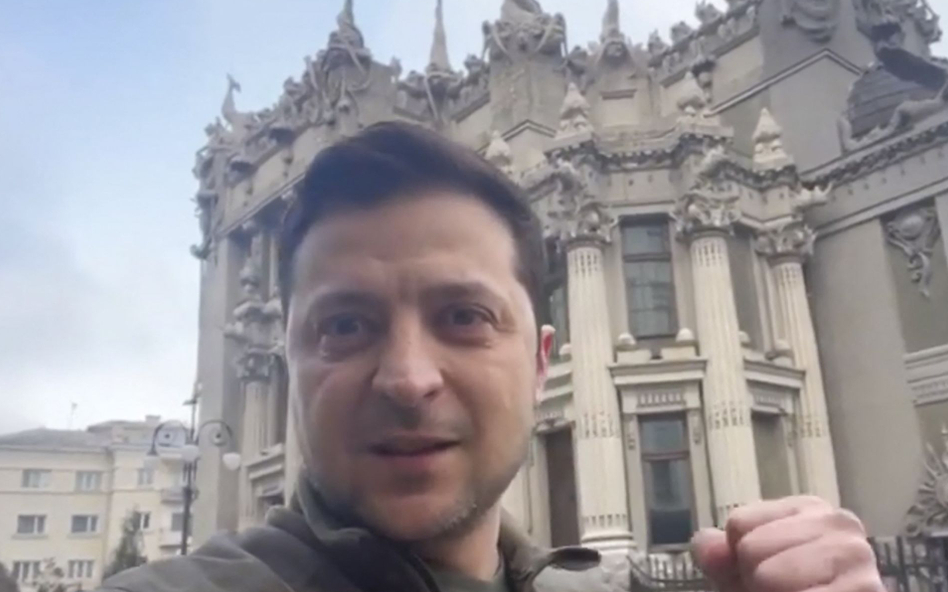 Wołodymyr Zełenski / Foto: AFP
"Potrzebuję amunicji, a nie podwózki" – miał odpowiedzieć Zełenski, gdy Amerykanie proponowali mu pomoc w opuszczeniu Kijowa. Prezydent Ukrainy i wszyscy wokół wiedzą, że jest on jednym z głównych celów rosyjskich najeźdźców. Symbolem niepodległego, demokratycznego ukraińskiego państwa. Pozbycie się tego symbolu ma złamać ducha Ukraińców, pozwolić Rosjanom, na postawienie na czele Ukrainy swojego namiestnika, drżącego pod groźnym spojrzeniem Władimira Putina, niczym Siergiej Naryszkin, szef wywiadu zagranicznego, na posiedzeniu rosyjskiej Rady Bezpieczeństwa.
USA chciały ewakuować Zełenskiego. Prezydent Ukrainy odmówił
Ukraiński prezydent Wołodymyr Zełenski odrzucił propozycję USA, które zaoferowały mu pomoc w ewakuacji z Ukrainy – informuje "Washington Post".
Czy Zełenski się boi? Myślę, że tak. Sam prezydent mówi, że celem jest nie tylko on, ale również jego rodzina. A mimo to wciąż trwa na ulicach walczącego Kijowa. Kiedy Putin marszczy się za stołem w swoim gabinecie na niedostępnym Kremlu, prezydent Ukrainy walczy o swoje państwo ramię w ramię z rodakami. Być może to walka skazana na porażkę, być może Ukraina przegra tę wielką bitwę o swoją wolność. Ale Zełenski robi wszystko, aby była to tylko przegrana bitwa. Bo ludzi wolnych można pokonać, ale nie można ich ujarzmić. Patrząc na prezydenta Ukrainy, możemy być pewni, że duch u naszych sąsiadów nie upadnie, niezależnie od tego ile czołgów, samolotów, śmigłowców i okrętów rzuci przeciw nim Kreml. Prędzej Rosjanie pozazdroszczą Ukrainie jej bohaterskiego prezydenta, niż Ukraińcy pogodzą się z życiem pod butem dyktatora z Kremla.
Tylko na końcu drogi pełnej ofiar jest wolny świat – na końcu tej drugiej jest Putin za groteskowo długim stołem
Zełenski daje bowiem ważne świadectwo zwykłym Rosjanom, którzy żyją w cieniu Kremla. Putin przekonuje ich, że w Kijowie rządzą naziści i nacjonaliści łaknący krwi Rosjan. A jednocześnie zamyka się na Kremlu i wysyła swoich siepaczy przeciw obywatelom, którzy na ulicach miast protestują przeciw wojnie. A po drugiej stronie jest prezydent Ukrainy, demokratycznie wybrany, który w wojskowej bluzie broni Kijowa, gotów raczej zginąć, niż opuścić swoich rodaków w potrzebie. Czy Rosjanie wierzą, że Putin zrobiłby dla nich to samo, skoro nawet w obawie przed koronawirusem zamknął się na Kremlu? Każde kolejne nagranie z Zełenskim na ulicach walczącego Kijowa dowodzi Rosjanom, że znaleźli się po złej stronie historii, pod rządami dyktatora, który przelewa ich krew dla realizacji swoich imperialnych celów.
W tych trudnych czasach Zełenski powinien być wzorem dla nas wszystkich. Z Rosją trzeba postępować właśnie tak, ja robi to on – bez strachu, odważnie, patrząc prosto w oczy niebezpieczeństwu. Zachód, w tym my, musimy zrozumieć, że trzeba być gotowym na wiele ofiar – a wyższe ceny gazu czy ropy to najmniejsze z nich. Ale tylko na końcu drogi pełnej ofiar jest wolny świat – na końcu tej drugiej jest Putin za groteskowo długim stołem na monumentalnym Kremlu. Zełenski pokazuje, że wolność nie ma ceny. Czy potrafimy być, jak on?
---
---