© Żydowski Instytut Historyczny im. Emanuela Ringelbluma
---
"Kwartalnik Historii Żydów" stanowi kontynuację "Biuletynu Żydowskiego Instytutu Historycznego". Czasopismo noszące tytuł "Biuletyn Żydowskiego Instytutu Historycznego przy Centralnym Komitecie Żydów Polskich" ukazało się po raz pierwszy w listopadzie 1949 roku. Do 1950 r. "Biuletyn" był publikowany w języku polskim i jidysz, miał charakter biuletynu informacyjnego, przeważały w nim krótkie teksty o działalności Żydowskiego Instytutu Historycznego.
.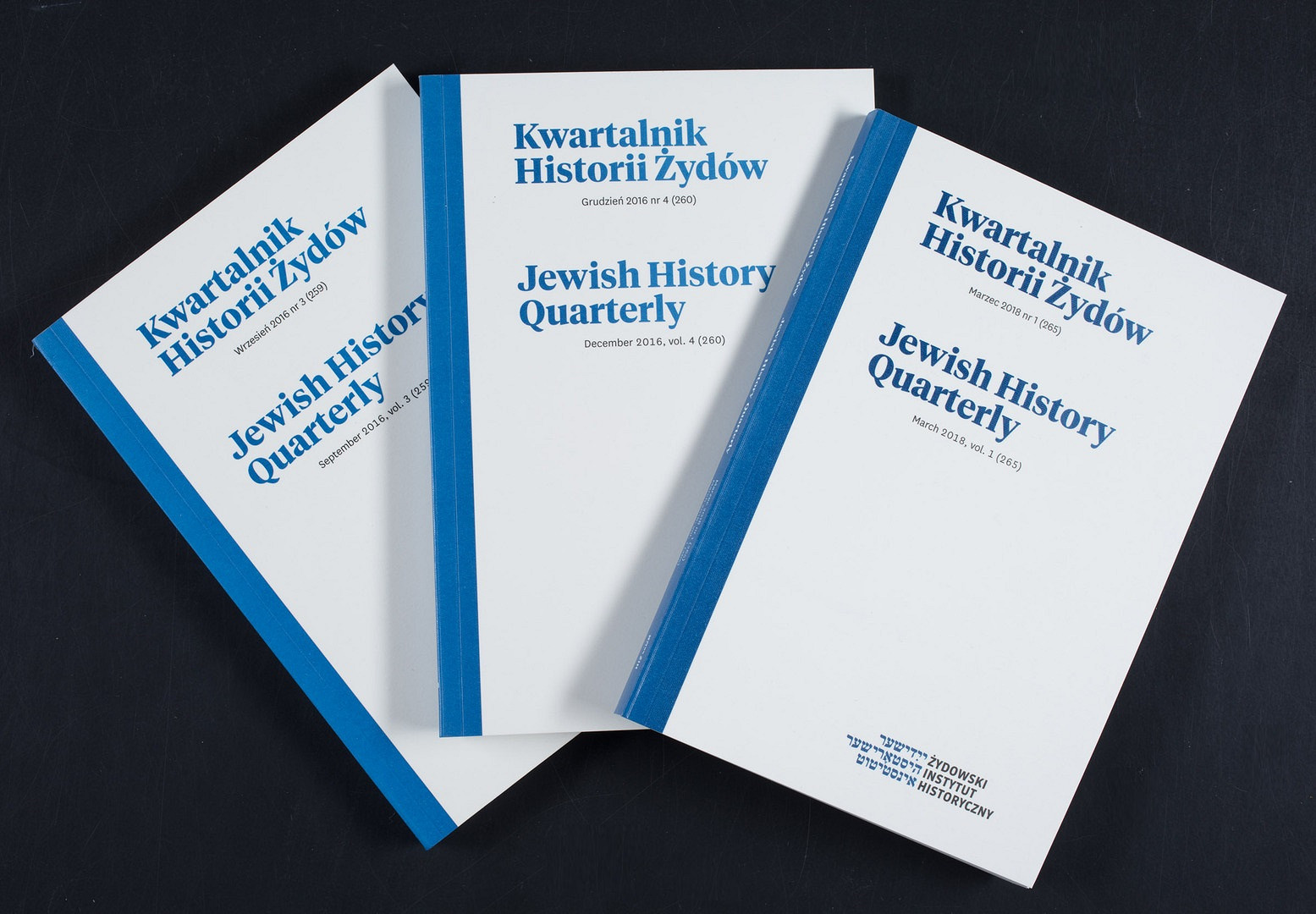 .
Kwartalnik Historii Żydów" ukazuje się w niewielkim nakładzie, ale cieszy się zainteresowaniem nie tylko w Polsce. Publikuje artykuły autorów polskich i zagranicznych, także w języku angielskim i niemieckim. Elektroniczna wersja "Kwartalnika" dostępna jest w CEEOL (Central and Eastern European Online Library). W 2011 r. "Kwartalnik" został wpisany na listę wyróżniających się czasopism naukowych (Master Journal List), sporządzaną rzez Thompson Institute for Scientific Information w Filadelfii (tzw. lista filadelfijska).
Od 1951 r. "Biuletyn" nie zmieniając tytułu zmienił format i charakter. Był to odtąd pełnowartościowy periodyk naukowy w języku polskim (półrocznik, od 1953 kwartalnik). Zakres tematyczny pisma obejmował dzieje Żydów od starożytności poprzez średniowiecze po lata najnowsze. W praktyce koncentrowano się na historii nowożytnej i najnowszej, a najszerzej były reprezentowane lata II wojny światowej.
.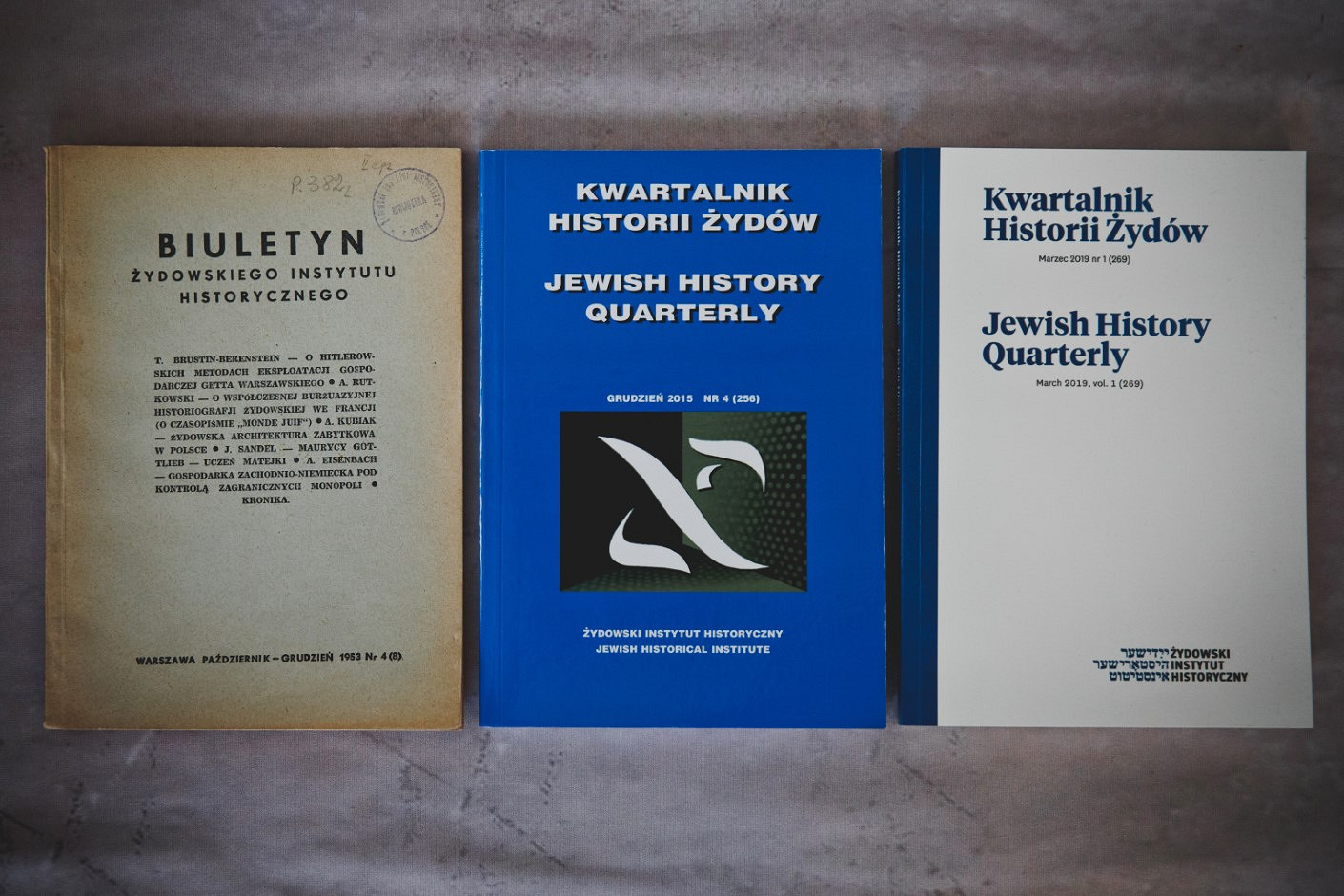 .
Redaktorem naczelnym pisma był przez pierwsze 16 lat dyrektor Żydowskiego Instytutu Historycznego, Bernard Mark. Następnie pismem kierowali kolejno: Artur Eisenbach, Szymon Datner, Marian Fuks, Maurycy Horn (redaktor naczelny przez 17 lat, w latach 1973–1990), Jerzy Tomaszewski, Szymon Rudnicki, Daniel Grinberg, Alina Cała, wreszcie od 1999 r. redaktorem naczelnym "Biuletynu" jest prof. dr hab. Jan Doktór. Od 2001 r. czasopismo ukazuje się jako "Kwartalnik Historii Żydów".
Przez znaczną część okresu Polski Ludowej tematyka żydowska była niechętnie dopuszczana na łamy czasopism, w niektórych latach była objęta niemal całkowitym zapisem cenzury. "Biuletyn ŻIH" był jedynym czasopismem, w którym przez wszystkie te lata mogły być publikowane artykuły i dokumenty na tematy żydowskie, w tym, co istotne, także materiały dotyczące zagłady Żydów podczas II wojny światowej.
Bibliografia zawartości "Biuletynu ŻIH" za lata 1949-2000 została opublikowana w numerze 3 (199) we wrześniu 2001 roku. Jej kontynuację stanowi bibliografia zawartości "Kwartalnika" za lata 2001–2010, która znajduje się w numerze 3 (239) z września 2011 roku.
"Kwartalnik Historii Żydów" publikuje artykuły dotyczące historii Żydów w Polsce i innych krajach, kultury i literatury żydowskiej. Przyjmujemy do publikacji wyłącznie teksty oryginalne, nie opublikowane wcześniej w innych miejscach. W załączniku znajdą Państwo wytyczne odnośnie nadsyłanych artykułów. Artykuły prosimy przesyłać na adres: mczajka@jhi.pl.
---
Rada redakcyjna:
Wolfgang Benz (University of Technology – Berlin)
Jonathan Brent (YIVO)
Dan Diner (Hebrew University – Jerusalem / Leibniz Institute – Leipzig)
Jan Doktór (ŻIH)
David Gershon Hundert (McGill University – Montreal)
Monika Krawczyk (ŻIH)
Gertrud Pickhan (Free University – Berlin)
Antony Polonsky (Brandeis University – Waltham, Mass.)
Daniel Reiser (Herzog College – Jerozolima)
Szymon Rudnicki (Uniwersytet Warszawski)
Kolegium redakcyjne:

Eleonora Bergman, Michał Czajka (sekretarz redakcji), Helena Datner, Jan Doktór (redaktor naczelny), Małgorzata Domagalska, Monika Krawczyk, Artur Markowski, Anna Michałowska-Mycielska, Alina Molisak, Joanna Nalewajko-Kulikov, Szymon Rudnicki
Zobacz archiwalne numery Kwartalnika Historii Żydów w Centralnej Bibliotece Judaistycznej
Zobacz wydanie rocznicowe Kwartalnika Historii Żydów. Wybór artykułów z lat 1950–2017
---
---