Majid Rafizadeh
Tłumaczenie: Małgorzata Koraszewska
---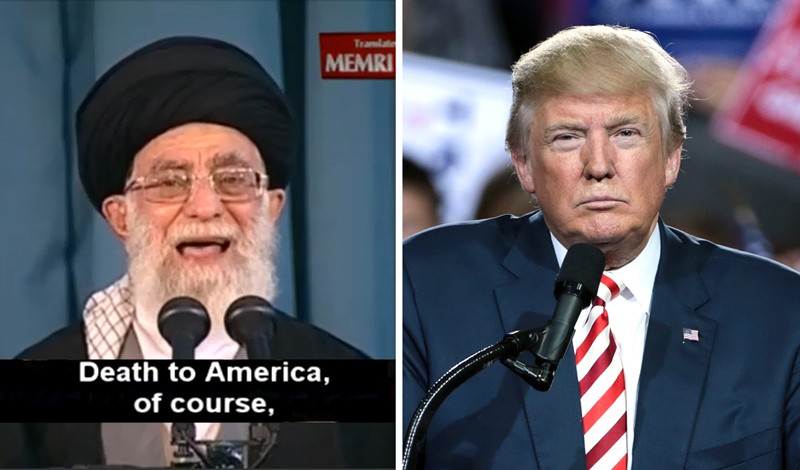 Radosne oczekiwanie na porażkę polityki prezydenta Trumpa wobec Iranu oznacza wzywanie do wzmocnienia i ośmielenia teokratycznego reżimu, który nieustannie wykrzykuje groźby "Śmierć Ameryce" – przypuszczalnie bombami atomowymi, jeśli będzie miał tę możliwość, którą pracowicie zdobywa. (Zdjęcia: Ajatollah Chamenei – MEMRI; prezydent Trump – Gage Skidmore/Flickr)
Niektórzy politolodzy, uczeni i politycy, których spotkałem mówią: "Mam nadzieję, że Trumpowi się nie uda". Koncentrują się szczególnie na polityce prezydenta wobec Iranu. Potarzanie "Mam nadzieję, że Trumpowi się nie uda", nie jest jednak rozsądną strategią.
Ci, którzy żywią taki pogląd, widocznie woleliby zobaczyć porażkę swojego kraju niż osiągnięcie prezydenta Trumpa. Radosne oczekiwanie na porażkę na porażkę polityki prezydenta Trumpa wobec Iranu oznacza wzywanie do wzmocnienia i ośmielenia teokratycznego reżimu, który nieustannie wykrzykuje groźby "Śmierć Ameryce" – przypuszczalnie od bomb atomowych, jeśli będzie miał tę możliwość, którą pracowicie zdobywa.
Podstawowymi rewolucyjnymi filarami rządu irańskiego są antyamerykanizm i antysemityzm. Ten rząd, o którym pewni ludzie mówią, że chcieliby, by wziął górę nad prezydentem Trumpem, został także wymieniony, kilkakrotnie, jako wiodący na świecie kat dzieci. Zabił tysiące Amerykanów, włącznie z atakiem na World Trade Center z 2001 roku – i w najkoszmarniejszy sposób łamie wszystkie prawa człowieka, włącznie z chłostaniem i egzekucją nieletnich.
Iran masakrował własną ludność i jest uznany za czołowego państwowego sponsora terroryzmu oraz zajmuje pierwsze miejsce na świecie w dokonywanych egzekucjach, per capita. To jest tylko ograniczone wyliczenie koszmarów, jakie popełnił; ta lista ciągnie się dalej.
Ci, którzy nie lubią prezydenta Trumpa, lub ci, którzy są apologetami i lobbystami Iranu, używają różnych narracji w próbach nastawienia opinii publicznej przeciwko prezydentowi w sprawie jego polityki wobec Iranu.
Jedną z częstych narracji jest to, że jeśli Iran będzie traktowany z uprzejmością, z ustępstwami i z szacunkiem, to jego reakcją będzie złagodzenie zachowania. Przestanie ingerować w sprawy innych krajów, wspierać grupy terrorystyczne i podżegać przeciwko Ameryce i Żydom.
Historia jednak pokazuje, że ten argument jest kompletną fantazją, której pionierami byli prezydent Barack Obama i jego sekretarz stanu, John Kerry. Podczas ośmioletniej administracji Obamy, Obama i Kerry dokonali bezprecedensowych ustępstw, w pełni szanowali irańskich przywódców, znieśli sankcje, oferowali im szybką drogę do legalnego potencjału nuklearnego i obsypali reżim 150 miliardami dolarów – wszystko w próbie ugłaskania rządzących mułłów. Jaki był tego skutek?
Iran zyskał legitymację, skierował miliardy dolarów na rozbudowę armii, na Korpus Strażników Rewolucji Islamskiej, jak również na milicje i grupy terroru, i poprzez swoich zastępców, umocnił się w Iraku, Syrii, Jemenie oraz wzmocnił Hezbollah w Libanie, Wenezuelę i Hamas w Strefie Gazy.
Teheran nadal zatrzymuje i więzi amerykańskich obywateli; w 2016 roku zatrzymał i przesłuchiwał personel marynarki USA. Iran także nadal prowadzi militarne awanturnictwo przez rozszerzanie swoich wpływów w całym regionie, włącznie z Syrią, Jemenem, Libanem i Irakiem.
Drugą naciąganą taktyką, jakiej używają krytycy Trumpa i agenci Iranu, jest wpajanie strachu amerykańskiemu społeczeństwu przez szerzenie idei, że prezydent Trump "rozpoczyna wojnę" z Iranem.
Prezydent i jego administracja wyraźnie oznajmiali, raz za razem, że nie próbują rozpoczynać wojny z Iranem, ale próbują powstrzymać ofensywę Iranu, groźby i działania destabilizujące inne kraje poprzez naciski ekonomiczne i polityczne. Jeśli prezydent starałby się "rozpocząć wojnę", nie zapraszałby irańskich przywódców do stołu negocjacyjnego; nie odwoływałby zaplanowanego uderzenia przeciwko Iranowi po tym, jak Teheran zestrzelił amerykańskiego drona nad wodami międzynarodowymi i dokonał sabotażu kilku tankowców w Zatoce Omańskiej.
Prezydent Trump dał Teheranowi wiele okazji do zmiany zachowania i do stania się konstruktywnym partnerem i racjonalnym państwem. Iran, niestety, nie okazał najmniejszego zainteresowania.
W odróżnieniu od tego prezydent Obama tylko w ciągu pierwszych dwóch lat urzędowania autoryzował 193 uderzenia dronami. Jest to cztery razy więcej niż liczba ataków dronami autoryzowana przez poprzednią administrację w ciągu ośmiu lat. Pytanie brzmi: dlaczego ci sami ludzie nie podnosili alarmu i nie twierdzili, że Obama zaczyna wojnę?
Życzenie, by Trumpowi "nie udało się", życzenie porażki własnego kraju zamiast sukcesu – i wprowadzanie w błąd opinii publicznej przez sianie paniki i fałszywe informacje – jest działaniem na korzyść rządzących Iranem mułłów, którzy nigdy nie męczą się powtarzaniem, że tym, czego życzą Ameryce, jest "śmierć".
---
Majid Rafizadeh: Amerykański politolog irańskiego pochodzenia. Wykładowca na Harvard University, Przewodniczący International American Council. Członek zarządu Harvard International Review.
---
---