Sheri Oz
Tłumaczenie: Małgorzata Koraszewska
---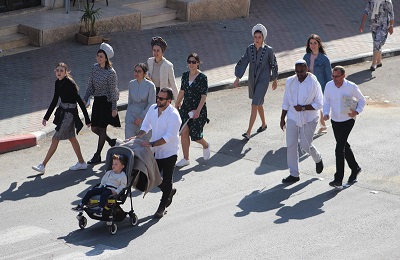 Electronic Intifada pokazuje żydowskich osadników kolonializujących arabską ziemię . (Żródło: https://electronicintifada.net/content/israel-expand-colonization-hebron/29091)
Organizacja Breaking the Silence chce, byście uwierzyli, że Izrael jest państwem apartheidu. Skąd wiem? Ponieważ wysłali e-mail do prenumeratorów o ostatnich wyborach, lamentując nad faktem, że 30 tysięcy arabskich mieszkańców sektora H2 w Hebronie nie mogło głosować w ostatnich wyborach w Izraelu, podczas gdy ich żydowscy sąsiedzi głosowali. Najpierw to, co napisali, a potem moje komentarze, pokazujące ich kłamstwa:
W sumie oddano 215 głosów [w Hebronie w wyborach krajowych]; każdy z nich był głosem żydowskich Izraelczyków. 220 tysięcy Palestyńczyków w Hebronie – z których 30 tysięcy mieszka w H2, obszarze pod bezpośrednią izraelską kontrolą municypalną i militarną – nie zapytano o ich zdanie.
Następnie napisali, że nikt nie wie, jak będzie wyglądał następny rząd. Wiedzą jednak, że:
… kiedy grupa ludzi nie ma żadnej możliwości, by usunąć cię przez głosowanie, możesz z nimi robić, co chcesz bez żadnej obawy o konsekwencje wyborcze. To jest istota okupacji: militarna władza nad cywilną populacją, która nie ma w tej sprawie żadnego wyboru.
My wiemy, ponieważ my byliśmy tymi, których posłano, by to narzucili. I wiemy, że sytuacja musi się zmienić.
Czego widocznie nie wie Breaking the Silence – i dlaczego mieliby wiedzieć, skoro nie interesują ich detale ani fakty – to, że arabscy mieszkańcy H2 nie są izraelskimi obywatelami, ale obywatelami Autonomii Palestyńskiej wraz z wszystkimi pozostałymi arabskimi obywatelami w H1 w Hebronie. Innymi słowy, wszyscy Arabowie, którzy mieszkają w Hebronie, głosują w wyborach w Autonomii Palestyńskiej, nie zaś w wyborach w Izraelu.
Dlatego, kiedy Breaking the Silence płacze nad niesprawiedliwością, że Arabowie nie głosowali w ostatnich wyborach, ale nie mówi wam, że ci Arabowie nie są izraelskimi obywatelami, co zostało uzgodnione w Umowach z Oslo, podpisanych przez ich przywódcę, Jasera Arafata, ta organizacja kłamie w próbie przekonania was, że Izrael jest państwem apartheidu. Czy lepiej napisać to raz jeszcze? To, że Arabowie z Hebronu nie głosują w izraelskich wyborach, ponieważ są obywatelami Autonomii Palestyńskiej, a nie Izraela? Że Arabowie z Hebronu głosują w wyborach, które odbywają się Autonomii Palestyńskiej? Czy potrzebujecie to usłyszeć jeszcze raz?
A wspomnienie o "220 tysiącach Palestyńczyków w Hebronie" jest całkowicie nieistotne nawet dla ich argumentu w sprawie H2. Po prostu dodali tę liczbę dla efektu.
Jeszcze trochę wyjaśnień i wskazanie innego błędnego rozumienia, jakie chce w was wpoić Breaking the Silence. Piszą, że Arabowie w H2 są pod "bezpośrednią izraelską kontrolą municypalną i militarną". Jednak, według Hebron Protocols z 1997 roku Arabowie w H2 podlegają arabskim władzom municypalnym, nie zaś rządom izraelskim. Odpowiedni paragraf w tym porozumieniu stanowi, że:
Na obszarze H-2, cywilna władza i odpowiedzialność będzie przekazana stronie palestyńskiej, poza tymi, które odnoszą się do Izraelczyków i ich własności, co będzie nadal podlegało izraelskim władzom militarnym.
To znaczy, że wszyscy arabscy obywatele w obu częściach Hebronu: H1 i H2 nie podlegają izraelskiej municypalnej i militarnej kontroli. Izrael kontroluje posterunki między H1 a H2 i patroluje H2, i izraelskie siły bezpieczeństwa pracują razem z siłami bezpieczeństwa AP, które działają w H1, w celu zachowania porządku. Jak długo Arabowie nie próbują zabijać Żydów, izraelska armia nie ma z nimi nic wspólnego.
Żeby było jasne: żydowscy sąsiedzi Arabów w H2 nie głosują na burmistrza Hebronu, niemniej, jako mieszkańcy H2, są pod parasolem municypalnej odpowiedzialności burmistrza, na którego nie głosowali.
Ale proszę bardzo, Breaking the Silence….kłam dalej o Hebronie i wypaczaj prawdę tak, że wasza łatwowierna publiczność uwierzy, że komercyjne centrum Hebronu składa się z jednej ulicy, która jest teraz niedostępna dla Arabów, i że Izrael nie pozwala Arabom żyjącym obok Żydów w Hebronie na głosowanie w izraelskich wyborach. I powiedzcie mi, dlaczego chcecie, by ludzie wierzyli, że Izrael jest państwem apartheidu? Czy odnosicie z tego jakiekolwiek inne korzyści poza wypełnianiem kufrów waszej NGO europejskimi funduszami?
Spójrzmy teraz na inne wypaczenie prawdy. Pod poniższym wideo jest ta sama informacja, jaką wysłali e-mailem, obecnie na stronie Facebooka. Piszą, że Ahel nie mógł głosować. Ahel mieszka w dolinie Jordanu, a nie w Hebronie. Nadal jednak jest to ta sama kwestia – Ahel nie może głosować w izraelskich wyborach, ponieważ Ahel jest obywatelem Autonomii Palestyńskiej i głosuje w wyborach w AP. To nie jest apartheid. Czy jesteś Kanadyjczykiem i chcesz głosować w amerykańskich, albo francuskim obywatelem i chcesz głosować w wyborach w Holandii? To jest taka sama sytuacja. Głosujesz tam, gdzie jesteś obywatelem. Koniec sprawy.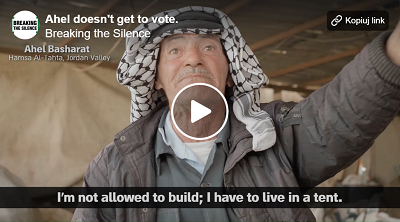 Zrzut z ekranu strony Facebooka Breaking the Silence Facebook.
Podziękowanie dla Jiszaja Fleiszera, rzecznika żydowskiej społeczności w Hebronie i dla Josefa Hartuva z Kiryat Arba, za informacje.
---

Sheri Oz – Urodzona w Kanadzie w 1951 roku, w wieku 26 lat wyemigrowała do Izraela, gdzie studiowała rolnictwo, po studiach wróciła do Kanady, studiowała psychologię. W 1986 wróciła do Izraela zajmując się psychoterapia rodzin. Autorka książki Overcoming Childhood Sexual Trauma: A Guide to Breaking Through the Wall of Fear for Practitioners and Survivors
---
---