Bassam Tawil
Tłumaczenie: Małgorzata Koraszewska
---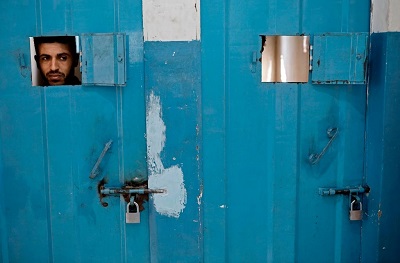 Kiedy Palestyńczycy są brutalnie torturowani i umierają z podejrzanych przyczyn w więzieniach Hamasu, te zgony ignoruje nie tylko Hamas, ale także społeczność międzynarodowa, organizacje praw człowieka i media. Na zdjęciu: Uwięziony Palestyńczyk w Gazie 7 listopada 2018 roku. (Zdjęcie: Thomas Coex/AFP via Getty Images)
Essam al-Sa'afeen, 39-letni Palestyńczyk z obozu uchodźców al-Bureij w centrum Strefy Gazy, zmarł 23 lutego, miesiąc po tym jak aresztowały go siły bezpieczeństwa Hamasu. Jego rodzina i przyjaciele żądają odpowiedzi od Hamasu w sprawie śmierci al-Sa'afeena, ojca sześciorga dzieci.
Hamas mówi, że ustanowił komisję dochodzeniową w sprawie okoliczności jego śmierci.
Według kontrolowanego przez Hamas ministerstwa spraw wewnętrznych, które zarządza palestyńskimi siłami bezpieczeństwa w Strefie Gazy, al-Sa'afeen zmarł wkrótce po tym, jak został przeniesiony z więzienia do szpitala. Ministerstwo mówi, że al-Sa'afeena natychmiast przetransportowano do szpitala po "nagłym pogorszeniu się jego stanu zdrowia".
Palestyński Fatah, na którego czele stoi prezydent Autonomii Palestyńskiej (AP), Mahmoud Abbas, oskarżył Hamas o brutalne torturowanie al-Sa'afeena podczas jego uwięzienia.
Al-Sa'afeen był członkiem Fatahu i uprzednio służył jako policjant w siłach bezpieczeństwa AP, zanim Hamas siłą przejął władzę w Strefie Gazy w 2007 roku. 27 stycznia 2020 roku zamaskowani, uzbrojeni ludzie aresztowali al-Sa'afeena na ulicy obozu al-Bureij, podobno za jego członkostwo w Fatahu.
Hamas często aresztuje członków Fatahu w Strefie Gazy za polityczną działalność i krytykowanie przywódców i polityki Hamasu. Również zdominowana przez Fatah Autonomia Palestyńska na Zachodnim Brzegu regularnie aresztuje Palestyńczyków na Zachodnim Brzegu z powodu ich związków z Hamasem. Palestyńczycy nazywają rozprawy sił bezpieczeństwa obu stron "politycznie motywowanymi aresztowaniami".
Śmierć al-Sa'afeena nie zdziwiła Palestyńczyków, którzy dobrze znają rozmaite metody tortur stosowane w więzieniach Hamasu i AP. Mieszczący się w Gazie Ośrodek Praw Człowieka Al-Mezan powiedział, że autopsja zwłok al-Sa'afeena, wykonana przez wydział patologii, wykazała "sińce i zmianę koloru skóry" – sugerując, że był fizycznie maltretowany.
"Ośrodek Al-Mezan ubolewa nad śmiercią zatrzymanego i wzywa do poważnego dochodzenia w sprawie warunków jego uwięzienia" – czytamy w oświadczeniu Ośrodka.
Ośrodek wezwał także Hamas do zbadania, czy al-Sa'afeen otrzymał opiekę lekarską podczas uwięzienia z powodu wysokiego ciśnienia krwi i cukrzycy, na które cierpiał.
Addammer, palestyńska organizacja praw człowieka na Zachodnim Brzegu, także wyraziła niepokój z powodu jego śmierci i wezwała do natychmiastowego dochodzenia.
Ta organizacja wezwała również do "dostarczania opieki medycznej zatrzymanym w ośrodkach internowania" i żądała, by Hamas rozpoczął "poważne dochodzenie w sprawie tego incydentu i pociągnął winnych do odpowiedzialności".
Niezależna Komisja Praw Człowieka (ICHR), inna palestyńska organizacja, powiedziała, że dowiedziała się o zatrzymaniu al-Sa'afeena na początku lutego, kiedy jego rodzina zwróciła się do przedstawicieli organizacji z prośbą o pomoc. "Od kiedy ICHR otrzymała skargę rodziny, starała się odwiedzić al-Sa'afeena w więzieniu, żeby dowiedzieć się o warunki jego zatrzymania" – ujawniła organizacja.
"Agencja Bezpieczeństwa Wewnętrznego [Hamasu] odmówiła pozwolenia naszym przedstawicielom na odwiedzenie go. Żądamy karnego dochodzenia tego incydentu, publikacji wyników i pociągnięcia do odpowiedzialności winnych".
Matka al-Sa'afeena podkreśliła, że Izraelczycy traktują Palestyńczyków dużo lepiej niż robi to Hamas. "Kiedy Żydzi aresztują kogoś, kontaktują jego rodzinę, żeby powiedzieć, że go trzymają" – powiedziała.
"Hamas jednak odmówił nam jakiejkolwiek informacji o zatrzymaniu mojego syna lub o stanie jego zdrowia. Nie otrzymaliśmy żadnego telefonu od mojego syna i [Hamas] nie pozwolił nam wysłać mu ubrań, żywności ani lekarstw".
Dodała, że Hamas nawet nie poinformował rodziny, że al-Sa'afeen został przeniesiony do szpitala. "Niechaj Bóg ukarze tych, którzy go napadli" – powiedziała.
"Żydzi pozwalają zatrzymanym dzwonić do ich rodzin. Nie dostaliśmy ani jednego telefonu. Powiedzieliśmy [Hamasowi], że jest chory i potrzebuje lekarstw, ale odmówili udzielenia mu jakiejkolwiek opieki medycznej. Do dzisiaj nie wiem, dlaczego mój syn został aresztowany".
Palestyńska internetowa witryna informacyjna, Amad, wskazała, że tego samego dnia, kiedy al-Sa'afeen został uznany za zmarłego, izraelskie władze zainstalowały telefony do użytku przez więźniów z Hamasu trzymanych w izraelskich więzieniach.
Rodzina al-Sa'afeena wydała później oświadczenie, mówiąc, że w ich syn zmarł w więzieniu Hamasu w następstwie brutalnych tortur. Rodzina powiedziała, że uważa Hamas i jego siły bezpieczeństwa za w pełni odpowiedzialne za śmierć ich syna i wezwała do utworzenia niezależnej komisji do zbadania okoliczności i powodów jego śmierci.
Niestety, śmierć al-Sa'afeena nie jest pierwsza i widzimy tu powtarzający się wzór:
W 2011 roku, Hamas oznajmił o śmierci Ibrahima al-A'radża w jednym ze swoich więzień w dwa dni po jego aresztowaniu.
W 2015 roku rodzina Chaleda al-Balbisiego, 41 lat, oznajmiła, że zmarł on w więzieniu Hamasu trzy dni po aresztowaniu.
W 2016 roku palestyńska grupa praw człowieka wezwała do natychmiastowego dochodzenia w sprawie śmierci Aszrafa Eida, 40 lat, w więzieniu Hamasu w mieście Deir al-Balah w Strefie Gazy. Grupa powiedziała, że Eid zmarł w zaledwie trzy dni po aresztowaniu go przez siły bezpieczeństwa.
W 2017 roku inny Palestyńczyk. Chalil Abu Harb, z miasta Gaza, także zmarł w więzieniu Hamasu. Hamas obiecał wtedy zbadać ten incydent, ale wyniki nigdy nie zostały opublikowane. Według niektórych doniesień, Abu Harb popełnił samobójstwo.
Rok później inny zatrzymany, którego nazwiska nigdy nie ujawniono, został znaleziony martwy w celi więziennej w mieście Rafah w Strefie Gazy. Nikt również nigdy nie słyszał o wynikach jakiegokolwiek dochodzenia w tej sprawie.
Także w 2018 roku Palestyńczycy informowali, że 21-letni mężczyzna, którego tożsamość również nie jest znana, zmarł na "atak serca" w więzieniu Hamasu w północnej Strefie Gazy.
Rodziny al-Sa'afeena i innych Palestyńczyków, którzy zmarli w więzieniach Hamasu, łudzą się, jeśli sądzą, że kiedykolwiek otrzymają od Hamasu zadowalające wyjaśnienie okoliczności tych zgonów.
Wezwania rodzin o rozpoczęcie dochodzeń w sprawie śmierci ich synów w więzieniach Hamasu są ignorowane nie tylko przez Hamas, ale także przez społeczność międzynarodową, organizacje praw człowieka i media.
Ci palestyńscy więźniowie, którzy umarli z podejrzanych powodów, nie umarli w izraelskich więzieniach; być może dlatego nikogo w społeczności międzynarodowej nie wydaje się to obchodzić. Kiedy Palestyńczycy umierają w palestyńskich więzieniach, morderstwo jest przypuszczalnie uważane za dzieło rąk dzikich (podobno) Arabów, od których – z rasistowską pogardą – wymaga się niższych standardów zachowania niż od ludzi Zachodu i dlatego nie uważa się ich za godnych praw człowieka, odpowiedzialnego zarządzania, właściwych procedur prawnych ani równości wobec prawa.
Są najwyraźniej uważani za "tylko" palestyńskie rodziny skarżące się na brutalne tortury w palestyńskich więzieniach – więc międzynarodowe organizacje praw człowieka ich nawet nie zauważają.
---
Bassam Tawil
Muzułmański badacz i publicysta mieszkający na Bliskim Wschodzie.
---
---