REDAKCJA
---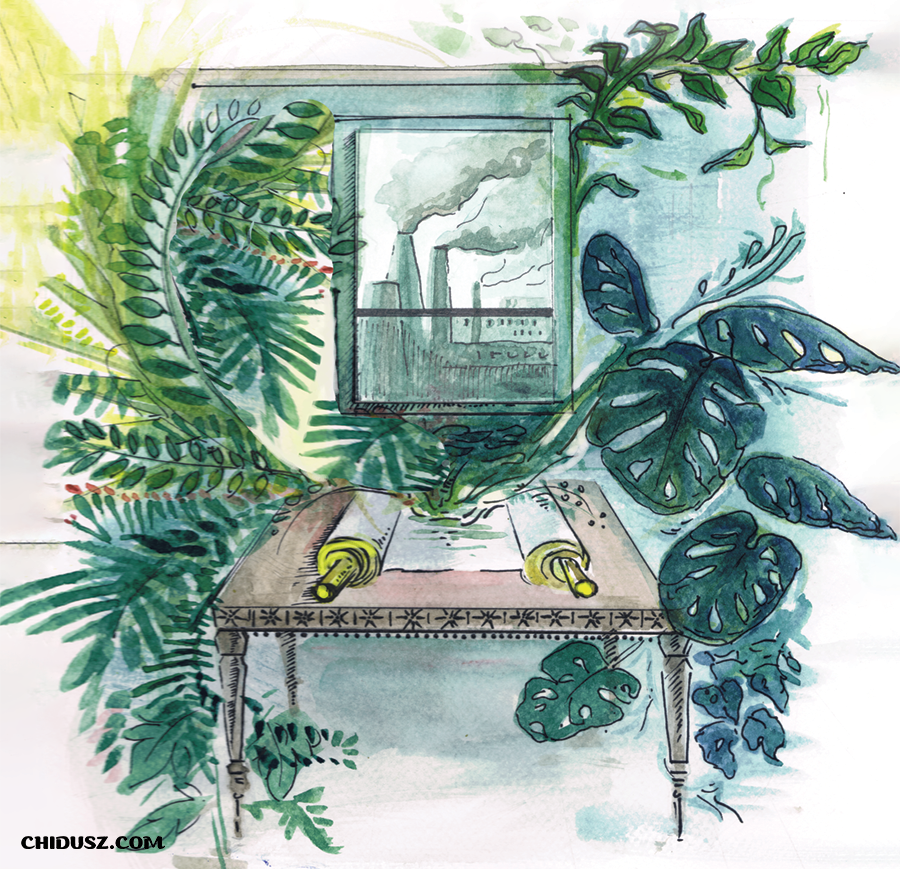 Okładka majowego "Chiduszu" / Autorka: Ester Gundlach
NA OKŁADCE MAJOWEGO "CHIDUSZU" Z TORY WYRASTA BUJNA ROŚLINNOŚĆ, A ZA OKNEM DYMIĄ FABRYCZNE KOMINY. OD TEGO NUMERU ROZPOCZYNAMY NOWY CYKL ARTYKUŁÓW POŚWIĘCONYCH LEKCJOM O EKOLOGII, JAKIE MOŻEMY WYNIEŚĆ Z TORY. PISZEMY RÓWNIEŻ O RUMUŃSKIM PISARZU MIHAILE SEBASTIANIE, KTÓREGO GŁOŚNA, MIĘDZYWOJENNA POWIEŚĆ OD DWÓCH TYSIĘCY LAT WŁAŚNIE UKAZAŁA SIĘ W POLSCE. W ARTYKULE POŚWIĘCONYM STOLPERSTEINOM PREZENTUJEMY HISTORIE KOLEJNYCH OSÓB, KTÓRE Z RÓŻNYM SKUTKIEM PRÓBUJĄ INSTALOWAĆ W POLSCE KAMIENIE PAMIĘCI, ORAZ WYJAŚNIAMY, JAKĄ ROLĘ W CAŁEJ AWANTURZE PEŁNI IPN.
POZWÓLMY ZIEMI ODPOCZĄĆ. CZEGO UCZY SZMITA, ROK SZABATOWY?
"Tora stanowi przewodnik nie tylko po relacjach między mężczyznami a kobietami, rodzeństwem, narodami – zawiera też przykazania, których zadaniem jest uzdrowienie relacji między człowiekiem a ziemią. Szmita, czyli prawo roku szabatowego, jest jednym z 613 przykazań Tory. Biorąc pod uwagę obecne problemy ekologiczne, micwy te mogą okazać się aktualne i potrzebne bardziej niż w jakimkolwiek innym momencie – nie tylko żydowskiej – historii".
Zapraszamy do lektury pierwszego z cyklu osiemnastu artykułów poświęconych naukom o ekologii zawartym w Torze.
JAK FRIEDA VIZEL PORZUCIŁA ŚWIAT ORTODOKSYJNYCH ŻYDÓW
Frieda Vizel spędziła w chasydzkiej społeczności Satmar dwadzieścia sześć lat swojego życia, po czym zdecydowała się ją opuścić. Jej historia, choć ze szczęśliwym zakończeniem, niewiele ma wspólnego z fabułą serialu Unorthodox, która nie pokazuje odrzucenia, niepewności i nadużyć ze strony obcych ludzi – tego, co spotyka większość uciekinierów z chasydzkiego świata. W rozmowie z "Chiduszem" Frieda opowiada o tym, jak wyglądała jej edukacja i dorastanie, zaręczyny i małżeństwo, obalając przy tym wiele mitów o życiu chasydzkich rodzin. O Unorthodox mówi tak:
"Najbardziej frustrujące w serialu było dla mnie nieprawdziwe przedstawienie rzeczywistości – większość ludzi, którzy decydują się odejść, zostaje odrzuconych także przez społeczeństwo na zewnątrz. Ci, którzy im pomagają, to z reguły osoby, które są albo ex-chasydami, albo żyją gdzieś na granicy dwóch światów i nie przyjmują wszystkiego bezrefleksyjnie. Tylko oni są w stanie zrozumieć, jak ciężka jest sytuacja osoby odchodzącej. Od kogoś z zewnątrz nie dostaniesz czeku albo stypendium. Nie zostaniesz otoczona grupą świetnych ludzi. Kobieta taka jak serialowa Esther w realnym świecie zostałaby najprawdopodobniej seksualnie wykorzystana, ponieważ nie miałaby pojęcia, jak komunikować się z mężczyznami. Przestawienie się z życia w obecności tylko i wyłącznie kobiet nie jest łatwe. Jesteś przyzwyczajona, że w twojej społeczności inne kobiety bezinteresownie ci pomagają. Jeśli jakiś mężczyzna zaproponowałby ci, żeby u niego nocować, nie miałabyś pojęcia, że mogą kryć się za tym złe intencje. Nie znam ani jednej osoby, która opuściła chasydzką społeczność i nie została w jakiś sposób wykorzystana".
WALKA I MĘCZEŃSTWO, CZYLI STOLPERSTEINY W POLSCE
Kamieni pamięci w Polsce przybywa. W zeszłym roku pojawiły się w Zamościu, Oświęcimiu i we Wrocławiu. Tej wiosny – znów we Wrocławiu. A mimo to znajdziemy miasta, w których rodziny zainteresowane upamiętnieniem swoich krewnych słyszą od urzędników wyłącznie o "negatywnych opiniach IPN-u". Decyzje dotyczące Stolpersteinów zapadają w tych miejscowościach arbitralnie, z pominięciem roli, jaką w dbaniu o żydowską historię mogłyby odegrać lokalne społeczności.
W tym numerze analizujemy przypadki Będzina i Szczecina, gdzie władze miejskie odmawiają zgód na wmurowanie kamieni, biorąc pod uwagę jedynie opinie IPN-u. Na ile są one jednak wiążące? Sam Instytut przyznaje, że nie może zezwolić ani zakazać upamiętnienia Stolpersteinami. Wystarczyłoby więc, aby urzędy wykazały się odrobiną dobrej woli i niezależnością oceny, a kamienie – opłacane przez rodziny upamiętnianych osób – mogłyby bez większych problemów zacząć pojawiać się na chodnikach polskich miast.
ŻADNEJ WINY NIGDZIE
Gdy w 1934 roku ukazała się powieść Mihaila Sebastiana Od dwóch tysięcy lat, w Rumunii wybuchł ogromny skandal. Oburzeni byli wszyscy – od komunistów, przez faszystów, po najróżniejsze środowiska żydowskie. Międzynarodowy rozgłos pisarz zyskał jednak dopiero pół wieku po swojej tragicznej śmierci. Wszystko za sprawą Dziennika, który zaczął pisać, gdy przygasła afera wokół Dwóch tysięcy lat. Choć Sebastian raczej nie myślał o publikacji swoich zapisków, wydano je w 1996 roku. Od tego czasu, przetłumaczone na wiele języków, zyskały miano jednego z najważniejszych świadectw XX wieku. Po sukcesie Dziennika świat zainteresował się także powieścią Od dwóch tysięcy lat, która w kwietniu, w przekładzie Dominika Małeckiego, ukazała się w Polsce nakładem wydawnictwa Książkowe Klimaty. W bieżącym "Chiduszu" przyglądamy się bohaterowi Dziennika i autorowi powieści. Obu więcej łączy niż dzieli – choć jeden nie miał nigdy być czytany, a drugi jest wytworem wyobraźni. Od dwóch tysięcy lat można czytać na wiele sposobów. To historia młodego Żyda, który perwersyjnie kocha swoich antysemickich przyjaciół. Opowieść o lęku i nieuchronności. O tym, co było istotą życia Mihaila Sebastiana.
OD DWÓCH TYSIĘCY LAT
Mihail Sebastian wielokrotnie wracał do swojej powieści. W pewnym momencie pisze w swoim Dzienniku: "Przypadkowo natrafiłem na kilka rozdziałów z Dwóch tysięcy lat (mój stary zwyczaj: sięgnąć na chybił trafił po jakąś książkę z półki i przeglądać ją z godzinę). O niektórych sprawach z tej mojej powieści zupełnie zapomniałem. Powtórne zetknięcie się z nimi było dla mnie prawdziwą niespodzianką. Z wyjątkiem kilku fragmentów, w których zbyt mocno akcentowany jest żydowski punkt widzenia, reszta wydaje mi się doskonała. Nie spodziewałem się tego. Byłbym bardzo zadowolony, gdybym któregoś dnia mógł ponownie wydać tę książkę (…). Nie ulega dla mnie wątpliwości, że spośród wszystkich rzeczy, jakie napisałem, ta książka na pewno się ostanie".
Pozostaje mieć nadzieję, że fragment powieści, który publikujemy w "Chiduszu", jest tym, który Sebastian uznałby za doskonały i nieakcentujący zbytnio żydowskiego punktu widzenia.
KONKURS – WYGRAJ POWIEŚĆ SEBASTIANA
Zapraszamy do konkursu, w którym można wygrać Od dwóch tysięcy lat Mihaila Sebastiana. Wystarczy zrobić zdjęcie majowego "Chiduszu" i wysłać je na nasz adres: office@chidusz.com, bądź opublikować pod postem konkursowym, który 10 maja pojawi się na profilu facebookowym "Chiduszu" (szczegóły konkursu tutaj).
SPOIWO WSPÓLNOTY
"Według midrasza przywódcy, którzy zarządzali spisem, to ci sami ludzie, których Egipcjanie wyznaczyli do pomocy podczas zniewolenia Izraelitów. Klasa administracyjna znalazła się w bardzo trudnym położeniu, ponieważ musiała pośredniczyć między ludem a jego ciemiężcą. Mimo że urzędnicy próbowali chronić zniewolonych Izraelitów, a czasami nawet przyjmować na siebie ciosy, byli również agentami reżimu, egzekwującymi jego rozporządzenia i patrzącymi podejrzliwie na pobratymców, którzy nie byli w stanie wypełnić swojego dziennego przydziału pracy".
Według queerowej interpretacji Davida Greensteina spis powszechny Izraelitów nie był zwykłą biurokratyczną procedurą, ale aktem uznania i pojednania ofiar z ich dawnymi prześladowcami.
BŁOGOSŁAWIEŃSTWO DEWIANTA
Toba Spitzer, autorka queerowego komentarza do parszy Naso, wyjaśnia, jak społeczne dewiacje mogą stać się źródłem błogosławieństwa dla całej społeczności:
"Poświęcenie, z jakim nazyrejczyk publicznie przyjmuje swoją tożsamość i obiera «queerową ścieżkę» do świętości, skutkuje błogosławieństwem dla całej społeczności. Kapłan, który we wcześniejszych fragmentach odgrywa rolę strażnika norm i granic między dewiantem a wspólnotą, tutaj staje się źródłem błogosławieństwa, nie osądu. Parsza Naso daje nam możliwość spojrzenia na status osoby queer nie w kategoriach nieczystości i wykroczenia, ale błogosławieństwa świadomej odmienności jako drogi do świętości i bliskości z Bogiem".
RUT I NAOMI. O DOBROCI, LOJALNOŚCI I SIOSTRZEŃSTWIE
Księga Rut to jedyna księga Biblii, która zdaje test Alison Bechdel i Liz Wallace, służący do sprawdzania, w jaki sposób kobiety przedstawiane są w tekstach kultury. Mogłoby się wydawać, że to trudny sprawdzian, skoro zdaje go tylko jeden, stosunkowo niewielki fragment Biblii.
Pozytywny wynik otrzymujemy, gdy w danym dziele (1) są co najmniej dwie kobiety, które (2) mają imiona i (3) rozmawiają ze sobą o (4) czymś innym niż mężczyźni. Czy to wysoko postawiona poprzeczka?
W przededniu świąt Szawuot zapraszamy do kolejnej podróży w głąb Księgi Rut.
DER SZWARCER JUNGERMANCZIK
Przed nami kolejny dramatyczny rozdział miłości Rozy i Józefa. Bohater nadal pozostaje pod wpływem Szwarcera. Choć Szneurke objawi przed Józefem prawdę o czarnym młodzieniaszku, nie uwierzy on w słowa przyjaciela i podejmie trudną decyzję, by po Szawuot opuścić dom Friedmanów na zawsze.
ZAPRASZAMY DO LEKTURY
W czasie trwania epidemii "Chidusz" z dostawą do domu kosztuje tylko 10 zł (list ekonomiczny). Wydanie elektroniczne na publio.pl: 6.30 zł. Roczna prenumerata krajowa: 89 zł (list ekonomiczny), roczna prenumerata elektroniczna: 50 zł. Zamówienia prosimy kierować pod adres: office@chidusz.com. Przyjemnej lektury!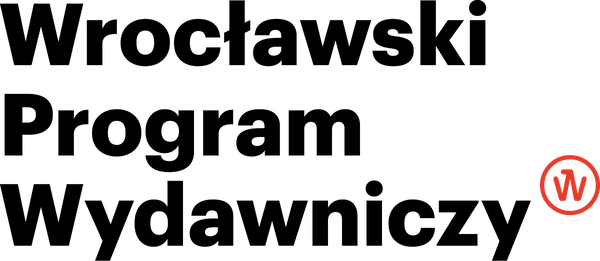 Partnerem wydawniczym tego numeru "Chiduszu" jest Strefa Kultury Wrocław w ramach Wrocławskiego Programu Wydawniczego.
Pomóż
Dalsze istnienie "Chiduszu" zależy także od Ciebie. Jeśli doceniasz poziom publikowanych w "Chiduszu" artykułów, prosimy o darowiznę, która umożliwi nam kontynuowanie działalności. Można ją przekazać przez PayPala bądź przelewem na nasze konto bankowe. Kliknij tutaj, aby przejść do informacji o numerach kont. Dziękujemy za pomoc!
---
---