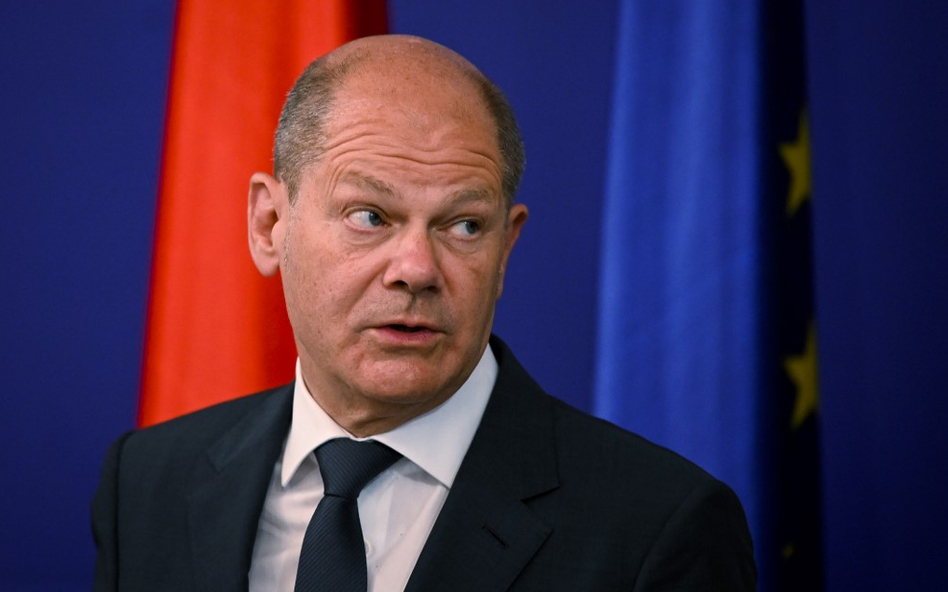 Kanclerz Olaf Scholz
---
Maciej Strzembosz
---
Berlin i Paryż zrobią wszystko, by Ukraina nie weszła ani do NATO, ani do UE i by nie pokonała Rosji przy wsparciu zjednoczonego Zachodu – pisze publicysta.
.
Gdy najbogatszy kraj w Europie udziela najniższej procentowo w porównaniu z jego PKB pomocy Ukrainie, to nie może być w tym przypadku. Kanclerz Olaf Scholz z fanfarami obiecuje nowoczesne wyrzutnie, których wcale nie ma i które dopiero trzeba wyprodukować, a równocześnie przekazuje Grecji wozy bojowe, o które prosi Kijów.
Gdy prezydent Francji Emmanuel Macron spędza na telefonach do Putina ponad 100 godzin, co z satysfakcją ujawnił Kreml, to też trudno mówić o przypadku. Jeśli po raz kolejny powtarza, że Rosji nie należy upokarzać, a Putin musi wyjść z konfliktu z twarzą, czyli że Ukraina powinna oddać część swego terytorium, to znaczy, że jest to trwała polityka, a nie przejęzyczenie.
Poszukajmy więc racjonalnych powodów tego zachowania.
Czas na dozbrojenie
Po pierwsze Europa Zachodnia uświadomiła sobie właśnie, że jest bezbronna. Francja nie ma artylerii. "Le Monde"cytuje eksperta wojskowego, że w wypadku pełnoskalowego konfliktu Paryż nie przetrwa dłużej niż parę dni. Sytuacja militarna Niemiec jest jeszcze gorsza, bo nawet nie mają straszaka atomowego. Przez dziesiątki lat rozwijali gospodarkę, oszukując jednocześnie NATO i nie wypełniając zobowiązań traktatowych. Od neutralnej Austrii, która otwarcie liczy na otoczenie przez państwa NATO jako wystarczającą gwarancję bezpieczeństwa, różni ich naprawdę niewiele. Sytuacja w pozostałych krajach zachodniej Europy zakrawa o kabaret. Belgowie, jak się właśnie okazało, rozsprzedali swoje haubice – najpierw krajom trzeciego świata, a to co zostało prywatnej firmie po 15 tys. euro za sztukę! Nie wspomogą więc obiecaną bronią Ukrainy, bo prywatna firma chce sprzedać te haubice państwu belgijskiemu po rynkowej cenie. A to za drogo.
Świadomość bezbronności powoduje, że liderzy tzw. starej Unii gotowi są odwlec konflikt z Rosją kosztem ukraińskiej suwerenności, by mieć czas na dozbrojenie. Wydawałoby się na pozór, że zwycięstwo Ukrainy jest lepszą opcją, ale tu dochodzi punkt drugi.
Niechęć do USA
Jeśli nie liczyć Wielkiej Brytanii, to elity zachodnie w tzw. wielkich krajach patologicznie nienawidzą Ameryki. Dla byłych imperiów to ciągle nieznośni parweniusze, przedstawiciele niecywilizowanego kapitalizmu, którzy uzurpują sobie prawo bycia światowym hegemonem, na dodatek pouczającym wszystkich w irytujący sposób o swej moralnej wyższości. Silna Rosja, jak podejrzewam, jest im na rękę, bo w wypadku dogadania się z nią pozwala nadal pławić się w dobrobycie, bez ponoszenia kosztów zbrojenia, a równocześnie odgrywać istotną rolę geostrategiczną. To dlatego Angela Merkel przekonała Baracka Obamę, prezydenta słabego i pozbawionego geostrategicznej wyobraźni, że najlepiej będzie, jak sprawami rosyjskimi po inwazji na Krym zajmą się Niemcy. A zajęły się tak, by tę inwazję zminimalizować. Gwarancje, które udzielały Ukrainie w ramach porozumień mińskich, okazały się mniej warte niż papier na którym były spisane.
Ale jest jeszcze trzeci powód, dla którego Niemcy i Francja nie życzą Ukrainie zwycięstwa na ukraińskich warunkach.
Nowy kształt UE
Odbudowana Ukraina będzie najbardziej proamerykańskim krajem w regionie. Wojna uświadomiła wszystkim, że Ukraina jako spichlerz świata i posiadacz 90 proc. światowych zasobów neonu, grający w ścisłym sojuszu z USA i Polską, dla Francji i Niemiec wcale nie jest pożądanym członkiem Unii Europejskiej. Zmieni bowiem proporcje, wzmocni frakcję proamerykańską i antyrosyjską, sprawi, że oś Berlin–Paryż nie będzie już jedyną możliwą osią Unii Europejskiej.
Macron i Scholz z pewnością umieją liczyć. I doskonale rozumieją konsekwencje listu 14 państw przeciw zmianom traktatu pod pretekstem konsultacji europejskich w innej sprawie. List zainicjowany przez Danię podpisała cała Skandynawia i Europa Środkowo-Wschodnia, co charakterystyczne – bez Węgier. Ta czternastka jest też w znakomitej większości antyrosyjska, bo doskonale rozumie zagrożenie putinowskim imperializmem. Wzmocnienie tego rysującego się coraz wyraźniej sojuszu odbudowaną, antyrosyjską i proamerykańską Ukrainą niweczy sny Berlina i Paryża o dominacji w Unii Europejskiej i roli języczka u wagi w starciu gigantów czyli USA, Chin i Rosji.
Dlatego – co dziś widać bardzo wyraźnie – Scholz i Macron zrobią wszystko, by Ukraina nie weszła ani do NATO, ani do UE i by nie pokonała Rosji przy wsparciu zjednoczonego Zachodu.
Ceną tej polityki jest jednak rozbicie iluzji co do realnych motywów politycznych Francji i Niemiec. Gdy Winston Churchill planował rozbicie Indii, by odrzucić Związek Sowiecki od kluczowego geostrategicznie regionu z portem w Karaczi, robił to w najgłębszej tajemnicy. Tak dobrze, że do dziś jego wizerunek niewiele ucierpiał, mimo milionów ofiar. Macron i Scholz swoją niemoralną politykę buforowania kosztem milionów istnień, uprawiają w świetle jupiterów. Nie wróży to dobrze niemieckim i francuskim zdolnościom do przewodzenia Europie i wolnemu światu. Może na szczęście.
---
---