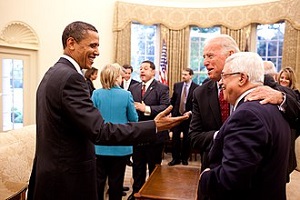 Wieczny "prezydent" Mahmoud Abbas, b. prezydent Barack Obama i ówczesny wiceprezydent Biden (Źródło: Wikipedia)
---
Mitchell Bard
Tłumaczenie: Małgorzata Koraszewska
---
Gdyby administracja Bidena była konsekwentna w swoim twierdzeniu, że dba o prawa człowieka, odmówiłaby płacenia jednego grosza Palestyńczykom, dopóki nie zakończą łamania tych praw.
"Plany przywództwa palestyńskiego zwiększenia presji na USA przed wizytą Bidena".
Ten nagłówek w "Daily Alert" dobrze pokazuje, dlaczego palestyńskie urojenia są głównie odpowiedzialne za ich trudną sytuację. Artykuł pod tym nagłówkiem mówi, że Palestyńczycy chcą "przykręcić śrubę Białemu Domowi w celu zabezpieczenia lukratywnych datków od Amerykanów".
Przepraszam. Kto jest supermocarstwem w tym równaniu?
Wierząc, że Stany Zjednoczone będą dbać o kolejny pusty symboliczny gest, przywódca Autonomii Palestyńskiej Mahmoud Abbas ogłosił, że rozważa zawieszenie uznania Izraela przez Palestyńczyków z 1994 roku. Wówczas list Jasera Arafata uważano za punkt zwrotny. Palestyńczycy w końcu uznali rzeczywistość i podjęli niezbędny krok, aby przekonać Izrael do negocjacji z przywódcą OWP. Jednak to nie wystarczyło i ostatecznie okazało się bezsensowne, ponieważ Abbas wielokrotnie stwierdzał, że Palestyńczycy nigdy nie uznają Izraela za państwo żydowskie; Palestyńczycy spędzali każdy rok od tego "uznania" angażując się w terror; Abbas i jego poprzednik Jaser Arafat odrzucili wszystkie oferty pokojowe; i Palestyńczycy nie porzucili swoich marzeń o ustanowieniu swojego państwa w miejsce Izraela.
Abbas podobno "skarcił amerykańskiego sekretarza stanu Antony'ego Blinkena w rozmowie telefonicznej". Abbas, kleptokrata, który pozostaje na stanowisku 13 lat po zakończeniu swojej kadencji, zbeształ osobę robiącą wszystko, co w jego mocy, by pomóc mu utrzymać się przy władzy. Blinken powinien był trzasnąć słuchawką, a nie wysłuchiwać steku bzdur operetkowego dyktatora.
Źródła palestyńskie poinformowały również Ynet: "jeśli prezydent Biden zamierza przybyć na spotkanie z [Abbasem] oferując jedynie skromny pakiet pomocy gospodarczej, to lepiej, żeby w ogóle nie przyjeżdżał". 
To powinno dać nauczkę najpotężniejszej osobie na świecie!
Wznowienie wypłacania setek milionów dolarów pomocy od amerykańskich podatników nie wystarcza Palestyńczykom, których poczucie, że im "się należy" jest jednym z powodów niemal całkowitego obcięcia funduszy przez ich arabskich braci dla ludzi, których postrzegają jako najgorszych niewdzięczników.
Palestyńczycy również najwyraźniej naśladują przykład Iranu, żądając od Bidena usunięcia frakcji OWP z amerykańskiej listy zagranicznych organizacji terrorystycznych. OWP pozostaje organizacją matką organizacji terrorystycznych i jest nie mniej złowroga niż Korpus Strażników Rewolucji Islamskiej, który zasłużył na swoje miejsce na tej liście. Dziwne jest to, że podczas gdy dwóch członków założycielskich OWP (Ludowy Front Wyzwolenia Palestyny i Demokratyczny Front Wyzwolenia Palestyny) są na liście, samej OWP tam nie ma.
Jak pisałem we wcześniejszym artykule, administracja Bidena kłania się nisko, by pokazać swoje oddanie wobec Palestyńczyków i przekazać setki milionów dolarów amerykańskich podatników z naruszeniem ducha, jeśli nie litery prawa amerykańskiego. I to jest podziękowanie, jakie dostaje? Wiem, że Palestyńczycy lubią naśladować Żydów, ale to zachowanie nadaje nowe znaczenie słowu "chucpa".
Gdyby administracja Bidena była konsekwentna w swoim twierdzeniu, że dba o prawa człowieka, odmówiłaby płacenia Palestyńczykom jednego grosza, dopóki nie zakończą łamania tych praw, a to obejmuje płacenie wynagrodzeń terrorystom, którzy mordowali Amerykanów, kontynuowanie podżegania do przemocy, odmawiania własnej ludności praw obywatelskich i politycznych oraz tak wysoki poziom korupcji i nieudolności, że przeważająca większość Palestyńczyków chce, by Abbas zrezygnował ze stanowiska.
Z drugiej strony Biden również będzie się płaszczył, kiedy przybędzie do Arabii Saudyjskiej w ramach zaplanowanej podróży w przyszłym miesiącu. Po krytykowaniu Saudyjczyków za łamanie praw człowieka i potępieniu następcy tronu Mohammeda bin Salmana za jego rolę w zabójstwie Dżamala Chaszukdżiego, prezydent uważa teraz, podobnie jak jego poprzednicy, że ważniejsza jest uprzejmość wobec Saudyjczyków. Prezydent potrzebuje dobrej woli Arabii Saudyjskiej, by zwiększyć wydobycie ropy naftowej, obniżyć ceny benzyny i być może uratować swoją prezydenturę.
Różnica polega na tym, że Stany Zjednoczone nie potrzebują niczego od Palestyńczyków i nie mają powodu, by przejmować się ich uczuciami.
Niestety, Europejczycy, Organizacja Narodów Zjednoczonych i cheerleaderzy Palestyńczyków w Ameryce i gdzie indziej nadal karmią palestyńskie fantazje, że będą mogli osiągnąć swoje cele poprzez okazywanie gniewu i twierdzenia o byciu ofiarą.
Zamiast wracać do starej, nieudanej polityki jednostronnych ustępstw, administracja powinna dokręcać Abbasowi śrubę. Niestety, jak widzieliśmy w negocjacjach amerykańskiej administracji z Iranem, ugłaskiwanie wydaje się być modus operandi Bidena.
Poza postępowcami sabotującymi jego agendę krajową i utrudniającymi jego politykę zagraniczną oraz "arabistami", których wprowadził z powrotem do rządu, komu, zdaniem Bidena, służy taka polityka wobec Palestyńczyków? Jego polityka wobec Palestyńczyków i Iranu jest całkowicie niezgodna z poglądami naszych regionalnych sojuszników.
Przy tej jednej okazji Biden powinien naśladować Donalda Trumpa i ostrą reprymendą przywołać Abbasa do porządku. Zamiast zasypywać go prezentami i obietnicami naciskania na Izrael, i otwarcia konsulatu w Jerozolimie, prezydent powinien ustanowić prawo, zgodnie z którym Palestyńczycy nie otrzymają wsparcia gospodarczego ani dyplomatycznego, dopóki nie zaczną postępować zgodnie z amerykańskimi wartościami i interesami: powstrzymają korupcję i łamanie praw człowieka; wstrzymają płatności na rzecz terrorystów; skończą z podżeganiem; i zaakceptują fakt, że Izrael jest i pozostanie.
Och, i sądzę, że słowo, którego pan zapomniał, panie Abbas, brzmi "Dziękuję".
---

Mitchell Geoffrey Bard – Amerykański analityk polityki zagranicznej, redaktor i autor, który specjalizuje się w polityce USA – Bliski Wschód. Jest dyrektorem wykonawczym organizacji non-profit American-Israeli Cooperative Enterprise i dyrektorem Jewish Virtual Library. Wikipedia (angielski)
---
---