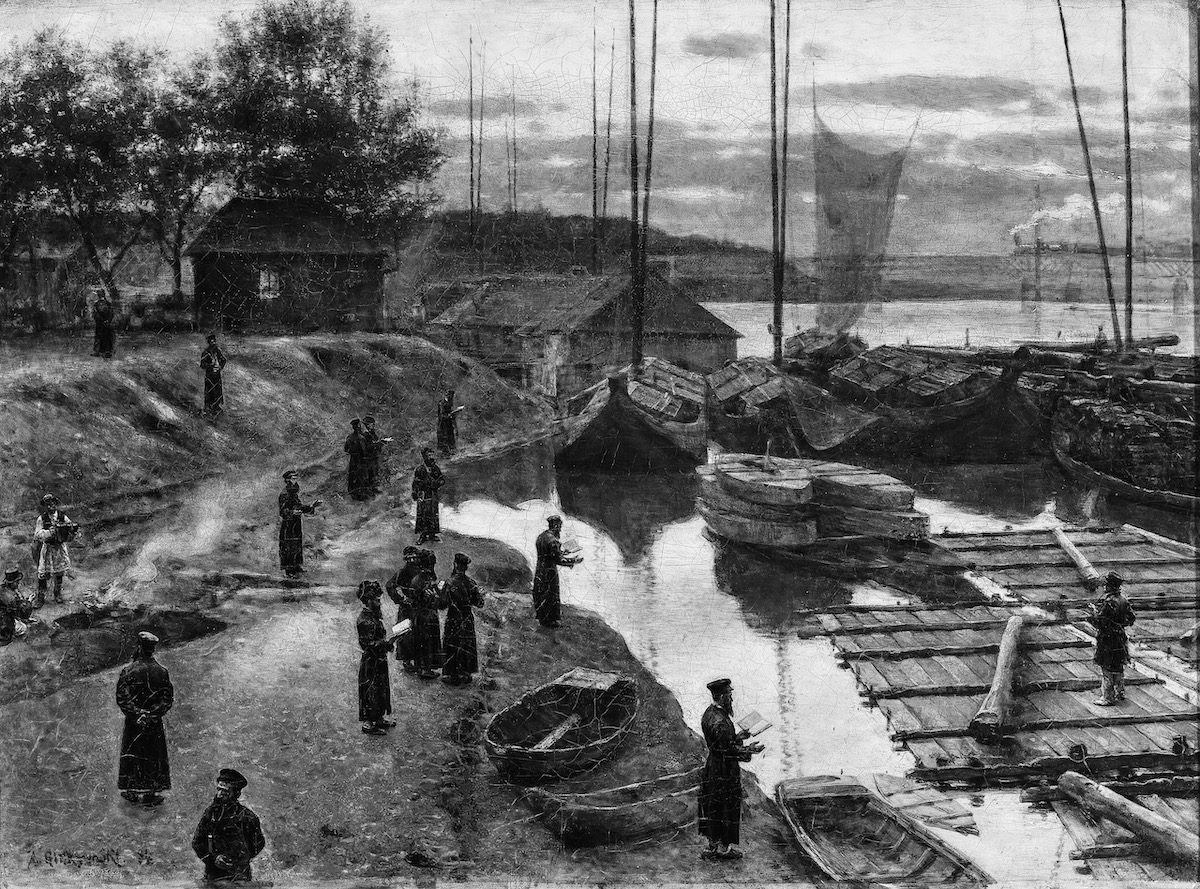 A. Gierymski, "Święto Trąbek"
---
MAGDALENA WÓJCIK
 – ludzie / CHIDUSZ 51 – 8/2018 ]
---
"WRACAMY DO TAKIEGO SPOSOBU POSTRZEGANIA HISTORII, W KTÓRYM WINA I ODPOWIEDZIALNOŚĆ SĄ ZAWSZE ODRZUCANE I PRZERZUCANE NA KOGOŚ INNEGO, PO TO, ŻEBY POZBYĆ SIĘ JAKICHKOLWIEK PSYCHOLOGICZNYCH CZY MORALNYCH KŁOPOTÓW. TO INFANTYLIZM" – MÓWI PROFESOR PAWEŁ ŚPIEWAK, DYREKTOR ŻYDOWSKIEGO INSTYTUTU HISTORYCZNEGO W WARSZAWIE. 
.
Magdalena Wójcik: Co było dla pana najważniejsze w tym mijającym, burzliwym dla społeczności żydowskiej 5778 roku?
Paweł Śpiewak: Oczywiście najważniejsze są zawsze sprawy zdrowia, a ponieważ pojawiły się u mnie problemy zdrowotne, to one są dla mnie teraz na pierwszym miejscu. A patrząc bardziej ogólnie, z punktu widzenia historii ten rok był dla polskich Żydów w pewnym sensie najgorszy od wielu lat. Chyba najbardziej dramatycznym momentem była próba nowelizacji ustawy o Instytucie Pamięci Narodowej, w myśl której miałoby się karać wszystkich ludzi na świecie, którzy wypowiedzą się na temat stosunków polsko-żydowskich inaczej niż chciałby tego IPN. To nie tylko krok represyjny, ale też dowód na to, jak źle formułowane jest prawo. 
Co najbardziej dotknęło pana w kwestii nowelizacji tej ustawy? 
Próbuje ona narzucić jednolity rodzaj pamięci czasów wojny. Wymusza narrację, która jest zgodna z oczekiwaniami władzy, a na nią nie sposób się zgodzić. To skrzywdzi wiele osób, przede wszystkim tych, którzy zginęli i są zupełnie bezbronni. Zaszkodzi też Polakom jako narodowi, bo zlikwiduje obszary, które wymagają refleksji i skruchy. A skruchy uczy zarówno chrześcijaństwo, jak i judaizm. Nagle okazuje się, że jakikolwiek element odpowiedzialności zostaje zniesiony. Czyli wracamy do sposobu postrzegania historii, w którym wina i odpowiedzialność są zawsze odrzucane i przerzucane na kogoś innego, po to, żeby pozbyć się jakichkolwiek psychologicznych czy moralnych kłopotów. To infantylizm. 
Jednocześnie tworzy się instytucje wzmacniające jednolity przekaz pamięci. Polityka personalna IPN-u świadczy o tym, że pozbywa się stamtąd wszystkich, którzy mają inne poglądy niż jego dyrektor Jarosław Szarek. Widać to też dobrze na przykładzie Muzeum II Wojny Światowej w Gdańsku i wielu innych instytucji. 
Nowelizacja ustawy o IPN-ie wywołała też falę antysemityzmu. 
Fakt, udzieliła zgody na antysemickie argumenty w dyskusji. Nie chcę jednak nadawać temu zbyt wielkiej roli: nie jest to powtórka Marca '68 ani dwudziestolecia międzywojennego. Nie zmienia to jednak faktu, że jest mocno krzywdzące dla nas jako narodu, a także dla obrazu Polski za granicą. Nagle okazuje się, że nikt nie chce z nami rozmawiać. 
Mówienie, że pogromu w Kielcach nie dokonali Polacy albo domaganie się ponownych badań, które policzą ofiary w Jedwabnem, jest niczym innym jak tylko rozdrapywaniem ran, szukaniem powodów do wzajemnego oskarżania się i wyrzucania sobie win. 
Okazało się też, że dziennikarz może publicznie powiedzieć "parchy" – takich sytuacji nie było już od dawna. 
Prawo i Sprawiedliwość obiecało, że stworzy międzypartyjną komisję do spraw walki z faszyzmem, ale nic takiego się nie wydarzyło. Tymczasem toleruje się ONR, słyszymy, że neonaziści obchodzą urodziny Hitlera. Takie przykłady można by mnożyć. 
Mieliśmy z tym do czynienia już wcześniej, więc było jasne, że wróci. 
Ale sądziłem, że władza lepiej nad tym zapanuje. Tym bardziej, że mieliśmy i nadal mamy do czynienia z ewidentnymi elementami kampanii nienawiści. Na przykład systematycznie atakowano Piotra Cywińskiego, nie za jego wypowiedzi, ale za to, że w zarządzanym przez niego Muzeum Auschwitz-Birkenau ambasadorka Izraela skrytykowała nowelizację ustawy o IPN-ie – to była zorganizowana, absolutnie nieprzypadkowa akcja. Cywińskiego spotkały wyrazy międzynarodowej solidarności, ale to nie wystarczy. Polska zawsze przegrywała w takich kampaniach polsko-żydowskich i znów przegra. Naprawdę nie rozumiem, po co się w to pchać.
Powraca stereotyp Polaka-antysemity. 
Nie chcę brać na siebie za to odpowiedzialności, a jednak nie mam wyboru. Jest to tym bardziej absurdalne, że władze dość mocno starały się pozować na prożydowskie, uwzględniające żydowską perspektywę na historię Zagłady i na stosunki polsko-żydowskie. Już teraz ma to fatalne skutki – światowe instytucje żydowskie nie chcą dawać pieniędzy na Polskę, co ogranicza nasze możliwości "ekspansji". Co prawda jesteśmy traktowani z szacunkiem, ale mimo wszystko jako instytucja współodpowiedzialna. Dlaczego oni mieliby nam cokolwiek fundować? Niech Polska, Polacy dają. Dochodzi do tego zdumiewająca nieumiejętność radzenia sobie z tymi sytuacjami wśród ministrów naszego rządu. 
Brak pieniędzy to dla wielu podstawowy hamulec, bo jeśli państwo nie da, to nie wiadomo, skąd je wziąć.
Tyle że to nie jest tak, że państwo "daje na Żydów". Majątki żydowskie, które stały się majątkami polskimi, pracują przecież na budżet. Nie da się tego policzyć tak, żeby wyszło, że Polacy dają Żydom. 
Jak widzi pan rolę Żydowskiego Instytutu Historycznego w tej rzeczywistości? 
Dopóki władza nie ingeruje bezpośrednio i nie narzuca mi tego, co mam mówić, robimy swoje.
ŻIH świata nie zbawi, ale poza dbaniem o Archiwum Ringelbluma ma kilka rzeczy do zrobienia. Przede wszystkim musimy edukować ludzi, jak mówić o historii Żydów. Moim marzeniem jest opracowanie kanonicznych książek o historii polskich Żydów i stosunkach polsko-żydowskich na przestrzeni ostatnich 150 lat. Chciałbym, aby Instytut przygotował materiały studyjne, które pozwolą ludziom zrozumieć i nazwać to, co działo się tutaj w ostatnich wiekach. Wydawało nam się, że pewne lekcje odrobiliśmy już pod koniec lat dziewięćdziesiątych, ale od tego czasu w dorosłość weszły już dwa nowe pokolenia Polaków i trzeba znów wykonać tę samą pracę.
Czy polska i żydowska narracja historyczna mogą się spotkać? 
Nie ma takiej potrzeby. Nie rozumiem, dlaczego mielibyśmy tworzyć narracyjne muzea historii polsko-żydowskiej. Historia wojenna każdej rodziny, każdego człowieka jest odmienna. Jak mielibyśmy to połączyć? Były historie pomocy i jej braku. Próba przybliżenia się do prawdy poprzez wymuszenie wspólnej opowieści jest dla nas destrukcyjna.
Nie ma się co dziwić, że są takie próby, szczególnie przy okazji tak ważnych rocznic jak odzyskanie niepodległości. 
Dla Żydów odzyskanie przez Polskę niepodległości było wielkim wydarzeniem. Wywoływało co prawda lęki i obawy, ale mimo wszystko było doświadczeniem pozytywnym. Niezależnie od późniejszego poziomu antysemityzmu, po raz pierwszy powstały wówczas różne demokratyczne instytucje prawa, które – czasami tylko symbolicznie albo częściowo, ale jednak chroniły Żydów. Coś, co w zaborze rosyjskim było zupełnie nieznane. W dwudziestoleciu, choć był to bardzo krótki okres, dużo dobrego stało się dla akulturacji Żydów do kultury polskiej. Był to wielki sukces. Szczycimy się dziś wieloma Polakami, takimi jak na przykład Rafał Lemkin. 
Jaki będzie 5779 rok?
Na pewno niełatwy. Zmasowana próba budowania nowej opowieści o historii polskich Żydów zdaje się nie mieć politycznej przeciwwagi. Platforma Obywatelska nie jest partią, która ma w tej kwestii jedno, mocne zdanie. Nie chcę powiedzieć, że są negatywnie nastawieni, ale nie znajduję w nich mocnego sojusznika w swojej sprawie. Póki co cieszmy się jednak, że mamy Nowy Rok. Można pójść nad rzekę, wyrzucić grzechy. 
---
---