David Collier
Tłumaczenie: Małgorzata Koraszewska
---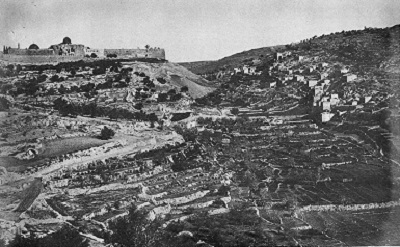 Wieś Silwan w drugiej połowie XIX wieku.
Roman Abramovich jest wiodącym głosem w Wielkiej Brytanii w walce przeciwko antysemityzmowi. Abramovich jest także dumnym syjonistą, Żydem. Bogaty, dumny, syjonista, Żyd, który walczy z antysemityzmem – jakBBC i "Guardian" mogłyby go nie nienawidzić?
Z drugiej strony, BBC i "Guardian" zrobiły więcej niż jakiekolwiek inne media głównego nurtu, by zdeprecjonować walkę przeciwko antysemityzmowi. Stawały na głowie, by dać platformę marginalnym i nieistotnym żydowskim głosom – nagłaśniając je do tego stopnia, że wielu ludzi uwierzyło, że "antysyjonistyczni Żydzi" są armią równie wielką jak "Board of Deputies" [Rada Deputowanych, największa organizacja reprezentująca Żydów w Wielkiej Brytanii, skupiające praktycznie wszystkie poważne organizacje żydowskie w tym kraju, przyp. tłum.]. Nie należy zapominać, że "Guardian" nieustannie publikuje listy takich niesyjonistycznych Żydów, a BBC włącza głosy Jewish Voice for Labour (JVL) – co jest wyborem redaktorskim – nie jakimiś przypadkami ani koniecznością. Tak "Guardian", jak BBC mają także obsesję na punkcie Izraela.
Nie jest więc żadnym zaskoczeniem, że Roman Abramovich jest celem ich ataków.
Opowieść o programie "Panoramy"
Arabska sekcja BBC przeprowadziła dochodzenie w sprawie finansowania Miasta Dawida. Okazuje się, że Roman Abramovich jest sponsorem ElAD – NGO, które dokonuje dużych inwestycji w tym biblijnym mieście. Szok i horror – Żyd inwestuje w Jerozolimie.
Sprawę przedstawiono w tym tygodniu w programie Panorama. Były tam wszystkie znajome oszczerstwa. Zamiast Żyda inwestującego w Jerozolimie było "skryte finansowanie", "wyeksmitowani Palestyńczycy", "osadnicy" i nonsensowna propaganda. Użyto także standardowych, oszukańczych taktyk z arabską sekcją BBC, która wyszukała marginesowego izraelskiego polityka ze skrajnej lewicy, by przed kamerą zapewniał, że jest "zaszokowany". Ten polityk opuścił scenę polityczną 14 lat temu, kiedy jego partii nie udało się zdobyć wystarczającej ilości głosów, by mógł ponownie wejść do Knesetu. To pokazuje prawdziwą desperację.
Żydzi inwestujący w Jerozolimie są jak muzułmanie inwestujący w Mekce lub katolicy w Watykanie. To nie jest żadna wiadomość. Jedyną różnicą jest to, że muzułmanie w Mekce lub katolicy w Watykanie mogą robić, co chcą – podczas gdy Żydzi muszą walczyć o każdy centymetr Jerozolimy. Przeciwko nim stoi gigantyczny i dobrze finansowany przemysł propagandy – którego BBC najwyraźniej jest częścią. Arabska sekcja BBC nadała własną rozszerzoną "relację" i, potykając się o swoje, antyizraelskie uprzedzenia, "Guardian" szybko poszedł w jej ślady. Camera UK, która monitoruje stronniczość w brytyjskich mediach, starannie zanalizowała kilka audycji, jakie BBC nadała na podstawie tego "dochodzenia". Warto zauważyć, że Camera podkreśla w tym artykule, że nie jest to pierwszy raz, kiedy BBC skupia się na tej sprawie.
Ale jaka jest prawdziwa historia?
Nie tak dawno temu "arabska wieś Silwan" była maleńkim osiedlem na wschodnim krańcu wzgórza na obrzeżach starego miasta Jerozolimy. Budowa na zachodnim krańcu – w "Mieście Dawida" zaczęła się w latach 1880., kiedy Żydzi zaczęli kupować tam ziemię. To zdjęcie, pokazujące całą pustą przestrzeń, jest z 1865 roku:
Utworzono nową wieś, Kfar Hasziloach, zamieszkałą głównie przez jemeńskich Żydów, którzy przybyli w latach 1880. Żydowskie zakupy ziemi wzrosły i w 1910 roku żydowska społeczność została ZMUSZONA do zakupu dodatkowej ziemi – przez ówczesnego szefa (muchtara) arabskiej wsi Silwan. Proszę się nie dziwić – Żydzi już płacili tej wsi haracz, żeby nie niszczono ich cmentarza. W dniach przed powstaniem Izraela obronę Żydom często dostarczali miejscowi Arabowie "za pewną cenę".
Znaczna część ziemi kupionej przez Żydów została skradziona, kiedy arabska przemoc w latach 1930. zmusiła Żydów do opuszczenia jej. Arabskie rodziny po prostu przeprowadziły się do opuszczonej przez Żydów własności. Oczywiście, w latach między 1949 a 1967 rokiem, kiedy tereny były pod okupacją jordańską, całkowicie wymazano obecność żydowską. Kiedy Izrael odzyskał tę ziemię w 1967 roku, przejął ją wraz z nową populacją.
Kiedy Żydzi zaczęli zajmować niektóre z ich dawnych siedzib – takie jak miejscowa synagoga – lokalni mieszkańcy obrzucali ich kamieniami.
Miasto Dawida
Położone na skraju Starego Miasta i na zboczu przylegającym do Wzgórza Świątynnego miejsce jest jednym z najważniejszych archeologicznych stanowisk na świecie. Twierdzi się, że jest to miejsce pierwotnego miasta Jerozolimy – Jerozolimy Króla Dawida. Więcej o historycznym znaczeniu tego miejsca można zobaczyć w wideo niedawno opublikowanym przez Israel Advocacy Movement.
W każdym innym kraju prowadziłoby to do olbrzymiego, niekwestionowanego projektu archeologicznego. Cokolwiek stoi na przeszkodzie musiałoby ustąpić. Wydano by nakazy przymusowego wywłaszczenia, mieszkańcy dostaliby odszkodowanie i wyprowadzili się.
Ale nie w Jerozolimie. Jest wielu ludzi na świecie, którzy uważają odsłanianie żydowskiej historii tego miasta za wielki problem. Poszliby na wojnę – z Żydami – żeby powstrzymać jakiekolwiek prace archeologiczne. W miarę odkrywania w ziemi żydowskiej historii, roszczenia Żydów do ziemi kryjącej żydowskie artefakty nabierają jeszcze więcej mocy. Miasto Dawida jest centrum religijnej i politycznej bitwy. Ta bitwa jest tak brudna, że na Arabów gotowych sprzedać Żydom ziemię, będą polowały arabskie gangi.
Izrael zrobił z Miasta Dawida Park Narodowy, jak zrobiłby każdy naród, i stworzono NGO do nadzorowania całego projektu. Tym NGO jest ELAD, na którym skupia się napaść BBC.
BBC przedstawia "ubogą" rodzinę Sumarin
Jak zawsze BBC próbuje przedstawiać wszystko w formie jakichś osobistych dramatów, więc wprowadza rodzinę Sumarin jako rzekome ofiary działań finansowych Abramovicha i działalności ELAD. Biedna arabska rodzina zagrożona eksmisją. Równie charakterystyczne dla BBC jest ukrycie większości tej sprawy.
Izraelskie sądy orzekły, że rodzina Sumarin nie jest w rzeczywistości legalnym właścicielem nieruchomości. Rodzina sfałszowała dokumenty w próbie oszukania sądu, że ta nieruchomość została im sprzedana. Kiedy fałszerstwo wyszło na jaw, odstąpili od tej części twierdzeń w sprawie.
Rodzina Sumarin wprowadziła się tam podczas jordańskiej okupacji i sądy zdecydowały, że nie są właścicielami nieruchomości. Pamiętajcie jednak, że Żydzi muszą walczyć o każdy centymetr swojej stolicy, Jerozolimy. Finansowanie poparcia rodziny Sumarin i oporu przeciw archeologicznemu projektowi płynie od wielu europejskich ambasad i, oczywiście, od żydowsko-amerykańskiego miliardera, George'a Sorosa. Możecie o tym nie wiedzieć, bo BBC nie chce, by ludzie wiedzieli o niektórych sprawach popieranych finansowo przez żydowskich miliarderów.
Sumarinowie są także przedstawiani jako ubodzy Palestyńczycy wyrzucani na ulicę, podczas gdy w rzeczywistości jest to bogata rodzina posiadająca wiele nieruchomości.
Tymczasem Izrael robi to, co zawsze – przestrzega prawa i szanuje sądy. Jak w wypadku rodziny Sumarin – te dobrze finansowane opóźnienia zabierają dziesięciolecia. I w tym miejscu jesteśmy teraz.
Machina propagandowa BBC
Arabska sekcja BBC jest siecią propagandową. Każdy, kto nie zdaje sobie z tego sprawy, nie rozumie sposobu w jaki tworzone są wiadomości i nie zwraca na to uwagi. Używając głównie ludzi miejscowych do tworzenia wiadomości, jest całkowicie służalcza wobec lokalnych nacisków i norm. Kiedy opowiada o życiu w Gazie, mówi o rybakach i starożytnych monetach zamiast o brutalnych rządach Hamasu. A przy każdej takiej historii o "zwykłych ludziach" nigdy nie tracą okazji, by mówić o izraelskim "ucisku".
W ramach przygotowywania tego artykułu uzyskałem dostęp do całego zapisu wywiadu udzielonego przez Dorona Spielmana, wiceprezesa ELAD, dziennikarce BBC i producentce tego programu, Rosie Garthwaite. Była to trwająca 55 minut rozmowa, którą Garthwaite praktycznie zignorowała, wycinając tylko kilka sekund do swojego programu. Każdy, kto chce zobaczyć, jak złe jest dziennikarstwo BBC, powinien szukać takich dowodów. Pokazuje to tworzenie propagandy, ignorowanie tego, co zostało powiedziane i pisanie kawałka tak, jak miało się zamiar od samego początku.
Siedziałem i wysłuchałem każdego słowa. Informacje Spielmana były wyraźne.
To jest Jerozolima, Miasto Dawida i to, co robimy, przynosi korzyści wszystkim,
To jest stanowisko archeologiczne o światowym znaczeniu,
Wiele arabskich głosów jest po naszej stronie, dlaczego BBC używa tylko tych, którzy są przeciwko nam,
Kilka dobrze finansowanych NGO zniechęca do współpracy żydowsko-arabskiej,
Suleiman sfałszował dokumenty i nie ma żadnych podstaw do roszczeń,
Izrael przestrzega prawa,
UE i pewne rządy finansują tych, którzy torpedują żydowsko-arabską współpracę.
Każdy z tych punktów jest historią samą w sobie. Żaden nie dostał się do programu. W rzeczywistości, kiedy BBC zwróciła się do aktywisty z Peace Now o pomoc przy produkcji tego program dokumentalnego – mieli wszystkie informacje niezbędne do przypomnienia widzom, że organizacja Peace Now jest finansowana przez obce rządy. Jeśli finansowanie jednej strony jest ważne, to z pewnością jest także ważne wobec drugiej strony. Nie jest to zaniedbanie ani przypadek. BBC całkowicie połączyła się z jedną tylko stroną sporu. Nie mówi prawdy, szerzy dezinformację. Skoro BBC wie, jaki jest problem z roszczeniami rodziny Sumarin – czy nie było obowiązkiem porządnego dziennikarza powiedzenie widzom, że przedstawione dowody były sfałszowane?
Rosie Garthwaite
Garthwaite była jedną z producentek tego program. Słuchanie jej wywiadu ze Spielmanem było przygnębiające. Czy to naprawdę jest dziennikarstwo BBC w dzisiejszych czasach? Najwyraźniej rozmawiała z byłymi wolontariuszami ELAD, szukając brudów. Przedstawiła to jako niejasne, anonimowe twierdzenia, na które Spielman miał zareagować. Nie podała nazwisk, ani żadnych konkretów. Mógł to być zaledwie jeden niezadowolony wolontariusz, który pracował tam przez kilka tygodni dziesięć lat temu. Albo mogło to nie być nic zupełnie, a Garthwaite starannie wypaczyła słowa byłego pracownika. Ponieważ nie było to nic konkretnego, Spielman nie miał odpowiedzi. To było rynsztokowe dziennikarstwo. Jeszcze gorsze niż pominięcie wszystkich ważnych punktów, o których Spielman powiedział Garthwaite – ale które zdecydowała się przemilczeć.
Rosie Garthwaite pracowała wcześniej dla Al Dżaziry, katarskiej państwowej sieci medialnej, która wydaje olbrzymie sumy na wyszukiwanie różnych żydowskich grup, by stworzyć iluzję o bogatych żydowskich lobby, które wpływają na zachodnią politykę. Ma własną firmę producencką w Doha Katarze o nazwie 'Mediadante'. Garthwaite działa w kraju z surową cenzurą.
Garthwaite wiele razy dzieliła się na Twitterze skrajną, antyizraelską propagandą. Retweetowała także plugawe i rasistowskie obrazy sfałszowanych map. Podczas wywiadu ze Spielmanem, wyraźnie widać było jej uprzedzenia, ignorancję i wiarę w antyizraelską propagandę. Kilkakrotnie prosiła Spielmana, by zareagował na oskarżenia, że Palestyńczycy obawiają się wychodzić rano z domu, ze strachu, że ich dom zostanie zadeklarowany jako pusty. Co jest całkowitą propagandową bzdurą. Podczas wywiadu wydawała się także być zaniepokojona faktem, że "żydowscy ludzie" osiedlają się w Jerozolimie. Robiła wrażenie bardziej naiwnej, łatwowiernej i oślepionej kłamstwami niż prawdziwy żydożerca, ale końcowy produkt jest właśnie żydożerczy.
W 2019 roku Garthwaite wyprodukowała równie jednostronny program dokumentalny o Hebronie, a wcześniej reklamowała inna grupę szukającą finansowania jeszcze innego, antyizraelskiego programu propagandowego.
Przy produkcji programu dla Sekcji Arabskiej BBC z Rosie Garthwaite współpracował Uri Blau
Uri Blau i BBC
Jest dziennikarstwo, jakie BBC powinno uprawiać, i jest antyizraelski aktywizm, jakiego nigdy nie powinno się finansować z pieniędzy brytyjskich podatników. Uri Blau jest antyizraelskim aktywistą. BBC nie może twierdzić, że jest bezstronna, kiedy jest on jednym z producentów tego programu.
Oto kilku przyjaciół z Facebooka tego "Producenta BBC":
Ronnie Barkan – antyizraelski aktywista, były członek Palestine Live
Ofer Neiman – antyizraelski aktywista, były członek Palestine Live
Haim Bresheeth – antyizraelski aktywista i członek Palestine Live
Richard Silverstein – antyizraelski aktywista i członek Palestine Live
Eran Efrati – antyizraelski aktywista i członek Palestine Live
Haggai Matar – antyizraelski aktywista i dyrektor wykonawczy magazynu 972
Listę jego przyjaciół na Facebooku czyta się jak listę kontaktową antyizraelskich aktywistów. I na tym polega problem. Wiele jest tendencyjnych artykułów napisanych przez Blaua z promocją działalności jego facebookowych przyjaciół, jak ten o Ronnie Barkanie i BDS. Na Twitterze retweetuje skrajnych aktywistów propagandowych, takich jak David Sheen: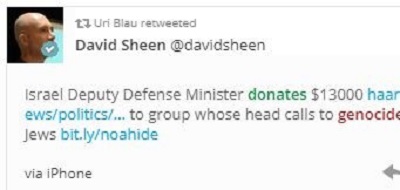 Uri Blau stoi twardo po jednej stronie sporu. Jest w obozie wroga. Jakim cudem BBC pozwala mu produkować wiadomości, a potem twierdzić, że są bezstronni?
Media idą na wojnę z Żydami
Kluczowymi osobami przy produkcji tego program byli była dziennikarzyna z Al-Dżaziry, która całkowicie zignorowała argumenty przedstawione jej przez człowieka, z którym przeprowadziła wywiad, oraz antyizraelski aktywista. Nie ma nic "uczciwego" w tym programie BBC ani w następującym po nim artykule w "Guardianie". W rzeczywistości w tym tygodniu, czytając o Leili Khaled, terrorystce z LFWP, znalazłem pochlebny, apologetyczny artykuł w "Guardianie" napisany o Khaled w 2001 roku. Dziennikarka robi, co może, w próbie gloryfikowania Khaled i przedstawia ją jako silną kobietę na wojnie. Niewiarygodnie, w styczniu 2001 roku, zaledwie 9 miesięcy przed 9/11, dziennikarka "Guardiana" minimalizuje porywania samolotów jako minione "narzędzie polityczne". Można by przypuszczać, że z taką plamą w karierze zawodowej skierowano ją do relacjonowania lokalnych konkursów wypieków. Zamiast tego ta dziennikarka, Katharine Viner, jest obecnie redaktorką naczelną "Guardiana".
Prawdą jest, że BBC i "Guardian" prowadzą wojnę z Żydami. Nie przeszkadzają im Żydzi, którzy są ofiarami zamachu terrorystycznego lub Holocaustu, ale nie mogą ich znieść, kiedy wzywają do obrony żydowskich praw. Jest to starej szkoły antysemicka mentalność brytyjskiego suprematysty. Żyd finansujący archeologiczne wykopaliska w Mieście Dawida – historycznej, biblijnej stolicy żydowskiej – wywołuje w nich wybuch gniewu. Nie interesuje ich dłużej mówienie prawdy, siedzą z nogami w arabskim obozie, pchając antyizraelską propagandę przy każdej sposobności. Co powoduje, że programy takie jak ten w BBC Panorama są do przewidzenia. Jeszcze jeden strzał w ich trwającej wojnie propagandowej przeciwko żydowskiemu państwu.
---
---