Khaled Abu Toameh
Tłumaczenie: Małgorzata Koraszewska
---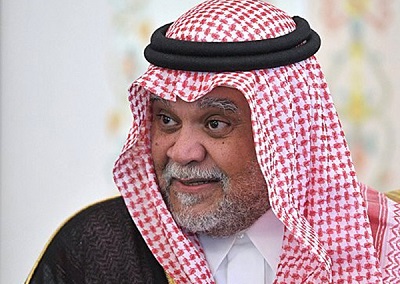 Książę Bandar bin Sultan bin Abdulaziz. (Zdjęcie: kremlin.ru)
Zjadliwy i bezprecedensowy atak saudyjskiego księcia Bandara bin Sultan bin Abdulaziza na palestyńskich przywódców w wywiadzie nadanym 6 października przez saudyjską stację telewizyjną Al-Arabiya dodaje Arabię Saudyjską do rosnącej listy Arabów, którzy uważają Palestyńczyków za "niewdzięcznych".
W wywiadzie książę, były saudyjski ambasador w USA, powiedział, że "palestyńska sprawa jest słuszną sprawą, ale jej orędownicy są porażką, a izraelska sprawa jest niesłuszna, ale jej orędownicy odnieśli sukces".
Oskarżył Palestyńczyków o przypochlebianie się do wrogów Arabii Saudyjskiej, Iranu i Turcji, i krytykował ich za oskarżanie Zjednoczonych Emiratów Arabskich i Bahrajnu o zdradę za zgodę na nawiązanie stosunków dyplomatycznych z Izraelem. Oskarżył także Palestyńczyków o "niewdzięczność i brak lojalności" wobec Arabii Saudyjskiej i innych krajów arabskich, które wspierały ich przez dziesięciolecia.
Po tym wywiadzie wielu Saudyjczyków i obywateli innych państw Zatoki wyraziło poparcie dla krytycznych uwag księcia Bandara bin Abdulaziza wobec Palestyńczyków, a niektórzy mówili, że nadszedł czas, żeby kierownictwo palestyńskie zaczęło traktować priorytetowo interesy swojej ludności i przestało zabierać do własnych kieszeni pieniądze z finansowej pomocy wysyłanej im przez kraje arabskie i przez Zachód.
"Uważam, że nadszedł czas na stworzenie stałego arabskiego komitetu do zajmowania się sprawą palestyńską i prowadzenie bezpośredniego dialogu z Izraelem – napisał emiracki publicysta i politolog, Abdullah Nasser Al-Otaibi. – Dzisiaj, po tej bardzo wiele mówiącej i szczerej wypowiedzi (saudyjskiego księcia) mocno wierzę w potrzebę znalezienia przez Arabów sposobu na postępowanie ze sprawą palestyńską".
Al-Otaibi jest jednym z wielu arabskich komentatorów, którzy mówili niedawno o potrzebie, by kraje arabskie wzięły sprawy we własne ręce i rozwiązały izraelsko-arabski konflikt bez angażowania niekompetentnego i skorumpowanego kierownictwa palestyńskiego. To jest żądanie, jakiego żaden Arab nie ośmielił się przedstawić przez ostatnich kilkadziesiąt lat. Pokazuje ono, że rosnąca liczba Arabów wierzy, że nie może być rozwiązania dla izraelsko-arabskiego konfliktu, jak długo obecni przywódcy palestyńscy pozostają u władzy.
Saudyjski politolog, Fahim Al-Hamid, zauważył, że przez ostatnie kilkadziesiąt lat Palestyńczycy stracili wiele możliwości znalezienia rozwiązania ich konfliktu z Izraelem.
Nawiązując do trwającej walki o władzę między rządzącym Zachodnim Brzegiem Fatahem a Hamasem w Strefie Gazy, Al-Hamid oskarżył obie strony o "kupczenie" sprawą palestyńską.
"Kiedy Izrael wycofał się ze Strefy Gazy w 2005 roku, Palestyńczycy mogli wykorzystać okazję, by osiągnąć więcej" – napisał.
"Hamas, odmówił jednak zjednoczenia się z Palestyńczykami i założył fundamenty pod podział. Zamiast współdziałania Hamas starał się o fundusze od Turcji, Kataru i Iranu".
Chwaląc wypowiedzi księcia Bandara, Al-Hamid dodał:
"Szkoda, że palestyńscy bracia handlowali swoją sprawą przez ponad 60 lat i upierali się przy odmawianiu kompromisów, sabotowaniu negocjacji i odrzucaniu wszystkich inicjatyw pokojowych. Minął czas na kupczenie troskami palestyńskiego narodu. Interes ludzi w Gazie i na Zachodnim Brzegu wymaga interwencji racjonalnych Arabów, by osiągnąć wszechstronny pokój w regionie. Mówimy Palestyńczykom to, co powiedział prezydent (USA, Abraham) Lincoln: 'Można oszukiwać wszystkich ludzi przez pewien czas i pewnych ludzi przez cały czas, ale nie można oszukiwać wszystkich ludzi przez cały czas'".
Saudyjski publicysta Mohammed Al-Saaed, powtarzając krytykę księcia Bandara bin Abdulaziza, odrzucił palestyńskie twierdzenia, że nie wtrącają się w sprawy wewnętrzne krajów arabskich:
"Przez ostatnie sześćdziesiąt lat Palestyńczycy przedstawiali siebie jako neutralnych w kwestiach arabskich. Jednak [Palestyńczycy] zamienili się w marionetki w rękach Kataru, Turcji i Iranu, praktykowali systematyczny terror przeciwko większości krajów arabskich i kierowali swoje karabiny i bomby na Arabów".
Al-Saaed powiedział, że Palestyńczycy zajmowali się także inną postacią terroryzmu: wymuszając pieniądze od Arabów "bo inaczej zaliczali was do wrogów (Palestyńczyków). Nie wolno nam zapomnieć ich terrorystycznych operacji przeciwko konsulatom i ambasadom, zabijania saudyjskich obywateli, jak również porywania i wysadzania w powietrze samolotów".
Następnie oskarżył Palestyńczyków o obrażanie Arabii Saudyjskiej przez palenie jej flag i portretów jej przywódców oraz publikowanie obelżywych karykatur w mediach prowadzonych przez Fatah i Hamas. Al-Saaed dodał:
"Arabia Saudyjska chce tylko, by (Palestyńczycy) przestali szkodzić królestwu i jego obywatelom. Palestyńczycy muszą wiedzieć, że saudyjska ulica nie jest w stanie dłużej tego tolerować. Palestyńskie kierownictwo musi zająć racjonalne stanowisko zanim straci poparcie Arabii Saudyjskiej".
Saudyjski politolog, Abdel Rahman Al-Mulhem, chwalił saudyjskiego księcia za ujawnienie nieudacznictwa palestyńskich przywódców. "Maski spadły i została ujawniona prawda – napisał Al-Mulhem. – Palestyńscy przywódcy mogli zakończyć tragedię Palestyńczyków przez zaakceptowanie Rezolucji 242 Narodów Zjednoczonych" – powiedział nawiązując do rezolucji z 22 listopada 1967 roku, która mówiła o "potrzebie działania na rzecz sprawiedliwego i trwałego pokoju, w którym każde państwo na tym obszarze może żyć w bezpieczeństwie i pokoju w uznanych granicach, wolne od gróźb lub aktów przemocy".
Al-Mulhem powiedział, że w pełni zgadza się z twierdzeniem saudyjskiego księcia, że palestyńscy przywódcy nie chcą zakończyć konfliktu z Izraelem, ponieważ chcą zachować swoje prywatne interesy i dodał:
"Palestyńscy przywódcy stracili wiele okazji, które mogły zakończyć izraelsko-palestyński konflikt, ale zmarnowali te okazje, żeby mogli kontynuować handel sprawą palestyńską… Palestyńscy przywódcy wybrali sojusz z Iranem, wrogiem numer 1 arabskiego narodu. Co zrobił Iran dla Palestyńczyków od 1979 roku? Iran jest krajem terrorystycznym. Palestyńscy przywódcy ukradli środki finansowej pomocy wysłane dla palestyńskiej ludności i zbudowali rezydencje w Waszyngtonie, Paryżu i Londynie, ignorując cierpienia własnej ludności".
Komentując wypowiedzi saudyjskiego księcia o korupcji i nieudolności palestyńskiego kierownictwa, Fahd Al-Szokiran, saudyjski badacz i publicysta, napisał, że Palestyńczykom "trzeba przypomnieć, że setki miliardów dolarów, jakie ich przywódcy otrzymali na poparcie ich sprawy od Arabii Saudyjskiej przez całą ich historię, mogły zbudować olbrzymie miasta palestyńskie".
Zamiast tego, napisał Al-Szokiran, palestyńscy przywódcy użyli tych pieniędzy na kupowanie prywatnych samolotów i luksusowych budynków w Europie i w USA. "Dla palestyńskich przywódców sprawa palestyńska jest tylko projektem inwestycyjnym, który przynosi olbrzymie zyski" – powiedział.
"To dlatego słowa o potrzebie skutecznego, alternatywnego kierownictwa politycznego powoduje u nich panikę. Mowa księcia była jasna, bezpośrednia, ścisła i szczera. Jest ona dzwonem alarmowym. Sytuacja zmieniła się i każdy, kto chce rozwiązania, powinien szukać sposobów na osiągnięcie go".
Tymczasem palestyńscy przywódcy wydają się bać odpowiedzi na poważne oskarżenia wysunięte przez księcia Bandara bin Abdulaziza.
Ci przywódcy nie wysłali swoich ludzi na ulice, by palili saudyjskie flagi w proteście wobec krytyki ze strony księcia ani innych Saudyjczyków. Prezydent Autonomii Palestyńskiej, Mahmoud Abbas i jego dygnitarze są w pełni świadomi tego, że w odróżnieniu od ZEA i Bahrajnu, Arabia Saudyjska jest dużym i niezmiernie potężnym krajem. Wiedzą także, że utrata poparcia Arabii Saudyjskiej oznaczałaby utratę poparcia wielu innych krajów arabskich, ściśle związanych z królestwem.
Najnowszy napad mediów saudyjskich na Palestyńczyków można widzieć jako preludium do pójścia przez Arabię Saudyjską w ślady ZEA i Bahrajnu przez nawiązanie stosunków z Izraelem. Co jest tymczasem ewidentne, to że jeśli chodzi o Arabię Saudyjską, Palestyńczycy znajdują się na bardzo cienkim lodzie. W rzeczywistości mogą zbudzić się i odkryć, że lód topi się w całym świecie arabskim.
---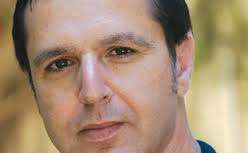 Khaled Abu Toameh – urodzony w 1963 r. w Tulkarem na Zachodnim Brzegu, palestyński dziennikarz, któremu wielokrotnie grożono śmiercią. Publikował między innymi w "The Jerusalem Post", "Wall Street Journal", "Sunday Times", "U.S. News", "World Report", "World Tribune", "Daily Express" i palestyńskim dzienniku "Al-Fajr". Od 1989 roku jest współpracownikiem i konsultantem NBC News.
---
---