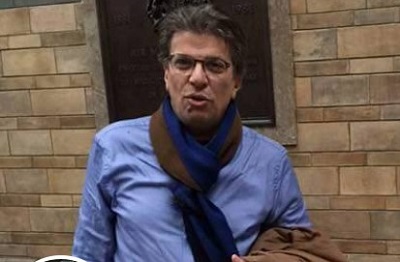 Chaled Montaser (źródło: Facebook.com/khmontaser)
Chaled Montaser
Tłumaczenie: Małgorzata Koraszewska
---
W artykule z 17 października 2020 r. w egipskiej gazecie "Al-Watan" liberalny dziennikarz, Chaled Montaser pisał o makabrycznym zamordowaniu Samuela Paty, francuskiego nauczyciela historii, który pokazał uczniom swojej klasy karykatury proroka Mahometa podczas lekcji o wolności słowa, a potem młody muzułmanin czeczeńskiego pochodzenia obciął mu głowę. W artykule zatytułowanym "Nasze zacofanie jest najgorszą obrazą Proroka", Montaser potępił radykalne reakcje arabskie na karykatury Mahometa i twierdził, że zacofanie, przemoc i ekstremizm świata muzułmańskiego szkodzą wizerunkowi islamu i Proroka.
Należy wspomnieć, że Montaser wyraził podobne opinie w artykule w 2006 r. po wściekłych reakcjach arabskich i muzułmańskich na publikację karykatur Mahometa w duńskiej gazecie.[1].
Poniżej podajemy przetłumaczone fragmenty niedawnego artykułu Chaleda Montasera:[2]
Kiedy francuski prezydent Macron powiedział, że islam jest w kryzysie, wielu potępiło jego słowa, szczególnie muzułmańscy duchowni.[3] Czy nadal potępiają i czują tę samą wściekłość po obcięciu głowy nauczycielowi historii na przedmieściu Paryża przez pochodzącego z Czeczenii muzułmanina, zaledwie 18-letniego ucznia, który krzyczał "Allah Akbar" przez zamordowaniem go? Mordował i obcinał głowę swojej ofiary, przekonany, że robiąc to broni swojej religii i odpowiada na umniejszanie Proroka Mahometa. Gdyby jednak Prorok był świadkiem zacofania dzisiejszych muzułmanów, powiedziałby: "O muzułmanie, wasza sytuacja, wasze zacofanie i wasze miejsce na dnie rankingu narodów są największą obrazą dla mnie jako proroka, kiedy pierwsze słowo, jakie przyszło do mnie od Allaha, brzmiało 'czytaj!!!'"
Czy nie jest większą obrazą dla Proroka to, że jego lud i wyznawcy, i kraje islamskie, nie są zdolne do obrony siebie bez amerykańskich i brytyjskich baz i broni z Zachodu? Czy nie jest hańbą, że arabskie kraje islamskie są niezdolne do wyprodukowania pocisku balistycznego, samolotu, a nawet miotły?!!! Czy sprzeczne i absurdalne fatwy publikowane przez "szejków biznesu" na "giełdzie kanałów satelitarnych" nie stanowią większej obrazy dla intelektu i dla samego Proroka? Tysiące ludzi, którzy zginęli w histerycznej panice na moście śmierci w Mekce pchając się do rzucania kamieniami mającymi odgonić diabła, podczas wypełniania religijnego nakazu oczyszczenia duszy i podniesienia ducha[4] i którzy zginęli z powodu fatwy wydanej przez "telekaznodziei"[5] i szejków z siedmiogwiazdkowych hoteli[6] – czy ten rozlew krwi spowodowany przez tych szejków i duchownych nie jest większą obrazą dla naszego wielkiego Proroka? Czy nie jest hańbą dla Proroka, że większość muzułmańskich komputerów jest produkowana przez firmę Intel, która mieści się w Izraelu?! Czy nie jest hańbą, że budżet Niemiec, Hiszpanii lub Francji jest wiele razy większy niż budżet krajów arabskich i że liczba użytkowników Internetu i książek publikowanych w Izraelu w stosunku do rozmiarów populacji jest wielokrotnie wyższa niż w krajach islamskich, gdzie większość półek w bibliotekach jest zatłoczona tomami o demonach i zabobonach? Czy nie jest hańbą dla Proroka, że ani jeden islamski uniwersytet nie znajduje się wśród 500 najlepszych uniwersytetów świata?!!!
Największą obrazą dla Proroka Mahometa jest to, że islamskie kraje objęły prowadzenie na świecie w biedzie, pogorszeniu edukacji, szerzących się łapówkach i korupcji, i atakach terrorystycznych. Czy nie jest największą obrazą dla Proroka, że buddyjskie i konfucjańskie Chiny, które uważamy za niewierne, są jednym z producentów dywaników do modlitw dla muzułmańskich wyznawców Proroka, jak również ich sznurów modlitewnych, ich szat, kompasów, które wskazują kierunek modłów, a nawet ich lamp na ramadan? Czy nie jest hańbą i upokorzeniem, że wybrany naród świata [tj. muzułmanie] musi żebrać i otrzymuje cztery z każdych pięciu bochenków chleba w ramach pomocy z Ameryki, podczas gdy wszystkie lekarstwa na leczenie swoich chorych, całe wyposażenie chirurgiczne, aparaty rentgenowskie i diagnostyczne, a nawet plastry, gaza i maści…, wszystkie są produktami niewiernego Zachodu? Czy nie jest obrazą Proroka, że przez 500 lat ani jeden muzułmanin nie wynalazł choćby nakrętki do śruby?! …
Czy nie jest upokorzeniem Proroka więzienie, deportowanie, wyganianie i zabijanie tych umiarkowanych muzułmanów, którzy bronią jego wizerunku odrzucając opowieści przedstawiające go jako czarownika lub głoszące, że mści się na ludziach przez wyłupianie im oczu, obcinanie ich kończyn lub odmawianie im płynów aż umrą, albo że spał ze swoimi żonami po jednej oczyszczającej kąpieli, że miał potencję 40 mężczyzn lub że ożenił się z dzieckiem itd.? Te opowieści stały się święte dla muzułmanów i ktokolwiek próbuje je obalić, dołącza do ofiar przeznaczonych do zamordowania, wygnania, ucisku, publicznego potępienia, oszczerstwa i ogólnego zatruwania ich życia.
W końcowej analizie musimy zadać sobie pytanie i odważnie odpowiedzieć: Co rzeczywiście poniża Proroka: francuskie karykatury czy haniebna i zacofana sytuacja w islamskim społeczeństwie?
---
[1] Elaph.com, February 4, 2006.
[2] Al-Watan (Egypt), October 17, 2020.
[3] On October 2, 2020, French President Emmanuel Macron said that Islam is "in crisis all over the world" and underlined the need to fight "Islamist separatism" in France. His words sparked criticism in conservative Muslim circles, such as Egypt's Al-Azhar (Facebook.com/AIRCAzhar, October 3, 2020).
[4] The reference is to a ritual performed as part of the annual pilgrimage to Mecca, in which pilgrims throw stones at three pillars representing the Devil. Over the years there have been many incidents of pilgrims being injured and killed during this ritual.
[5] A reference to modern young preachers, some of whom appear on religious programs on satellite channels and other media platforms. 'Othman Fikri, a columnist for the Egyptian government daily Al-Ahram, wrote that these preachers have considerable influence on young men and women from wealthy families, and that they have influenced many women to don the hijab and niqab (Gate.ahram.org.eg, May 20, 2018).
[6] Refers to preachers who use religion to make a profit.
---
---